A lot of us tend to have a kitchen with plenty if unused corners. While we may want to utilize the space in those corners, we cannot just go around stuffing anything and everything in them. Corners need to be utilized in a proper manner so that they don't become hindrances for the nearby areas. So here are some ideas that can help you repurpose those kitchen corners without too much of a hassle.
Opt for a lazy Susan cupboard or cabinet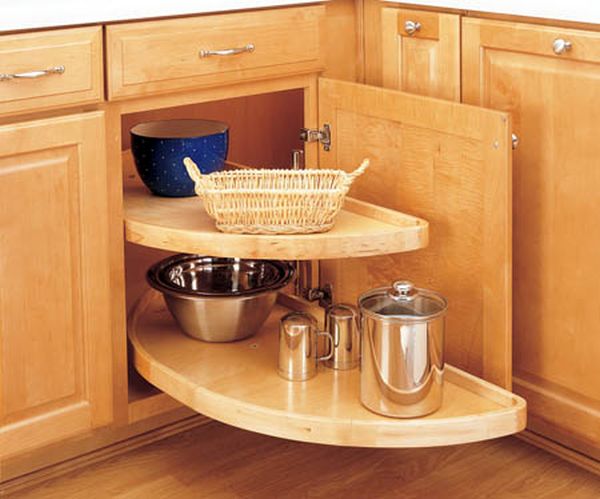 If your kitchen has some pretty deep corners which you are unable to use properly, trust a lazy Susan cupboard or cabinet to come to your rescue. These storage options come in different types and sizes, and can be the best choice for an underutilized kitchen corner. You can use the lazy Susan to either store some of your dishes, or transform the corner into a sliding pantry.
Consider adding a corner sink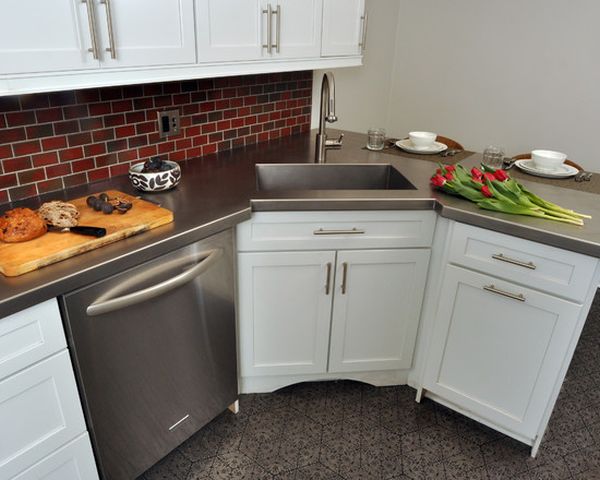 Adding a sink in the corner is a great move that would leave you with plenty of kitchen counter space. Kitchen corners are usually located right beneath a window. So having your sink located in the corner would also eliminate the boredom of doing your dishes.
Opt for corner drawers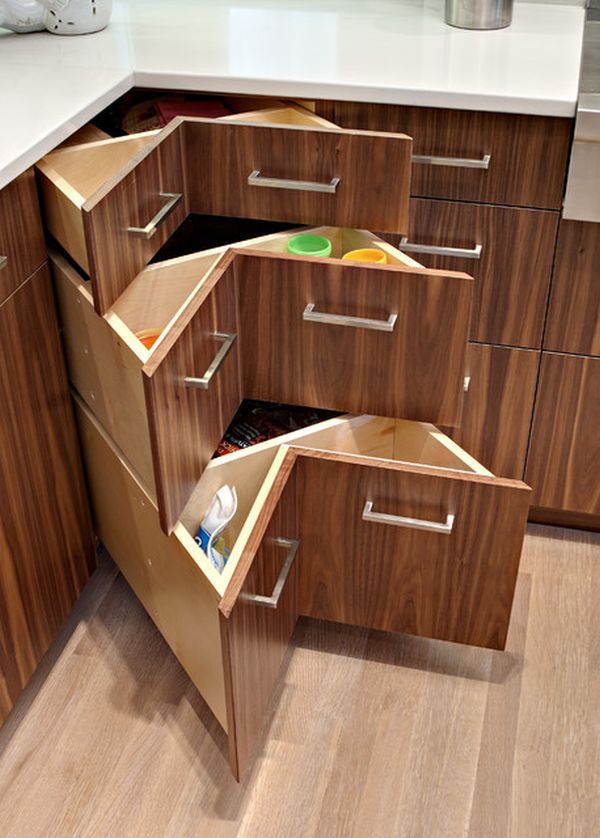 If you are apprehensive about installing a traditional lazy Susan, opt for a more modern substitute in the form of the deep drawer that would go around the bends. This would leave you with plenty of additional space to store your kitchenwares.
Install a Kitchen Banquette and an Eat in Kitchen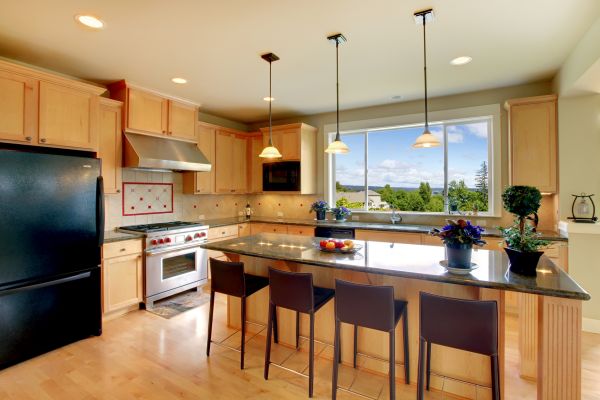 Transform that unutilized kitchen corner into the perfect dining area by installing a small kitchen table as well as a corner banquette. In addition to increasing the workspace, this would enable you to maximize the area's seating potential. You can also install an extra seating area near the corner to create the perfect space to rest or read a book while you cook.
Consider installing a range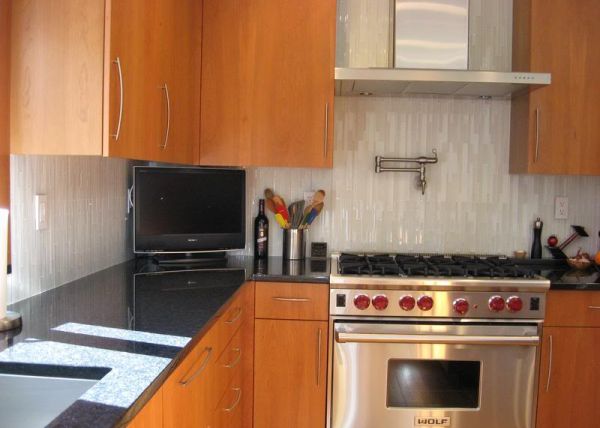 Getting a range works great if you have additional space in the kitchen to spare. It would also enliven the kitchen corner and create a striking backsplash in the area. A lot of homes are already opting for readymade corner ranges and hood vents. You can either opt for a DIY project and install the range yourself or opt to hire a contractor for the same. Just make sure you take into consideration the various issues that come with installing a range. If you get that done, you will end up with a great looking kitchen.
Make use of floating shelves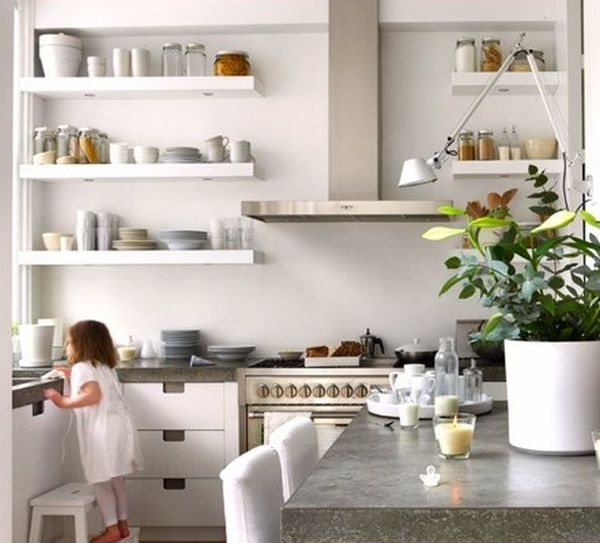 Most of us avoid floating shelves just because it is quite difficult for us to reach up and clean them. Once you get the knack of it, you will be surprised as to how useful a floating shelf can be, especially in the kitchen corner. In addition to giving you more storage space, a corner floating shelf will help you keep your kitchen countertop clean. So consider investing in one in order to make good use of that lonely kitchen corner.
Join the cabinet with a window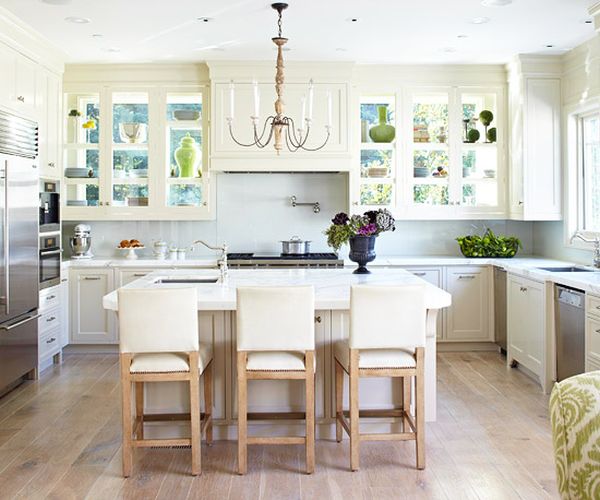 Instead of stopping your cabinet midway, consider extending them to reach the window. This way, the cabinets will easily cover the narrow space lining the window and the nearby wall. Just make sure that you leave enough space for the cabinet doors to open at least up to 90 degrees. Also consider windowsills, moldings and protruding knobs when planning the layout.
Make use of kitchen corners to display special collectibles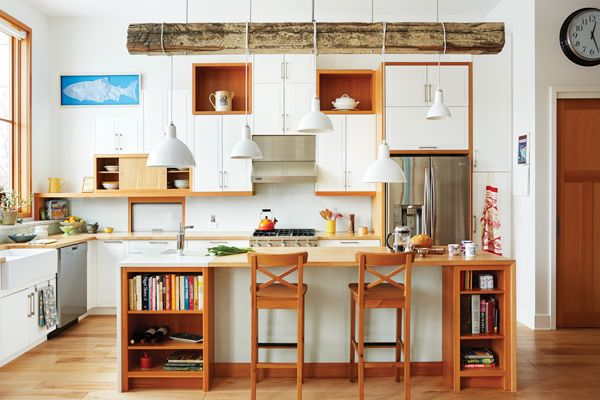 Maybe you have a collection of special wares that are lying unused in a cupboard. An unused kitchen corner would be the perfect excuse to flaunt these collections on a narrow shelf or showcase. Planting a tower filled with attractive plates, dishes, plants and even cookbooks can help liven up a dead corner.
Summary
Having an unused kitchen corner does not necessarily have to be a burden. You can make use of the tips mentioned above to transform the space into a creative nook that is both attractive and functional in more ways than one.