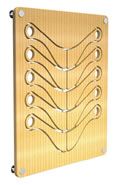 On your left is a unique coat rack that's designed with aim to save upon space. A product from Toda, this one is a unique combo of versatile design and artful functionality.
This one is wall mountable, the pegs of which can be folded out whenever required. When not in use, the rack resembles to a work of art to adorn your wall.
Designed by Noah DiJulio, it is available in a number of fine designs and colors to suit your taste and match the theme of your home.
Via: Yankodesign