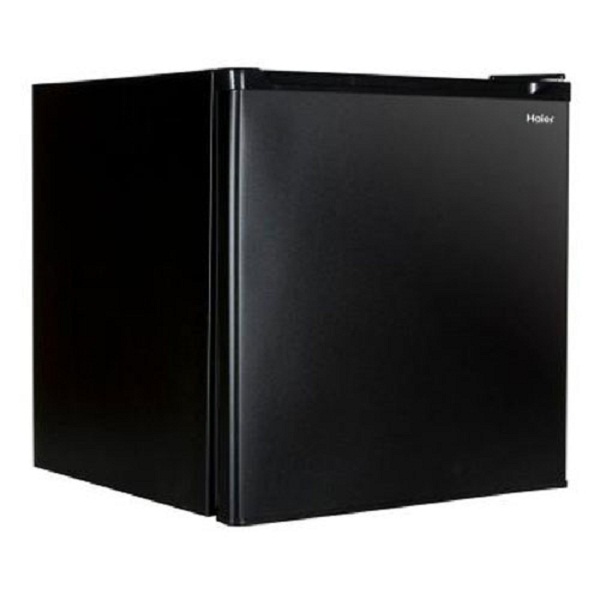 Compact and mini appliances are of high demand these days. the buzz word these days With space being a major constraint in most of the apartments and office space,the buzz word is to have compact appliances that fits well in the space provided.Compact appliance present a wide range of refrigerators that fits well not only to the space you provide them but to your lifestyle too.These appliances have all the features of a conventional large sized appliances. Compact refrigerators can be tucked neatly into the corner of any room. Brands such as GE,Danby, Sunpentown, Haier are some of the leading manufacturers of compact range of refrigerators. Each brand offers host of features and price ranges caters to the demands of a modern life.

1. GE French Door Refrigerator with Bottom Freezer plus Ice Maker
BRAND : GE
PRICE : USD 2099.95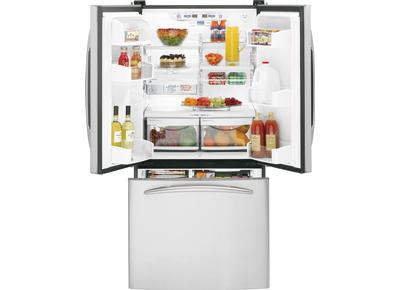 GE French Door Refrigerator with Bottom Freezer plus Ice Maker is actually an extremely convenient option if you want to buy a compact refrigerator. It has a height of 22.2 cu ft and a freezer height of 7.04 cu ft. It comes with water dispenser and spill proof glass shelves. Other features include one freezer light, dual refrigerator lights, 5 door bins, a pull out drawer for the freezer, 3 wire baskets which slides out and an ice bin.This product has stylish looks and is packed with comfortable features.
Technical Specification
Dimensions:
Width = 32.9″
Density = 33.9″
Height = 68.6″
USP
This product has an inbuilt water dispenser with a lot of modern features making storage very easy and convenient.
PROS
Modern and stylish design take minimal space.
2. White Compact Refrigerator with Freezer RF-400W
PRICE : USD 210.99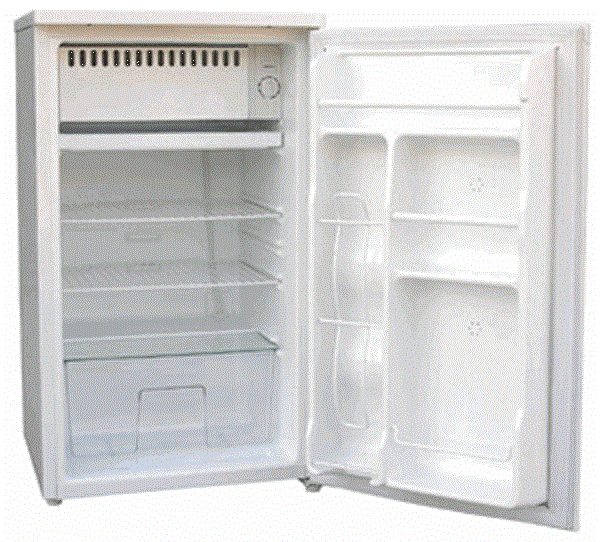 This White little refrigerator is ideal for office, college dorm room or a studio apartment. It has a total capacity of 4.0 cubic feet and measures 19.5 x 20 x 34 inches in size. Lot of space gets saved due to the flush back design of the refrigerator. It features a transparent vegetable storage drawer and also has a glass shelf. It is a top mount freestanding appliance with front leveling legs. The freezer has manual defrost option and has adjustable thermostat. The internal storage offers versatility with slide out shelves, a can dispenser and a crisp drawer, all of which are easily accessible.
Technical Specification
Input voltage 120V / 60Hz
Freezer interior dimension (W x D x H) 13.75 x 10.5 x 5 in
Fridge interior dimension (W x D x H) 16.5 x 12.25 x 22.5 in
Unit dimension (W x D x H) 19.5 x 20 x 34 in
Package dimension (W x D x H) 21.7 x 21 x 35.5 in
Net weight 62 lbs
Gross weight 66 lbs
USP
This appliance is UL listed and is HCFC free.
PROS
Its reversible door with recessed handle offers great usability.
3. Danby Designer Series DAR259BL Compact Refrigerator
BRAND : Danby
PRICE : USD 139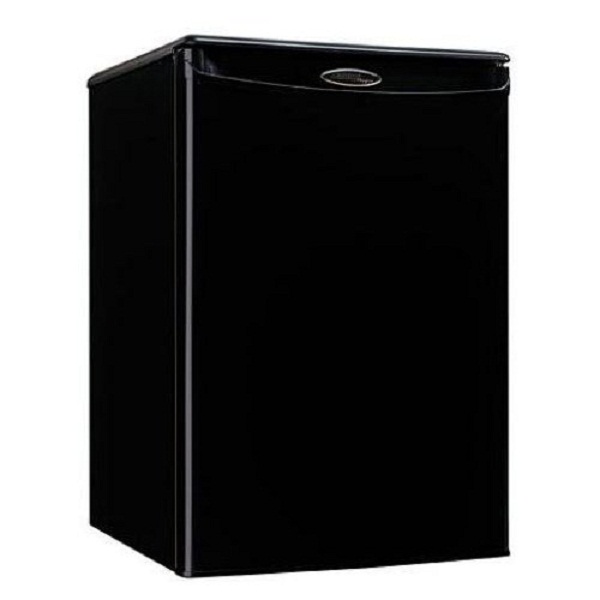 Danby Designer Series DAR259BL is quite a room and well organized refrigerator with 70.79 liters capacity. This exotic looking black compact refrigerator features mechanical thermostat and has automatic defrost option. It has maximum versatility with 2 ½ shelves which is spacious to accommodate wide range of food items. Tall bottles can be easily stored in the bottle storage and has CanStor beverage dispensing system. This counter top refrigerator measures 21.2 x 18.1 x 20.8 inches and weighs up to fifty five pounds. This refrigerator is one of the best selling compact refrigerators with great door organization. It is a perfect fit for studios, small sized apartments and offices.
Technical Specification
Weight: 55 Pounds
Depth: 21.25 inches
Width: 18.12 inches
Height: 20.75 inches
USP
The interior layout of this refrigerator is laid out well with no freezer. There are deep top shelves that help to accommodate lot of food stuffs.
PROS
This refrigerator is pretty easy to maintain and handle.
There is a top mounted handle which makes the door easy to open.
4. Haier HNSB02BB 1.7 cu.ft. Compact Refrigerator
BRAND : Haier
PRICE : USD 109.99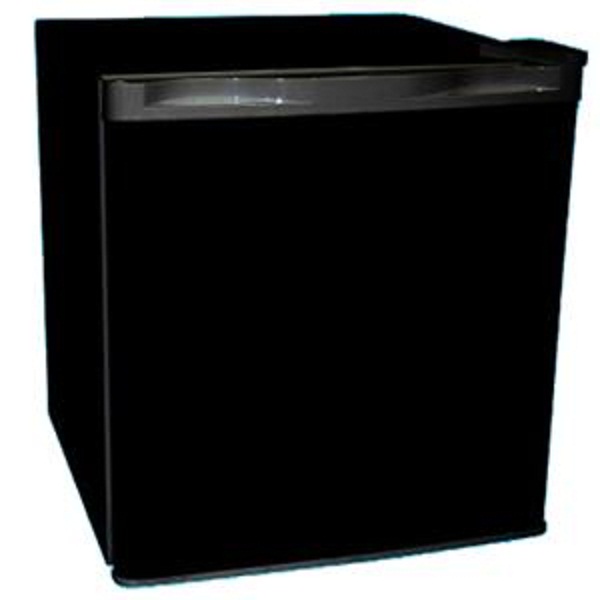 The Haier 1.7 Cu. Ft. Compact Refrigerator/Freezer (HNSB02BB) is an ideal refrigeration solution for small homes, offices and dorms. Though a compact refrigerator, it has a spacious freezer compartment and has storage space for two liter bottles. The 1.7 cubic feet refrigerator can easily accommodate ice cube trays, small and sundry food and drink items. The freezer features with a manual defrost option and does not come with an ice maker or water/ice dispenser. The refrigerator comes with slide out shelves making easy to access the food and drink items. This refrigerator measures 19.62 inches Height, 17.5 inches in width and 18.62 inches in depth.
Technical Specification
Green Compliance: No
Color: Black
Style: Top
Total Capacity: 1.7 cu. ft
Dispenser: No
Refrigerator Type: Mini
Color: Black
Freezer Location: Top
Total Refrigerator Capacity: 1.7 cu. ft
Ice Maker: No
Water/Ice Dispenser: No
USP
This black compact refrigerator has recessed handle and coil back.
PROS
This appliance is CUL and UC approved.
5. Sunpentown Double Door Compact Refrigerator White
BRAND : Sunpentown
PRICE : USD 235.8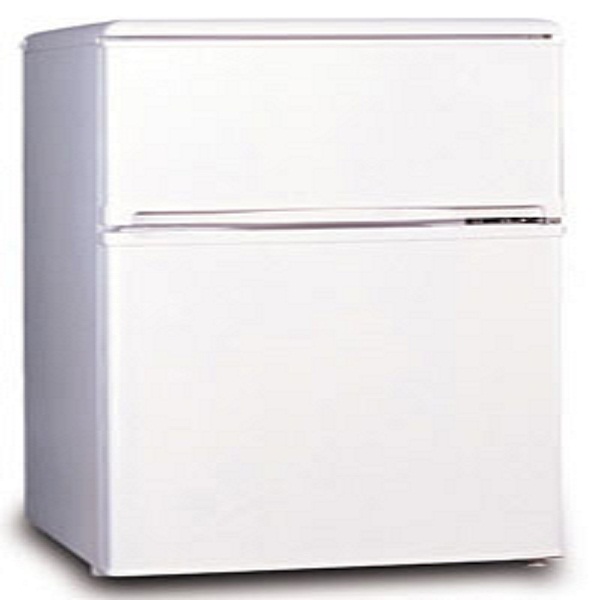 Sunpentown Double Door compact refrigerator features separate fridge and freezer compartments. It has an adjustable thermostat that controls the temperatures to keep the food fresh and crisper. It has a net capacity of 3.2 cubic feet and measures 20-2/3 by 18-2/3 by 33-2/3 inches. The freezer compartment comes with an ice cube tray and offers manual defrost. Flush back design of the refrigerator makes it a great space saver and is ideal for a compact home, college dorm or office and comes with a can dispenser and a tall bottle rack. It also comes with vegetable storage drawer with glass shelves.
Technical Specification
3.2 cu.ft. Net capacity.
Freezer compartment temp range: 5 – 23°F.
Refrigerator compartment temp range: 35 – 59°F.
Energy guide (kWh/year): uses least 183 / uses most 351.
Estimated yearly operating cost: $29 (based on 8.29 cent/kWh 2001).
USP
The compact design of this refrigerator with reversible doors offers versatility.
PROS
It is HDFC free and has front leveling legs which offer stability and support for the refrigerator.
6. Danby DCR412BLS compact refrigerator
BRAND : Danby
PRICE : USD 300.48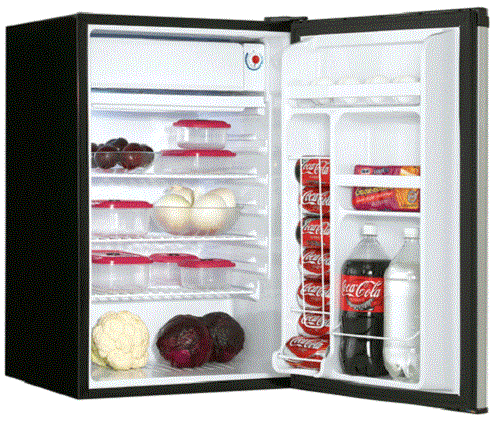 Basic cooling and freezing needs can be easily met with Danby DCR412BLS compact refrigerator. This refrigerator makes a perfect combination or flexibility and style. It has stunning looks with a black cabinet and a stainless steel door finish. It features a CanStor door unit as the beverage dispenser. Tall bottles and cans can be stored with ease in the full shelf (1) and half shelves (3). It has a full width freezer with defrost bush button and keeps food frozen for a long time. This half sized fridge makes a good value for money as a great energy saver.
Technical Specification
* 4.3 cu.ft. (121.7 litres) capacity small refrigerator
* Push button defrost
* 1 full shelf and 3 half shelves
* Tall bottle storage
* Reversible door hinge
* Color: black with stainless steel trim
* Dimensions 20 10/16″W x 21 2/16″D x 32 9/16″H
USP
This stylish, compact yet functional refrigerator is perfect for any office or home.
PROS
It features CanStor beverage dispenser and comes with a mechanical thermostat and a reversible door.
7. Haier 1.7 Cu. Ft. Under Counter Compact Refrigerator/Freezer – White or Black
BRAND : Haier
PRICE : USD 114.75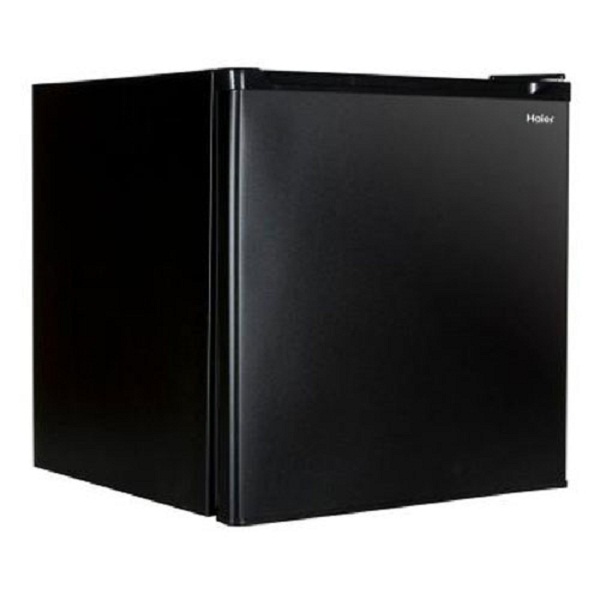 This compact refrigerator gives all the amenities that a full-sized refrigerator would provide. With a size of 1.7 cubic feet, this refrigerator has enough storage and room space to take in the needs of nearly three to four people. The freezer compartment has adjustable shelves, organizer for cans and comes with an adjustable thermostat. The door shelf can accommodate 2 liter bottles and has a recessed handle which is a great space saver. This refrigerator features enhanced cooling technology which provides maximum cooling in both freezer as well as fridge sections.
Technical Specification
* Model: HCR17W, HCR17B
* Brand: Haier
* Optimal cooling technology
* Dispense-a-can storage compartment
* 2-liter bottle door storage
* Two (2) adjustable shelves
* Fits great under most counters
* Manual defrost
* Warranty: 1 year parts and labor, 5 years sealed system
* Haier 1.7 Cu. Ft. Under Counter Compact Refrigerator/Freezer
* Sizable freezer compartment
* Recessed handle
* Quiet operation
* Adjustable thermostat
* Space-saving flat back design
* Power: 90 watts, 115V, 1.3 amps
* Weight: 38.14 lbs
* Dimensions: 17.52″ W x 18.62″ D x 19.61″ H
USP
The small size and the versatility of the fridge makes an excellent choice for tight spaces and a great unit for all types of food and drinks.
PROS
The refrigerator comes with manual defrost, makes noiseless operation with 1 year warranty.
8. MicroFridge 2.9 Cu Ft Energy Star Compact Refrigerator/Freezer
BRAND : MicroFridge
PRICE : USD 425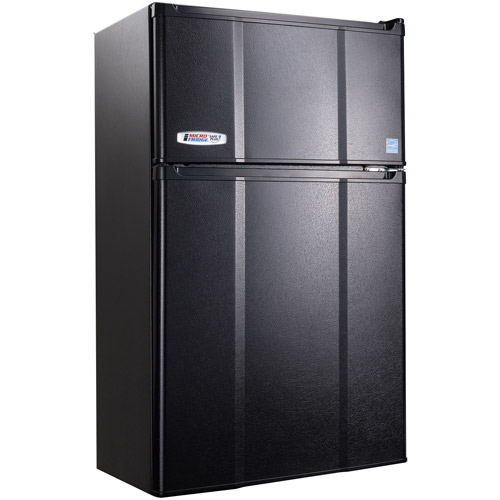 This compact fridge is the best solution to store things for a person or two. It has a beveled door which is extremely unique and gives quite a distinct look. It is available in two colors – Black and stainless steel. This even gives you a 0 degree freezer if you want to store things for a longer period of time. This keeps the food items fresher and crisper for a longer period of time. This auto defrost fridge is a smart way to store your food and keep it healthy for a long time.
Technical Specification
Capacity = 2.13 cu ft
Dimensions = 33.5 x 18.63 x 20.13
Power consumption = 120V / 60Hz
Weight = 58 lbs
USP
The most unique part of the fridge is definitely the beveled doors.
PROS
Auto defroster, hence you do not need to keep in mind when to defrost.
9. The Sunpentown RF-320W Compact Refrigerator 3.2 cu ft. Freezer and fridge accessible by separate doo
BRAND : Sunpentown
PRICE : USD 218.99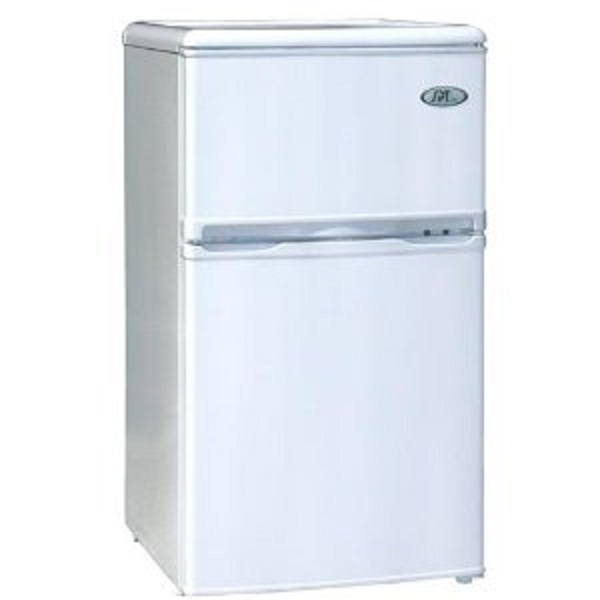 This product comes with various essential features. The spacious capacity of this refrigerator proves to be a great attraction. Despite being exceptionally spacious the fridge does not give a huge or bulky look and has a height of less than 34″. It has a separate compartment for refrigeration and freezer. The compact refrigerator can be placed easily and quite suitably in small apartments or offices. The features equipped by this product include slide out wire shelf, manual defrost, can dispenser, a tall bottle rack, glass shelf, veggi drawer, and two reversible drawers for convenience. This compact yet spacious refrigerator is a great option.
Technical Specification
Capacity 3.2 cu. ft.
Dimension 18.7 x 20.7 x 33.7
Power consumption 120V/60Hz
USP
Exceptionally spacious to store sufficient products.
PROS
Inspite of being spacious the refrigerator does not look bulky.
10. Summit CP35LL Compact Refrigerator Freezer with 2.9 Cubic Foot Capacity, Energy Star Listed Two-Door
BRAND : Summit
PRICE : USD 649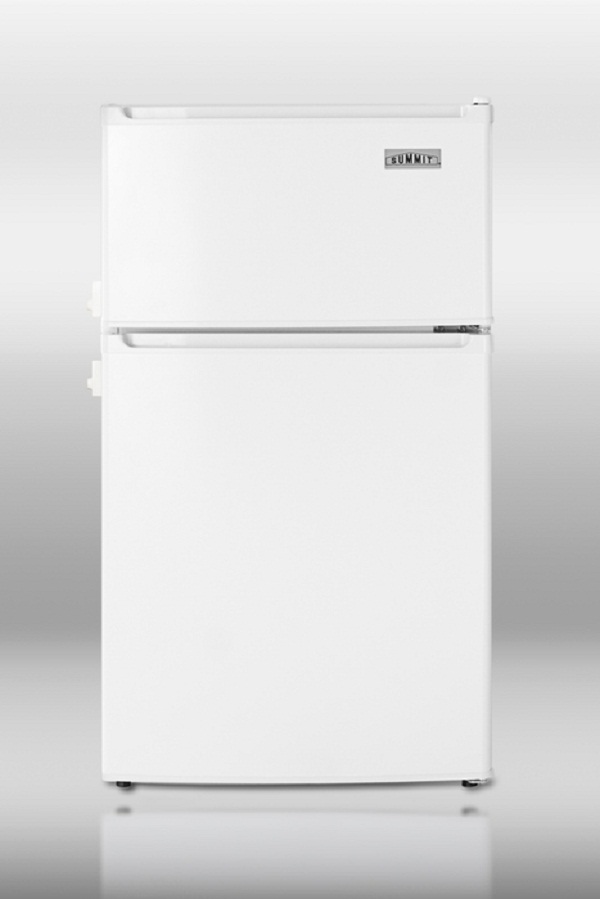 This compact refrigerator is ENERGY STAR qualified which makes it energy efficient and an ideal fit for all homes, colleges, offices and other settings for those who are looking to save money and space with good quality. This refrigerator has an auto and manual defrost option that helps to save on energy and prevents freezer burn. It has a generous storage area for large bottles, food items including fruits and vegetables. These are kept crisp and fresh for a longer period of time with the adjustable thermostat option. The top freezer has wide storage area with door shelves making way for great organization efficiency.
Technical Specification
Capacity 2.9 c.f.
• Dimensions 33 1/4″ X 18 3/4″ X 20″ (H x W x D)
• Defrost Type Cycle
• Body Color White
• Door Color White
• Lock Type Side (2)
• Shipping Weight 80 lbs.
• U.L approved
• 115 volt/ 60 hz
• Options Available External readout thermometer, Battery powered alarm
USP
This refrigerator is fully featured and is energy efficient.
PROS
It has two side locks to protect both the compartments.
It comes with two doors which are 19 inch in width, thin enough to make this refrigerator compact.