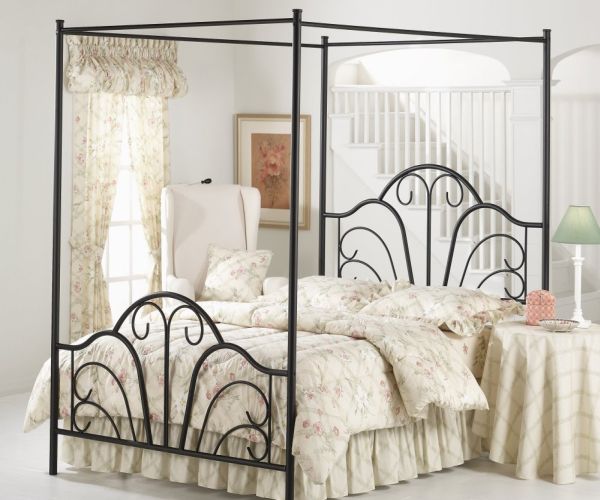 Bedroom is one of the most important places in every house. People not only sleep here but also does spend most of the spare time in their bedroom. The first thing that we see when we enter a bedroom is our bed therefore everyone desires to have a nice and comfortable bed. There is a large variety of options available in the market for people who desire to buy beds. If you are looking to give your bedroom a contemporary and elegant look then check these 10 canopy beds.
1. Coaster Symphony Queen Panel Bed.
Price: $389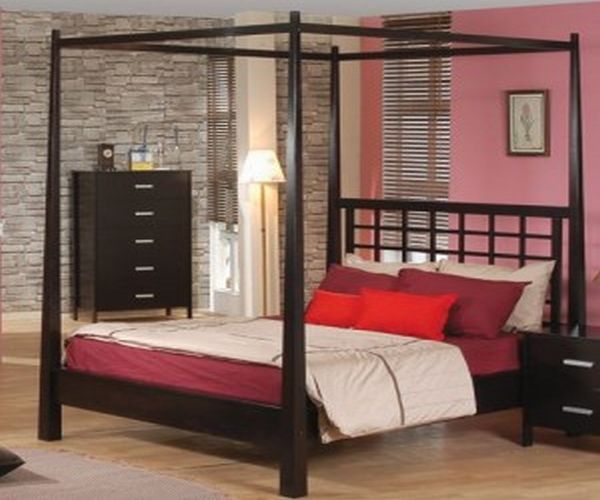 Coaster has been well known for creating a large variety of beds for beautiful bedrooms since past 31 years. Their creations include dunk beds, storage beds, panel beds, sleigh bed and platform bed. You just imagine it and name it and you will definitely get it through Coaster. They are renowned for creating well elegant furniture to decorate your beautiful homes. This name carries quality and offers a unique blend of style and class.
UPS: It offers simple designs with clean lines and fashionable class to lighten up your bedroom. The luxurious microfiber platform bed headboard contrasts against the gorgeous temperate wood finishing. The other platform bed has a diaphanous headboard and a slender silhouette shelter four-poster top.
Pros: These beds have been created using solid wood with walnut finish. Their drawer glide with nylon rollers along with drawer stops are best in quality, style, value and does appear best in any bedroom.
Cons: Wooden work looks nice only if the other furniture in the room is equally classy thereby giving a wooden appeal.
2. Hillsdale-Dover Canopy Bed in Textured Black.
Price: $189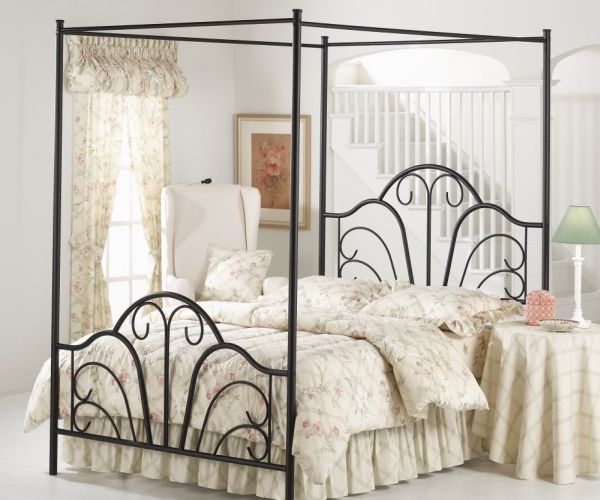 The Hillsdale Dover King Size beds with canopy comes with a special black finish. The head as well as the footboards both do feature ornamentally fixed metal rolls. It has been constructed with traditional design elements and transitional style to give it exhilarating contemporary look.
USP: It features traditional scroll metalwork pattern in the headboard and footboard to complement your bedroom in the unique stylish manner. It is fully metal welded with black finish. This traditional style fancy bed is available in Full, Queen and King Sizes. The Headboard, Footboard, Canopy and Frame form the part of the bed and are sold together. Canopy is 81 inches high and 54 inches wide with 54.5 inches high headboard.
Pros: The bed is constructed with high quality welded metal which makes it sturdy and tough. The inimitable fashion of this canopy bed will definitely make your bedroom look stylish and cozy.
Cons: This beautiful bed requires a lot of maintenance and care. Black metal attracts lots of dust therefore you need to dust it frequently with specially treated dusting cloth. Do not use liquid or harsh cleaners on metal surface as they might damage the metal finishing.
3. Homelegance Queen Canopy Bed.
Price: $460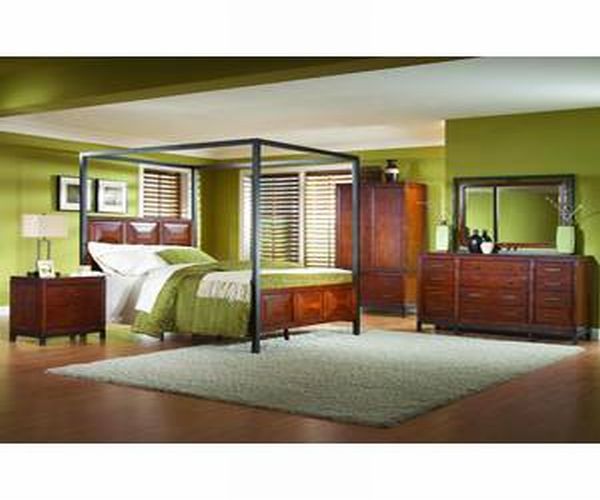 Homelegance works with the goal to create the highest quality products with best value, latest design and most satisfying services for its customers. The popularity of this brand can be realized from the fact that it is located in all major cities like San Francisco, Los Angeles, Dallas, Chicago, New Jersey, Atlanta, Canada and many more places. They have expertise in creating dining collection, bedroom collection, occasional collection, sofas and chairs, office furniture, lightning collection, mirrors and various other accessories.
USP: It's a Queen Canopy bed with elegant Victorian mahogany color and detailed finishing. The surface has been enhanced using fine thin coating that gives romantic appeal to your bedroom. The bed has been designed in a classic contemporary style. The design on headboard and footboard has been kept simple and sober. They feature well polished and with detailed geometric lines and shapes. The antique texture and gentle color with modest details give it the old country style. Sober steel bars look nice and elegant.
Pros: Simple steel bars are used to support canopy which are easy to clean. Simple designs on footboard and headboard make it easy to clean and maintain. Classic wood furniture gives a very royal and classy touch in your bedroom. The wise margin edges of the headboard and footboard are easy to uphold.
Cons: Spacious bedroom is required to accommodate this huge queen size bed. Some people might not like the idea of using steel bars with the wooden headboard and footboard.
4. Rustic Natural Cedar Double Canopy Bed.
Price: $489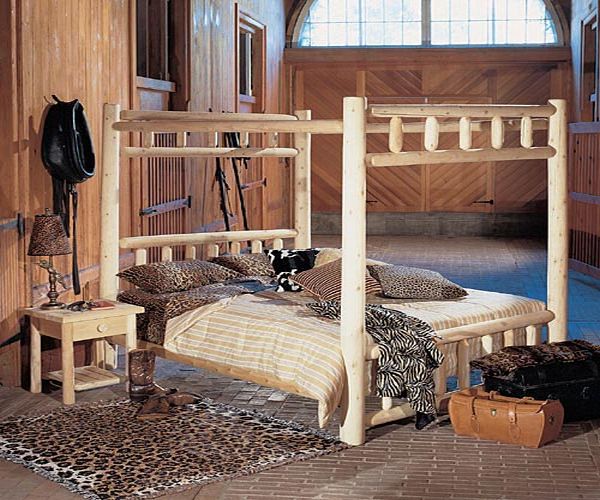 Rustic Natural Cedar Furniture Company has been creating excellent cedar products since past 35 years. Every piece of furniture is beautified with care and dexterousness. Each and every bit of furniture is hand crafted with excellence and supremacy. They create products for both interior as well as exterior like; garden etc. They have reached a distinguished mark in creating bedroom sets, tables, rockers, gliders, swings, seating groups and other garden furniture. This marvelous furniture is crafted in Quebec and British Columbia.
USP: Nothing could compete with the sturdy and smooth finished canopy beds created by Rustic Natural Cedar. These beds give a very natural and warm feel and add tranquility to your bedroom. It has been made up of 100 percent natural northern white cedar. Creamy white color adds to its beauty. The bed is good looking as well as durable and is available in four sizes; double, twin, queen and king. Headboard and footboard comes along the bed with hard side rails made up of metal concealed in wooden caps. Bed is 80 inches high and 76 inches wide.
Pros: Natural cedar offers beautiful long lasting furniture which is quite easy to maintain. They are perfect blend of beauty and comfort. They are joined with mortise and tenon which makes them easily detachable and comfortable to store.
Cons: Eco-conscious people might not like the idea of cutting cedar trees for making classy and stylish beds to decorate their bedrooms.
5. West Elm Ellipse Canopy Bed.
Price: $399.99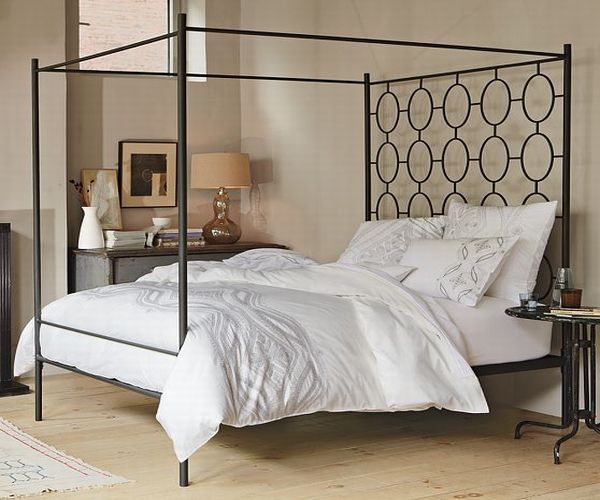 West Elm is a fashionable retail store well known for featuring modern and stylish furniture designs and other housewares. It was founded in San Francisco, California in 2003. The company has gained expertise in creating kitchenware, houseware, office Furniture and home furnishing in small period of time and their products are demanded all over the world.
USP: These beds are available in four sizes i.e. twin, full, queen and king size. The height offered by all the sizes remains same i.e. 82 inches whereas the width varies from 40.5 inches for twin size to 78.5 inches for king size. They are furnished using power-coated metal frame with anthracite finishing. Elliptical metal design all over the headboard gives it a very impressive look while the graphite touch makes its appeal industrial. It's a nice simple and romantic bed with light and airy classic design.
Pros: The variety of sizes available gives a good option to the buyers to choose fancy beds according to the space availability at home. They have 16 inches legs which create an extra under the bed storage space.
Cons: Proper maintenance is required. You can wipe it using soft and dry cloth only. Wet cloth might make the metal surface rusty and even damage it. Do not use household cleaners etc. to clean the metal surface.
6. Lauren Metal Canopy Bed.
Price: $399.99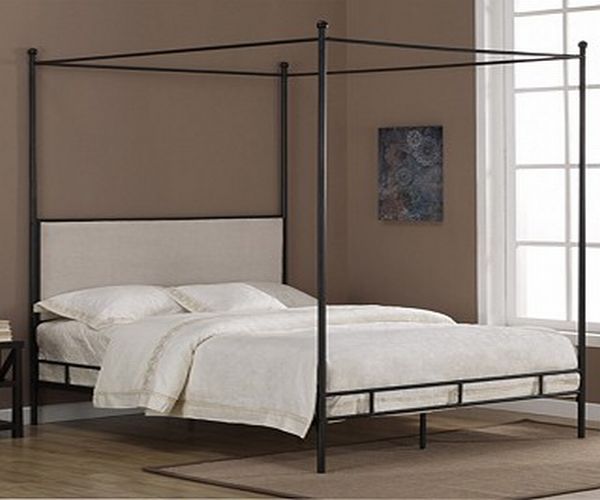 Though it is very easy to perform tasks using machines but the finishing touch and pronounced dexterousness can never be achieved using machines. The Lauren Metal beds uses hand forged steel which imparts strength as well as uniqueness. The hand forged iron is first bent and beaten skillfully by experts and then molded into casts.
USP: These canopy beds are constructed using metal as well as wood. Simple and sober in design they look royal and dominating with their antique black look. They are available in queen size and the cream fabric enhances its beauty and elegance. This queen size canopy bed is 86 inches high and 64 inches wide. The bed has simple and sober headboard with cream white colored plain design. The footboard is sleek and easy to clean.
Pros: Frames are made up of forged steel that makes them sturdy and strong. Hardwood timber panel is also accommodated which make it appear better. Though these beds have sleek appearance but nothing will shake or rattle them.
Cons: They are simple in design with very little scope of color variety.
7. Fashion Bed Group Sylvania Canopy Bed.
Price: $399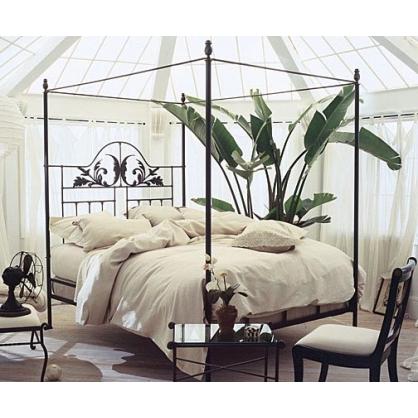 Leggett and Platt Company marketed as Fashion Bed Group is a popularly renowned for its creative and fashionable beds, daybeds, bunk beds, bed frames, and bedding support designs. It was established in 1991 and now it consolidates three famous bed manufacturers. The company produces high quality beds casted in brass, cast zinc, steel and iron. Wood, aluminum and these products are distributed all around the world from its main warehouses located in Chicago, Los Angeles, Houston, Toronto, and Texas.
USP: Sylvania Canopy Bed by Fashion Bed Group has changed the concept of pleasant sleeping as sleeping never was pleasant as it does look with its comfortable and stylish design. It has been decorated with French Roast finish which adds gold coat over black to enhance its quality and make it shimmer. It has a beautiful headboard designed in black with simple footboard and metal frames. It is available in full, queen and king size with 83 inches of fixed height and width varying from 55 inches for full to 78 inches for king size.
Pros: French Roast finishing gives it a grand look. The bed is supported by sturdy metal frames and has a fancy looping scroll design with straight spindles.
Cons: The headboard and footboard have been kept simple which might not appeal to the people who are looking for grand stylish huge headboards.
8. Newcastle Full Cast-Iron Metal Canopy Bed.
Price: $394.99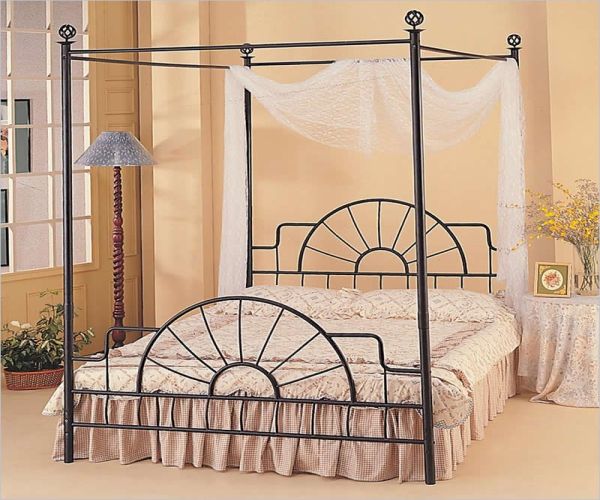 Newcastle collection offers variety of iron beds and headboards to suit your taste and preference. The variety includes classic as well as contemporary designs from twin to queen size. These beautifully designed iron beds add stunning centerpiece in your bedroom. The sensation created by these calming and soothing beds form an ambiance that you have always longed to have in your bedroom.
USP: This eye-catching iron canopy bed will make a striking centerpiece in your relaxed main bedroom. The headboard and footboard are made up of stylish metal designs featuring well decorated sunburst motif. Simple iron stands soar high at each corner.
Pros: These beds are long lasting as they are made up of sturdy metal.
Cons: The dark rustic finish might not appeal to each and every person.
9. Hillsdale Emily Canopy Bed.
Price: $ 359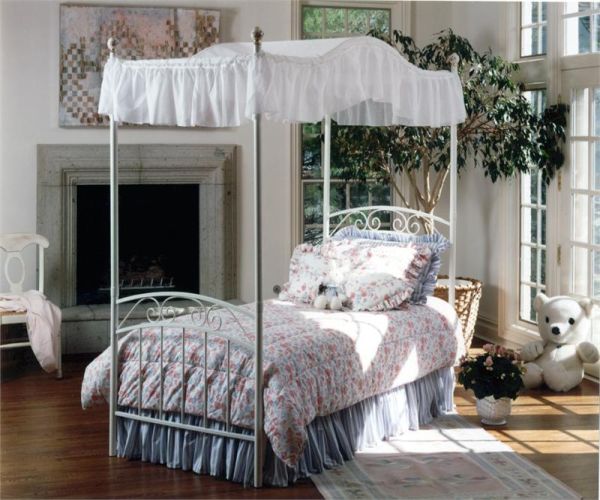 It is a cute canopy bed with pretty design that would completely suit little girl's room or guest bedrooms. The innovative design has been created by Hillsdale. It has a modern classic finish with clean white look.
USP: Hillsdale Emily Canopy Bed is fully welded with heavy gauge tubing. Legs are 1 ½ inches round and ¾ inches square top rail. The bed has simple and sober design with straight line legs and spindles. The crowned headboard and footboard are attached to decorate the bed.
Pros: Detailed scrollwork on crowned headboard and footboard are very difficult to find, but you are lucky to find Hillsdale Emily Canopy Bed. Optional canopy could be added to give it a princess like appeal. Easy to clean and maintain.
Cons: Only spacious rooms can accommodate this type of fancy beds.
10. Contour White Canopy Bed.
Price: $ 399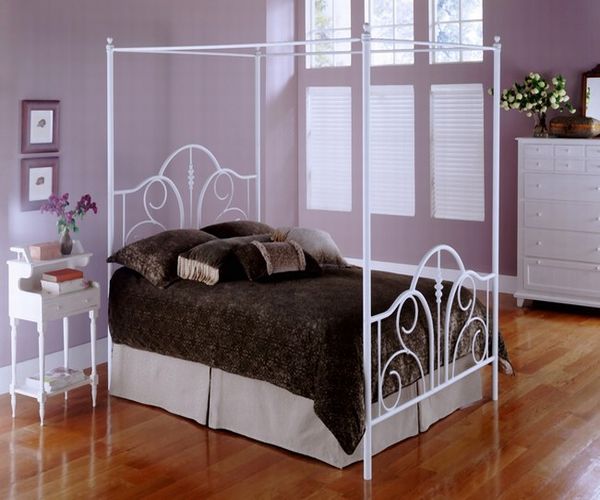 The Contour beds surround you with its bold and lofty shape. The look of this bed is enough to lift your spirits high. They serve as a neat package to beautify small world around you.
USP: They are available in twin, double and queen size. They have special roller frames engineered in extraordinary manner. White color headboard and footboard go with any color of furniture and interiors of the room.
Pros: Round shaped metal frames and simple designed headboards and footboards are easy to clean and maintain.
Cons: People who like gaudy designs and vibrant colors might not like this simple piece of comfort.