With the evolution of technology, the way you view TV has changed forever. From the boring bulky boxes, the TV has transformed into a modern slim and Flat Screen Device that you can view and enjoy with ease. With the evolution in the shape and size of the TV sets, there has been a drastic change in the looks of the TV stands as well. The latest TV stands are made specially to accommodate large Flat Screen TV sets and have been specially designed to give the interiors of your living room, a real cool look. 10 of the best looking Flat TV stands available in the market today are listed here for your reference.

1. 66″ Wide-Screen TV Cart by Eagle Furniture Savannah Collection 508-95548
BRAND : Eagle Furniture
PRICE : USD 732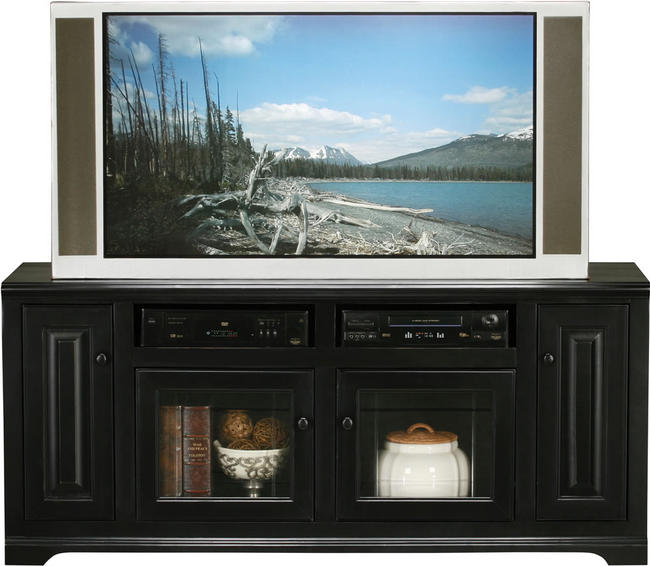 This unique looking TV stand has a number of utility features associated with it. It features 2 glass panel doors, 2 fixed wood shelves, 2 raised panel doors and an extensive decorative molding. Simply put, it is more than just a stand where you may rest you flat screen TV set. Made from very durable materials like, veneers and hardwood, this stand has a lot many shelves and display panels, which you can put to a number of uses. The glass doors of the shelves allow you to quickly view the contents of the shelves and you can use them to showcase any item as and when required. These stands are exclusively made in the US and would provide a really great piece of décor for your living room if you decide to purchase the stand.
USP
The designing and looks of this unique stand are simply awesome. It is bound to add to the quality of your living room's interior décor.
PROS
It is very durable and does not lack on styling and utility either.
It is exclusively made in the US.
It comes with a yearlong limited warranty.
2. Espresso by TV Lift Cabinet Moderna – XL Collection 483-AT005296E
BRAND : Moderna Collection
PRICE : USD 2199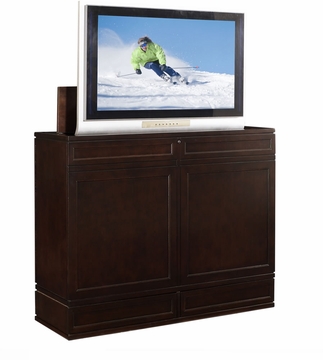 This stand cum cupboard is a unique way to enhance the décor of your room. It looks like a traditional and stylish antique equipped with the most sophisticated modern equipments like IR signal enhancers. It features reversible cabinets and can be used both ways. The looks are very stylish and the materials that are used are all of very good quality to give it a very long life. This stand comes with a 1 year limited warranty.
USP
It features flip down drawers and reversible cabinet that can be used both ways. The scratch and spill resistant body is another advantage.
PROS
It features a built in IR signal booster for better remote reception.
It has a very durable and long lasting body.
It is very stylish to look at and offers multiple utility.
3. Caramel by TVLiftCabinet Moderna Collection 483-AT004472C
BRAND : Moderna Collection
PRICE : USD 1999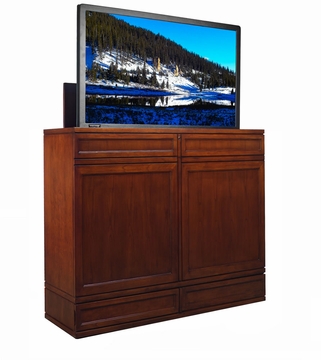 This stand is a very unique blend of sleek architecture and modern designs. You can get your own stand customized as per your preferences by option any of the looks for the stand. You can opt for the nickel finished pulls, cosmopolitan brushed satin and traditional knobs. Its unique feature include reversible drawers and allow you to use it both ways if need be. It sports a unique 3in1 design that allows you to have easy access to all parts of the stand instantaneously. This stand also features IR signal enhancers and a tough paint that is both scratch and stain resistant.
USP
It features incredible double sided, reversible racks that can be accesses from both sides, and hence can be installed anywhere.
PROS
It features a very durable paint and a scratch and spill resistant coating.
It has a unique IR signal enhancer installed within.
It is very stylish and sturdy to look at.
4. TV Riser – Brown by TVLiftCabinet Tao Collection 483-AT005212BR
BRAND : Tao Collection
PRICE : USD 2399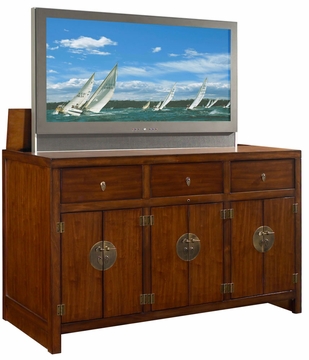 This stunning stand is truly worth every dollar you decide to spend on it. It looks like an antique and possesses features parallel to none. This stand comes equipped with classic looks of a body that has been made scratch resistant and cannot be easily stained. It features an internal infrared relay system that helps in the better functioning of your TV remote signals in sync with the other devices as well. The racks feature unique ventilation to not let stale air stay inside the board once it is closed. The finish of the stand is in dark brown color that looks really good with any interior decor.
USP
It features a unique internal signal boosting IR system, which amplifies the remote signals for better reception.
PROS
There is enough room to install even a large home theatre system in this stand.
It has looks that are second to none and features to die for.
It is very durable and allows air circulation in the racks even when they are closed.
5. Veneto Tall-Boy 32 Inch Wood Flat Panel TV Stand
PRICE : USD 349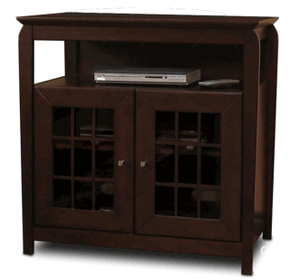 This is one classic stand that looks like it has been handed down from generations and has been very safely kept. The looks are not just antique but also stunningly beautiful. The classic dark black wood finish gives it a really nice appeal. It is 32" high, and thus perfect for both living rooms and bedrooms. The framed doors of the racks under the TV are really well crafted and look very nice. It adds an overall feeling of nostalgia of the bygone era to your room and improves its décor to a large extent.
USP
This stylish stand possesses the looks and durability of a real antique, and would add a certain charm to your room's décor.
PROS
It offers classic styling and easy access to all parts.
It is of just the right height, and the TV stays at your eye level, which makes it very comfortable to watch.
It allows you to use the floor space in a better manner.
6. Leda Large Flat Panel TV Stand, TB008G by Innovex Home Furnishings
BRAND : Innovex Home Furnishings
PRICE : USD 231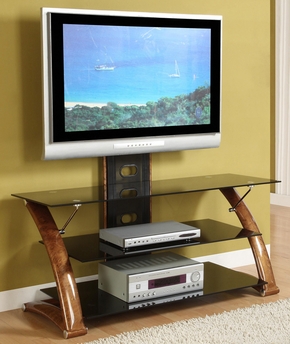 This is one ultra stylish and fully modern TV stand exclusively made for the flat screen TV sets. It utilizes lesser space than used by its more traditional counterparts. It imbibes technology, design and styling and incorporates all in one to creates a stunning effect. This enhances the décor of your living room by a fair margin. Its dimensions are 51" x 16" x 52' and it weighs just 106 lbs. This stand is very sturdy and made from stylish high grade glass, that is completely scratch resistant. It is available in 2 finishes, and features plenty of value added features like additional racks to put in the set top box and the DVD player. It requires simple assembly to install and is equipped with a 1 year warranty.
USP
It is super sleek, stylish and modern in looks and also occupies very less floor space.
PROS
It is made from stylish and durable high grade tempered glass material.
It can accommodate up to a 60" flat TV set.
The assembling is very easy and can be done by you yourself.
7. E50 Low Entertainment Console by Eagle Furniture Coastal Collection 508-72553
BRAND : Eagle Furniture
PRICE : USD 438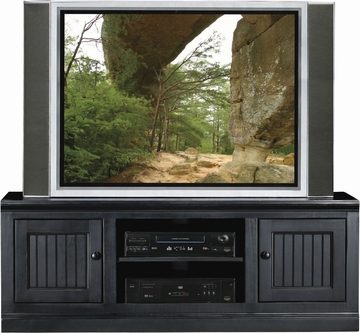 This unique flat TV stand features a very stylish contemporary design. The stand looks like a classic antique and offers additional utility of a set of sections and shelves. It features a central adjustable shelf made from hard wood and 2 bead board doors at the sides, with decorative molding with extensive details. The style of this stand is suitable for all interior types and will surely compliment the décor of your living room. It is made from very durable solids and veneers in contemporary style. It is a great asset to have in your living room, especially if it lacks a lot of room. The designing is of A grade quality and the workmanship is exclusively American.
USP
It bears a stylish antique look and is especially handy for those who desire more than just a simple TV stand.
PROS
It is very stylish in looks and durable in quality.
It features adjustable racks and store cabinets, which allow you to make the best use of the available space.
It comes with a 1 year warranty.
8. E50 Low Entertainment Console by Eagle Furniture Classic Oak Collection 508-46853
BRAND : Eagle Furniture
PRICE : USD 428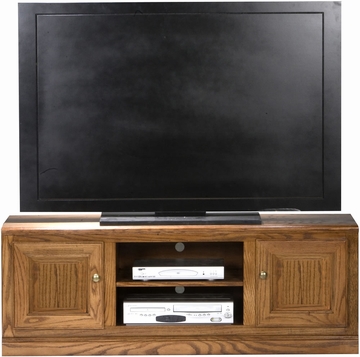 This classical oak wood stand would provide your living room's interior with a traditional orthodox look and you would love its classic looks once it is installed in your living room and has your Flat screen on it. The design of this stand is classic and it is made from very high grade materials like brass and oak wood. The stand is both durable and pleasing to the eye, a perfect place to put your flat screen, since most of the time it would be in your direct line of sight. All the parts of this stand are made exclusively in the USA combining the best of talent and styling. This stand is a part of the classical oak wood collection of Eagle Furniture, which is symbolic of creation of really very popular and long lasting furniture all over the US. It comes with a one year warranty from Eagle Furniture.
USP
Its unique classical workmanship and antique looks, coupled with its multiple utility, make it a must have.
PROS
It is exclusively made in the US itself.
It bears a very antique look and looks like it cost you a fortune.
It is a durable multi-utility stand that comes with a 1 year warranty.
9. E50 Entertainment Hutch With 51″ Opening by Eagle Furniture Oak Ridge Collection 508-93556
BRAND : Eagle Furniture
PRICE : USD 438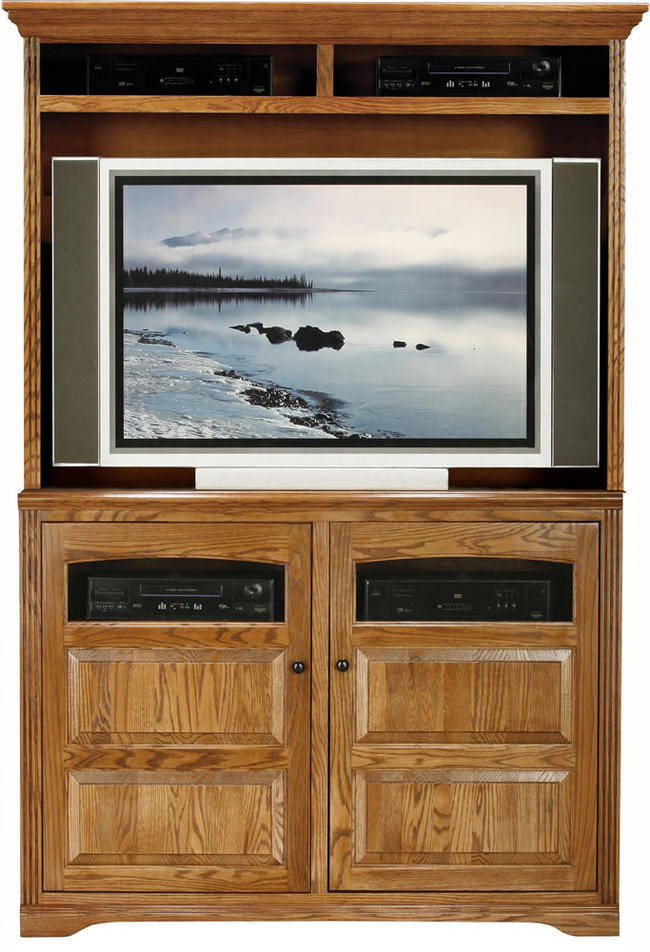 This stand is more like an old fashioned cabinet where in you can also store your large flat screen TV. It features super decorative molding and 2 fixed openings. The detailing of the stand is extensive and fluted. It is somewhat a mix between old and modern styling that creates a very unique effect. It is made using veneers, solids and brushed metal. The entire manufacturing is done in the US, and it represents the neo American classical style. The quality of both the materials and the craft is A grade and you may even call this stand a modern showpiece that amalgamates the goodness of the past and the techniques of the present.
USP
It is a multi utility classic stand that can also be used as a small cupboard (it is without a large door though) that can easily store your extra large sized flat screen TV set.
PROS
It is very stylish and sleek.
It comes with a one year warranty, and is a proud member of the Eagle Furniture family.
It is very durable and can also be used for many other purposes even with a TV mounted on it.
10. E50 Tall Entertainment Console With Three Drawers by Eagle Furniture Metropolitan Collection 508-828
BRAND : Eagle Furniture
PRICE : USD 711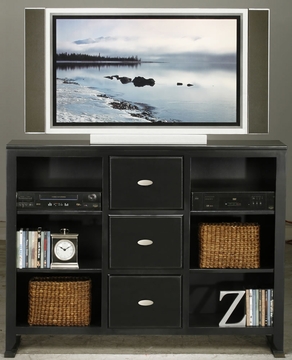 This stand is a mesmerizing blend of utility and style. It features 3 distinct drawers at its center, with 4 fixed wooden shelves alongside them and a straight leg base. The body of the stand is beautifully molded and features stylish designs. It has a unique distinction of being simple yet sophisticated at the same time. The stand is very stylish and groovy and also allows you to utilize your floor space in a better manner.
USP
Its stylish looks and the better utilization of the floor space, without losing out on style makes it a must have.
PROS
It is made in US, and bears unique styling and designs.
It offers better floor utilization.
It blends together fashion and style to give you a true masterpiece.