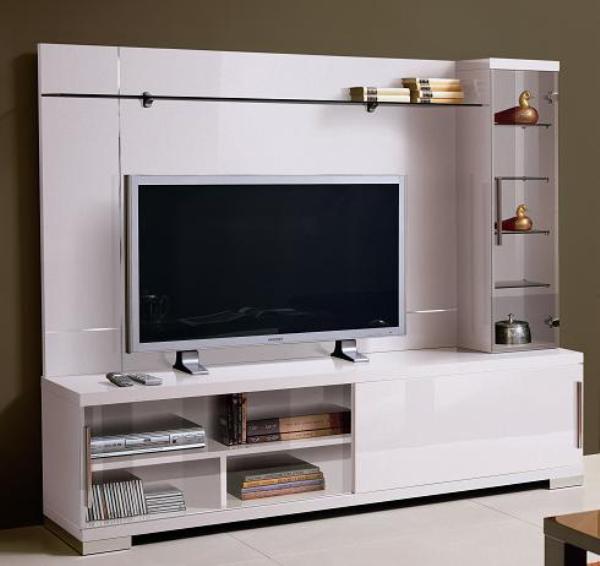 You have multiple options to embellish your living room. TV stands have become the prime option among them. Gone are the days when TV stands were just a piece of furniture deliberated to support your set of television. Now, when it comes to TV stands, you have a range of choices in design, material and style. This range includes modern, traditional, elegant and Eco-friendly TV stands that does not lack in classiness and appearance. Similar range is available in its material as well. You can go for any stuff that offers a myriad of decorations and matches to your living room like wooden, metallic or glass stuff. These multifaceted TV stands are not only best at affordability, durability and functionality but also at complimenting your tastes. While shopping for such comprehensive TV stands at furnishing stores, you may find yourself weighed down by the sheer number of options available. Following are the top modern TV stands shortlisted for your convenience.

1. RO – Asti TV
PRICE : USD 339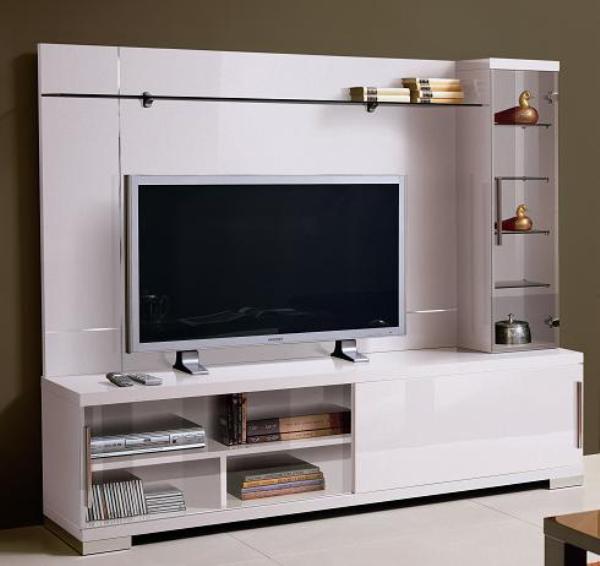 RO – Asti TV is an Italian TV unit which is beautifully designed with qualitative material. Its superior quality makes it a distinguished home decor. This TV stand is especially imported from Italy and France to incline the lavish look of your living room.
USP
Originally made in Italy, TV stand finer finish is an excellence in class. It possesses an elegant appearance due to its white lacquer ceasing.
PROS
Ceased with white lacquer.
2. Nexera – Eclipse 3 Pc TV Stand Home Entertainment Set
BRAND : Nexera
PRICE : USD 620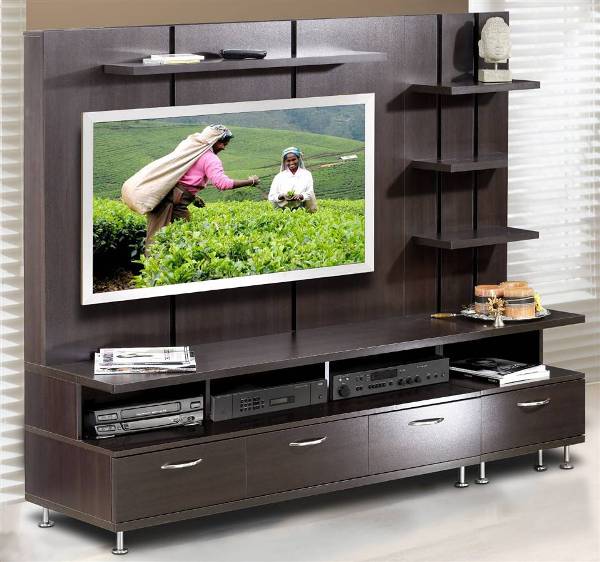 If you are seeking for a plenty of space for storage and also for adjustable arrangement of wires and support system, then you can give a standstill to your search. Nexera-eclipse 3 Pc TV stand is an integrated system of satellite towers and support panels. The most advantageous leveling is supported by changeable and flexible metal legs. This stand is complemented by TV consoles. You can adjust all of your home theatre components in its open and closed storage spaces and shelves. Give an ultimate refreshing look to your living room with Biscotti and Black.
USP
It not only saves the elegant and refreshing look of your home decor but very smartly manages all of the components as well.
PROS
Adjustable open and closed shelves and spaces.
Support panels and proper wire arrangement.
3. dCOR design Sedona 60″ TV Stand in Ebony Pecan – SD-5608
PRICE : USD 249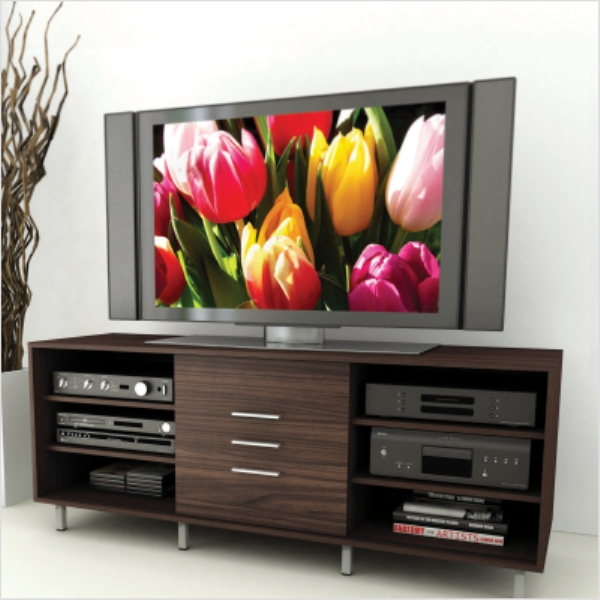 TV stands are aesthetical pieces that become the centre of attraction. They not only beautify the living room but are also very useful. Now, look-conscious minds have started giving their special concern to TV stand. The demand for variety has increased. With this mounting demand, the availability in an assortment of design, size, shape and brands have inclined. Among all of those designs, the stated design has an imperative place in its class. You will find it the best design that merges with your needs, home decors, and lifestyle and with all that jazz that you are looking for. This TV cabinet reduces the need of unnecessary investment in furniture. This design is equipped with shelves and storage drawers where you can hold the stuff. Thus, it is a practical solution to your space related problems.
USP
This durable design is the best solution to save the space of your living room.
PROS
Drawers for holding the stuff.
4. Contemporary TV Console Base with Hutch Coaster Co
BRAND : Hutch Coaster
PRICE : USD 1263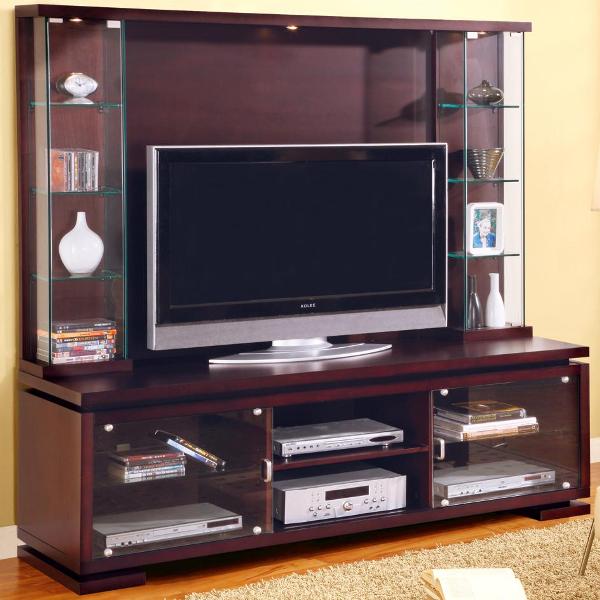 The construction of this contemporary TV console base is done in a way that is aiding in both modern and luxury feel. The wow appeal comes out while enjoying the bright look that comes with three push bottom lights. The glass shelves provide space for media and electronic devices. You can keep your other luxury and expensive decorative in these shelves and can enhance the beauty of your living room. This is the finest design to update your home decors and enjoying the interior with a lavish call. The bass veneer and poplar wood make this design sturdy. This TV stand has been finished with cappuccino that makes it an ideal model.
USP
Contemporary in design having an ample space for keeping your stuff safe in the shelves,this TV stand is worth buying.
PROS
The design is outstandingly attractive and durable.
The additional shelves and glass racks are increasing the facilities.
5. SONAX-FP-5000
BRAND : Sonax
PRICE : USD 400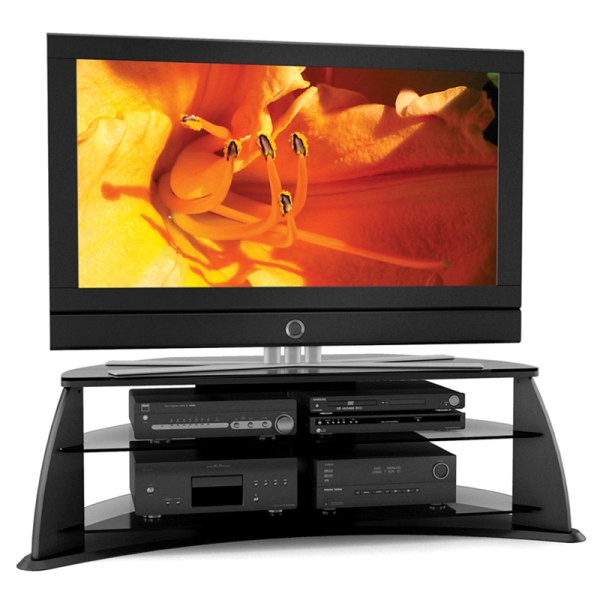 From art decor to modern, there are numerous TV stand designs that are available in market to complement any home décor. But while talking about SONAX-FP-5000, every art and design just gets faded in gloom. The design we are talking about is modern in style and outstanding in emergence. This piece is crafted in a way that incredibly suit to any form of home. Whether it is a traditionally structured home or has contemporary interiors, it is going to aid your home decors. The cable management system arranged in it, makes it dominating in its class. The shelves are made of most supple material that is fully durable. Black lacquer finishes give it a perfect line. Not only this, even in spite of the tinted tempered glass top, it is robust piece. The superlative and qualitative feature of this TV stand facilitate you a valuable investment, along with a wow feeling.
USP
Black lacquer finishes and incredible design makes this design distinguished in its class.
PROS
Despite the delicate material used in manufacturing it, the piece is pretty durable.
6. TV Stand in Chrome Finish Coaster Co
PRICE : USD 273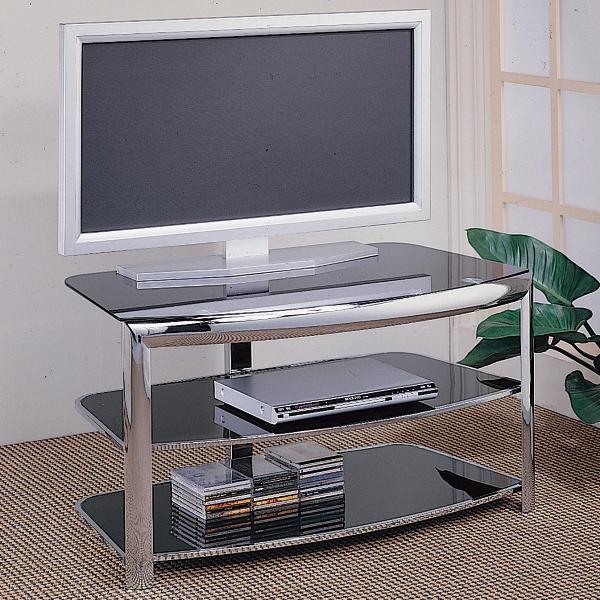 For enhancing the TV viewing appearance, TV stands have become the central focus. Introducing the chrome finished coaster company TV stand, is characterized by ultra finished chrome frame. The mega modern and elegant look of your new television can be muted by a traditional or outdated TV stand. But the design revealed here provides extremely stylish and fashionable appearance through tempered glass. Show off the beautiful tempered glass of your new attractive TV stand that will surely grab the attention of your guests.This black glass TV stand by coaster can be defined in two words: modern and chic. It is an exquisite addition to your home, ideal for your living room. It has an ample space for media accessories as well. Its clean lines and wonderful grace is enough to mesmerize you.
USP
Its modern look is enhanced more through tempered glasses. The finished lines and chic appearance provides an ultimate view to the entertainment tool.
PROS
The design has outstandingly appealing and elegant appearance.
7. dCOR design Naples 42″ – 68″ TV Stand in Black / Ebony Pecan – NP-1608
PRICE : USD 199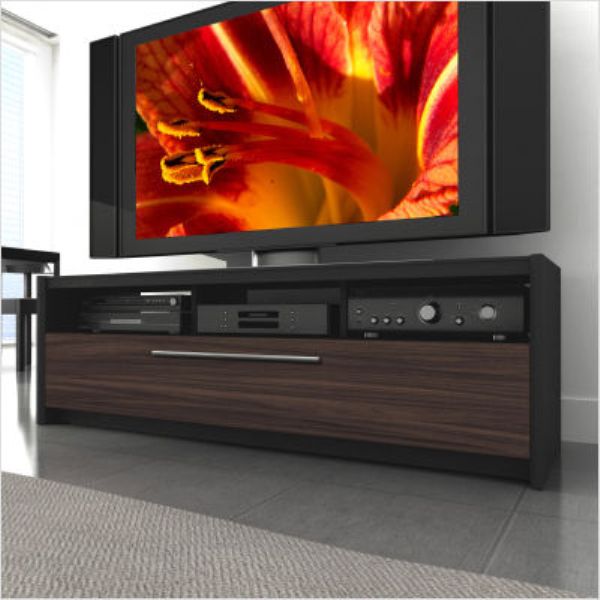 There are numerous tools and equipments used for entertainment but TV has a special place among them. And now, it has become an integrated system of entertainment. The TV system includes not only a screen and remote controller but it does involve DVD player, stereo sound speakers, cables and other analog sources. This has increased the need of additional space for such apparatuses. The mentioned design comes with the solution for all such problems of arranging the supplementary stuff. The shelf under the floor of TV has enough space to manage the desirable belongings. It is featured with ebony pecan finish and narrow satin chrome push. The pull down door with ample storage capacity makes it a complete package.
USP
The fusion of expensive lower drawer and organized space in it works as a bridge between lavishness and practicality.
PROS
It is a durable design with elegant look.
It practically features smart and luxury design.
The wire management system is amazingly engineered in this product.
8. Espresso TV Stand
PRICE : USD 269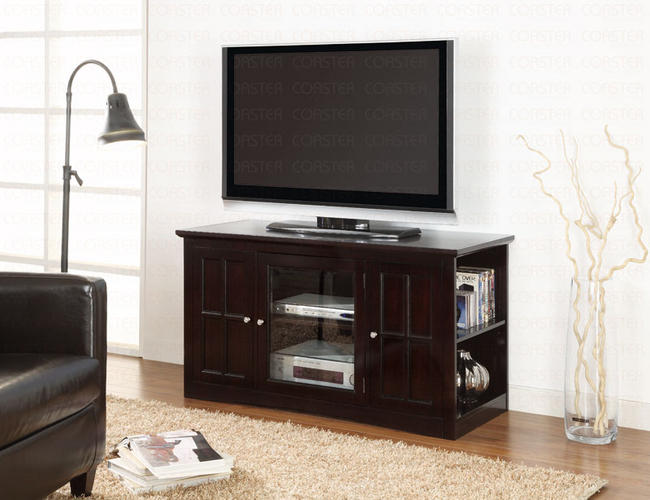 Espresso TV stands embodies an appearance of chic elegance with smart concerns for storage of some relative stuff. The adjustable racks reverse symmetrical cabinet system and display options behind the two ripped glass doors makes it more viable. You can put your home electronics in the given space. It is pretty smart design in terms of heat buildup reducing options. Its ventilated openings decline the rate of heating it up. Despite the space given for media storage it is a compact unit. The solid wooden frames used in this stand strengthen it. The polished metal handles facilitate fantastic finish that supplements the contemporary to classic home decors.
USP
This elegant design is matched with fashionable to traditional home decors. Its racks, glass doors and metallic handles enhance the beauty of the product.
PROS
Display option with two ripped glass doors.
Shelves with ample space for placing the home electronics.
9. CS669 TV Stand
BRAND : Comfyco
PRICE : USD 279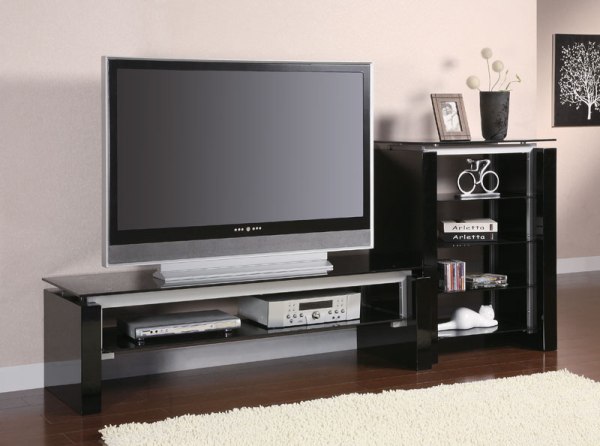 You have numerous stuffs to emboss your living room but among them, TV stand is a centerpiece that aid to your interiors in a magnificent way. CS669 TV stand is a sleek design which is accompanied by glass possessions. The proposed TV stand is consoled with pretty enough space for your CDs and DVDs. This tempered glass made design is supplemented with some additional racks where you can keep your books and other decorative stuffs. You can put the standing calendar or cherish your memories by placing a photo-frame or digital photo frame at its top most shelves as TV is an instrument that is most entertaining tool.
USP
Tempered glass used as the prime material, gives a chic look to the TV stand and the additional shelves make it more useful.
PROS
CS669 TV stand is characterized with lavish appearance of tempered glass.
You have additional racks for keeping your stuffs like CD and DVDs.
The sleek design of TV stand and shelves prove to be a space saver.
10. BDI Ola 8137 SWH Curved Profile Flat Screen TV Stand
BRAND : BDI
PRICE : USD 1499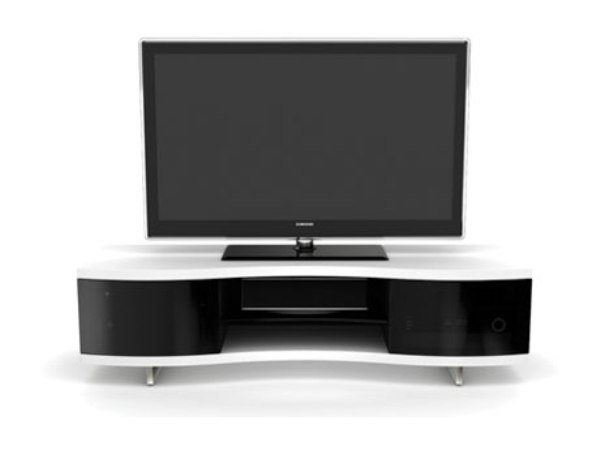 EDI is a well known brand name that is continuously working wonder for facilitating better standard and quality of everyday life. A linear design, substantial tops, generously sized shelves, additional components and finish lines are some sectors that please your eyes after integration. The gently curved profile and bottom panels provide firmness and amazing stability. This design has three adjustable shelves and six drawers, hidden wheels, cabinet interior and centre opening system are some ultimate and supreme features of this design. In short, this is a brilliantly characterized TV stand with all of the qualities, well-structured cabinets, well-organized systems and magnetic features that are enough to mesmerize both the viewer and user.
USP
It is a smartly engineered TV stand that has fantastically clear lines and innovative facets.
PROS
This product is made of tint glass that provides it an implausible manifestation.
Both exterior and interior of this design are beautifully designed.