What good is a hi-tech TV without a proper TV stand. Unless you have the best available TV stand for your TV there is no fun in watching it, and even in your room, the TV would look out of place without a proper stand. A Hi-Definition TV is characterized by its ultra sleek looks, a flat back and instead of actually placing it on a flat stand, it would be highly advisable to install it on top of a proper mount to keep it from accidentally being toppled. It would not only look much more sophisticated but would also enhance your interior decor. Here is a list of 10 of the best TV stands with mounts, available in the market, which once set up in your living room, would add a new dimension to your already cool interiors.

1. Flat Panel / Flat Screen TV Stand with Mount – Serenade
PRICE : USD 2498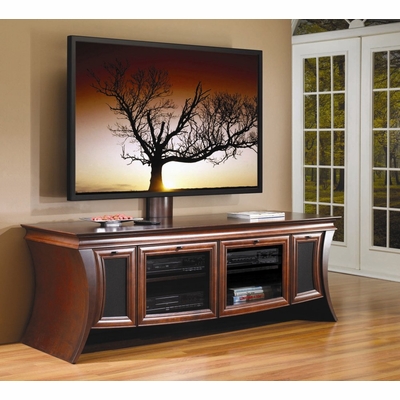 A stand specially built to fit your latest HD TV set, it is made from solid birch wood and wood veneer. It has been designed to accommodate all types of LCD, DLP, Flat Panel and Flat Screen sets. On the back side it offers 2 ½" wire access holes to keep your wires untangled. It features a completely removable back panel and a state of art convection ventilation system to keep your devices cool. It comes with adjustable shelves and can even settle properly on uneven floor by means of its levelers present at its feet. It has stylish tinted tempered glass doors and has a special speaker grill door. The mount of this stand is quite special. It can be used to fit any size flat screen or LCD/ LED TV set and can hold up to 165 lb of weight. The flat screen mount is 7"x 25 ¼" and the flat screen area is a massive 60". It is a must have for all those who wish to add style and appeal in their living room.
USP
It is a designer piece of art, and not just a TV stand. It would bring a lot of style to your living room, totally worth flaunting.
PROS
It features special adjustable shelves.
It is made from very durable materials and is very stylish and debonair.
It can accommodate all size TV sets.
2. TV Stand – 60 Inch Regal TV Stand with Mount in Black / Wood – V60MWF
PRICE : USD 389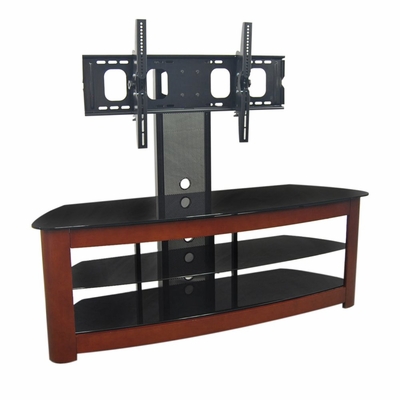 This awesome TV stand stands out because of its stylish looks and unique 4in1 features. It features a removable mount that can be easily adjusted even on the wall if you so desire. There are 4 different modes of using this stand. The mount has a holding capacity of up to 165lbs, while the entire stand is well equipped to hold weights up to 250 lbs with ease. Any flat panel TV, up to 65", can be fitted in the mount with ease. The wires can be easily managed and hidden behind by using its unique wire management. The shelves are all very spacious and can be utilized to hold any items you desire to put in them. The glass used in making this stand is very safe and heavy duty. It is fully scratch resistant.
USP
This stand is very easy to assemble and can be used in 4 different ways, by just an easy separation of the mount.
PROS
All the glass surfaces are screened and very safe.
The stand is very durable and stylish.
It has many features that would aid you to have a great TV viewing experience.
3. Flat Panel TV Stand With Integrated Mount by Z-Line Designs Furniture Sync Collection 935-ZL788-50Mv
PRICE : USD 450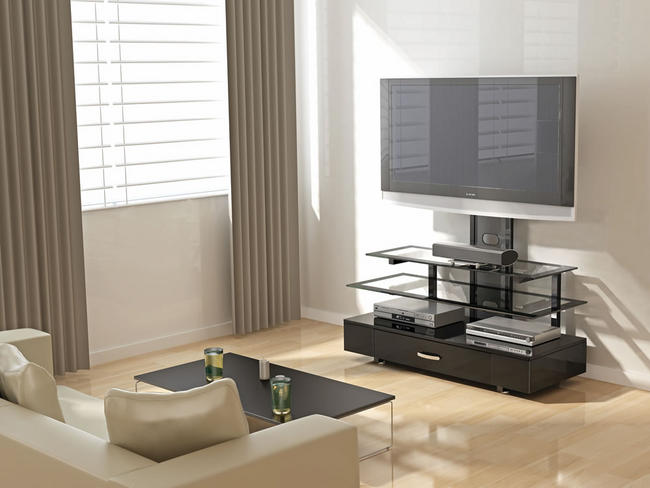 This super sleek and stylish stand allows you to add style to your living room and gives you the added benefit of a better utilization of the available floor space. It can be used to mount a TV of up to 65"/150 lbs. It features separate wire management so that you can easily hide all your cords and cables and keep them free from entanglement. It can accommodate almost any LCD/LED TV on its mount which is super durable and stylish and equipped with swivel feature for better viewing.
USP
This stand is very stylish and easy to assemble. It would add a new style to your living room.
PROS
The swivel mount allows for better viewing angles and experiences.
It is very durable and is made from best grade materials like tempered safety glass and chrome made cylinder glass supports.
It has a good storage capacity and is a valuable addition to any décor type.
4. Bancroft Modern TV Stand with Integrated Mount
PRICE : USD 484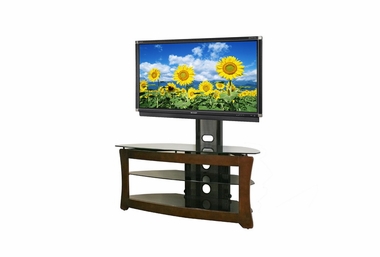 If you have a flat screen TV set and you do not like the idea of mounting it to your wall, then this stylish stand is exactly what you had been looking for. It is a cool way of showcasing the stylish TV set that you have and a nice way to flaunt your unique style. There is enough space on offer for you to store all your favorite accessories with the TV for their optimum utilization. The tempered glass shelves are very durable and easy to access, both from the front and the back and can be utilized to store in a lot of items of your choice. It can bear a maximum size of 55" TV set. The stand is very easy to assemble and can keep your favorite TV safe and secure, for a better viewing experience.
USP
This is a stylish stand for those who do not wish to mount their flat screens on the walls and like the looks of a more traditional way to set their TV sets.
PROS
Its materials are very durable and sturdy, and at the same time very classic to look at.
It features three tempered glass shelves.
It offers better wire access from the back and helps keep them untangled.
5. Flat Panel TV Stand With Integrated Mount by Z-Line Designs Furniture Madrid Collection 935-ZL541-44
PRICE : USD 280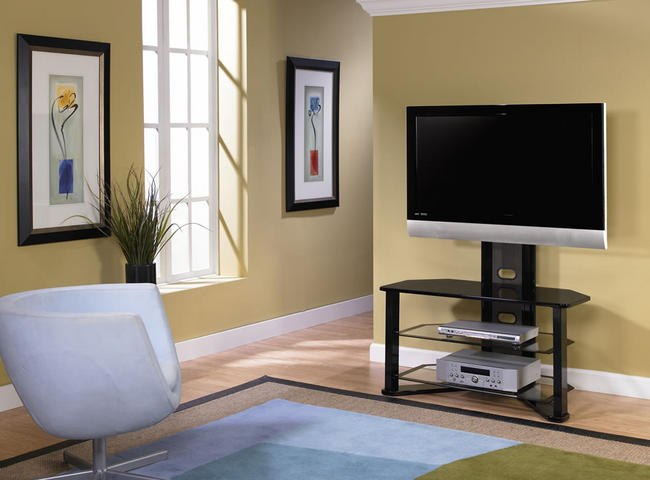 This stand comes with a stylish piano like finish that gives it the stunning looks. It is made from the best grade materials like the tempered safety glass based on a solid structural skeleton. You can mount any size LCD/LED TV on its mount and enjoy a unique viewing experience. The mount is equipped with swivel feature that allows you to adjust it easily for better viewing. Its maximum capacity is 50"/150 lbs. It also features a simple yet effective arrangement to keep the wires free from being tangled together.
USP
Its stunning good looks would add wonders to your living room's interiors and would allow you to flaunt your style.
PROS
It can be easily adjusted for better viewing.
It features a good wire management to keep all the wires untangled.
6. 48in TV Stand Cayenne with Mount in Black Finish by Walker Edison WE-V48EC1BL
PRICE : USD 347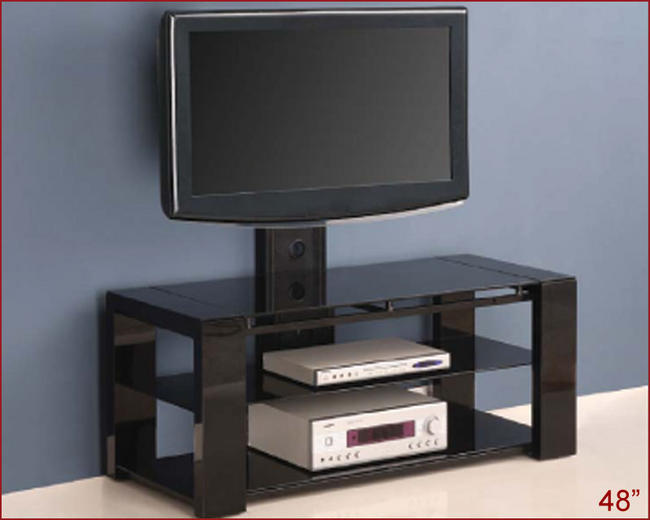 This ultra-stylish stand can be used in more ways than you can imagine. You can mount your favorite LCD/LED TV on its mount and install it in your living room. You can also attach the mount on the wall and use the rest of the stand separately. The stand is available in the standard dimensions of 48" x 19" x 20" and can accommodate a TV up to 52"/165 lbs. The stand has a total weight bearing capacity of 250 lbs, which is more than enough for all your gadgets. It is not just stylish in its looks but is also very durable and sleek. It offers you ample space for all your gadgets and equipments.
USP
The fact with this stylish stand is that you can get the benefit of two, by separating the mount from stand, you get a unique appeal. Also, it is a very stylish to look at and is made from durable materials.
PROS
Its mount can separately be used as a wall mount to hold your TV.
It is stylish and sturdy, and offers ample space for other accessories of your TV set.
It is very easy to assemble.
7. Palermo 3-in-1 TV Stand with Mount
PRICE : USD 203.36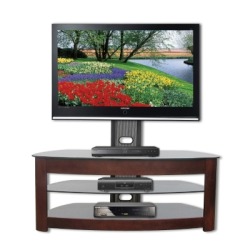 This cool looking stand comes with an integrated mount that can hold up to 52"/132 lbs. the structure skeleton is made from hard metals that have been polished for a super glossy finish. The front is made from mahogany wood and is hand finished, with a scratch resistant coating. The materials used in the making of this stand include steel (black powder coated), glass shelves and a mahogany front. It is very easy to assemble together and can even be assembled without any proper mechanical knowledge. There is ample space offered for accommodating other devices and instruments that you may wish to use with your TV set. The mount can move left/right and up/down for optimum viewing experience.
USP
The fully versatile and flexible mount allows you to have a great viewing experience by properly adjusting the level of tilting.
PROS
It is made from very durable materials and is very stylish.
It is VESA compatible.
The shelves are spacious and there are ample means to arrange the wires properly.
8. Walker Edison Regal 42″ TV Stand with Mount – Wood
PRICE : USD 313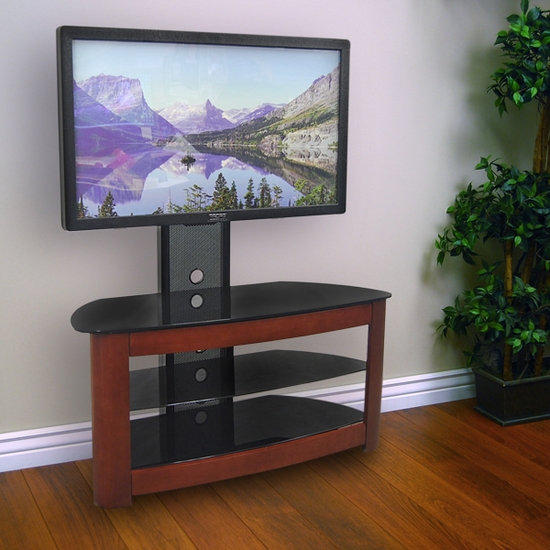 This stylish stand can accommodate up to 52" LCD/LED TV sets. It offers you posh looks and an optimum utilization of the floor surface by means of its additional shelves. It offers a very spacious space for you to install your electronic gadgets and players. It has a very durable design and features a metal frame with thick and sturdy tempered glasses. You can even remove the mount from the stand if you wish so for any reason. This mount is designed to hold weights up to 150 lbs and the stand can hold a total weight of up to 250 lbs. This stand is available in black color.
USP
Its sturdy hardwood front and better viewing capability (because of the 15 degree tilt feature of the mount) makes it unique and a tempting purchase.
PROS
It can hold any size of flat screen TV set, with a maximum limit of 52"/150 lbs.
It is very sturdy and durable, and at the same time it is very stylish too.
Its mount can be tilted and even removed as per requirement.
9. 60 Inch Regal Wood TV Stand with Mount Bracket Walker Edison V60MWF
PRICE : USD 331.35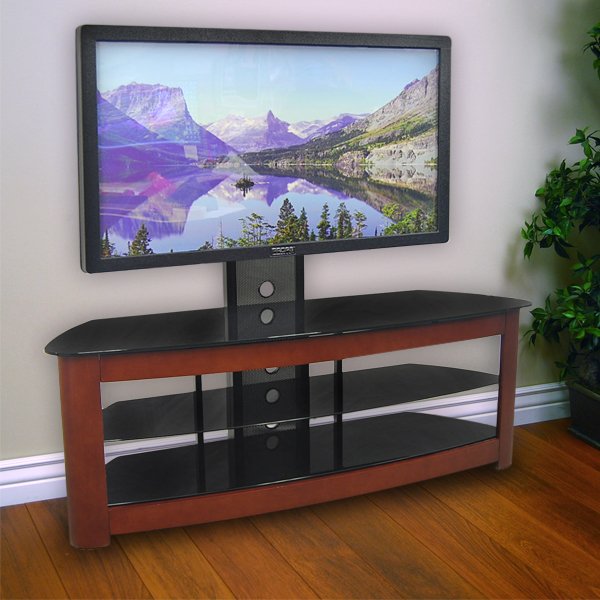 This classic looking flat screen TV mount stand would be a welcome addition to your living room. It's stylish, durable and offers you a true value for your money. It has stylish and spacious shelves that can be used to put in anything that you desire. There is a great deal of space available for all the wires and plugs to be set up and the mount is capable of holding a TV set of up to 65" and 250 lbs in weight. The frame is made from powder coated steel and the tempered glass adds more durability and style to the stand's frame. The mount can be tilted up to 15 degrees in left or right direction for your ease of viewing.
USP
The stylish Hard Wood front makes the stand appear very durable and stylish. Its added features and space utilization makes it worth purchase.
PROS
It features a very durable body, with hardwood front, a steel frame and tempered glass.
It is very stylish and can fit in any interior décor with ease.
With its mount tilt of 15 degrees, it can give you a better viewing experience.
10. 42 in. Escada TV Stand W. Mount – 3 Level by Walker Edison Furniture 195-V42MT3
PRICE : USD 285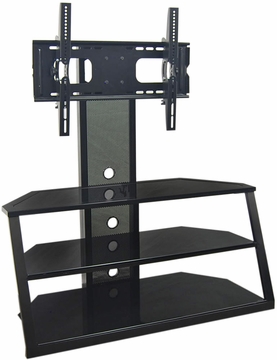 This stylish stand features awesome designing and great utility. Its spacious shelves allow more than ample space for storing and keeping your favorite TV accessories and other AV components. It can accommodate any flat panel TV up to 52". The frame of this stand is made from durable steel and safety tempered glass. It can be used in 4 different manners and easily installed/ uninstalled. The mount is flexible and can be made to tilt up to an angle of 15 degrees in both directions for optimal TV viewing. It is available in black color and looks very stylish.
USP
Its 4in1 utility, spacious shelves and additional features optimize your TV viewing experience. It creates a very stylish combination of utility and looks, which is very hard to resist.
PROS
It can be used in 4 different ways and offers very easy installation.
The stand can be fitted with any sized TV set (up to 52") and adjusted easily for better viewing.
The materials used are very sturdy and stylish.