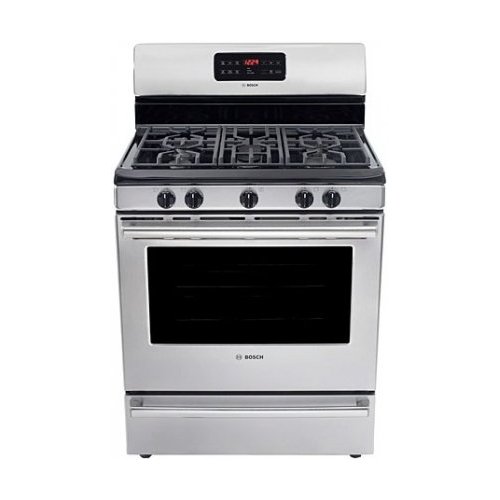 Bosch, being the third largest appliance manufacturer throughout the globe sells, almost all kinds of home appliances mastered with their German technology. Bosch home appliance is partner with BSH, i.e., Bosch and Siemens Home Appliance Group situated in Germany. Recently awarded as the winner of 2011 Energy Star Sustained Excellence Award, Bosch has its wide market covering in US where it supplies high-performance freestand ranges, dishwashers, ovens and cooktops. Providing the consumers with high-end home appliance, the excellence that it holds in their engineering is far more of premium range. Bosch's appliances have always been top rated in the leading consumer publications for its efficiency and quietness with integrated designs. These freestanding appliances have made the consumer's life free from hassles of home chores and have made working much easier than compared to the ordinary working style. Let's peek into its five best freestanding ranges that hold the preciseness and powerful machines.
HGS5053UC 30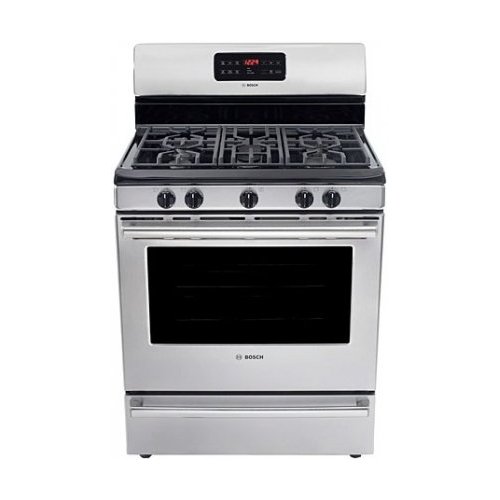 Let us start with this great offering from Bosch Evolution 500 Series namely, HGS5053UC 30, which is a freestanding gas range. This is made up of stainless steel, which covers five sealed burners and works on gasoline fuel. Trendy design and compact structure makes this range a complete supernova for the people looking for power streamed performance in their appliances. The oven is a gas convection one and works very silently even if the convection fan is on. It also complies with self cleaning features and weighs around 225 pounds. Sound saver convection fan, large glass door panel, five-burner cooktops, sleek design, stainless body, less expensive and energy efficient give this freestanding gas range a complete green signal.
Price: $1,007.91
DLX HGS5L53UC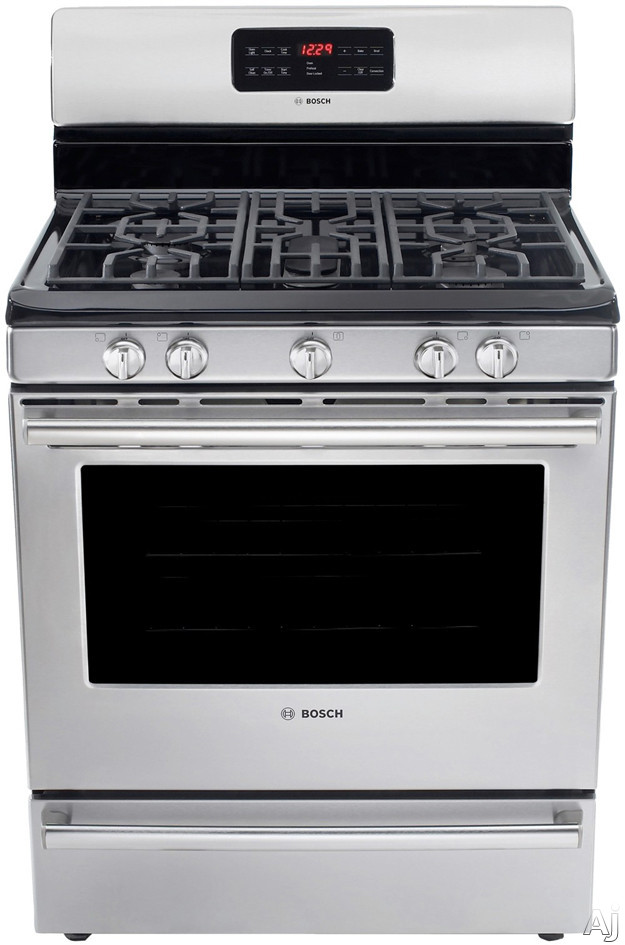 If electronical appliances interest you rather than fuel based, then DLX HGS5L53UC from Bosch Evolution 500 Series is one that you'll need. This freestanding gas range is made from stainless steel and comprises five cooktop burners with convection oven. It also works on gas source and the sealed burners provide easy cleaning in case of spill overs. The continuous grates make vessel movement easier. The convection oven consists of two racks and five-rack positions to adjust all kinds of cooking and baking needs. It also features large viewing glass panel, a digital clock, convection fan, hidden bake element and power burner with knobs. The range weighs around 225 lbs with optional LP conversion and self cleaning features.
Price: $929.00
HDI7282U Integra 700 Series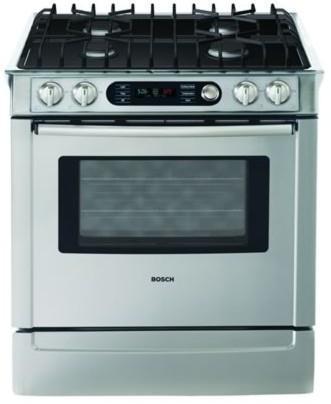 Bosch HDI7282U Integra 700 series comprises four sealed burners with a convection fan/oven. It has a clear touch electronic oven. It is made up of steel, the range works on gas featuring broilers, clock, delay start, Sabbath mode, one storage drawer, three racks, temperature display, timer and self cleaning aspect. The capacity of oven is 4.6 cubic foot with clear window display. It holds powerSim performance and warm drawer type with five cooking elements in all making it energy efficient.
Price: $1,999.93
SRU53E15AU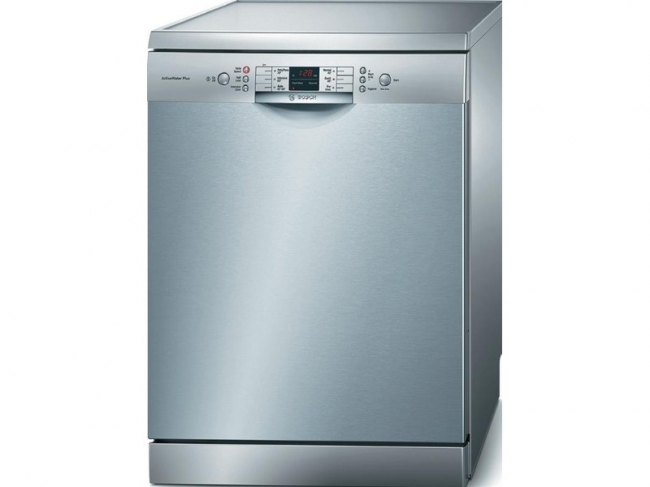 Bosch SRU53E15AU is a wonderful freestanding dishwasher range compressed with many interesting features. It is fully integrated with stainless steel holding international capacity of nine place settings. The range features five spray levels, four stages of filtration system, low sound (up to 40db) operation, electronic rinse aid refill indicator and Aquastop® as safety technology. It also includes a door panel which is again made up of steel. Further, it holds height adjusting facility for upper basket with concealed flow through water heater, thus, taking water consumption of 11 liters in a single wash. The range rated three stars for water rating and 2.5 stars for energy rating. Holding 810-870 x 450 x 570 mm of dimensions (H x W x D), the range also holds foldable plate racks in the lower basket with flexibility of retractable control knobs.
Price: $1,049
Bosch Evolution 300 Series HES3053U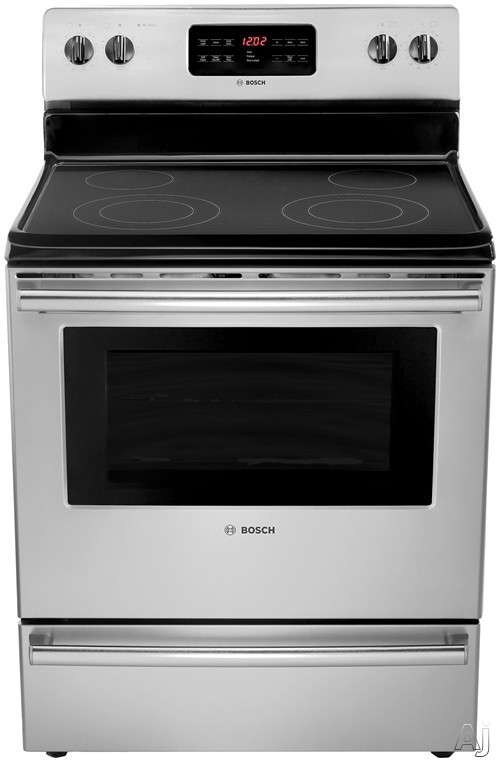 Last but not the least is Bosch Evolution 300 Series HES3053U, a freestanding electric range fully crafted with stainless steel. It comprises four smooth cooktop burners with hot surface indicator light. It works on electricity with convectionless oven carrying capacity of 5.4 cubic foot. Thus, providing enough space for large pots and baking vessels. The oven features a digital temperature display with top broiler element and interior oven light. It also holds two racks and six different rack positions for adjusting according to the cooking needs. It also has a removable door facility with one drawer for storage. The range complements well with Ascenta Dishwasher with its stylish appearance and self cleaning convenience attached in it.
Price: $779.00