Top Ways To Re-Design Your Kitchen With Minimalism in Mind
If you've been working closely with a kitchen designer Los Angeles lately to draw up plans for your dream kitchen, you may be interested in gathering some ideas for a minimalist kitchen look. As opposed to the busy, cluttered kitchens of yesteryear, modern minimalist kitchens do away with the bells and whistles and instead offer a sleek yet functional look. If you're interested in redesigning your kitchen with minimalism in mind but aren't sure how to make your vision a reality, having some rules of thumb could be helpful. Check out these top ways to make your dream minimalist redesign happen.
Choose Sleek Pieces and Simple Matching Furniture
The key to any successful minimalist kitchen renovation Brentwood is keeping the overall theme sleek and simple. Look for unfussy pieces that bring a clean, modern look to your kitchen. You don't have to stop at the cabinets or appliances – instead, complete the look by finding matching pieces of furniture that can create a unified vibe throughout the kitchen. Some pieces to consider shopping for could include:
Sleek, shiny kitchen cabinets
Granite countertops
Stainless steel appliances
Matching island bar stools
A matching kitchen table and chairs

Rework Your Color Scheme and Avoid Overcluttering the Space
To achieve a truly minimalist look, you may need to eliminate over-the-top color schemes from your kitchen and move towards a more neutral palette. You may want to spend some time browsing through the best neutral paint colors available to choose your favourite. Additionally, it's important to find hidden storage spots and avoid overcluttering your kitchen to truly complete the overall minimalist feel. As general rules of thumb, try to:
Stick to more neutral colors such as grey, white and black
Keep countertops clear and avoid purchasing too many decorations
Install more storage space to help keep clutter out of the way
Choose a neutral paint color for your kitchen walls that goes well with your theme
Stick to kitchen essentials and avoid putting out too many extra tools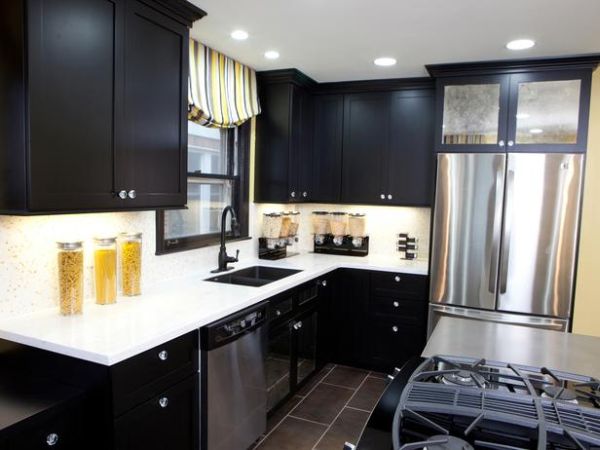 Make a Few Targeted Renovation Moves for a More Minimalist Look
If you're up for a slightly larger renovation project, there are a few targeted moves you can make to finalize your kitchen's transformation. For example, you may choose to:
Integrate your appliances directly into your cupboards to avoid a bulky or clunky look and create a more seamless feel in the kitchen
Move the sink to the center of the island to avoid overcrowding countertops along the wall
Keep your appliances and furniture simple and sleek but add a few pops of color or texture throughout the room, such as in wall decorations or in the floor tiles, to add some subtle flair
Install a hood to conceal your kitchen ventilation unit in a stylish way
Today's kitchen redesign trends reveal a growing interest in a minimalist approach to the heart of the home. If you're currently in the process of planning an upcoming redesign for your kitchen but you're not sure how to seamlessly incorporate a minimalist look, keep this checklist handy and discuss some of these ideas with your designer. Achieving your dream minimalist kitchen could be easier than you think!