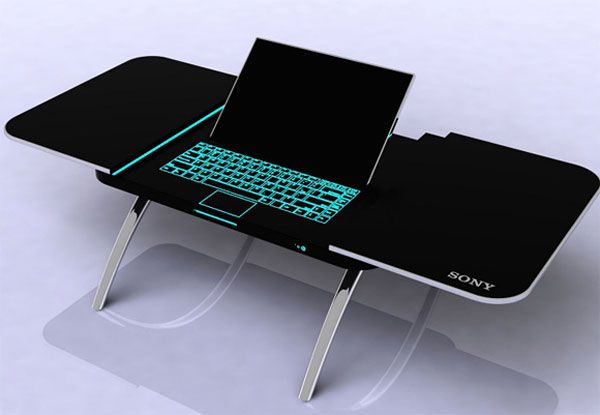 An attention-grabbing living room is incomplete without a coffee table. There are numerous tables present in the market that vary in both size and shape. One can flexibly choose from a wide range and opt for one that best suits the interiors of a house. A coffee table can be used to support magazines, beverages, food items and even gadgets. A few also have storage space in the form of cabinets, which is an additional asset. There are many designers who are coming up with fashionable concepts keeping the needs of modern homes in mind. Below is a list of seven trendy coffee table concepts that will leave you awestruck.
1. Desert Coffee Table Concept

Desert Coffee Table is an amazing concept by Svilen Gamolov. The black and white creation by this Bulgarian designer will perfectly blend with contemporary places. The glossy finish of the table is well complemented by the fine detailing that the coffee tables comes draped in. The modish appeal of this concept is eye-catching and will make places glow with its beauty. The curvy creation is a cut above the rest and will force people to stare at it with jaws dropped till the floor.
2. Integrated Technology Coffee Table Concept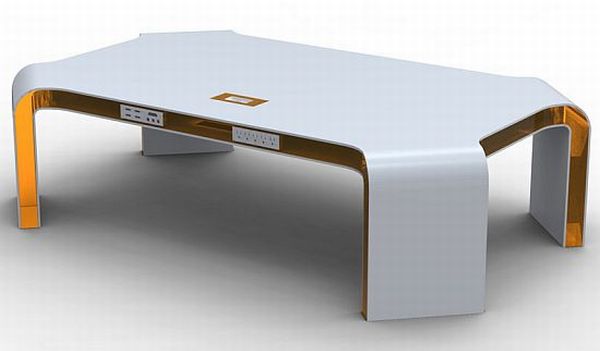 Integrated Technology Coffee Table Concept by designer Joseph W. Reed is a great blend of modern day technology and furniture. The hi-tech coffee table has been fitted with an iPod dock, USB, serial ports and electrical outlets. So, if you can't imagine your life without technology even while sitting with your friends around a table, then this concept will make you jump with utmost joy. Listen to music and transfer files with this stylish table that comes dipped in orange translucent acrylic and white enamel.
3. Sony Fusion Coffee Table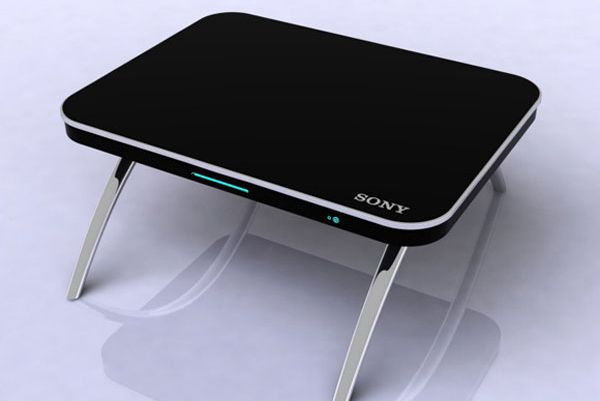 Zyane Tan has come with a cool concept for Sony that has been named as Sony Fusion Coffee Table. The designer has cleverly fused technology with furniture and created a desktop that has been blended with a coffee table. The table serves multiple purposes as it doubles as a great performance desktop. Simply push the 'ON' button and see the surface of the table divide into two, beautifully revealing the laptop that that was concealed under the surface. The screen can be adjusted as per a user's comfort while the touch-sensitive keyboard will make the overall experience fun-filled. The keyboard glows in a magical way and will capture senses in a moment.
4. Gadget enabled Coffee Table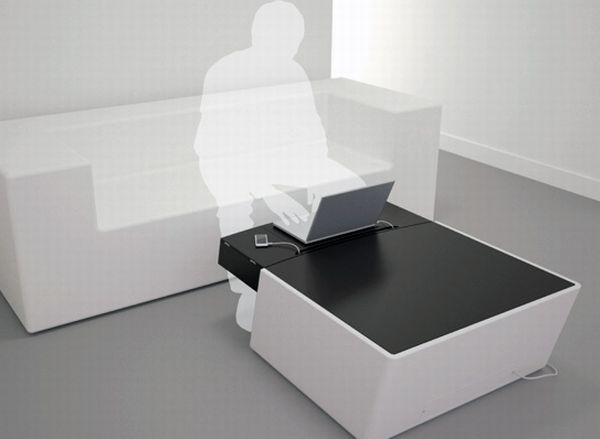 If you love your gadgets, then you will definitely fall for this creation by designer Philippe Barsol. Christened the @Home Coffee Table, this piece of furniture will give your living room a special touch. The good-looking table can be coupled with laptops, mobile phones, remote controls, memory sticks, cameras and even an external hard drive. The table is strong enough to support gadgets and the drawers can be used to store things like chargers. The square-shaped furniture item has double hinges that will let the user raise its position when required.
5. Horus Pyramid Coffee Table Concept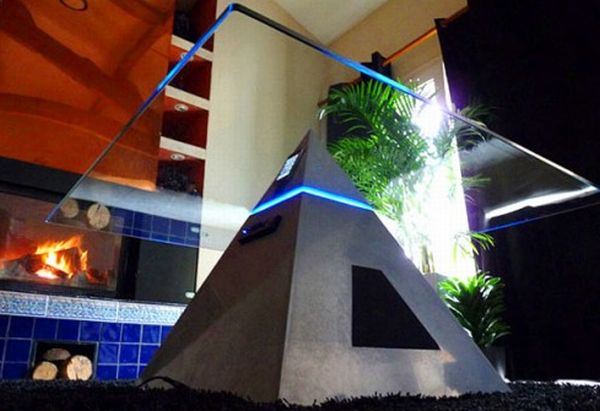 Horus Pyramid Coffee Table Concept is a brainchild of a French designer named Stephane Thivend. The table comes wedged with an iPod dock, dual speaker system and a LED lights. The concept looks very elegant and will play music of your choice as you spend time with your family and loved ones.
6. Touchscape Multi-Touch Coffee Table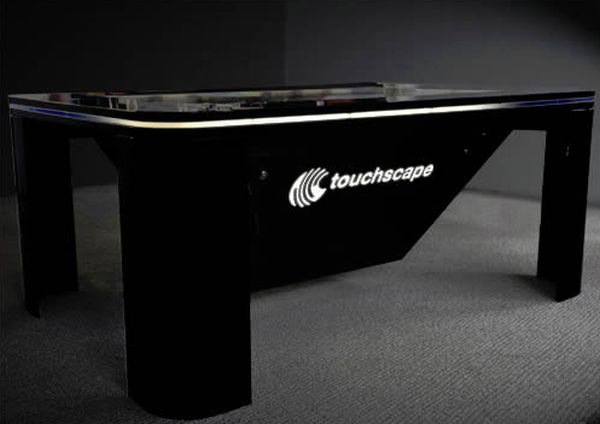 Touch sensitive screens are ruling the tech-world and even coffee tables have got influenced by its magic. Touchscape Multi-Touch Coffee Table comes fitted with an LCD high viewing angle screen that measures 47 inches. It will unfurl a truly amazing experience, thanks to the High Defination 1929 x 1080 resolution. Touchscape will be powered by a quad core processor and will make good use of the MT technology, which will keep a track on all the touches on the screen. The table will fetch unending compliments and force onlookers to gawk at it in total astonishment. Touchscape Multi-Touch Coffee Table sure sounds fun and will send chill thrills every time someone uses it.
7. Compar Coffee Table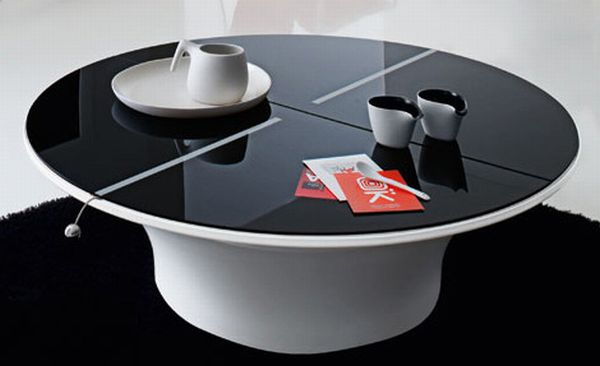 A company from Italy named Com.p.ar has designed the Loto Coffee table that has been blessed with a lot grace. The table will be a perfect fit for small homes and will blend well with modern surroundings. Loto is highly functional and looks very sleek. It has been given an aluminum finishing and the glass tabletop is black in color. The spacious concept will come with enough storage space to stash away a lot of things without much effort or any additional cost.