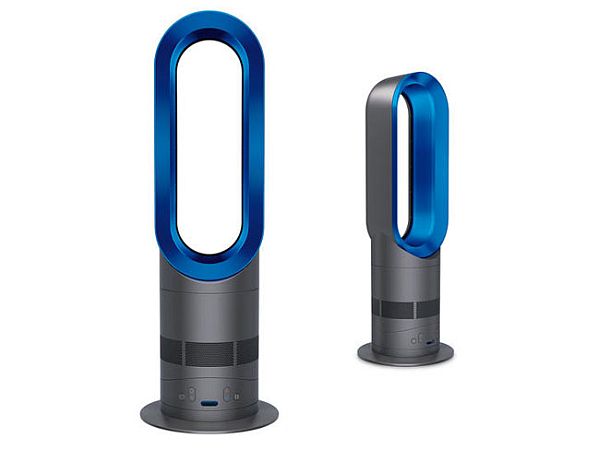 The winter is about to come and people have started looking for the best heater or stove to keep their place warm. It is believed that the climate would be even chiller as compared to previous years. So the best heater or stove is the option to look for this winter. There are number of heaters being especially designed to provide utmost heat. Some heaters are designed not only to deliver heat, but also as the energy-saving devices that will consume least power and ultimately would be pocket friendly. The room heaters are must this winter and due to plenty of brands available in market now days; it is hard to choose the best among them. So to solve out all your worries regarding the best heater or stove, we are here with a list of seven trendy room heaters which will keep the atmosphere around you warm and pleasant.
1. Penguin Space Heater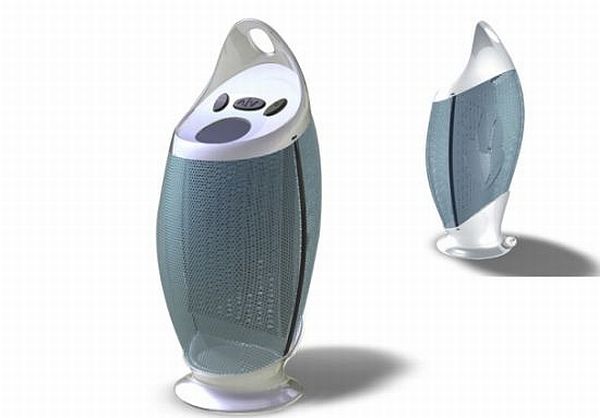 The Penguin space heater is really an efficient and trendy heater which is capable of warming up your room in few minutes. The designer Katelynn Geigel has made this spectacular heater which is stylish and efficient. The elegant design given to this heater makes it really adorable and can be used as a piece of adoration in summer too. It features an anodized aluminum which is being used for the various color accents. It is also accompanied with retractable cord and handle which makes it pretty mobile and handy.
2. Dyson Hot Heater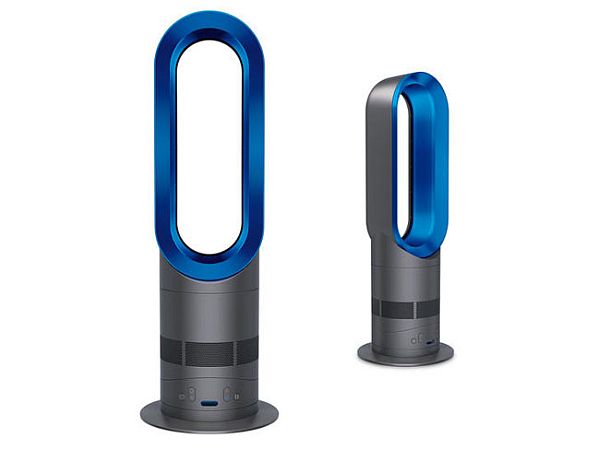 This heater is an ultra-futuristic heater by the brand Dyson which is known for producing futuristic home appliances. This heater is a bladeless heater which comes along with Air multiplier technology which can heat up a room in minutes. It is quite handy and easy to use. The options given in the heater can be easily selected and you can set the desired temperature as per your needs. Moreover, the device is provided with safety features which will offer utmost security. You can grab one for just $399.99.
3. Corian Wall Radiator by Runt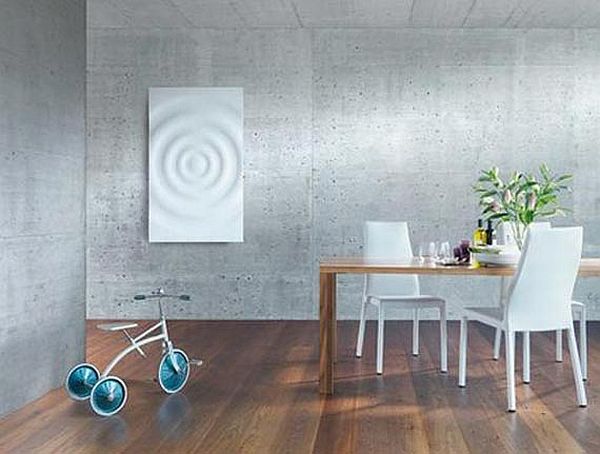 This is a really awesome designed heater which is not only efficient but is also trendy. The looks given to this heater can completely take the appeal of your house to a complete new level. This wall radiator heater can be mounted on wall and can easily be operated using the user-friendly options provided. It looks like some painting if you see it from a distance but actually is an exotic room heater. The heat temperature can be set according to the needs and it delivers it perfectly.
4. Cozy stove design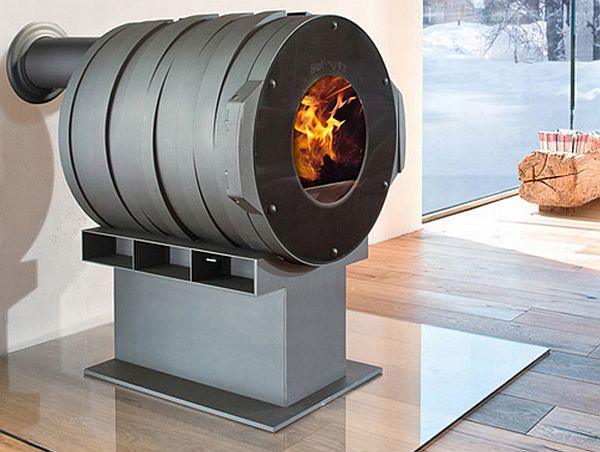 This design by the artist Bullerjan comes with a really stunning shape and size. This room heater is named the Cozy stove and works on the principals of traditional stove. This stove is fire operated and is provided with a glass frame on the front side through which the fire can be visible. The round shape of the device makes it pretty impressive and is also capable of warming up a big hall or room in just few minutes. The exhaust pipe provided with it enables the release of smoke into the outer-atmosphere.
5. Piet Indoor Stove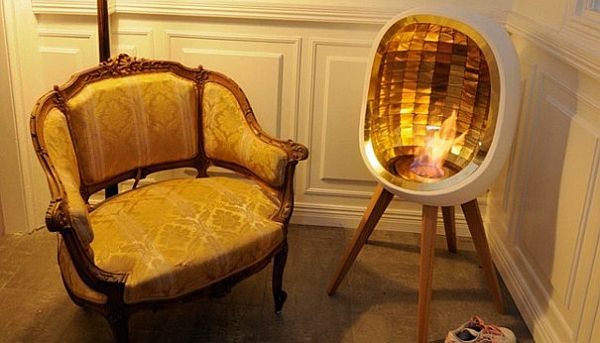 This piece of room heater by the artist Fredrik Hyltén-Cavallius is an ornamental art piece for home decoration with room heating options. The Piet indoor stove is provided with a base and an ornamental brass reflector which burns the ethanol fuel and warms up the surrounding. It is handy and mobile so that it can be easily taken to places without bothering much. The creative egg-shaped reflector allows continuous heating of the fuel for a longer period.
6. Warmpath Table And Stove Design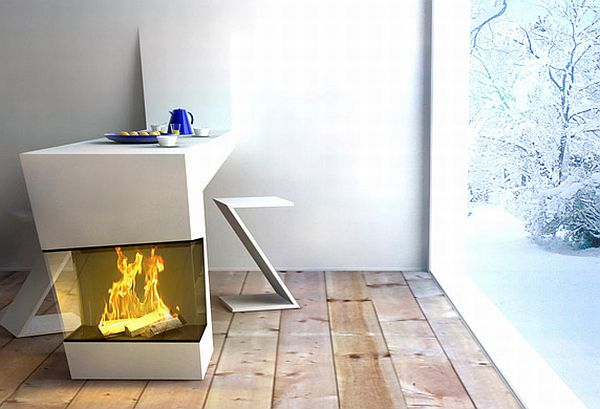 The warmpath table and stove design by the artist Michaël Harboun is really adorable and gorgeous. This design is exotic and is also efficient. The table offers the basic serving features and the stove at the base of the table keeps the place around you warm. So now you need not bother having your cup of tea with ultimate comfort and style. This table is really worth of a strong deal.
7. Max Fan Heater by Stadler Form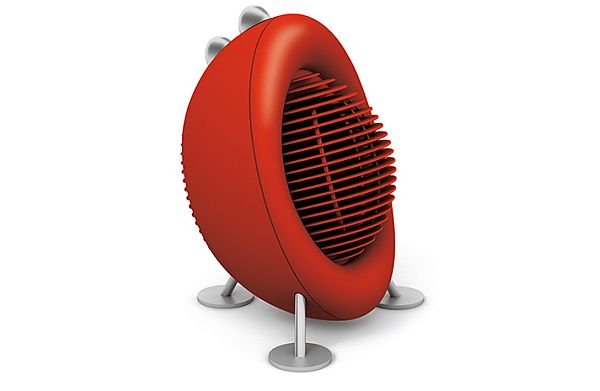 The designer Stadler Form has given the most exotic looks to this beauty. This fan heater is really gorgeous and is capable of performing dual operations in two seasons. It can be operated as a heater in winter and can be used as a fan in summer days. This creative idea by the artist is amazing and the stylish looks given to the fan heater is cool. The base of the heater fan is provided with three stable metal legs which supports the whole body of the fan. Also the fan is made in different colors which look pretty attractive. These fan heaters are affordable and you can have one for just $100.00.