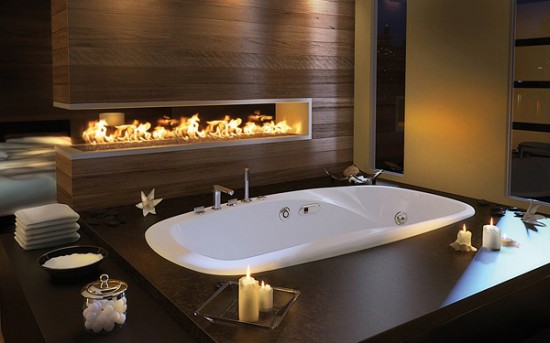 A 'spa' treatment pampers everyone. In fact, it's enough to take anyone into fantasy. It's even more exciting if you could get it every day. Just turn your existing bathroom into a spa and experience rejuvenation at the comfort of your home. Besides keeping you fresh, it will also release your whole day's tension and replace it with a calm and relaxed feeling. So, let's give a new spa like charm to your bathroom with a little change.
Difficulty level: Moderate
Time required: 1 hour
Resources required:
1. A bath tub
2. A theme
3. Spa gadgets
4. Spa cream
5. Scented candles
6. Small music system (optional)
7. Dim lights
1. Add beauty into your bath tub
This is something which can allure you for a bath in the first place. You can turn your bath tub into a wonderful spa tub. The color 'white' is something which makes the entire ambience cool and peaceful. And if your tub has lost its white shine, you can regain it by just filling it with water with half a cup of bleach and leaving it overnight. In the morning, the white tub is back to you with immense lusture.
2. Choose a theme
Give a tempting theme to your bathroom. This will help in generating a mood for you which can really boost your energy. Moreover, it will give a new look to your bathroom as well. It will enhance the beauty of the accessories you wish to put into your spa chamber. Like, you can use golden yellow shade to create a bold environment.
3. Spa gadgets
Collect few new spa gadgets and replace your old scrubs. Go for gadgets like antistress neck soother, small foot bath for feet and an exfoliating peeling glove. Neck soother helps releasing tension from a hard day. You can take both cold and hot treatments with this. Foot bath includes a pumice stone and brush. Foot bath does the therapy with vibration to better calm your body and the brush which is provided along with it can serve the purpose of pedicure as well. The exfoliating glove works like a magic. It eliminates impurities and improves the flow of oxygen to your skin.
4. Aromatic spa cream
Spa gels enriched with olive and jojoba oils help in softening the skin and prevent it from the loss of moisture , whereas antioxidants like vitamin E protects against damage caused by free radicals. Creams containing paraffin, olive and apricot oils with a combination of antioxidants helps in retaining the smoothness of your skin. Paraffin has the quality of locking in the essential moisture for your skin. Fragrances like lavender oil, grapefruit and lemon can catch your fancy much. Lemon is a natural cleanser while lavender and grapefruit are also considered elegant choices for spa.
5. Scented candles
Other than collecting accessories, most important is ambience. If you have catered all the luxury but do not pay attention to the proper ambience for that, it will not give you the real feel. Environment matters the most, so generate it with scented candles. Lavender, jasmine, rose, sandalwood, gardenia can be used for a calm atmosphere. For more natural and refreshing choices, basil, amber eucalyptus can be used.
6. Silence/music system
Both silence and music are ultimate choices. It is thoroughly up to you whether you like slow music or peace. Music can help in uplifting your mood and your energy level. Infact, it can do wonders in relaxing and healing you. It's a perfect therapy which can help you in controlling emotions such as anger. It is as effective as doing exercise or swimming. And silence is no less than a tranquil treatment, which enlightens your inner self. Imagine yourself sitting near a river in utmost peace. The scene which comes to your mind will take you to a short trip near water with a cool, pleasant breeze. A wonderful excursion!
7. Lights
A last makeover to your bathroom and you are ready for action. Lights can create emotions and mood in a better way. Lights have a unity with the atmosphere and can create the best times for you. If your bathroom has a small window and can help you with natural light, then it's wonderful and if not, then look for dim artificial lights. It is more romantic than a candle light ambience.
Frequently Asked Question
Q. Are there massage therapies available in spas?
A. During spa, a short massage is given. Else, you can go for a separate massage session for 30 to 40 minutes.
Quick tips
You can also use pure coconut oil, if olive or jojoba oils are not available.
Things to watch out for
Just take care of the quality of spa gadgets you buy, as a plethora of imitated products are available in the market.