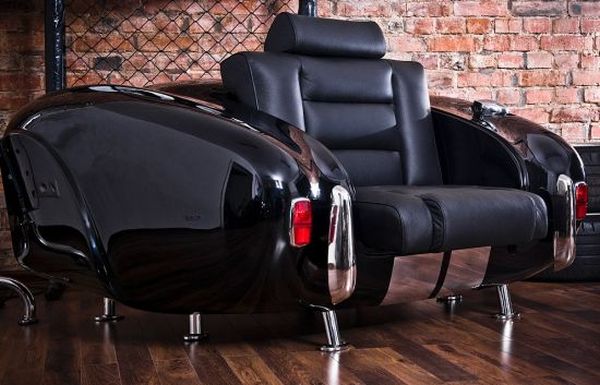 Recycling old products and their parts is very "in" currently. It not only helps the world's environment but also provides an opportunity to creative designers to create unique things from scraped objects. This is what many designers have done with old and obsolete cars. They have turned the car frames or their parts into attractive and stylish furniture. If you are fond of cars, specially old ones or like to spice up your home interior with extra-ordinary, unique and eye-catchy items then there's more information for you here. So just read on and find out about seven unique furniture designs made from old auto parts.
1. Furniture made of American classic AC Cobra 427 parts from 60's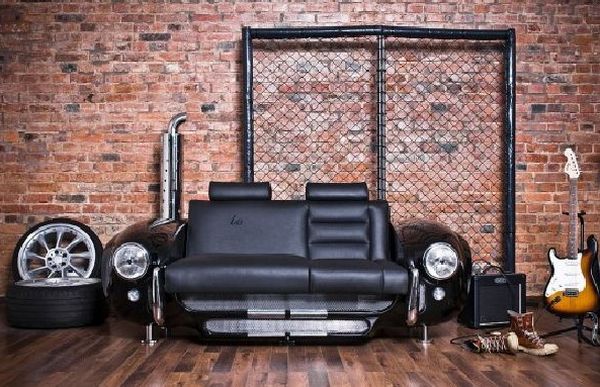 Two Polish designers of LA Design Studio have brought you a series of furniture made from parts of the American classic AC Cobra 427 which ran the streets way back in the 60's. This collection of furniture has been named " Spirit of 427″. This range of furniture includes sofa, armchair, standing lamp, office desk and coffee table made from automotive parts such as bumpers, lighthouses and fuel inlets. If you want to adorn your place with creative furniture designs while retaining a taste of the automotive beauty of the lost era, then bring this collection of furniture home and glorify your home decor.
2. Bugatti Grand Prix racing car inspired desk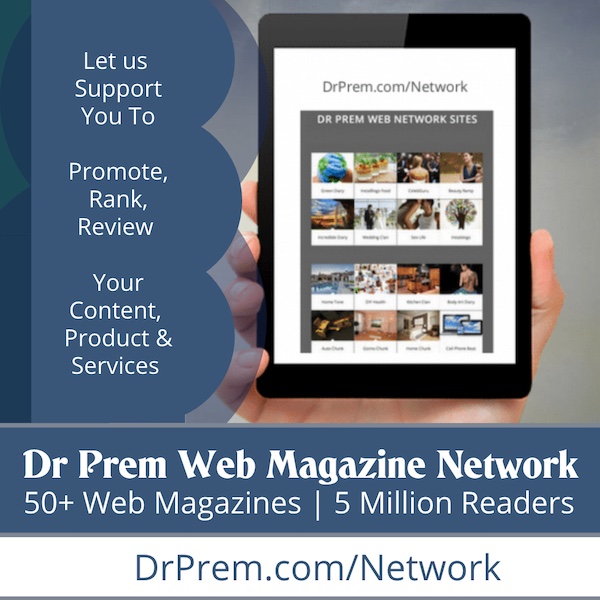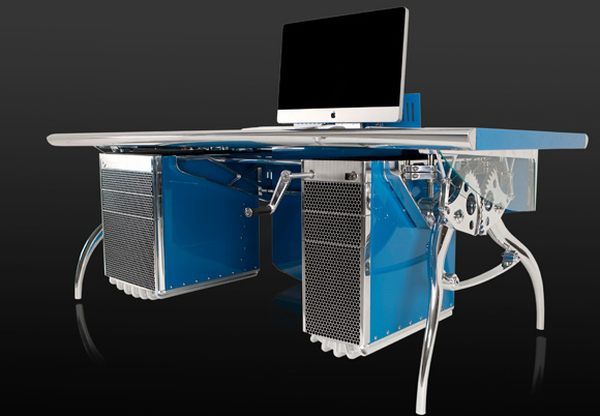 These executive desks from the staple of Luzzo Bespoke are inspired by the Bugatti Grand Prix racing cars. The design and intricacies of these desks have been picked up from the Bugatti cars of late 20's and early 30's. Not only that, the making or manufacturing of these desks use similar methods and techniques that were used in the Bugatti of the mentioned decade. The desk includes an Apple Mac computer which has been set in such a manner that it hides itself inside the desk by the press of a button. There are lockable drawers in the desk which includes feature of self-closing. To give the finishing touch to the desk French racing blue lacquer has been used and a writing area of tan leather has been created. These two particular design elements would remind you of the Bugatti's of that time period.
3. V8 coffee table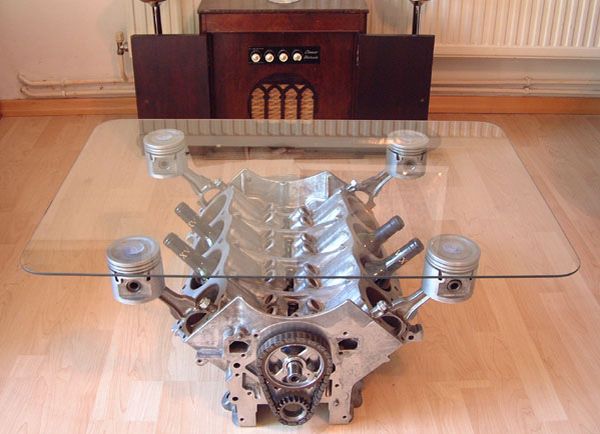 How about a getting home a coffee table that can hold your beer bottles conveniently while taking your home decor to a different level of classiness? V8 coffee tables would do that and more. These tables are functional, multipurpose and of course simply unique. While the top of the table made of glass would function like a normal coffee table, the base of it would help you keep bottles. There are a number of sections in the body of the table created for holding bottles. And the most fascinating factor of the table is that the table uses original automotive parts for its construction.
4. M6 Desk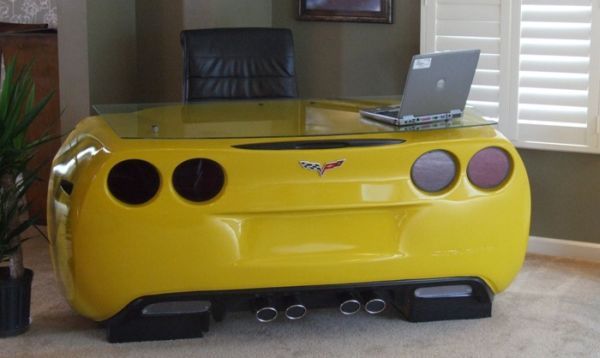 Here's something that any car lover would love to own and work on. M6 desk is a smart creation which blends functionality and style while creating a look resembling an automobile to appeal to automotive lovers. The making of each M6 desk takes hundreds of hours. The material used for building these desks is of high quality thus ensuring that you get value for each penny that you spend on owning it. Various features have been added in the design of the desk to lure you more. Features like working lights with three way dimming, exhaust pipes of stainless steel, tail light lenses, glass name plate, etc. are part of this desk. Apart from all these, you are also given the facility to get your desk painted as per your choice.
5. Custom Hotrod Furniture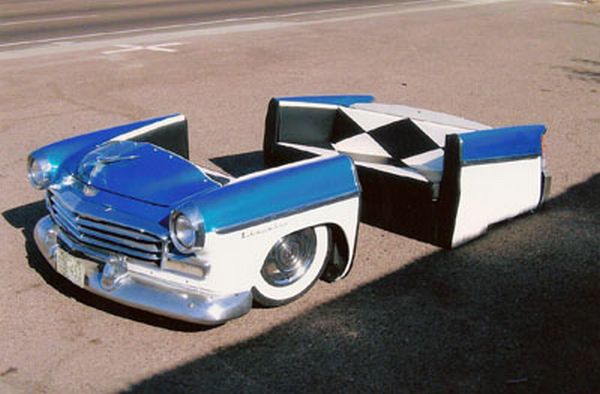 If you want to get some furniture made specially for your home or office that looks outstanding and is capable of making the visitors amazed, spell-bound or speechless with its beauty then you can turn to Jakes Chop Shop. In Jakes Chop Shop the owner of the place, Jake, would help you to take home back an exceptional piece of beauty in the form of a furniture. Not only are the furniture that Jake creates unique appearance-wise but the fact that these exclusive designs are made out of old cars that are damaged beyond repair is a wonder in itself.
6. Car-Cabinet design's Car-furniture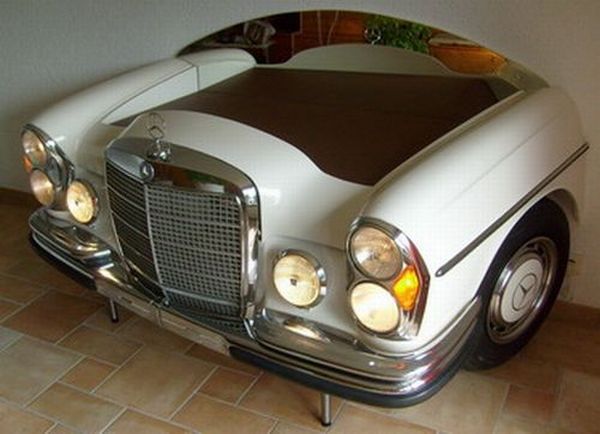 Car Cabinet is a German company that produces beautiful designs of furniture made out of four-wheelers and two wheelers. The company has showcased great craftsmanship and even greater designs, in terms of beauty as well as functionality, of furniture made out of damaged or unusable cars and motorcycles. The creations of Car Cabinet are distinct and striking and would surely get the pulse of a car lover racing with enthusiasm to be the proud owner of one of them.
7. Auto parts reassembled for unique home decor
Only a car owner who is sentimentally attached to his car knows how each part of the car holds a place in his heart, even when that part has become obsolete. If you too are one of them and don't want to be separated from old and unused parts of your car, then we have great news for you here. Now you can use those old car parts and turn them into an interesting piece of furniture for your home. Steven Shaver, a car lover himself, re-invents old car parts and transforms them into great furniture designs. Every piece of furniture that comes from him is handcrafted. Steven also considers the specifications or choices of the customer in terms of upholstery, wheel emblem, etc. In the photo above a Steven creation is shown that has used wheel rims, Firebird trunk lid and spoiler for a upholstered sofa bench along with a coffee table made of a chrome wheel rim with a glass top on it.