We all know that smoking is injurious to health. Numerous smokers have lost their lives due to cigarette. Smokers know that cigarettes kill them yet they do smoke. For all such smokers ashtray is an indispensable item. It is very important and useful to them. If you take a look at the latest designs of the ashtrays then they are not just useful instead they also try to make the smoker understand how their health is been affected. They act as an eye-opener. Read further to know 10 trendy ashtray designs.
1. Coughing and screaming ashtray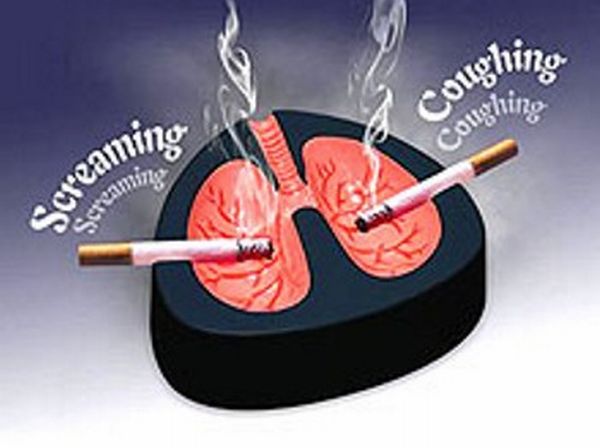 Ashtray is one of the most important table items for smokers; however this unique ashtray plays an important role rather than just collecting the ash. The coughing and screaming ashtray encourages the smokers to quit smoking. This is one of those ashtray designs; that looks like a pair of lungs. And starts coughing and screaming as a cigarette is placed on the trough. Using this item you would definitely understand the importance of your organ. It is definitely an eye-opener for ardent smokers; and it works on battery.
2. Wing ashtray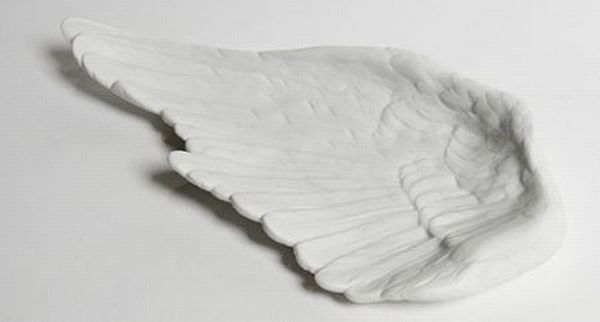 There are various creative ashtrays available in the market. You would love the latest designs, colors and interpretations. One of the interesting ashtrays I have seen so far is the wing shaped one. This wing ashtray is designed from porcelain; and the white color gives a soothing feel. The detail design done on the ashtray is very fine. It adds elegance to the wing and justifies the shape as well as characteristics of the wings. The beautiful wing is priced $369.
3. Alessi spirale ashtray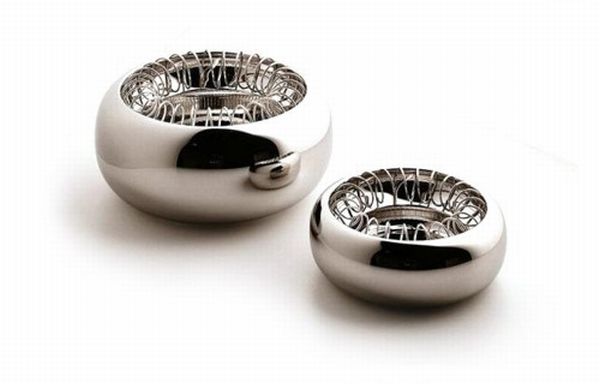 Renowned designer, Achille Castiglioni has created the Alessi spirale ashtray. This stainless steel ashtray sports a unique spiral design that allows your cigarette to stay on the top and lets the ash get deposited on the spiral partition. This ashtray is designed by using high-quality polished steel, and is available in two sizes. It is priced for $99 and $76.
4. Ionic smokeless ashtray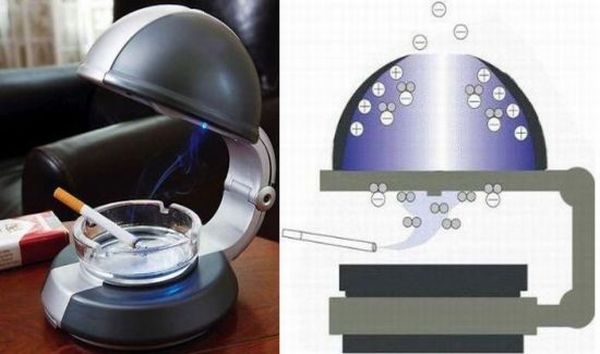 Ionic smokeless ashtray is designed by Neo-Tec, and is honored as the first ashtray in the world that actually purifies the smoke that your cigarette leaves behind. The ashtray is designed using Acrylonitrile butadiene styrene (ABS plastic). This eco-friendly item functions on the principle of ionization and removes the smoke. As you switched on the device, the ionizer breaks down smoke into negatively charged ions. These negatively charged ions are then confined by the positively charged dome. This is how, the Ionic Smokeless Ashtray purifies the impure air. You can use the ashtray 24/7 at a cost of 10 cents a month. The machinery is 100 per cent silent and operates on an AC adapter or 4 AA batteries.
5. Fire alarm ashtray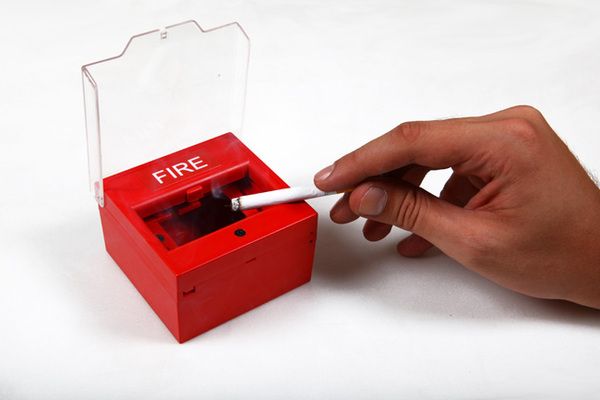 These days we see a lot of people taking inspiration from other existing designs. It has become a common phenomenon. A lot a designers are trying to design some really creative ashtrays. Fire alarm ashtray is one of such ashtray. It is quite similar to the original device, and the alarm button is its USP. The design is really humorous.
6. Ashtray by Anthony Voz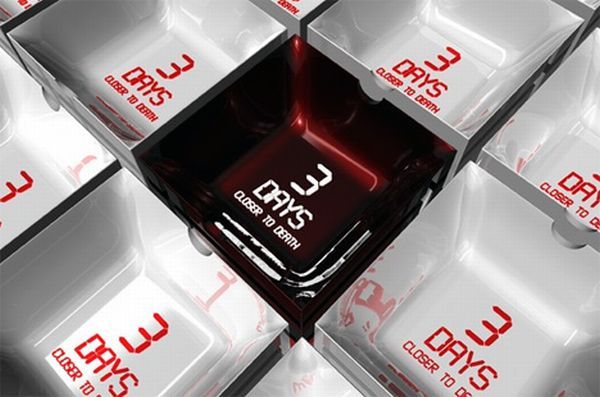 A creative designer Anthony Voz has designed this unique ashtray. This is one of the first ashtrays that weigh the ash placed and gives an indication of how the smoking habits have brought you close to death. The product will definitely shock the smoker and he may think twice before taking a puff. The ashtray has an internal weighing system and a built-in microchip. It also has a LCD display where you can see how many days you can live more.
7. Grand prix ashtray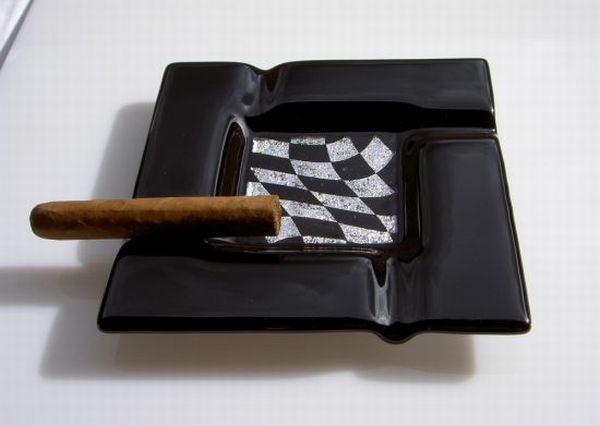 You would definitely fall in love with this new addition from Ysenberg collection. This latest ashtray includes Grand Prix and cashmere products. They are designed in finest crystal glass and have colored glass inlays. They have personal initials and sports logos made using precious materials. The handcrafted are certified and boosts the signature of the designer.
8. Scary robotic ashtray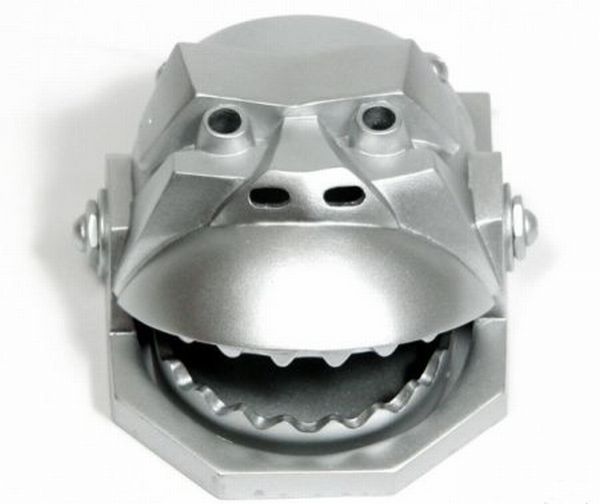 When you see this picture, it may look like a scary showpiece or a robot, however to your surprise it is actually an ashtray. You can be a little creative and use it as a showpiece. It would look good. And will get you lots of praises. You can also use it to put some candies, chocolates or pebbles and use it as table decor item. However, don't forget its original function. It is an ashtray and has been designed by renowned designer David Weeks. The silver body has 6L x 4.5W x 3H dimensions. The ashtray is designed using Resin and is durable. It may be used to scare off cigarettes.
9. Ashtray incense burner

This ashtray has a sarcastic design; and apart from using it as an ashtray, you can also use it as an incense burner. On side of the ashtray is used to collect all the cigarette dab and when you flip it, you can use it as an incense burner. It is a ceramic bowl, and is available in black and white colors. One side spreads odour, while the other side spreads fragrance. You can gift this ashtray to your near and dear ones, and sarcastically tell him that if he uses the ashtray more often, then you would soon use the incense burner in his soul memory. I know it's weird, but this may make him think twice before he lights a new puff.
10. Lungtray ashtray designs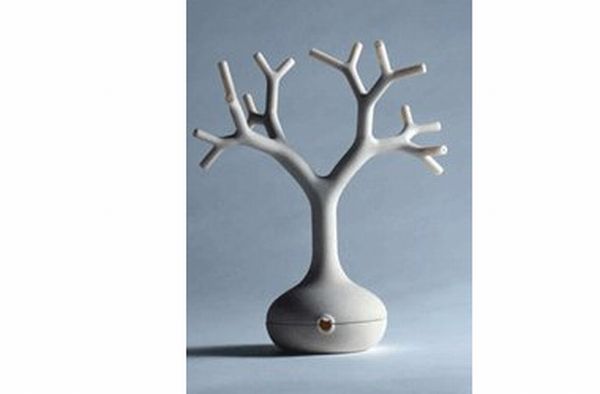 For some smoking is a turn off; while some feel it is stylish. Recently, we have seen a wonderful ashtray. It has been designed by creative designers; James Steiner and Andersson Frida. This design is nothing like the latest designs that restrict smokers; however it instigates them to take a puff. Don't get me wrong; this ashtray is unique in its own weird way. The ashtray uses the smoke of the cigarette to create an arty effect. The ashtray has different tendrils; that allows the smoke to come out in various shapes and forms. And, it is definitely something that is nice to watch.
11. Azuma Makoto's botanical ashtrays are definitely for nature lovers
Japanese designer and artist Azuma Makoto ahs decided; that it is time someone reinvented the image of the ashtray. In fact, the artist was so disgusted by the bad rep these objects get. So, he decided to create ashtrays that could serve as air filteration systems in their own right. Dubbed botanical ashtrays, the project boasts of constructions featuring vibrantly colored flowers, moss, roots from a tree, layers of folded leaves and variety of horticultural materials that make the floral sculptures a lot more appealing than your average ashtray.
Even though the sculptures so function as ashtrays; the intricately the botanical structures is crafted so beautifully; that they go from being mere representations of nature to lush vegetation labyrinth. Moreover, they even have a practical form of product design; that can adapt to environmental functions as well. How comfortable one would be dumping ash from a cigarette or cigar; right into a something that is a blend of pretty flowers and delicate looking botanical structures.
12. No smoking please
What better can you gift someone who is in intense love with his cigarettes and cigars? Ashtrays are indubitably the best option here. So, how about gifting an ashtray that conveys some message as well. "The last one" by Nadia Biavaschi & Alessandro Camilli, is an amusing ashtray which can insist your father, or your friend to cut down upon their smoking habit, thus taking care of their health at the same time. You can place this mysterious object in any part of the house
Summery on ashtray designs
some people consider every small detail talks volumes about your social standing and status; even if this means the kind of ashtray you have in your house; and how you can afford to use a vessel made of ivory or crystal to dump ash into.  the ashtray designs you see in this article are a style apart. Each designer has really put in a lot of efforts to come up with a stylish design that can blend in with today's modern homes.