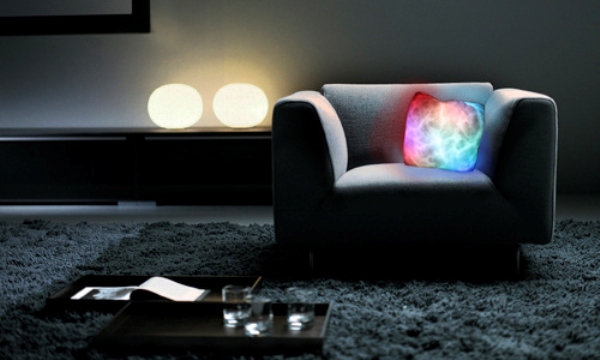 Creativity is flowing everywhere. The designers have been constantly changing the way we look and perceive things around us. The technology has been developing at an ever increasing rate and so is art. Have you ever considered decorating your home with gadgets, and items not just for show but to enhance your living? Well now you should, these beautiful looking geeky gadgets can transform your living to a great extent. They will not just provide you a beautiful looking home but a more comfortable and convenient place for living.
iCarta iPod toilet paper holder
This is not a gadget to do better what a toilet paper does, but is definitely a way to do it in style. We don't realize it though we spend a lot of time in the washroom every day. What can be a better way to stay entertained than a good music. Let's slow down the clock and listen to our favorite music in the least productive time of the day. Instead of killing time, you can make the most of it!
Burglar blaster
Well, this is definitely not a decorative item; it's more like a security team. Security alarms have become a necessity with the ever increasing crime. But at the hour, do all security systems pass the test? Most certainly this one will. Burglar alarms are jacked, tripped, shut off and ignored before a crime has to be done, but this one isn't going down that easily. Even if you accidentally trip the alarm, you will have 40 seconds to shut off the alarm or any one in a 2000 foot radius will be under attack with insanely burning pepper spray. Therefore, criminals get no chance.
Moonlight cushion
The best cushions and pillows are tested for their quality material, design and comfort because that's what you have always expected from a home cushion. Times have changed, now you can expect your cushion to illuminate as the bright moonlight. This cushion comes with an internal LED light that transits between colors. For the special wonderful nights and everyday!
Tocky alarm clock
When work is important you always blame your alarm clock to be kept close enough for you to shut off and sleep again. This might be a different case, this mean tocky alarm clock rolls way from you after it rings and you might have to fight yourself to switch it off.
Fiber-optic wallpaper
Decoration is indeed the best part of having a nice house. Did you know that gadgets can make your house look brighter? This is wallpaper for your home that has fiber-optic lights that makes your house shine like a star. Don't worry, it can be switched off when not in need!
Wicked lasers torch
Not one of the most practical gadgets that you can buy but definitely the most unusual. This laser torch is beyond ordinary. Switch it on and it shines at a massive 4,100 lumens. This is insanely enough to set a paper on fire and also illuminate your whole neighborhood. Unless it's a black-out, your immediate neighbors won't thank you for the 5 minutes of battery time it shines.
Nomos touchscreen faucet
This is not an ordinary water tap. The Nomos Touchscreen faucet allows you to control the temperature, flow and pressure of this water tap all with a simple touch. Surprisingly, it even gives an alert for a malfunction. I think the next model will have voice recognition.
Toto intelligence toilet II
Toto is a renowned Japanese toilet manufacturer, very famous for making high-end functional toilets. This is a crazy toilet that is more like visiting a doctor. It analyzes your urine for sugar levels, calculates your BMI and body weight and can help women keep a track on their menstruation cycle by their urine temperature. The analyzed data is then sent via wireless to your PC. This was really very thoughtful.
ChiliBed
This is an intelligent temperature controlled mattress that keeps you warm in winters and cools you down in heated summers. The most amazing feature of this mattress lets you share the bed even more comfortably. Both the persons can individually control and set the temperature in which they feel the most comfortable.
Fridge upgrade magnet
This is one tempting decorative item that I wish was real. This fridge magnet though only a magnet does stick to your fridge and it looks like a dispenser that gives out chilled beer, cola, cappuccino and much more. The day it becomes real, it will be the top gadget in everyone's list.