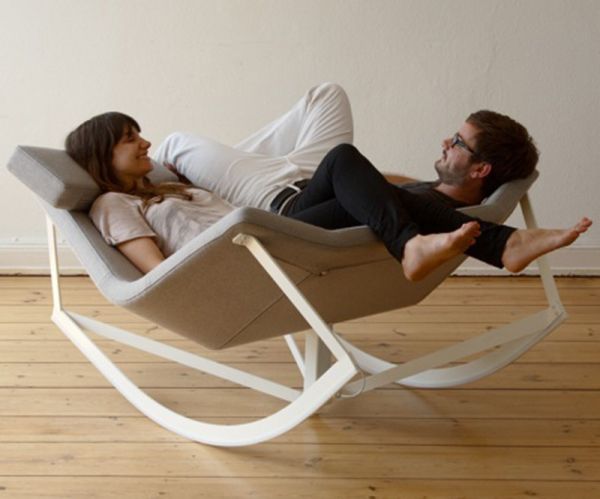 Also known as rocker, rocking chair is a type of chair featuring two curved bands of wood. The basic difference between this chair and the normal chair is that the rocking chair contacts with the floor at only two points. Rocking chairs are used since ages and they are available in different designs and shapes. Here is a list of eight unusual and interesting rocking chair designs.
Savannah Bent Wood Rocking Chair Design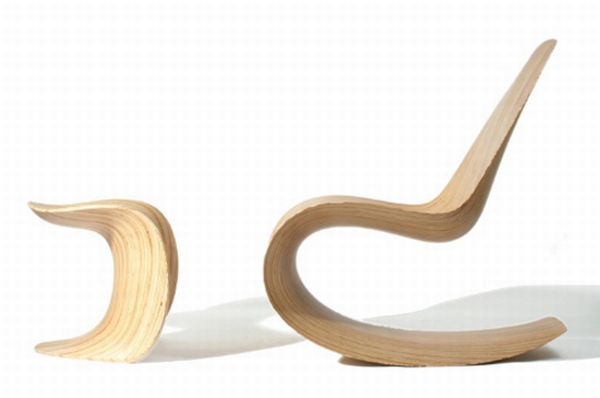 Designed by Jolyon Yates, the Savannah Bent Wood rocking chair has a very unique and attractive design. Yates has combined his creative skills with the design of the traditional rocking chair to come up with an interesting and unique design. Yates claims that his aim behind designing this chair was to show that with care and love we can design something really beautiful and useful. Made up of Birch Ply, this innovative chair touches the floor at just two points just like the traditional rocking chairs.
Unique rocking chair design from Ron Arad

Designer Ron Arad deserves credit for coming up with a rocking chair with a unique and beautiful design. The rocking chair designed by Arad is named Peanut rocking chair because the shape of this chair appears like a peanut. This chair is not only visually attractive it is very comfortable as well. The peanut rocking chair is available in gold, black and white colors. You can buy this unique furniture online by visiting the Voltex's website.
Comfortable Rocking Chair Design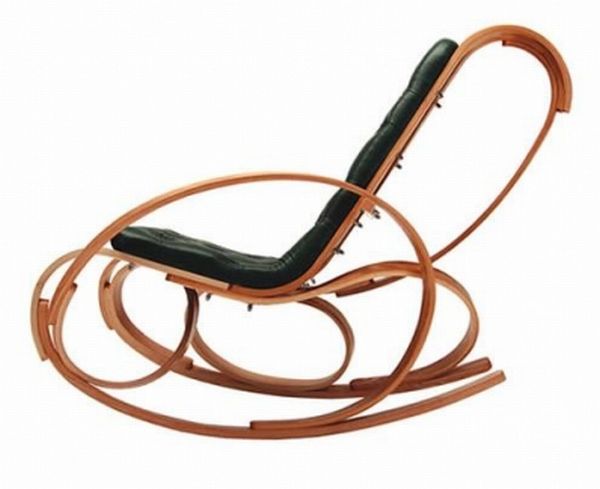 The design of this rocking chair is unique and its shape is sleek and stylish. This rocking chair is not only beautiful and stylish, it is comfortable as well. The modern look of this rocking chair is set to attract those who want to add to the beauty of their living rooms or gardens by placing a good-looking rocking chair there. The flowing corners and designer curves of this chair allow the users to relax while sitting on it. Its asymmetrical design lends a cool look to the whole structure. This elegant and unique rocking chair is upholstered in leather. The chair is hand crafted. This rocking chair is available for sale online.
Rocking Chair Design by Zheng Ruixing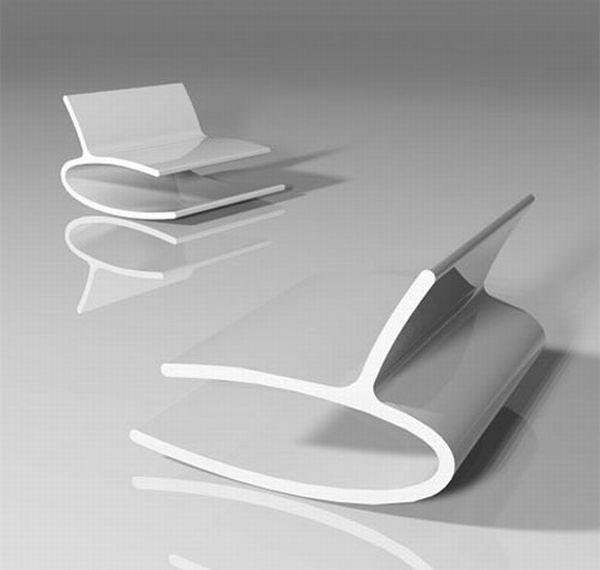 Zheng Ruixing deserves credit for designing a unique and beautiful rocking chair which is inspired by a fantastic Japanese character. Zheng claims that his rocking chair allows individual to relax and feel comfortable at the same time. The ergonomic structure of this chair makes this chair attractive and elegant. This chair with minimalist outlook is a perfect piece of furniture of those who want to relax on a chair and read books and other stuffs. This beautiful chair can also be used as a decorative item. Though Zheng has used modern techniques to design this chair, the basic design is the same as the traditional rocking chair because this chair also contact with the floor at only two points.
Rocking Chair Design by Michael Stolworthy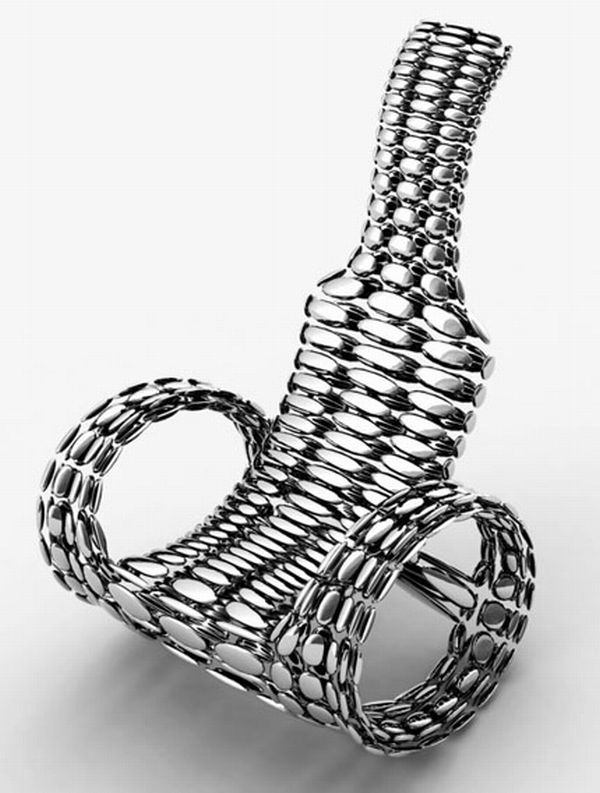 Designed by Michael Stolworthy, this rocking chair is one-of-a-kind because its design concept has been created in 3d modeling using Autodesk Maya software. Stolworthy has named his unique creation Kromoe Chair. This chair is made of metal and it has got a real chrome color. Stolworthy has used his creative skills and imagination to come up with a tangible rocking chair, which is unique and elegant. Stolworthy has used clear plastic resin to encapsulate the chrome plated discs of the Kromoe Rocker. This interesting piece of furniture is lightweight and it is expected that it would find many takers in future. The Kromoe Rocker is available for sale online.
Ruby Rocking Chair Design was inspired by Super Human Body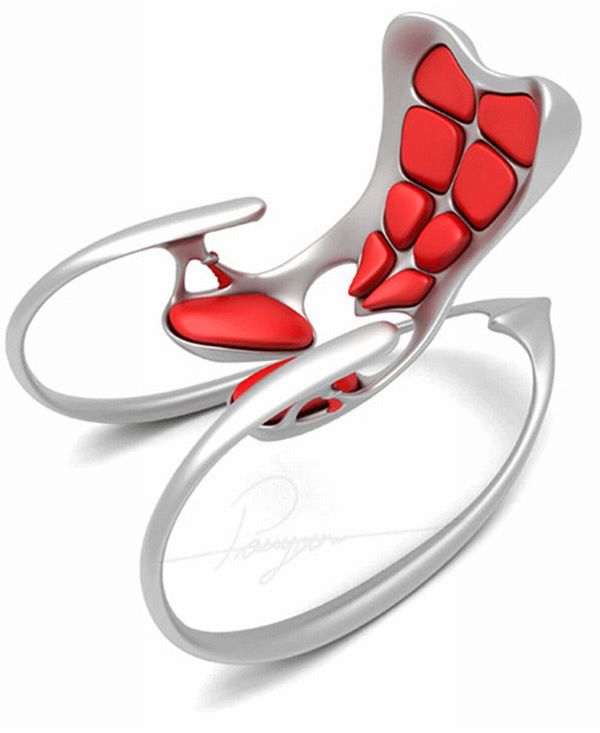 Designed by Pouyan Mokhtarani, the structure of the Ruby rocking chair is inspired by super human body. The design of this chair is completely different from the rocking chairs that we have seen so far because this chair features water-filled cushions. The seating area has two huge pillows containing liquid. Mokhtarani claims that he used the liquid filled pillows because they help in even distribution of the pressure of the body weight and also bring down the temperature of certain parts of the body. You can rock the chair by pushing the clutch.
Rocking Chair for relaxation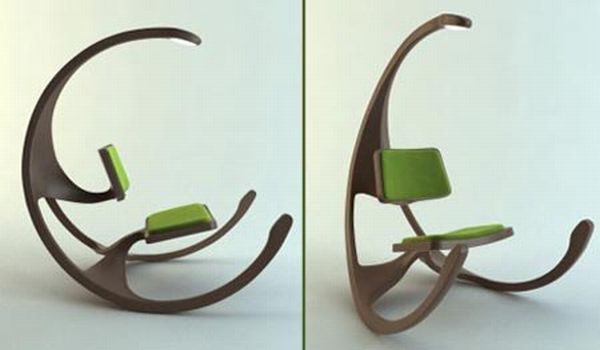 The shape of this rocking chair is unique and its makers claim that this chair offers comfort and relaxation to the user. This chair looks stylish and elegant and it has been designed as per the traditional rocking chair. This chair touches the floor at two points.
Wooden rocking chair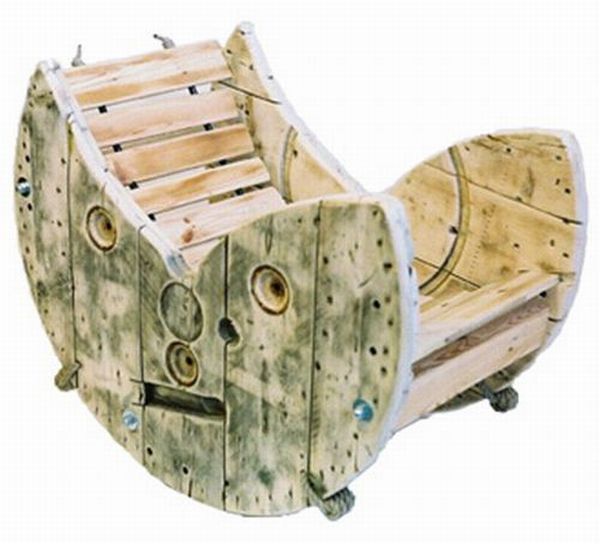 As the name suggests, this rocking chair is made of high-quality wood. This chair offers relaxation and comfort and it can be used indoors as well as outdoors. Priced at £435, this wooden rocking chair can also be used as a decorative item. This chair is available for sale online