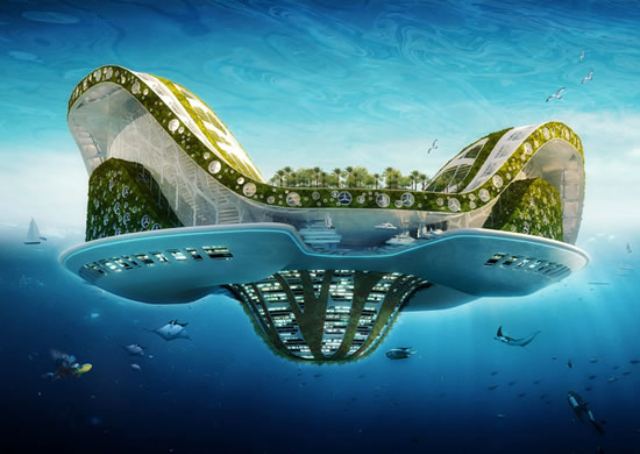 Man's ambition to realize his prodigious dreams has taken a quantum leap indeed. It's bemusing to see how fast he has beaten the odds to accomplish his desires which were once just a dream. And talking about the house he lives in, well, do you think it could have gone untouched? Obviously, designing a dream home is not an easy task but the limitless ideas, creativity and concepts that are pouring in today are ensuring a smoother and easier approach to this vision. Over the time, we have witnessed some of his strangest yet creative creations (World's strangest homes and coolest underground homes). However, the heat has soared higher and we all are left waiting for some of the magnanimous marvels that will be unveiled soon in the form of futuristic homes and apartments. Breaking all the rules of a traditional abode, these concept dwellings will not only stun you with their exquisite and spectacular looks but also bring us a step closer to sustainable green architecture. Listed below are some of the much-awaited futuristic homes from around the world. Take a look.
Atmosphere, India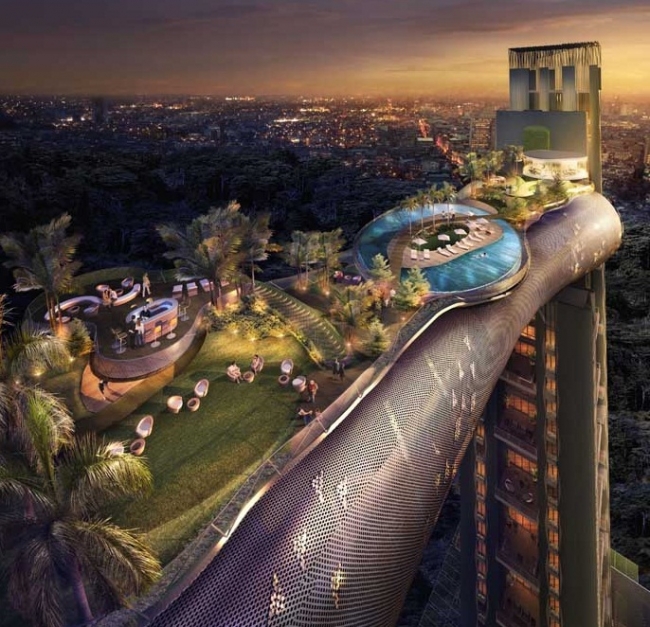 The first entry is a stunner from India. Designed by Arc studio, it takes us down the fantasy lane. This condominium project with an estimated cost of 550 crore (Indian rupees) will comprise two towers joined by a mind boggling bridge.
Why it's unique?
The stunning 55,000 sq feet aerial bridge called 'Deya', which will join the two towers. Not enough? Well, it will also house multiple lounges, amphitheater, an open-air party deck, a mini theater, a joggers' track, squash and badminton courts, gym, multiple swimming pools and a spa.
Dupli Casa, Germany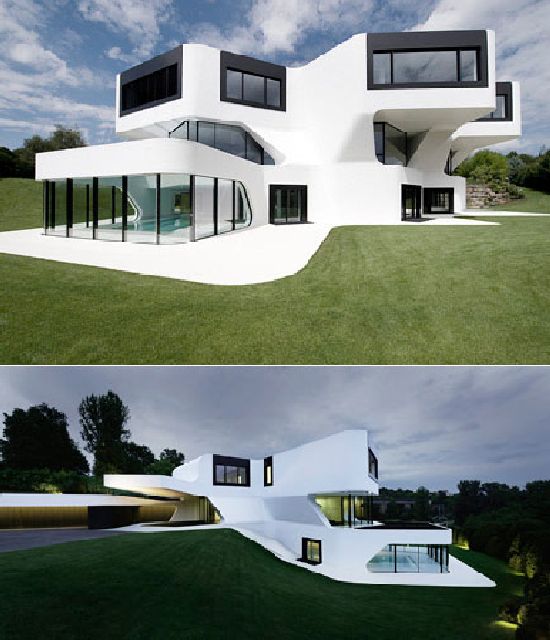 Many perceive this to be the best ever futuristic home ever designed. Dupli Casa has been designed by J. MAYER H. Architects. It has three levels with bedrooms protruding on the top floor. The panoramic windows have been specifically angled and open up to beautiful surrounding landscape and buildings. The middle floor boasts of a public space and the lobby has a big atrium.
Why it's unique?
Beautify designed, Dupli Casa is a clever remodel of an already existing house. The interiors too have been futuristically designed making use of the stunning contrast of black and white.
Aerohotel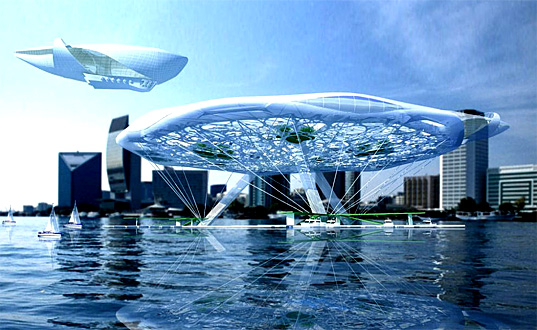 'Aerohotel' is not exactly a house but a perfect alternative to an expensive private property like an island. Russian architect Alexander Asadov has designed this beautiful concept. This gorgeous structure sits proudly over water and includes hanging gardens, restaurants and shops which can be accessed by an air ship or a boat.
Why it's unique?
Looking like as if floating on water, it actually has its base anchored into the ground under water. From a distance, the wheel shaped structure can be mistaken for a giant flying saucer.
Casa Son Vida in Palma de Mallorca, Spain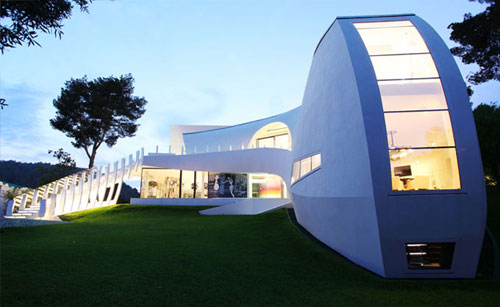 When we saw this concept, we instantly knew that the boundaries for luxury futuristic homes have been pushed. Contemporary styling has been a given an outrageous tint by making use of forward looking architectural techniques. A joint venture by Tec architecture and Marcel Wanders studio, the interiors too reflect an off the grid designing approach.
Why it's unique?
The house boasts of highly sustainable features while telling a matchless tale of voguish and distinctive designs. It will be built using novel construction technologies and will be the first of the six planned luxury residences of Palma de Mallorca.
Lilypad: The floating ecopolis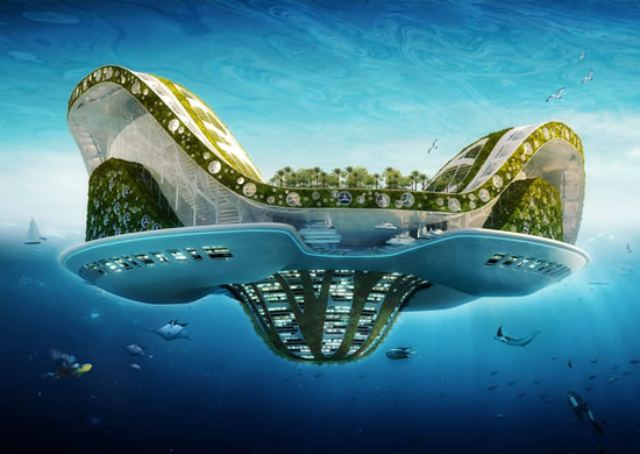 We all have heard Noah's story and we all dread its possibilities. But, Vincent Callebaut probably belongs to the smartest bunch! He has designed this floating metropolis keeping in view the alarming rise in sea levels. It can accommodate 50,000 people and can be operated from the mainland.
Why it's unique?
This beautiful structure is half submerged in water with the visible part supporting natural vegetation and lush gardens.
Seoul Commune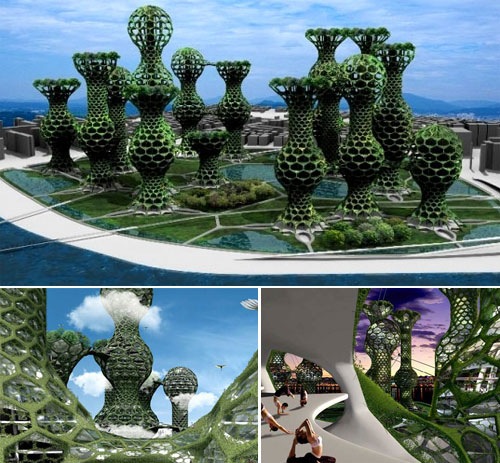 These stunning Eco towers have their gigantic plant inspired designs talking for them. Taking cue from dome, conical and cylindrical styles, this structure will be made using recessed and photo-voltaic glass panels. We are hoping to see them come alive by 2026.
Why it's unique?
Following in the footsteps of the current townships, these residential towers will also have commercial complexes as well as medical facilities. These queer establishments are being counted upon as the city's most important architectural buildings.
Spaceship inspired kokopo house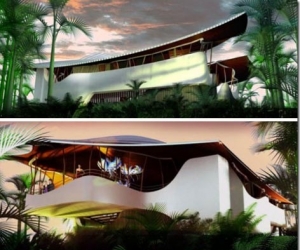 Space ships have always held our fancy. So, when we discovered this concept house, we couldn't help but smile. The curves and design it sports are inspired from a spaceship. However,the curved roof not only shields it from sunlight but also collects rain water to be stored in the house's water tank. Uniting luxurious and natural elements, this abode is best suited for warm forest areas.
Why it's unique?
Even though it doesn't have any access to electrical grid, it righteously follows the Eco friendly tradition by being self sufficient.
NURBan Design by Enric Ruiz-Geli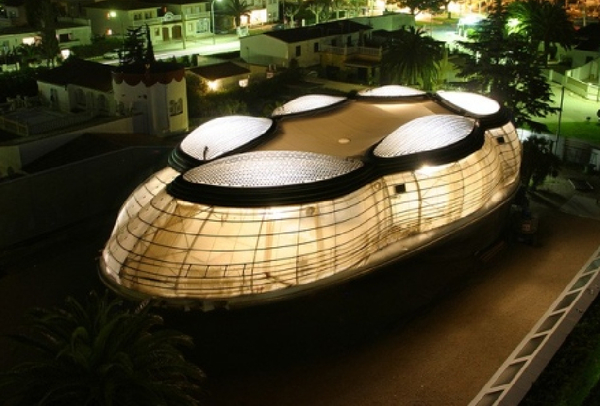 Turning the long woven dreams of architects in to reality, is our next entry by Enric Ruiz-Geli. A house of NURBS (Non-uniform rational basis spline, a mathematical model mostly used for creating surfaces and curves, offering great precision for freeform as well as analytic shapes). To put it plainly, this technology enables us to generate beautiful structures making use of unbelievably irregular shapes. Even if we leave the technology behind, it's gorgeous 'ahead of its time' design combined with stunning serpent like scaled body and spaceship inspired form, compelled us to include it in this prestigious list.
Why it's unique?
Once completed, this house will be an amazing example of how highly evolved laser-cutting techniques and intricate computer programs can craft such a magnificent structure out of extremely irregular and strange shapes and materials. Once thought to be a distant dream, this concept will soon see the day light!
EDITT Tower, Singapore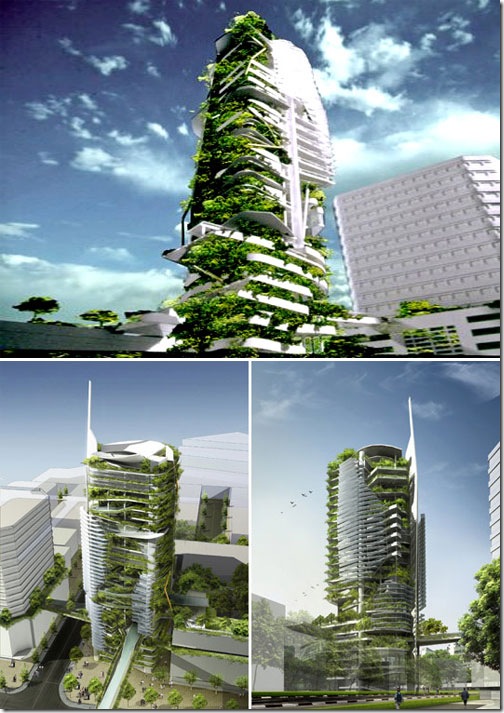 Singapore is soon to have a stunning ecological tower, EDITT, thanks to designers Yeang and TR Hamzah. The 26 floor hight tower is considered by many as a path breaking concept in architectural arena. Reason being, its highly Eco friendly approach coming together with design marvels. Every floor will feature a garden of its own encouraging the residents to plant their own toxin free, organic vegetables and fruits. The builders and designers are all ready to hit the spot, however, final approval from authorities is still awaited.
Why it's unique?
The beautiful tower will make use of engineered Eco friendly elements. It will have its own bio gas generating plant, fulfilling its energy needs. The facades will be loaded with photovoltaic panels and emphasis will be laid on natural ventilation arrangements.
Luxury Tree House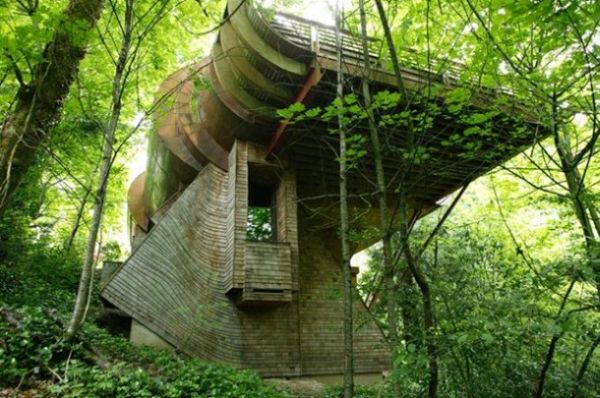 Apart from intelligent and path breaking designs, Eco friendly aspects too will weigh heavily in the making of futuristic homes. Nestling in beautiful Portland woods, this concept tree house is said to take seven years to complete. An ideal getaway from the maddening urban crowd, this beautiful tree house will be a blissful possession of its owner.
Why it's unique?
The designer has kept comfort and luxury in mind while designing this beautiful structure allowing its inhabitant to enjoy the wilderness while having access to choicest comfort.
Boat Homes of the future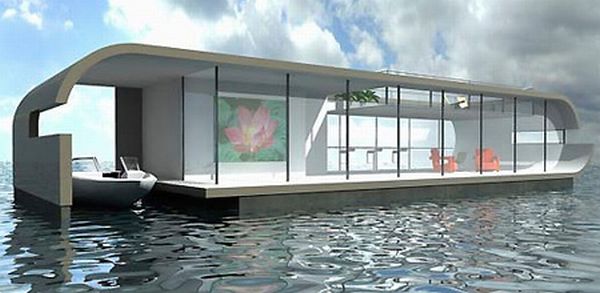 The future will see a lot of 'water homes' shaping up. One of them will be the above featured 'Boat Home of the future'. A perfect sanctuary in times of floods or may be even a Tsunami. Its beautiful design is enough to hold your breath and sturdy built enough to give shelter from such calamities.
Why it's unique?
The boat home concept has sufficient room for airtight foundations with slack built into electricity and water cables, which inflate once the water level rises.