Thelermont Hupton has transformed simple wall hooks into eye-catching decorative hooks. The designer has altogether changed the way people used to look at the wall hooks. Until now, these hooks were something that were hidden behind the doors or some corners, but now Hupton has given them a new look. Hooks have no longer remained some ugly nails that need to be hidden. Besides being functional, these are now pretty decorative items that add a fascinating look to your otherwise boring wall.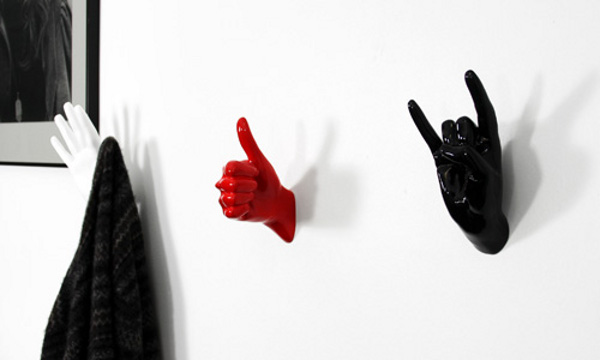 The Designer: Thelermont Hupton
What's unique
Simple day to day human expressions have inspired the designer to make these funny hand-shaped hooks. The gestures like thumbs up, hello, point, shake, up yours, peace, okay and rock on help to convey beautiful messages. So, these innovative hooks not only allow you to hang your essential items, but also help to create a lively atmosphere. Fix them up anywhere in your house and see the difference it has on the surroundings.
The designer has also experimented with hooks in the shape of kitchen utensils. You can find hooks in the shapes of knife and pans that look very charming. Fix them in your kitchen and they'll happily blend with the surrounding. You can also fix them on the other walls of your house for some more fun.
High points
These hooks can be colorful as well as creative addition to any kind of interiors. In an amazing way, the designer has added a fun element to simple things. These wall hooks come in many different attractive colors like pink, orange, black, white and red. They have been carved out of composite material that have a beautiful glossy lacquered finish.
If you opt to stay simple, yet unique, with your interior decoration, these wall hooks are a perfect choice. Besides being useful, they are fun to use and help you to experiment with different and original decoration ideas.