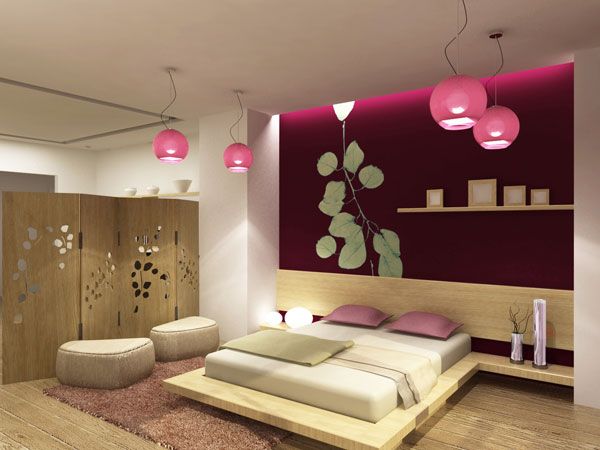 If you are eagerly inclined to bring a spell of 'astounding Asia' in your bedroom, then let us tell you that authentic Asian appeal lies in intelligent selection of colors, shapes and sizes. So, different Asian regions depict different color palettes and plethora of shapes and sizes. Therefore, you need to be very particular about the exact look you want for your bedroom. We will assist you in the process with our wise tips. Have a look.
The shade card
Asian color palette ranges from neutral tones, earthly shades to warm, bold hues. So, before revamping your walls take a note on this.
Neutral shades
These shades are the best choices to amalgamate with darker accents. The colors in this category are beige, off white, tan, camel, etc. They serve as backdrops for hoisting breathtaking art pieces and preferred by every Asian style. But too much of white is considered as a mourning color in China and Vietnam, so use it wisely.
Cool colors
Colors in this category include shades such as pale yellow, sage green, jade, taupe, pale pink, etc. These colors are ideal for Japanese homes. They are sometimes used in combination with brighter shades to influence focal interest or to jazz up a gloomy section of the room.
Bold colors
This color palette is found predominant in Chinese and Indian homes. It is also not uncommon that you can come across primary red in the interiors of a Chinese condo too. However, if all red room looks too melodramatic you can always couple it up with neutral tones to make the red wall a visual curiosity.
Furniture
The next important thing that is an integral part of every home is furniture. An Asian home must showcase furniture that reflects pure Asian essence. So, getting hold of the perfect one for your bedroom is equally vital.
Rattan furniture
Incorporate rattan furniture made from woven palm if your bedroom needs a tropical Asian makeover, such as that of Indonesia and Philippines. This is the indigenous wood of the specific Asian regions. Typically, Indonesian homes will vote for light colored rattan furniture with bold colored cushions, pillows and embellishments.
Platform bed
Incorporation of platform bed is a great idea for Asian style homes. Most specifically, you will definitely find one in a Japanese home. So, this will certainly become a focal point of your bedroom and cast a spell of Zen-like tranquility. It will be an eco friendly, space saving option for urban bedrooms.
Asian style space dividers:
Installing a space divider will be a praiseworthy measure of virtually increasing the available space in your bedroom, thereby making it multifunctional. But, the most creative way to do the same is to install an Asian inspired stuff instead of an ordinary one. So, you can opt for an intricate Kashmiri divider to make your bedroom look Indian. Alternatively, you can also go for tatami mat based stuffs that make the room look Japanese. Asian shoji screens, made from translucent rice paper will also give your bedroom a Far Easters makeover.
Bedding arrangement
Taking about bedroom décor, we can hardly overlook the bed and the bedding part. So, Asian inspiration must prevail in the same too. Therefore, arrange and decorate your bedding skillfully.
Chinese bedding
As red is the color of positivity for the Chinese, therefore, red becomes a must if you opt for Chinese styled bedroom. Get hold of vibrant red bed cover and couple it up with decorative pillows and mattresses, depicting floral designs. If you wish to be even more creative, shop for the purely Chinese brocade mattresses, which reflect bold colors with hint of gold and copper in them.
Japanese bedding
Simplicity and tranquility are the characteristic features of the Japanese population. So, if you wish to give your bedroom a Japanese makeover, cast a Zen like spell by on prioritizing materials such as rice paper, bamboo and cedar. Restrict yourself to the neutral and cool color palette while shopping for the bed accessories such as pillows, mattresses, etc. Keep it neat and organized and never entertain too much of everything, like ornate bedding, etc. Silk will go well with your inspirational style. So, invest in this fabric.
Thai bedding
Thailand is famous for handmade silk, which looks rustic, natural and rich. Choose colors like cream, light green and gold and incorporate as much as handmade silk bed accessories, rugs, throws and mattresses to bring about a spell of warmth and comfort.
Play with textures
You will hardly find any plastic or polyester stuff in Asian décor. So, expel such things for your Asian inspired bedroom décor. Rather stick to all natural look that centers around stuffs like grass mats, straw throws, bamboo furniture, wood and metal fixtures, silk, linen and cotton fabrics, etc. Never let your bedroom look flat. Be imaginative enough to install different Asian elements that create textured feel in your space of sanctity.
Green space
Creating a small green space is a must in every Asian style home décor. So, the same thing applies for your bedroom too. Therefore, inclusion of at least one indoor potted plant will be enough in creating a green space in your bedroom. The Asian population believes that plants dispel pollutants and make the air breathable. Settle for the tough and resilient varieties that will take the least of your time and effort, but will work as a powerful agent to make your bedroom purely Asian.
Illumination
Lighting cannot be overlooked too, when you are inclined towards an Asian revamping of your bedroom. No matter whether you wish to make you bedroom look Indian, Vietnamese, Indonesian, Thai, Malaysian, Chinese or Japanese, the play of light in your living area must be optimum. So, choose drapery that allows ample of sunlight in the interiors. Plan the placement of your window and incorporation of window panes in that light too, so that they do not come in the way of natural lights. Install as many as electric lighting as you can together with it to compensate the day light effect.
There are ample of options to give your bedroom an authentic Asian makeover. It is just that you have to be determined about the particular look you like and then follow the guidelines we have discussed here. We are sure you will be surprised with the after effect!