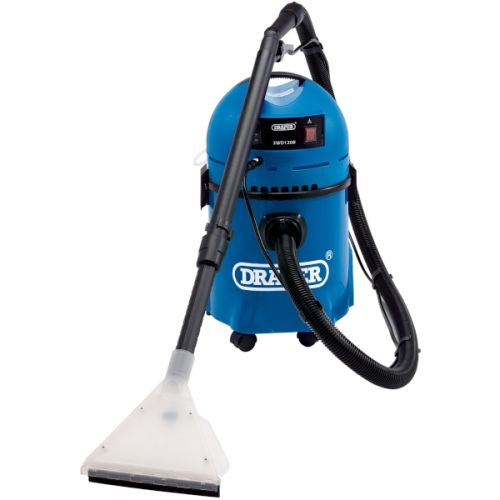 If you are finding it hard to clean a wet floor, try the Wet and Dry Vacuum Cleaners. These are designed for operating on any sort of floor surface without causing any trouble. With these Vacuum Cleaners, all the floor spills and dirt would get removed effortlessly and quickly. They come with sturdy motors and a range of accessories to suit each type of cleaning needs. These are multi featured and pretty easy to handle. Let's take a look at the top 7 Wet and Dry Vacuum Cleaners.

1. Draper 08101 1200W 230V Wet and Dry Vacuum Cleaner
BRAND : Draper
PRICE : USD 271.05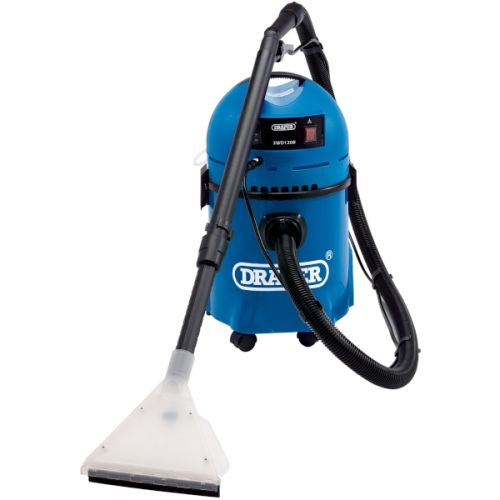 This 3 in 1 vacuum cleaner is intelligently designed to pick up dry and wet materials from almost all floor surfaces. It features a spray extraction capability for cleaning hard surfaces like tiles, laminate floors and soft surfaces like velvet carpets. Its fitted with a 3 pin molded plug and a 4M cable and features a 2L detergent capacity and 20L tank volume. Other handy features include – Plastic retractable extension tube, Paper dust bag, furniture brush and a foam filter.
USP
Its exclusive spray extraction facility directs a pressurized spray of liquid detergent and finally sucks out the liquid and dirt to keep the surface clean and dry.
PROS
It is easy to assemble.
Ergonomic furniture brush allows for a rapid and easy cleaning of home furniture items.
2. Karcher WD3300M Wet and Dry Vacuum Cleaner
BRAND : Karcher
PRICE : USD 226.47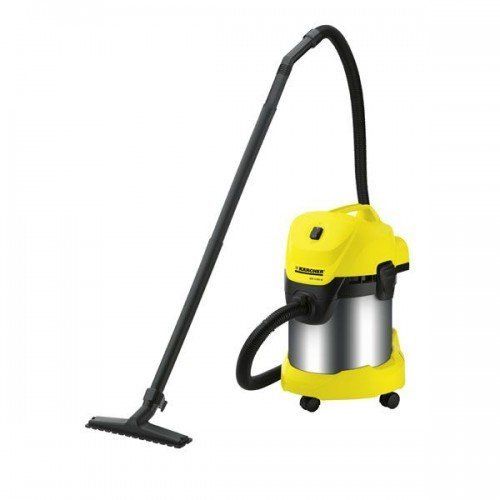 This compact Vacuum Cleaner is appropriate for cleaning carpets, soft and hard floors. It features a total capacity of 17 liters and weighs mere 5.5 kg. Its blower function eliminates dust from crevices and corners. The cleaner's plastic telescopic extension tubes offer wide reach to clean the most difficult areas. Other useful features include – washable filter, wet and dry nozzle and crevice tool.
USP
It is one of the lightest and most compact Wet and Dry Vacuum Cleaner
PROS
Its has a safety cut out indicator alarms to inform you when the tank is full.
The Hose stretch allows for an easy staircase cleaning.
3. Draper 48499 1400W 50L 230V Wet and Dry Vacuum Cleaner with Stainless Steel Tank and 230V Power Tool
BRAND : Draper
PRICE : USD 272.32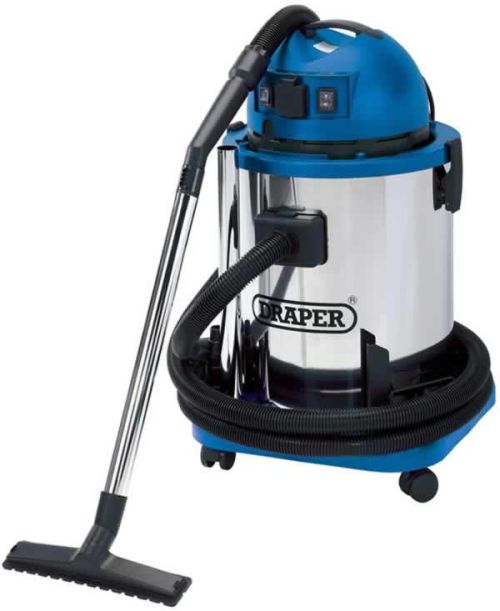 This professional volume handy cleaner is ideal for use in garage and workshop. Its robust 50 liter stainless steel tank offers a high durability. The user can easily plug in a power tool, thanks to cleaner's automatic power tool socket. The dust extraction facility of the power tool is governed by the on/off switch on the power tool. The complete package includes – Paper dust bag, display carton, foam filter, HEPA cartridge filter and two extension tubes. It weighs 10 kg and offers maximum vacuum pressure of 26KPa.
USP
This powerful vacuum cleaner comes with a large 50L tank capacity.
PROS
Its 480mm long extension tube offers flexibility to easily clean distant areas.
An automatic power tool socket is incorporated with the cleaner.
4. Vacuum Cleaner Industrial Wet & Dry 20ltr 1250W/230V Stainless Bin Sealey PC200SD
BRAND : Sealey
PRICE : USD 133.68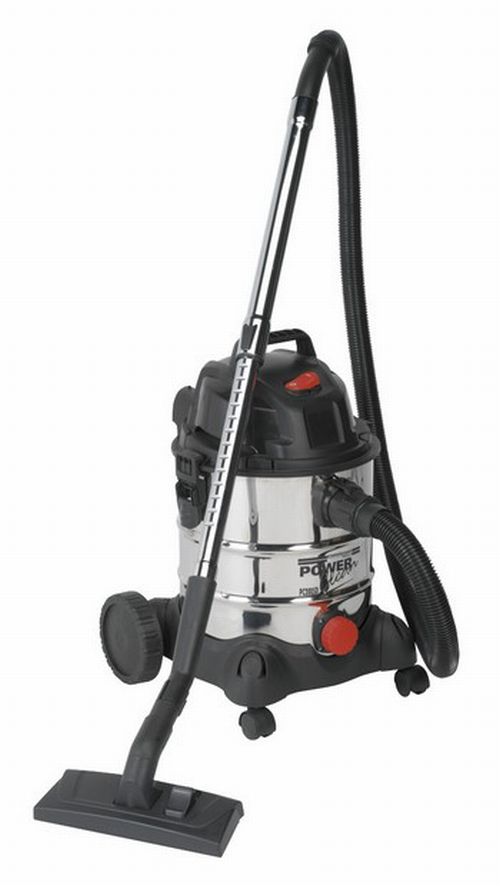 This vacuum cleaner delivers an optimal cleaning performance at a fast speed. It's a lightweight industrial unit which features a stainless steel construction. Its radiant 20ltr drum unit is mounted on two fixed and two castor wheels for that ease of transport. The cleaner's high power motor ensures powerful suction pressure. It comes with tool storage points, both on the head and base. The complete package includes – cartridge filter, deluxe tool kit, 4.5mtr cable, wet-use foam filter and telescopic rigid extension tube.
USP
This elegant vacuum cleaner comes with an exclusive stainless steel drum and stainless steel telescopic firm extension tubes.
PROS
Maximum tool storage location ensures an ease of placing all tools.
Its quite easy to operate.
5. Numatic CVC370-2BL/BK Charles Wet and Dry Bagged Vacuum Cleaner
BRAND : Numatic
PRICE : USD 192.56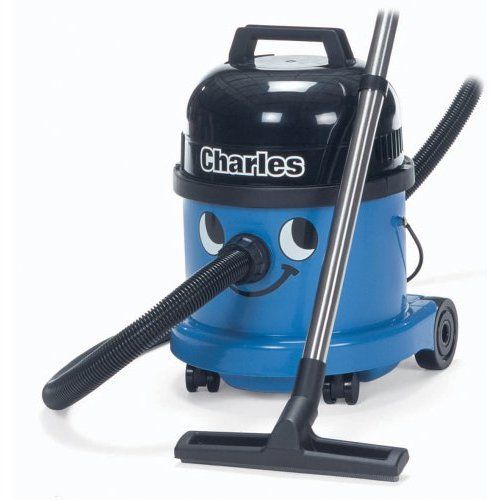 This adorable vacuum cleaner from Numatic, cleans all spills and dirt with an ease. Its 1200W powerful two stage motor ensures an ample suction power to clean the mess at home. It features gigantic filters and disposable dust bags with a safety float valve for effective dry and wet cleaning. It is an overall cute vacuum unit which comes with two floor nozzles for carpets and hard floors. It features a 15L dry capacity and 9L wet capacity.
USP
Its exclusive Tritex filtration system and Safety valve float system provides the ultimate efficiency for dry and wet pick up.
PROS
It comes with non rust aluminum tubes.
The complete unit's appearance provides a great fun while cleaning.
6. Draper 36313 18L 1500W 230V Wall Mountable Wet and Dry Vacuum Cleaner with Remote Control
BRAND : Draper
PRICE : USD 229.43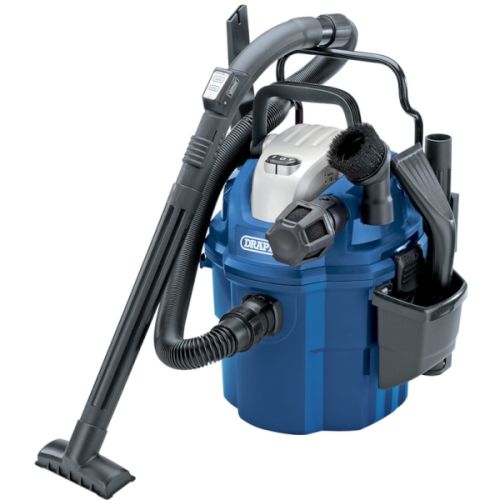 This robust vacuum cleaner ensures powerful cleaning along with ease of use. Its 18L tank volume is designed to pick up all types of materials. It comes with a wall mounting bracket and a flexible suction/blowing hose. Other useful features include – hand grip with remote control, soft brush, paper dust bag, display carton, car attachment, two extension tubes and a Crevice nozzle. It supplies a maximum vacuum pressure of 19KPa.
USP
Its remote control on/off function allows cleaning distant areas easily whilst the cleaner is hung on the wall by the wall bracket.
PROS
Its hose can be easily attached to the blowing function.
The wall mounting bracket allows for an easy storage of the vacuum cleaner.
7. Earlex WD1200P Wet 'n' Dry Vacuum Cleaner
BRAND : Earlex
PRICE : USD 76.54
This is a highly flexible multipurpose vacuum cleaner for both indoor and outdoor usage. It features a 1200w powerful motor with a 20 liter capacity. It comes with an on board storage for accessories. The complete package includes a crevice tool, floor tool and extension tubes. It's most suited for usage around home, workshop and garden. Its also ideal for blowing garden leaves.
USP
This versatile vacuum cleaner delivers a powerful cleaning output consuming minimal energy.
PROS
It is portable.
It requires minimum operational effort.