It generally takes just one disaster to get regulators moving on developing rules that should have been developed years prior. For example, we have seen a number of terrible accidents that have led to the fire safety regulations we now have here in the UK. It isnot just here, though. Throughout the developed world, fire safety is something governments now take very seriously.
Fire regulation compliance in the UK applies as much to renovations as it does new properties. So as an interior designer, you have a responsibility to make sure that all of the new interior spaces you design are compliant with the fire regulations in your particular jurisdiction.
In England and Wales, those regulations are spelled out in Part B of the Building Regulations. They provide for a number of methods and strategies for preventing fires and stopping them from spreading when they do start. You can consult the Building Regulations to learn everything there is to know about your responsibilities as a designer.
Basic Fire Safety Concepts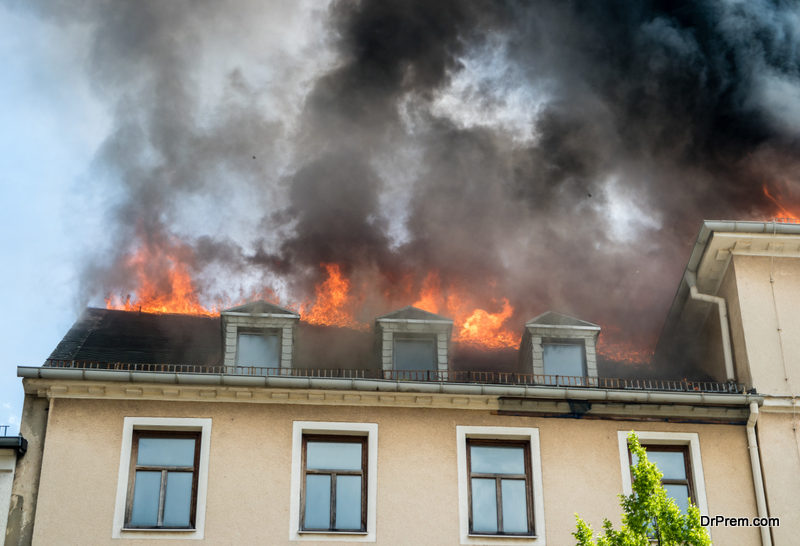 Fire safety regulations are designed to do three things. First, they serve to prevent fires as much as possible. Second, they deal with ways to prevent the spread of a fire once it occurs. And third, they provide ways for keeping people safe as they attempt to flee.
To that end, there are five basic concepts found in the Building Regulations relating to fire safety:
Means of Egress – Both new builds and renovated spaces must offer adequate means of egress in the event of a fire. Simply put, people need adequate avenues of escape.
Means of Warning – In addition to a means of egress, regulations also call for a means of warning. More often than not, this plays out in the placement of smoke alarms. New builds and renovated properties must have an appropriate number of smoke detectors installed in the right places.
Interior Spread – Ideally, you want new designs to include features designed to prevent the spread of fire inside a burning structure. You do not want the fire to spread from one room to the next. Confining a fire is the best way to limit the damage it does.
Exterior Spread – Similarly, implementing certain strategies to prevent a fire from spreading to neighbouring buildings is equally important. The idea here is to prevent catastrophic fires that destroy entire neighbourhoods.
Building Access – Should a fire occur, the local fire brigade needs easy access to the burning building. This is something regulators take very seriously. Designers and architects must never restrict access with their designs.
Fire safety goes beyond the five points measured here. As a designer, it is incumbent upon you to understand how fire safety applies to your designs. A failure to comply will result in your designs not being approved.
The Fire Extinguisher Question
Designing interior spaces to be fire safety compliant generally creates questions relating to fire extinguishers. Under the law, different types of firefighting equipment are required in different kinds of buildings. It is not appropriate to say that every commercial space requires the same firefighting or suppression system.
Some of your designs might be fairly small interior spaces that could get by with a single hand-held fire extinguisher. Larger spaces might require multiple fire extinguishers, or an integrated fire suppression system built into the ceiling.
At any rate, whatever firefighting or suppression systems are required by law must be maintained and tested at all times. Therefore, it is helpful when designers take into account maintenance and testing procedures. The easier it is to access equipment the more likely regular maintenance and inspections will actually be done.
Fire Extinguishers in Residential Homes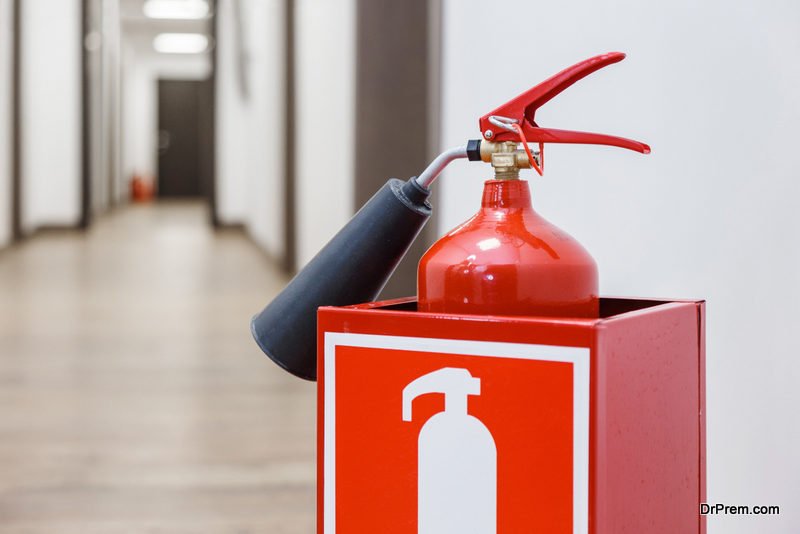 Fire extinguishers are not generally required in individual family homes. However, any residential setting in which certain groups of people are being cared for by professionals is a different story. Such spaces may require fire extinguishers in addition to the same embedded fire suppression systems discussed earlier.
As a designer, it is not out of the question for you to recommend hand-held fire extinguishers as an upgrade on a residential project. For example, chrome effect fire extinguishers can offer additional safety in a new kitchen without ruining the aesthetic appeal of the design.
The point of everything you have read here is that fire safety is a complex matter. As a designer, it is something you have to seriously consider on every project. Lives depend on it.
Regulations have been put in place to ensure public safety as much as is humanly possible. So while we may feel as though some of those regulations place an unnecessary burden on designers and property owners, there is no point in trying to get around them. Fire safety is a serious matter that the government is generally unwilling to compromise on.
Article Submitted By Community Writer