The kitchen is a place that is prone to clutter. Cooking requires many ingredients that are housed in different vessels and dishes. While they are great on the counter top while you are working, when they are not needed, they create quite a hassle and a mess. And if you are 'rack'ing your brains to solve this problem, we have some good news. Here are eight wooden dish racks that promise to clear the clutter in your kitchens in a green way.
1. Cabinet Plate Rack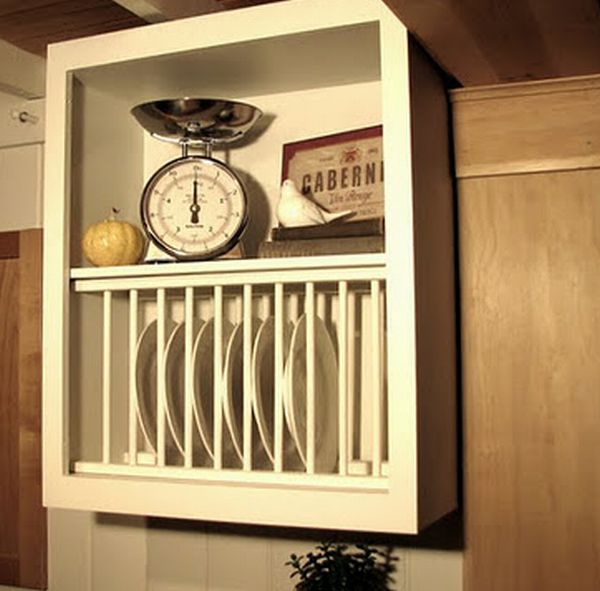 Here is a bit of activity other than cooking that took place in the kitchen. Some wood, a saw, a drill and a DIY project ensured the creation of a beautiful wooden rack. The rack comes as a cabinet with neat separating bars for the plates. On top is a storage area that fits crockery and vessels of different sizes along with some necessary groceries. A simple but very useful rack in kitchens that often tend to get cluttered and messy.
2. Solid Wood Harvest Plate and Cup Display Rack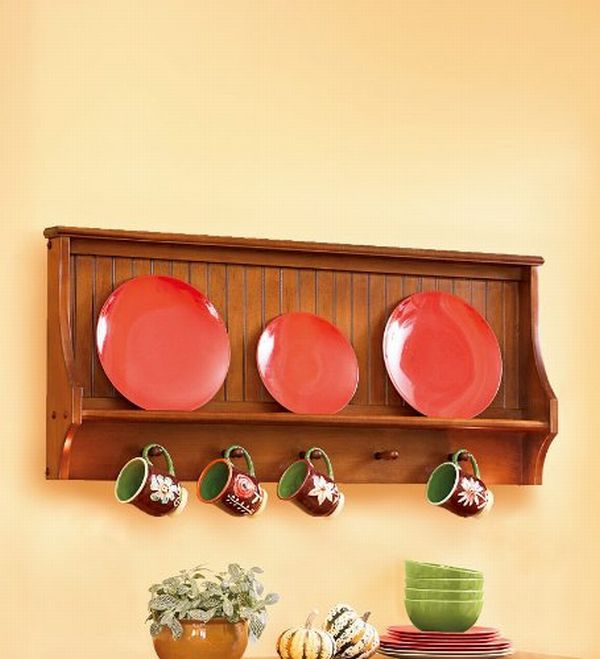 Made from solid hardwood, this rack has been given a classy, distressed walnut finish. The back has been made from a beadboard and it features a separate plate and cup display areas. Hang it up on a wall and you have counter space available for your kitchen work. It is about 40 inches wide and 18 inches high with a depth of 5 inches. It is sturdy and durable and is sure to be a rack for all seasons.
3. Wooden Dish Drainer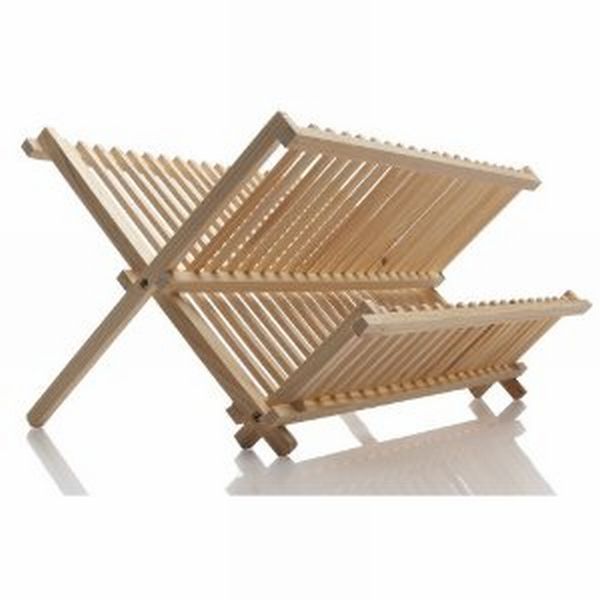 For those who wish to keep up with the modern times in terms of styles and trends, here is the perfect dish rack from Norpro. The racking folds neatly into a compact unit when not in use making storage simple and easy. Along with helping you in storing plates and dishes in a neat manner, the rack allows for easy draining of any water residues. It also adds to the general decor of the kitchen, enhancing it by a few notches. Measuring 15 x 20 inches, the rack is very light and durable, being made of hardwood.
4. Wall mounted plate rack in classic kitchen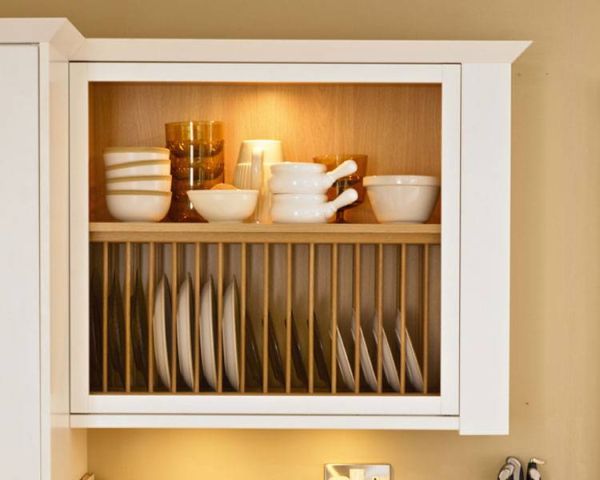 Here is another rack that mounts as a wall unit. It has been aesthetically designed with warm colors to add a beautiful and traditional feel to the kitchen. The unit is open, making it easy to access and the plate rack below can store plates of different sizes. You could custom order a door for it or make the cabinet slightly bigger to store taller units. Or, you could simply make use of the roof space available on the rack!
5. Hand Wash Only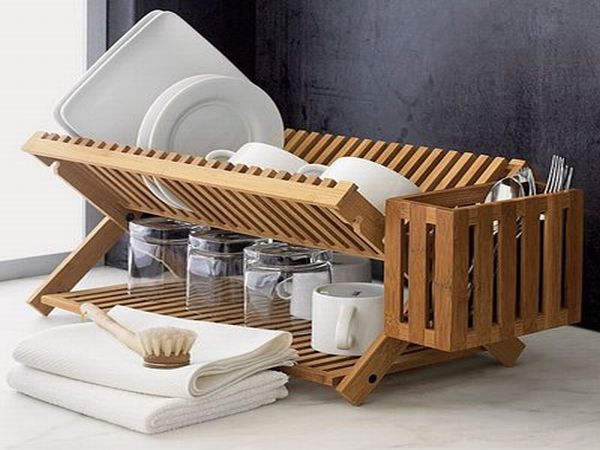 This rack has been made with a specific task in mind – to act as a drying place for the washed plates, cups and dishes. The rack has been made from bamboo which is durable and sturdy. It also has a separate chamber for the spoons to remain as they dry. One complaint though – Why would one want the water from the plates to drain off over the glasses? Otherwise, it is a neat and handy piece to place next to the wash basin.
6. Kitchen Plate Rack Wall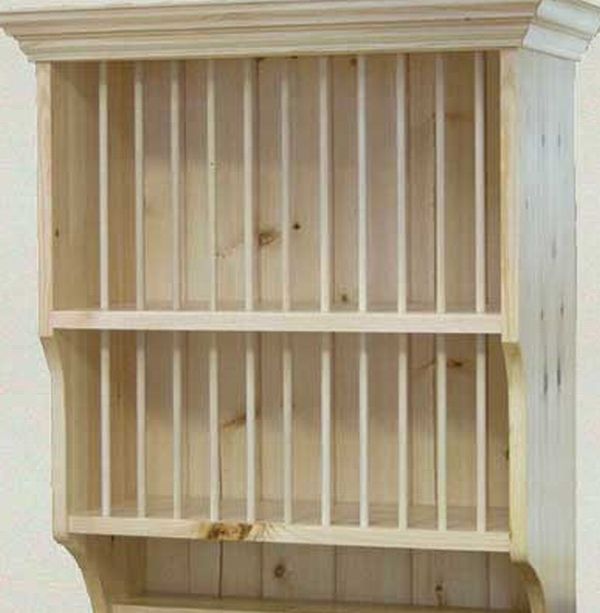 This is the kind of storage that would be useful in restaurants or places where one needs to store lots and lots of daily use plates and dishes. This is a rack that has been built to cover an entire wall if necessary so that plates and dishes can neatly be stacked. Made of sturdy and wash-proof wood, it will definitely not be necessary for the smaller kitchens.
7. Wooden Plate Rack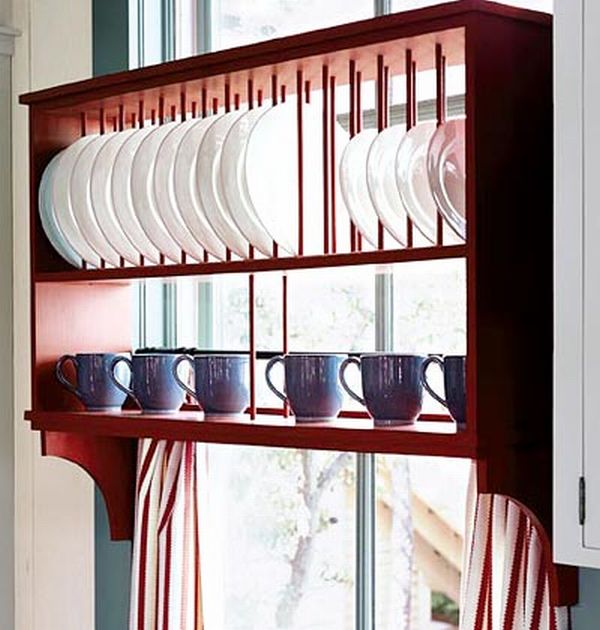 Here is a rack that could be mounted either on a wall or on a window. Made from hardwood, the rack offers a great look because of the backlighting that is made available through the glass of the window. There are separate spaces for the cups and the plates and this rack could also double up as a drying unit for the dishes. This is a traditional rack but it is innovative in its 'positioning'!
8. Dish rack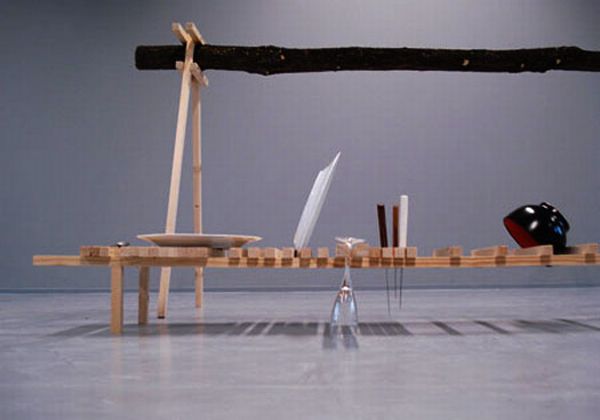 Just like those in love with modern decor, we have people who simply cannot get over that old world look. Here is a rack that looks like what the first ever dish racks might have looked like. And therein lies the charm! This old world rack looks antique and beautiful. The best part is that it is a one size that fits all. Made of separating pieces of wood placed at different distances, the rack can hold plates, dishes, champagne glassware, spoons and a host of other crockery too.