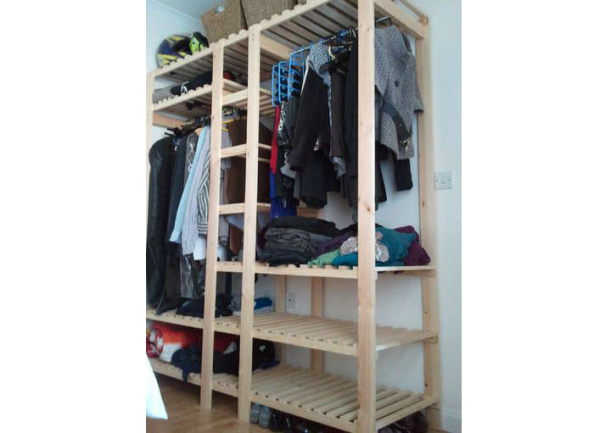 If you are a shopaholic, you might find your wardrobe insufficient for your rising number of clothes. You must be looking forward to buy a new, but the price may seem to be exorbitantly high. So, let's consider making one for you. This would cost you less and you will employ your free time to make something constructive and useful. If you have most of the materials required with you, it would cost even less and make the one with a look and design you prefer.
If your room is always a mess and you don't understand how to get rid of the clutter, and are finding short of place to keep all these stuffs, consider making yourself a new wardrobe. A self made wardrobe can be of the design and size you want and you can customize it according to your requirements. You can make wardrobes with or without doors as per your convenience. Listed below are the materials required and the steps you need to follow to make a wooden wardrobe.
Difficulty level: Moderate
Time required: 1-2 days
Resources required:
1. Six door hinges
2. Two 4' X 8' sheets
3. Three 2' X 4' planks
4. Two 2' X 8' planks
5. One 2" X 4' piece of wood
6. Screws of different sizes
7. Panel pins
8. Two metal bars
9. Two door handles
10. 4' long shower rod
11. Saw
12. Measuring Tape.
13. L-shaped brackets
Estimate Cost: $150
Instructions
1: Chop and measure some wood
Once you have collected all the required materials, measure up all the wooden pieces before you start with the work. If you are finding any differences then cut it out using a saw. Check that all your pieces are of right length every now and then. Now, you can go ahead with the assembling part. Place it on the ground and start with assembling.
2: Assemble the parts
Fix one of the 4' X 8' wooden sheets to one of the 2' X 8' pieces forming a corner, and screw it in place. Attach the other 2' X 8' piece to the opposite site of the 4' X 8' wooden sheets in similar manner. This will be the back as well as the sides of your wardrobe.
3: Creating the top
Now fix one of the 2' X 4' planks on the top of the wardrobe making use of screws. Also, screw the L-shaped brackets in to the internal corners to make the top steady.
4: making the shelves
Using the measuring tape, measure around 12" from the wardrobe's top and place in one of the 2' X 4' wooden piece and screw it right there. This will make a shelf for your wardrobe.
Once this is done, now position the 2" X 4' wooden piece horizontal across the lower bottom of your wardrobe creating a front piece. Later, fix in the last 2' X 4' wooden piece horizontally across the bottom to make the wardrobe's base. Screw it in place and also fix L-shaped bracket to further secure it in place.
5: Installing the rods
Now you can install the shower rod. Place a rod of about 12"at a distance of around 6 "below the shelf.
6: Making the doors
Cut the other 4' X 8' wooden sheet into two 2' X 8' pieces making use of a saw. These pieces will form the wardrobe's doors. Attach the doors with hinges at the bottom, top as well as the center of each door. The doors of the wardrobe are now attached also fix the handles to these doors.
7: Mount the structure
Now the frame of the wardrobe is all ready to be mounted.
8: Finishing touches
You can paint your wardrobe in the color you need. To customize it even further, add trims and stains of your choice. Now when the paint dries, you can keep all your extra clothes, instead to letting it clutter around your room
Frequently asked questions
Can I also add smaller shelves to the wardrobe? What size of planks do I need to use?
Yes you can very well add smaller shelves to your wardrobe. Well, the size depends on the size of wardrobe you are making. Or the simplest thing would be just to use your measure tape and measure the size of wood piece. Ensure that you are securing all your smaller shelves with L-shaped brackets and screw them properly in place.
Quick tips
Cutting out the wooden planks in to the size required is a tedious task. Better as the seller to have it cut for you. This is also become convenient to carry and use.
Make sure all the edges of the planks are smooth or make it smooth by rubbing with the sand paper. This is to ensure that you don't hurt yourself or if there is a kid at home it might hurt against the rough edges.
For more secured joints, you can glue the edges before screwing it.
Things to watch out for
Ensure that you are not screwing the thin pieces very close to the edges.
Also make sure that you are wearing gloves all throughout the process to avoid any cuts.
This is just an example of making a wardrobe, you can use your creativity to make wonderful designs and patterns making your wardrobe and your room look even more cooler. Well the basic idea is to make your room organized and have easy access to all your things without having to waste time looking for it.