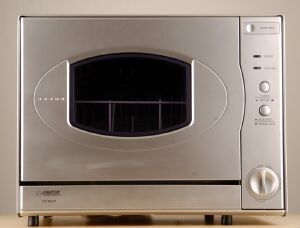 It is not just the functionality but the size as well that makes this dishwasher a hot favorite. Yes, you heard that right; this one is a dishwasher and not a microwave. This one happens to be the world's smallest dishwasher that's about the size of a large microwave oven.
Today when homes are shrinking everyday one desperately needs gadgets that easily fit into the homes without making them look stuffed to the fullest.
This dishwasher can hold 11 plates easily and for the larger utensils you just have to use the space intelligently and things will be done. Made in stainless steel the dishwasher is odor resistant and has high-powered wash cycles.
Via: GoodCommonsense