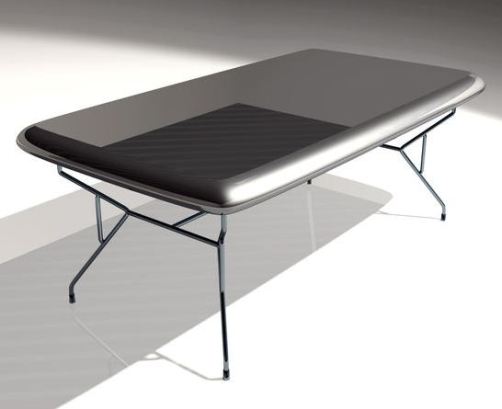 Designer: Chimo I-Design Studio (Sydney, Australia)
Dimensions: 43″ x 24.8″ x 15.7″
With appealing, crisp and smooth lines, Xelles designed in 'Chimo I-Design Studio', is a low coffee table that throws a futuristic touch to your interiors. As it has been shaped completely from aluminum, its durability factor increases manifolds making it ready to accompany you for many years. Furthermore, its light weight makes it portable to use as compared to other coffee tables like glass or wooden ones, which used to be too heavy to carry. This makes it easy for you to carry and place it in any room or porch.
What's unique
Xelles is based on the idea of floating in the air and follows the minimal approach design. It features low legs that help to shift all the focus on the unique design of this table. Smooth and curved corners of this coffee table make it safe for your children. In addition, its sleek design and glossy finish accentuates its style factor.
High points
The round steel legs can easily bear heavy decoration articles like vases or statues.
The glossy finish makes it an elegant piece of furniture that can beautifully enhance your home décor.