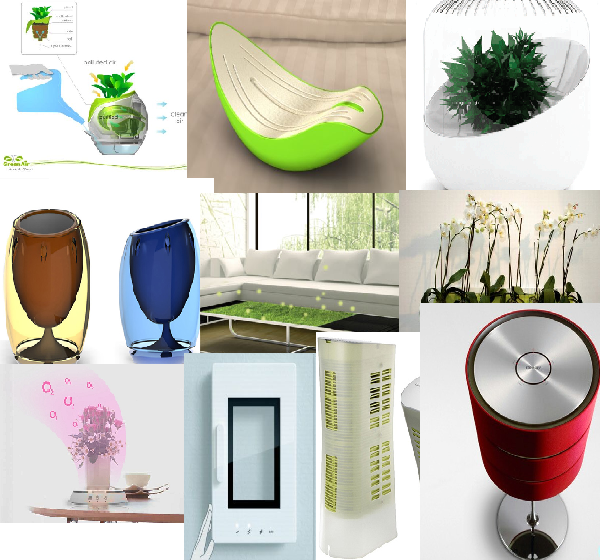 Air purifiers have made a great revival in the recent years and they all have developed the ability to dynamically scale to different size spaces. These new breed of air purifiers are more portable and most of them run on solar energy. In addition to that, the new designs can also bring a fabulous mix of colors in your living room. Check out our list of 10 such air purifiers, which use natural means to purify and freshen your indoor air.
1. The Coway Daan Air Purifier
The revolutionary design and ergonomic finish of The Coway Daan is sure to be a trendsetter. It is a visual delight as it is healthy and pure, full of green goodness. Daan which stands for column in Korean, is a small disk sized, table lamp like air purifying unit which can purify a small room of about 400-450 square feet.
2. Alen Paralda Air Purifier
The newly launched Paralda air purifier by The Alen Corporation is completely lead-free and ozone safe. This stylishly designed air purifier has HEPA filtration system, a heavy duty UV lamp, light touch activation controls and a programmable timer. It removes common allergens such as dust, pollen, pet dander, and mold spores from up to 400 sq. ft of area.
3. Window Air Purifier
Korean designer Jae Han has designed the new Window air purifier which is an air purifier that will let your indoors stay fresh even if cooped and closed down from all sides for days. Windows is an air purifier with an interface like the actual windows that gives information about the wind outside. The transparent LCD becomes darker and indicates if your room is not clean.
4. O2 Air purifier
O2 is an air purifying concept which is based on the air cleaning property of plants. Basically, a plant pot is kept inside the device and it is supplied with water and sunlight to grow. The device will speed up the plant's transportation process to generate more oxygen, thus purifying the air inside your room. And when the plant blooms, a burst of fragrance is spread inside your house.
5. Breathe Easy
Designed by Paul Thomas, 'Breathe Easy' is an air purification system which uses Photocatalytic Nano-Mesh Technology with ultraviolet (UV) light to improve air quality. This device has won the IBEX Innovation Award in Mechanical Systems category, 2010. It reduces the odors of tobacco smoke, mustiness, chemical vapors and toilets.
6. Oxygen of Green
Oxygen of Green is a low table with air plants growing on it. It was created by Mingling Wang, an industrial designer in Korea.The air purification process is executed by growing air plants at the central area of your living room. The plants produce good amount of oxygen, especially during the night. These air plants use their leaves to absorb water, CO2 and other nutrients hence they can grow without soil.
7. Aura Organic
Designed by Ben McGinley, the Aura Organic Air Filtration system uses the air cleaning property of plants and the sunlight to make the air clean. A plants is kept in a venture-like pot and let to grow. The device directs the airflow to the main filtration areas of the plant, including their roots. The stale is thus taken in by the plant and oxygen is released.
8. Andrea Air purifier
Harvard designers Mathieu Lehanneur and David Edwards have designed this air purifier that too makes use of indoor plants to filter air. Using Bel-Air technology, fans inside the Andrea move air through the leaves, roots and soil. After the polluted air has been sucked in, it is pushed out by the system through a vent on the side.
9. FLO2 Air Purifier
This FLO2 Air Purifier is based on the process of photosynthesis. Designed by Olivia Bradateanu, this leaf-shaped air purifier, uses the natural process of plants to convert water and CO2 into oxygen using light. The portable device can be carried along or placed at a favorable place inside a house.
10. GreenAir Natural Air Purifier
Designed by Sherly Gunawan, this air purifier was inspired from the metamorphosis of a butterfly. It freshens up the environment through natural vegetation. The GreenAir grows living plants which absorb contaminants from the air through the leaves and roots. It has a fan inside to pull the air to the root, using solar panel as the energy source.