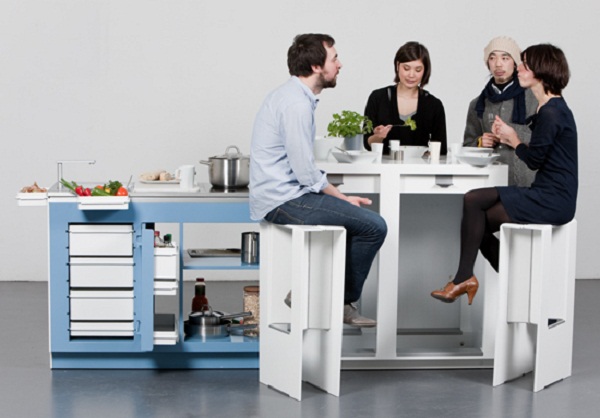 The joy of cooking at home gets multiplied if you have an aesthetic, functional, and groovy kitchen. Most hi-end kitchens are made for well planned spacious homes. But new age designers have come up with space saving kitchen designs that are efficient, visually appealing, and even luxurious. They contain all necessary items used in a kitchen like gas burners, ovens, mini refrigerators, trash can, shelves and cabinets for stowing kitchen utilities. If you live in a small sized urban apartment, a studio meant for one or two, or any other compact dwelling then you must take a look at these marvelous compact kitchen designs. They can be fitted into your home without any hassles and hardly any remodeling would be required. Moreover, they are a great addition to your holiday homes, country cottages, farmhouses, beach side quarters, etc. Also, they can be used in boats and yachts.
1. Modular kitchen by Kristin Laass and Norman Ebelt
A German invention, this compact modular kitchen requires an area of only one square meter. You can close the kitchen to turn it into a dining table. It contains a cooktop, refrigerator, oven and storage space like shelves and cabinets.
2. Circle from Compact Concepts
The circular shape can be crammed into rooms with limited space and this type of kitchen unit also allows one to hoard all kitchen necessities. It rotates at 180 degrees and takes up 1.8 meters of space. It even has a microwave, dishwasher and sink along with cooking equipment and storage area.
3. 360 degrees kitchen
Built as a cooking and dining space, some of the unique features of this kitchen fixture are Ehe Towers rotating shelves and provision for cleaning. It has been fabricated by Ulrike Sandner, Farziska Winter and Katrin Sillmann.
4. Kitchen Studio
Apt for studios, this piece of furniture can be squeezed in just 246 cms of floor area. But that doesn't mean that you have to compromise on any kitchen utilities. It is a luxurious dream kitchen well equipped with all apparatus.
5. Carre by Robert Schierjott and Ulrich Kohl
A customizable kitchen unit that can be sized up to fit into homes of varying sizes. It has a compact cube shape that can be configured in six different ways. The foldable two module construction is a creation of Robert Schierjott and Ulrich Kohl. Taking up 1 square meter of space, it serves as a space for cooking and dining.
6. Kleine Kuche
Translated in English as small kitchen, this fitting is true to its name. The design is compact and ergonomic and it comes with appliances. The hidden silicon panels and shelves can be used to stash used plates, bowls, and pots out of sight.
7. Stewart and Justin Case
A miniature mobile kitchen that can be transformed into a dining table for four persons has been crafted by Maria Lobisch and Andreas Nather. It slots in all the essentials needed like cooking unit, draining board, sink, and shelves. The mini kitchen units in this fitting are called Stewart and Justin Case.
8. Come together
It's a mini kitchen that can be folded and can be easily squeezed into homes with a limited space. Despite its compact make, the device retains a luxurious appeal. It contains all handy kitchen items.
9. Grandma's Revenge
You will require just about 5 meters of floor space to fit in this marvel from Klaus Michael. This mini kitchen has a cooking range, cabinets, shelves, and also a dining table.
10. Lodovico Bernardi's Rubika
A designer piece, it is more like a small sized kitchenette. It has been conceptualized to go with most type of home interiors.