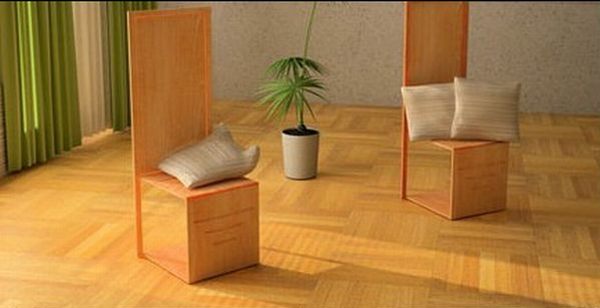 In this world of nuclear families and space constraints, most of us end up with miniscule apartments that are barely enough for us to stretch our legs and relax. Now, the problem arises when we have to get furniture for our studio space. Many furniture designers come out with elaborate designs that display their creativity to their utmost!
What about the small, compact and space saving furniture which are apt for tiny homes? Are you finding it difficult to get the right furniture for your house? Take a look at these beautiful and amazing designs and be inspired greatly!
1. Wall Mounting Furniture
Furniture, that can be mounted on the wall are becoming extremely popular, thanks to their space saving designs and amazing styles, so that, they can be hung on the wall like great works of art, staring right down at the stupefied guests. Wall mounting furniture can be anything from a dining table, coffee table with cushioned chairs or a multipurpose table, which can also be used as a makeshift laptop table or game table. Much depends on what style you choose for the table, so that, it looks beautiful on the wall.
2. Matroshka Living Concept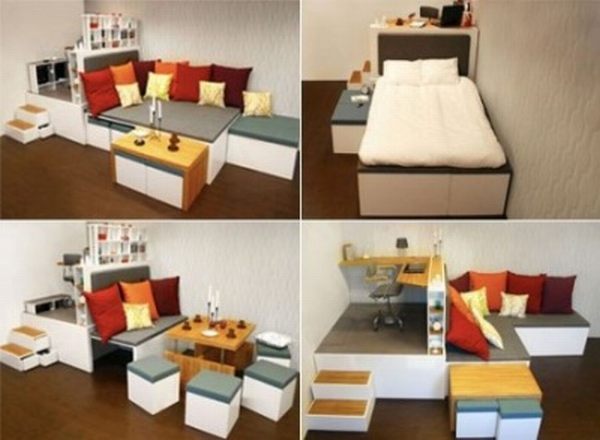 The Matroshka Living Concept unit, beautifully styled, which surprises you with its compact, and yet high utility design, fits perfectly inside a 43 square area. Based on the requirement, you can shift the unit to form a dining table, a 12 seating area, office space, double bed and wardrobe. With beautiful color accents, the entire space looks splendid!
3. Dining Cum Billiards Table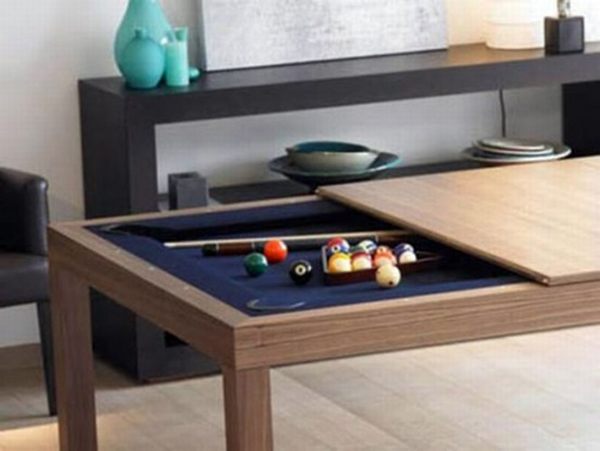 For game lovers, a small apartment offers very little space for setting up a game table. But take a look at this Aramith pool table, which caters to your gaming as well as dining needs. This table has a billiards table hidden underneath the top wooden plank and the entire design is so beautifully done, that no one would ever guess what's underneath.
4. Roel Verhagen Kaptein Three in One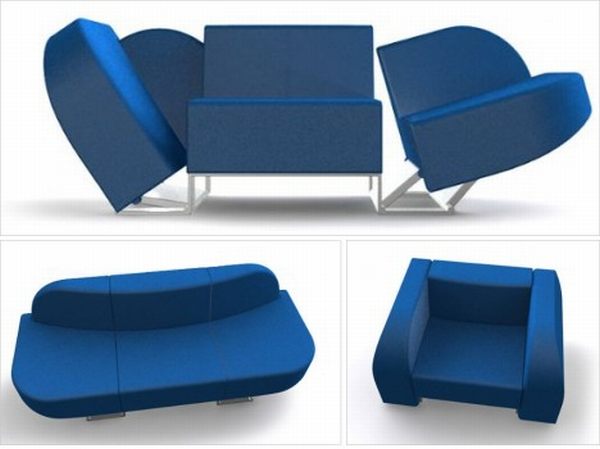 Beautifully created to form a lounger, chair or a love-seat according to your desire, the arrangement comes with a sleek design that offers the comfort of a cushioned surface.
5. Foldable Shelves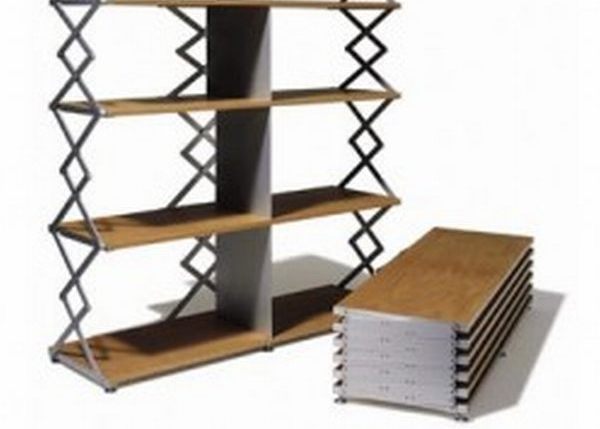 This one would perfectly suit the 'always on the move' families. If packing, stacking and shifting have become inseparable from your life, then take a look at this Swiss furniture which offers you the option of folding big shelves into compact packages, which you can carry around like a briefcase.
6. Lifting Bed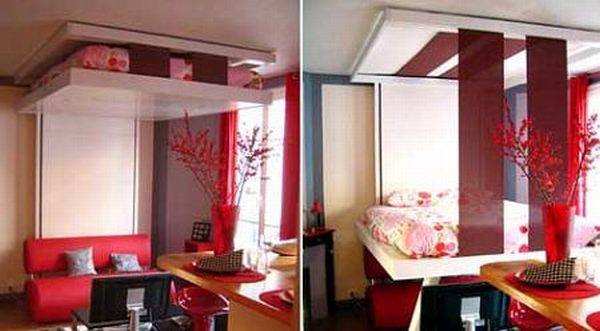 For those who stay in single bedroom flats, the need for privacy is never met. A lifting bed could be your solution. The whole bed can be lifted up to form a rectangular section, where you can fix some lights to complete the look of the room.
7. Folding Chairs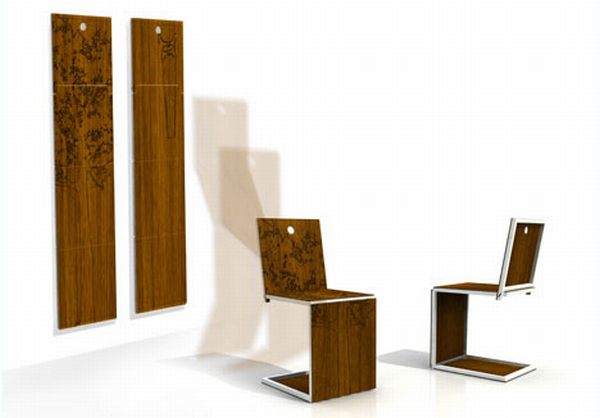 These are not our ordinary folding chairs that need to be folded and stacked somewhere, while not in use. These Studio Dror folding chairs rest against your wall as ancient wooden pieces over which, you may hang beautiful wall hangings, when not in use. You can fold them to form chairs when the need arises.
8. Kenchikukagu Apartment Set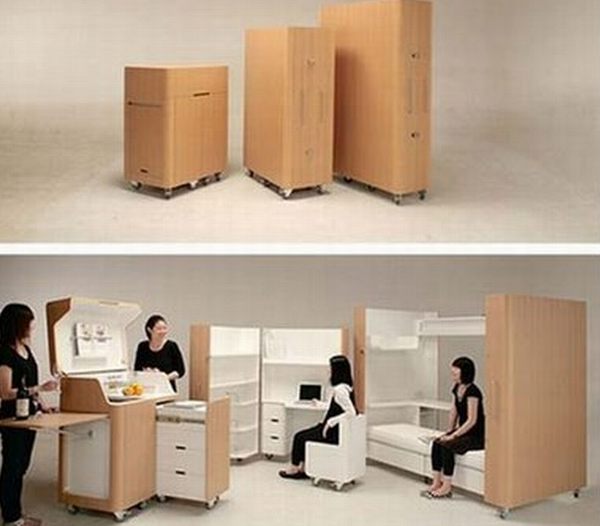 As complicated as the name, the Kenchikukagu Apartment Set makes your life easy and lends your small room an amazing work space, kitchen and bedroom, with the help of three innocent looking cabinets, costing $ 7500. You can live out of it literally!
9. Obeslisk Chairs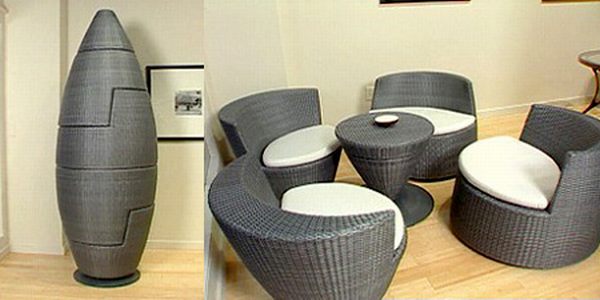 This chair surely looks like a potent missile, which is about to be launched. But dismantle it and you get four comfortable seating solutions and a center table where, you can just sit and wonder at what you have just seen! Amazing!
10. Folding Couch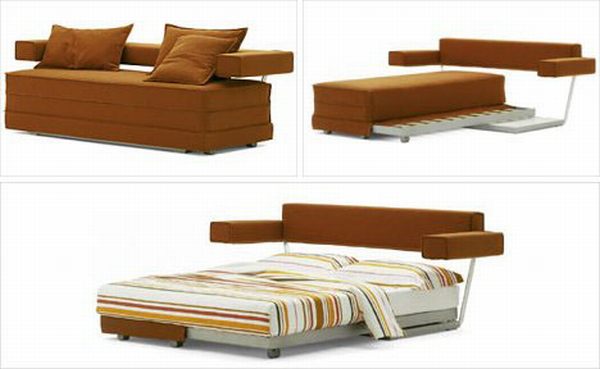 This elegant bed cum sofa is so deftly created that, your guests will never notice that you sleep and entertain all, in one stylish looking unit!