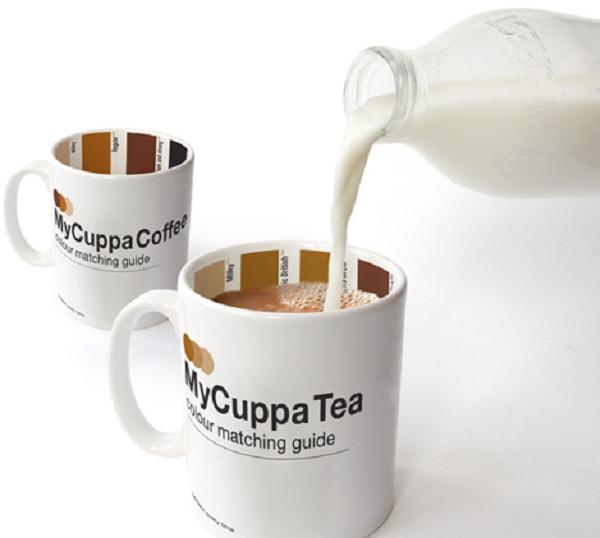 For most of the people, cooking is an important and integral part of life. Women spend a major part of their life cooking for their kids and mate. Therefore, a little innovation in kitchen can be a wonderful way to ease their life. These innovative ideas not only help in cooking but also lend beauty to a kitchen. These small gadgets can make cooking an interesting experience. They also help to transform your hard work into something creative. If you are looking for some innovation in the kitchen then these seven cool and innovative gadgets will surely improve your cooking experience.
1. The circus knife block: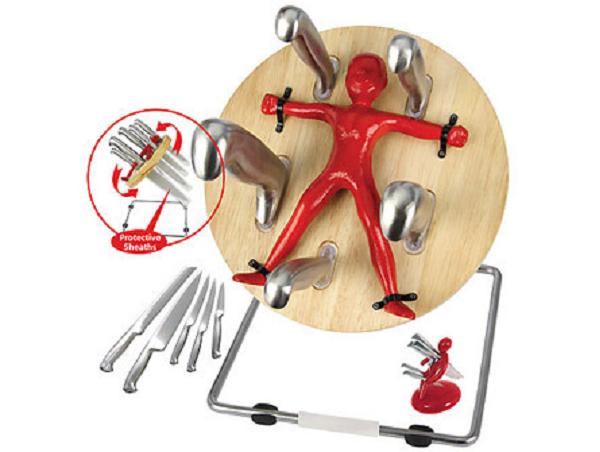 It is a cute idea where the knife-keeping block is transformed into a circus toy. The knives are held with magnets inside the block. It prevents them from falling down when the block rotates. It even has a little man affixed to complete the throwing knife look. The magnetic holdings ease the experience of knife drawing. This gadget will surely make your kid happy and put a smile on your face with its cuteness.
Price: $70
Pros: Magnetic board
Cons: Costly innovation
2. The Encanal cutting board: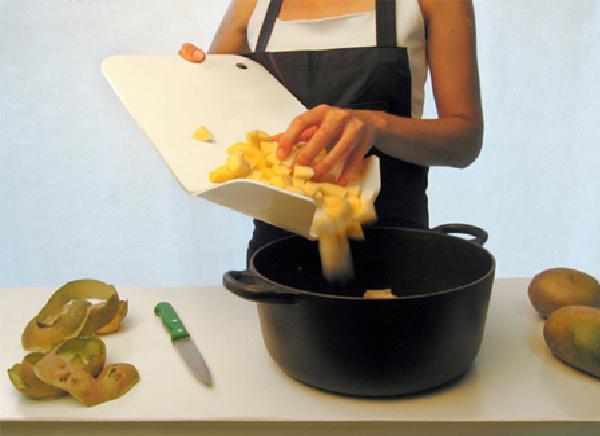 This is indeed a helpful idea. The board has a curvy design that does not let any vegetable flow out of the pan while you put them straight from your board. The idea definitely eases the vegetable transferring. It comes in bright colors that also enhance the kitchen's look.
Price: $10
Pros: Ease of operation
Cons: Cutting vegetables from one side
3. Corn stripper mouse: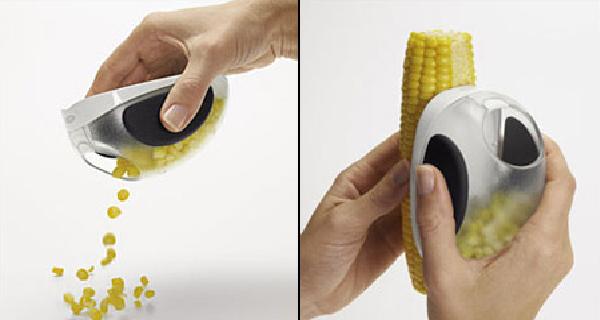 Mouse definitely eases the hand operation when connected to a PC. However, here the same design has an altogether different approach. The attachment can be used to strip down corn seeds out of the corn. The shape of the mouse makes it easier to hold simultaneously imparting a techno-look to your kitchen. The gadget is very useful too as it reduces the corn stripping time to a small fraction of earlier times.
Price: $15
Pros: Eases the corn stripping
Cons: Lacks finishing
4. Multi-blade pizza cutter: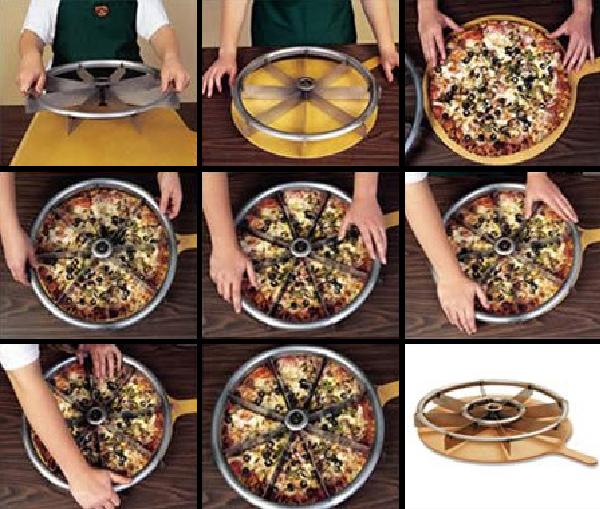 Have you ever wondered about how to cut pizzas in equal shapes and sizes? Well, with this gadget the cutting experience can be very easy. It has many blades placed at even distance to give a nice distribution of cuts. The same can be used to cut cakes as well. The equal spacing ensures equal size cutting. At least, you will surely solve the problem of "He got the big slice."
Price: $20
Pros: Eases the cutting experience
Cons: Cannot be used for any other cutting purpose
5. Fantastique cutting board: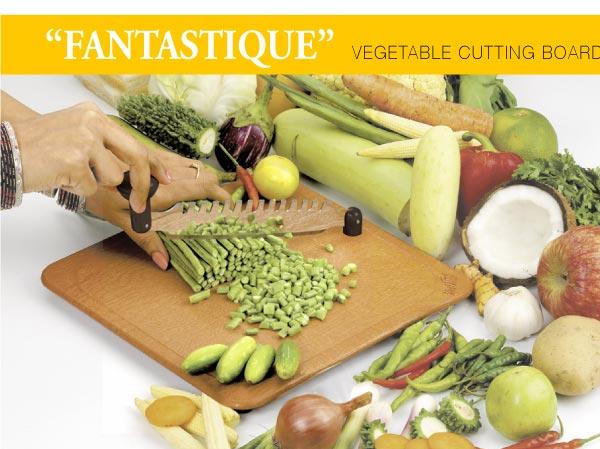 When it comes to innovative gadgets, Fantastique surely defines the idea. It is a cutting board with an attached rotating cutter. The cutter is very sharp and has a handle to hold. You can cut many vegetables with ease and use the same knife to put them aside. You do not have to worry about keeping the knife and then finding it out of heaps of vegetables. It is very useful appliance in the kitchen.
Price: $10
Pros: Attached knife makes cutting easier
Cons: Washing the board is a tough task
6. Salt and pepper robots: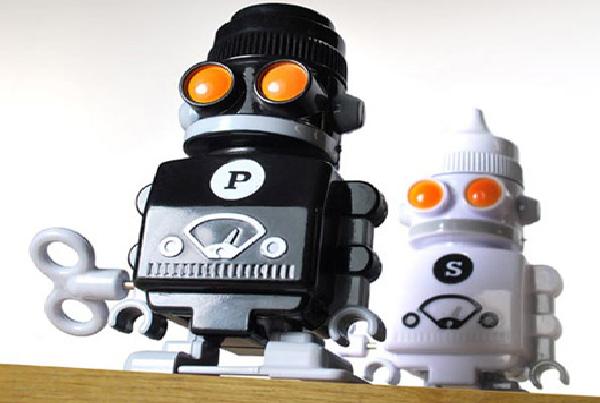 These cute pieces can be used to keep salt and pepper. The color-coding of the robots definitely makes it easier to identify the salt or the pepper. They even have a spring mechanism that helps them walk from one place to another. You do not have to worry about passing the salt. You just need to direct them towards your kid and it will walk up to him. They are very popular with kids. It will definitely make you look like a techno genius cook.
Price: $10
Pros: Color identification and walking mode
Cons: Malfunctions a lot.
7. Coffee mug with guide: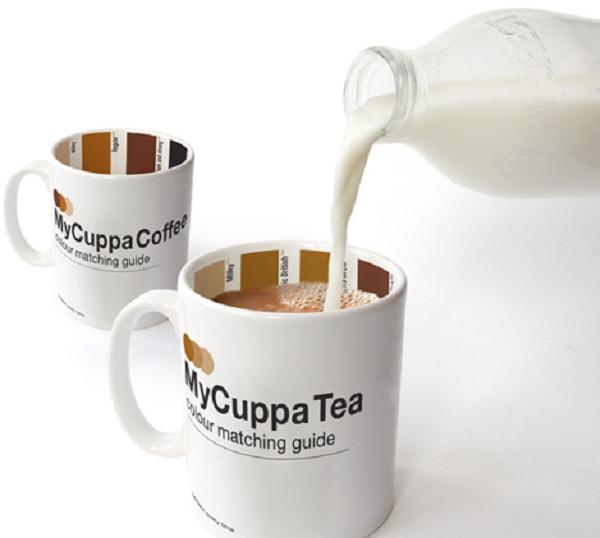 Sometimes, you need to make a strong coffee and you end up making a bitter variant. My mom always says "Bitter is not strong, it is just made wrong." However, with this innovative idea, coffee making will never need experience. All you have to do is match the colors of your coffee or tea with the color guide inside the cup. You can get the strength of your coffee and add milk or coffee to suit your choice. This idea is for everyone who thinks only Starbucks can make great coffees.
Price: $14
Pros: Helps to achieve the great taste
Cons: Color fades with washing