Nowadays, interior decorating items have a good selling rate. Many people like creating a new look to their house. Definitely, you can transform your house a beautiful place with some creativity. Especially, the bedroom is one's private space in a house. It is the place where you weave your dreams, make love and laughter. However, interior decorating ideas have a good role in creating your rooms into a romantic place. Let us think about certain interior decorating tips.
You may know that certain paints that we give to the walls can influence your mind. The rooms should be perfectly ventilated. The selection of paint is important. Soft colors can reflect more light. Beautiful paints, lamps, etc., can embellish your room. Certainly, you can adapt some lighting techniques for creating a new mood in the house.
When you select lamps for your bedroom, select an accurate place to fix the lamp. The place should be suitable to reflect the beauty and look of the room. It should never affect the natural lighting. Overhead light fixtures are common ideas for the bedrooms. However, many overhead lights make the rooms flatter and muddy. You can place track lights in four corners, to get a perfect look. Small spot lights can be fixed for multi utility bed rooms. This recessed lighting technique goes well with space cramped bedrooms.
Accent lighting is the more stylish idea for creating a mood in the bedroom. Chandelier is an apt choice for this. Cove lighting, rope lighting, etc., are two types of lights that can be implemented. With the help of highly illuminating track lights or well placed floor lights, you can create your room also a place that is suitable for other purposes too. However, using some creativity and intelligence, you can surely change the room into a fabulous place. Here are some fantastic bedroom lamp designs for you. These are unique and great designs and they can add unusual charm to the rooms.
Select an apt design with the help of an interior designer and purchase it. The design should be unique and awesome if you wish for a variety.
1. Shining bubble lamp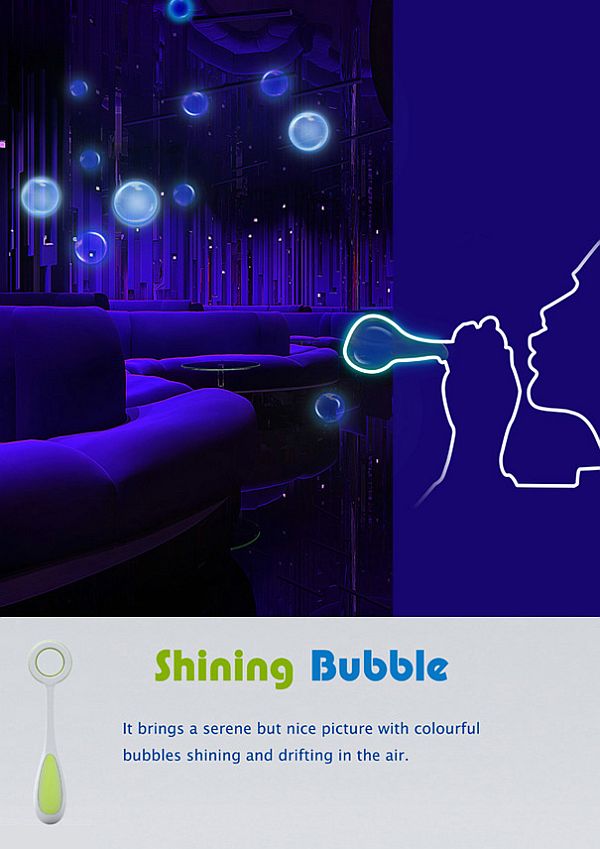 Do you remember those childhood days when you played with bubbles? You can bring those nostalgic days back to your bedroom with the help of shining bubble lamps. These blue lamps create a romantic mood in the room. Wang Qiubo, Shen Lingyan, Zou Yujuan and Shi Tenggao are the designers of this modern lamp. This unique design stands different among various bedroom lamp designs.
It can be illuminated only in a dark space. That is a drawback of this lamp design.
2. ETA baby table lamp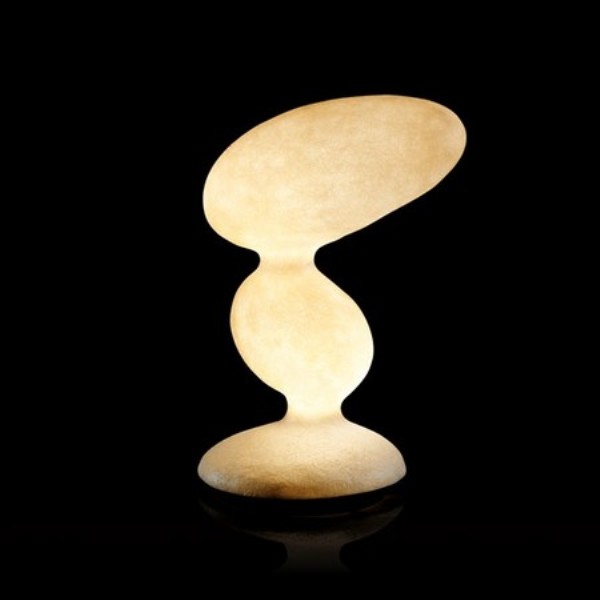 This table lamp is made of ecological fiber. The lamp resembles a baby. The designer of this special table lamp is Guglielmo Berchicci. This is really an awesome piece for your bedroom. It is very suitable for writing and reading purposes. For those who use their bedroom as a multi utility space, ETA lamp is a good choice.
Though it is white, it only gives a dim light, which is only useful for reading and writing.
3. Atomium lamp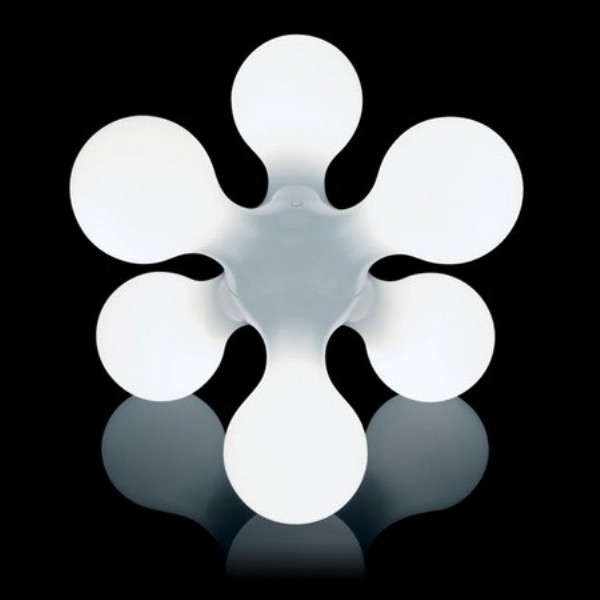 This is a floor lamp. This specially designed lamp can be placed both in rooms as well as in your garden. Definitely it can be a best piece that adds a charm to the bedroom. Designers of this unique piece are Hopf and Wortmann. The lamp is available in a flower design and the color is white.
This designer piece is suitable for multi utility bedrooms.
4. Simple sliced lamp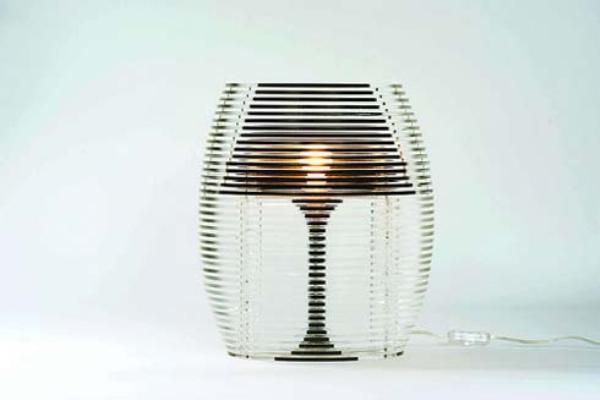 Here is a simple morbid design from Spain. The lamp is designed by a studio called Enpieza. The 'colago' is hanging from the top of the lamp that gives more attraction to this unique piece.
It can be considered only as a table lamp for the bedroom.
5. The light drop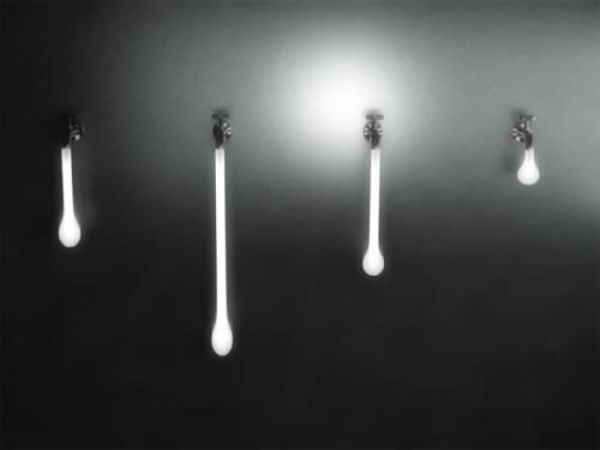 This is a unique design from a Brazilian designer Rafael Morgan. This lamp looks like a water drop oozing from the tap. The lamp is very simple in design and compact also. Another important feature is the capacity of this lamp to control the illumination. You can make the light dimmer or brighter by turning the taps to different directions.
Though the color of this lam is white, you may have to put multiple lamps to get enough light in the room.
6. The flower LULL lamp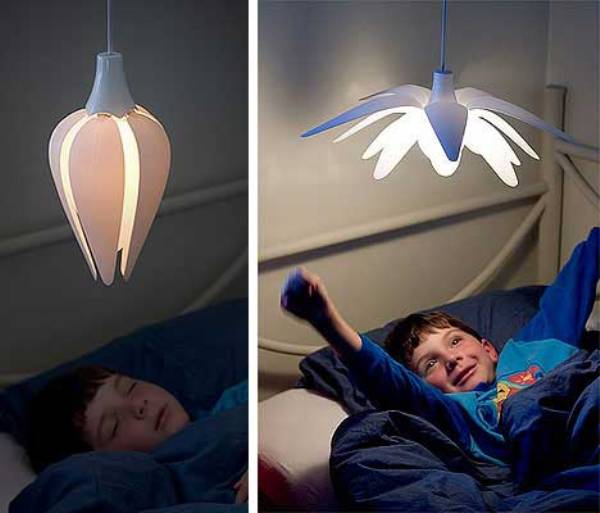 Have you ever thought of a lamp that opens and closes like a flower? It is a wonderful design created for kid's bedroom. The lamp has a flower shape and the petals are capable of blooming and spreading light! These petals will close in night and open in the morning to provide an unusual glow to the room. This product is an award winning piece made for a competition called GiForm 2007, which was conducted in Norway.
The lamp design is unique, but only capable of providing light around the bed side.
7. The corner lamp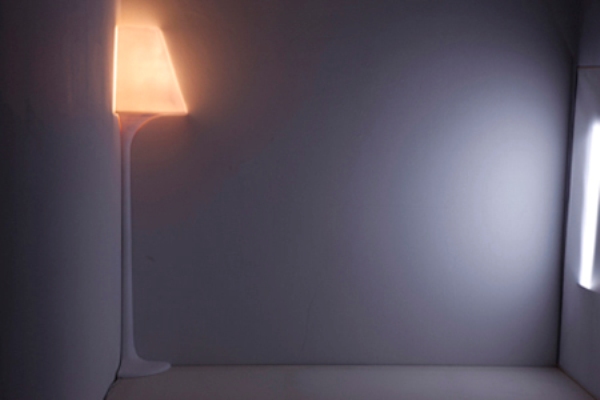 The corner lamp is a great piece that gives illumination for the bed rooms. You can place this lamp in all the four corners of your bedroom. The white shade is very helpful to give a perfect look to the walls and room. The price comes nearly 200 dollars. The design is more compact and thus it saves a lot of space in your room.
To get more light all over the room, you may have to place multiple lamps and sometimes it may look odd.
8. The honey comb lamp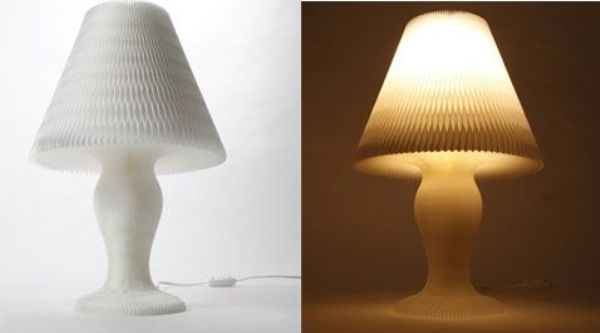 You can purchase this as it is an exceptional piece. This honey comb lamp is from Japan. This is created by Kyouei design studio. The lamp is made of a paper called 'denguri'. This is a material available from 'shikoku' region in Japan. When it is folded, it will have only 2CM thickness. This opens up like a book and then into a honey comb. This lamp is available at around comes nearly $56. This robust looking table lamp is space saving and portable too. Definitely it can be a perfect asset in the bedroom.
You will not get any wires and bulbs with this. So, you have to fix them in order to illuminate the lamp.
9. The fungal lamp and pendant lamp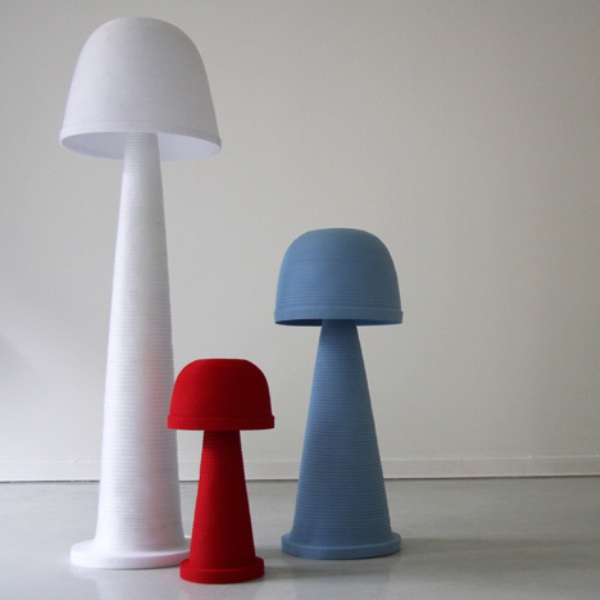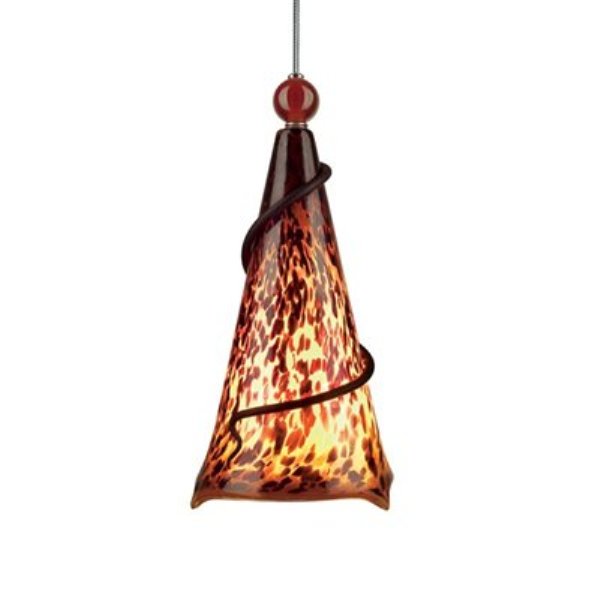 Fungal lamp is a set of lamps available in three different colors. The lamps are made out of nylon webbing thread which is fixed using a special glue. The designer of this lamp set is Andreas Kowalewski. This lamp set is available in three different sizes. As the colors are different, you can get different shading of lights. These lamps look like mushrooms of various colors.
It will not produce more light, so this is an apt choice only for the bedroom table.
The pendant lamp is another robust looking design. The tech designs are leading manufacturers of these types of lights. The lamp looks like a pendant hanging from the ceiling. There are various sizes and shapes available. Price depends upon the size, but it starts from $300. The lamp is available in single pendant shape or in the form of a pendant set.
10. The Italian crystal chandelier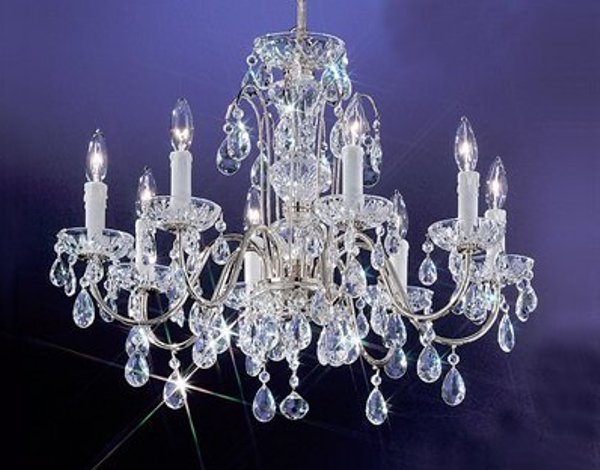 The crystals have a special capacity to create a romantic mood in the room. This white Italian crystal chandelier adds a sparkle to your bedroom. Lit the candles and make your day more beautiful through a candle light romance! This piece is a part of the Daniele collection by Classic Lightening. Price of this piece comes less than $500 dollars.
However, the chandelier lighting idea is suitable more for bedrooms that have a lot of space to move around.