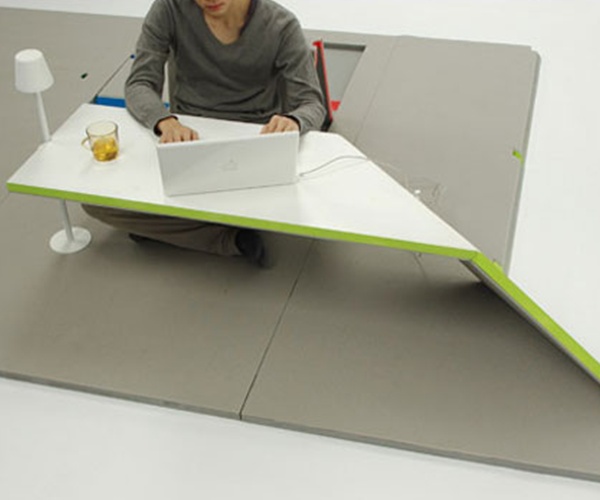 Origami is an ancient Japanese paper folding art form. But today, this form of art is inspiring recyclers, artists, home builders, fashion designers and even researchers to develop new items. The Origami-based patterns, techniques, textures and concepts are being followed in every possible creative art fields. Below is a list of eight cool and artistic Origami inspired products:
1. Flower Table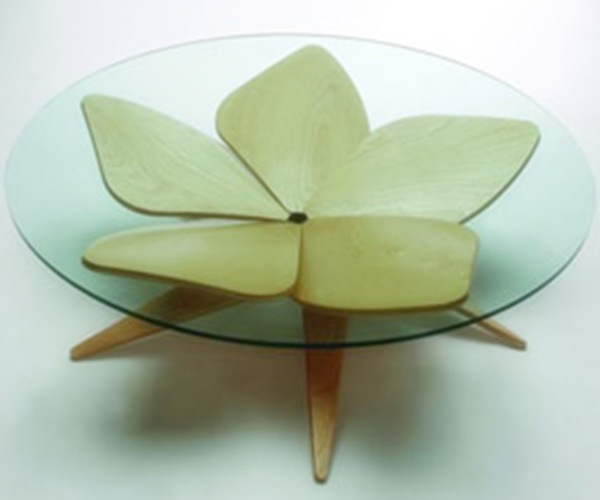 The Flower Table or the Hana (meaning flower in Japanese) Table had been designed by Shige Hasegawa, a famous Japanese designer, and was exhibited in the year 2009 at the Salone Satellite event. The five petal-shaped plywood legs derive its inspiration from Origami and a flower. All the five petals help in holding and supporting the glass table top without the use of any extra screw or bolt.
2. Flat Folded Shoe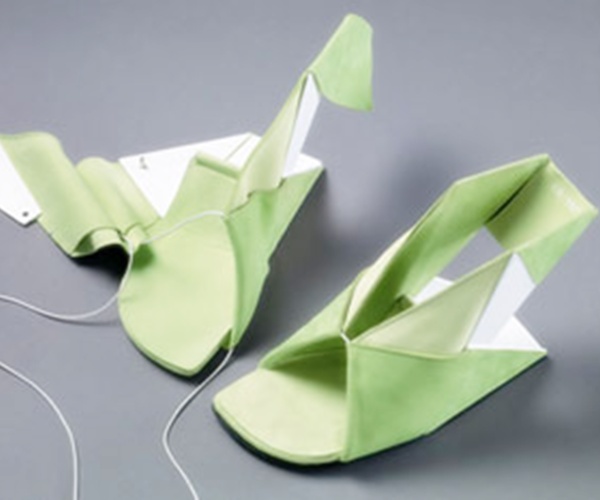 This pair of attractive shoes has been inspired by Origami. One can easily fold the material to make and wear this flat pair of shoes. This innovative design and technique is bound to make a revolution in the art of shoe making. It will surely grab your attention.
3. Indoor Ceiling Fan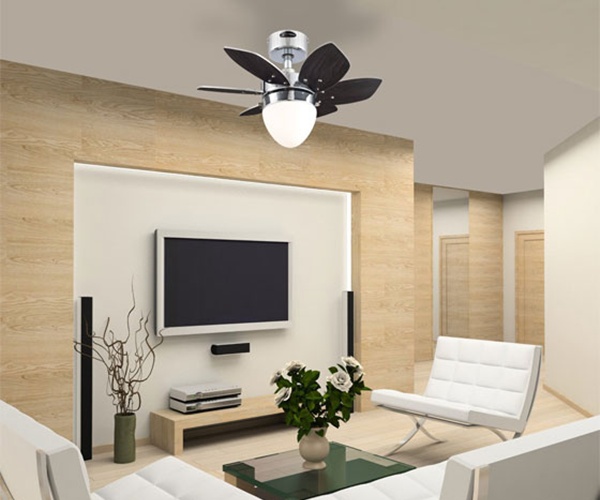 This is an Origami inspired single light with 24″ reversible 6 blades ceiling fan. It is suitable for using in a room measuring 8×10 ft. It has a 153×9 mm silicon steel motor which offers three adjustable fan speeds.
4. Foldable Basket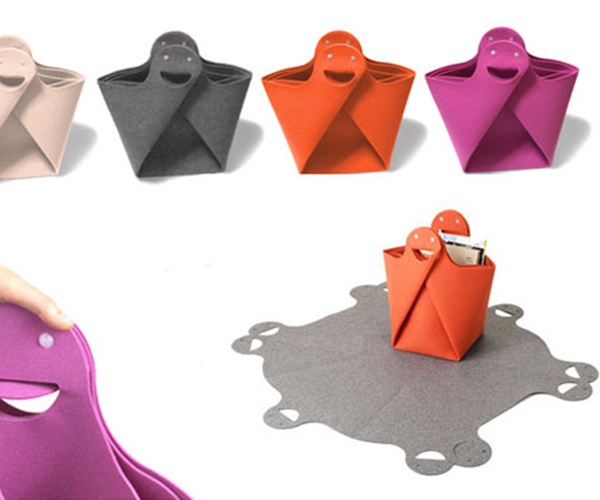 Designed by Takashi Houjo, the origami inspired felt made basket is really a cute little item to possess. It might look like a delicate piece of art, but it is actually quite strong and can be used for several purposes like storing children's toys, arranging magazines, etc. This cute little basket has a cute smiling face on its handle, making it appear more attractive to the little ones. On spreading it out, it doubles as a sheet.
5. Floor Mat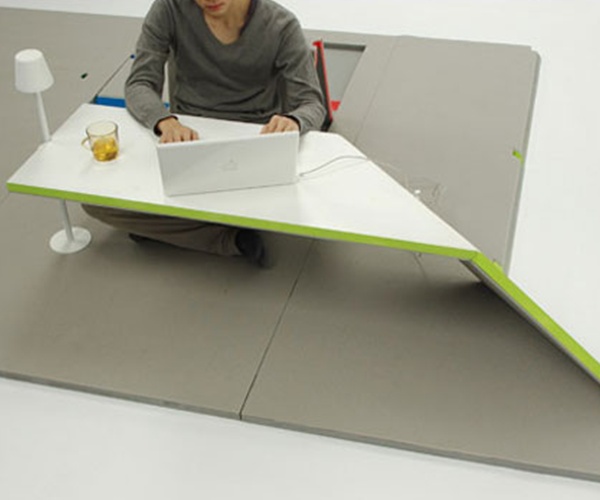 Named as "Land Peel", this innovative Origami inspired floor mat has been designed by Shin Yamashita, a Japanese student. It looks like any normal floor mat, but it can be converted into coffee tables, chairs or work stations by simply lifting and folding the panels. It's perfect for various uses like sleeping, reading, sitting and also as your lounge floor mat. When not in use, it can be folded flat for storing it easily or even carrying it to some place.
6. Origami Colander
This black space saving, innovative colander can be folded flat for easy storage. Inspired by origami, it has 12 hinges that locks the sides of the colander to allow the food to stay in place. It is made from molded polypropylene and is dishwasher safe.
7. Wastepaper Bin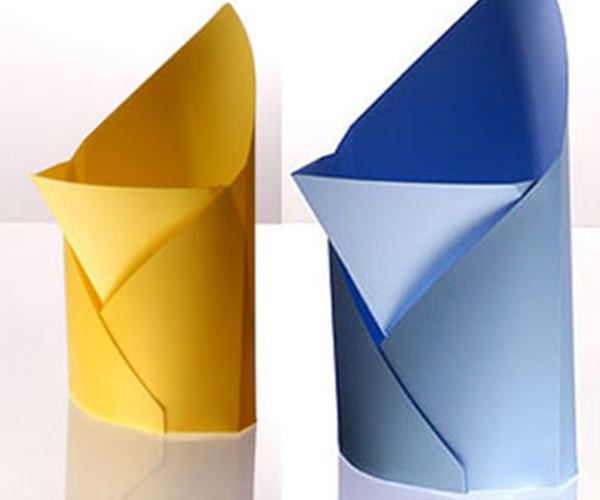 This Origami influenced wastepaper bin is made by folding a single plastic or polypropylene sheet. It can easily be cleaned and washed by unfolding the bin and the plastic sheet can also be recycled when it wears out.
8. Light Form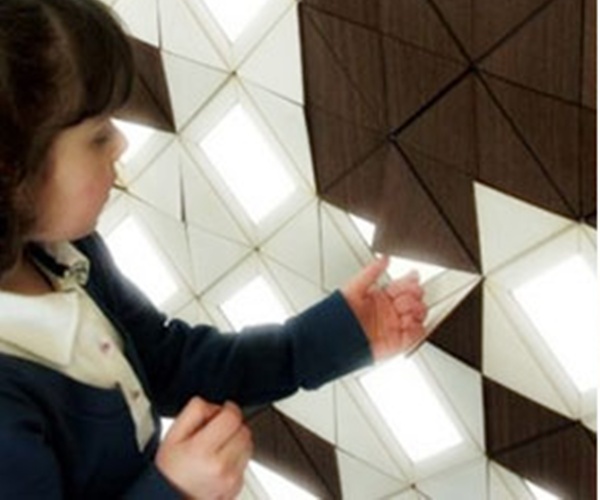 Named as "Light Form," this is an Origami influenced modular lighting system. Wooden panels are fixed on energy efficient electroluminescent lights which can be folded up according to one's desire to expose the lights. Covered with a dark European maple, this modular light system can be installed on any wall in order to reflect an uncommon sense of romance and warmth in your home.