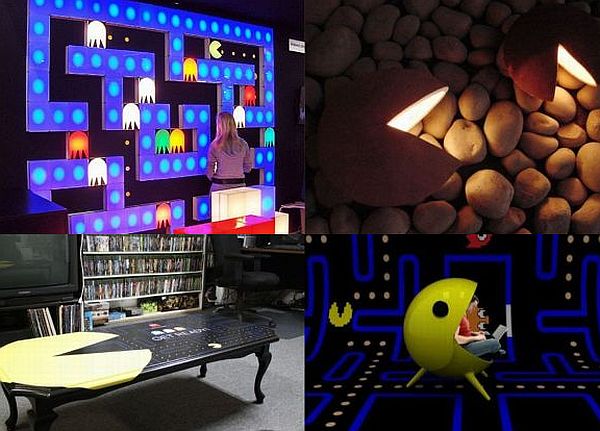 How do the geeks of the world plan to decorate their dens this season? With Pac-Man products, of course. For those who don't know what Pac-Man is, it is one of the longest running video games in the United States. And there are some awesomely cool Pac-Man-inspired products available in the market. This icon of '80s popular culture has remained one of the most adored games ever, which is why designers are constantly coming up with creations to cater to Pac-Man fans. Check out this list of 10 creative Pac-Man-inspired products for geeky homes.
1. Pac-Man coffee table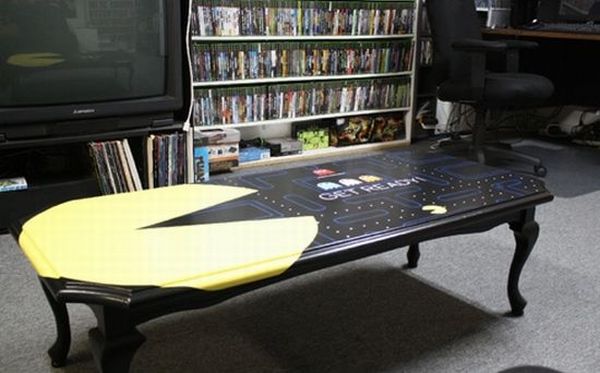 For all you nerds out there, designer Erin McFadden has come up with a cool Pac-Man Coffee Table designed exclusively on demand by a game collector, Syd Bolton from Ontario. With superbly detailed work of ingenious geek art, this has to be one of the coolest tables ever. If you think your home was missing something, then this cool Pac-Man coffee table will more than fill it out.
2. Pac-Man chair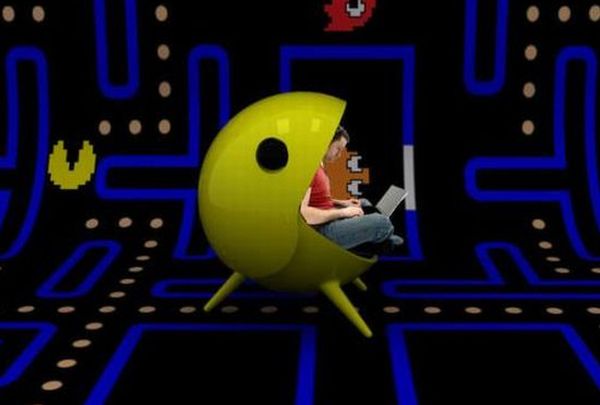 For those who love their gaming, here's your favorite gaming character ready to make its entry into your den. If you're a true gamer, then this PacM Chair by Jose Jorge Hinojosa is perfect. Extremely hungry, ready to gobble whoever happens to sit on it, this bright yellow Pac-Man chair is nostalgically stylish.
3. Pac-Man lotus lamp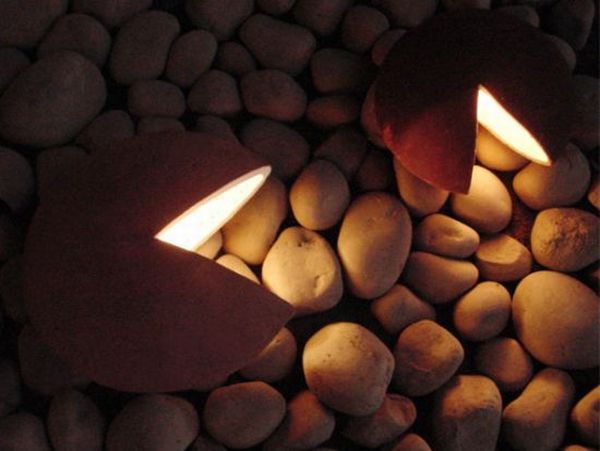 Lotus, by Minali Singh, are terracotta lamps inspired by the beautiful leaves of a lotus flower. Made by joining two curved slabs of clay, the little 'V' indent cut out with the inside white slip ensures better reflectivity while the outside is finished with a brown slip. This inventive design is sure to make you feel like Pac-Man is glowing.
4. Puckman bookcase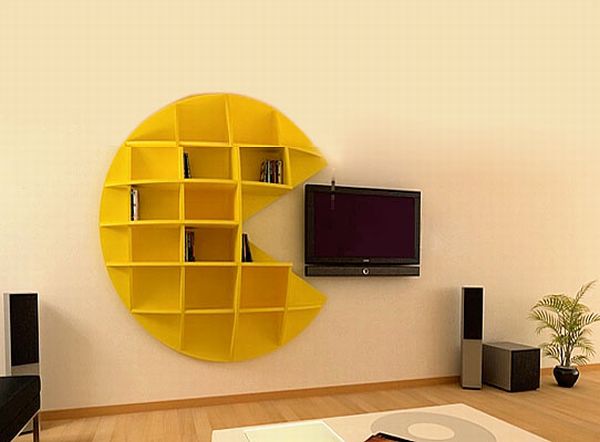 Pictured here is the GineproPuckman bookcase which, with its yellow color and cool geeky design, reminds one of the famous character of the 80s cult video game, Pac-Man. Made up of shining varnished wood, the Puckman bookcase, hanging at a little distance from the wall, allows TV and other wires to pass through. Hanging on the same wall where your TV is placed, doesn't this stylish bookcase look like it's set to gulp down your set?
5. Pac-Man Lighting blocks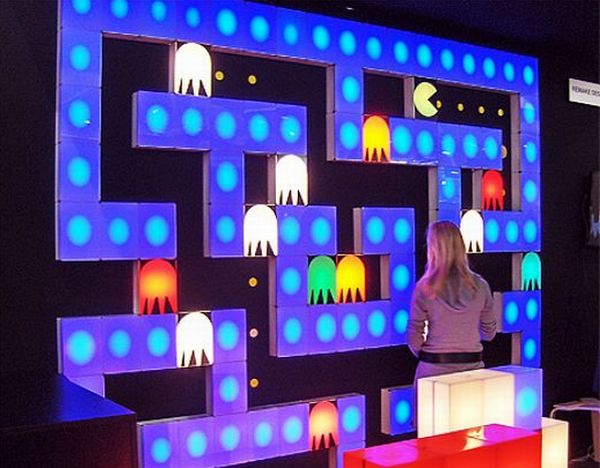 Now you can have your own Pac & Pals light show thanks to these fun colored light blocks. Designed by French lighting company, Remake Design, these clever interlocking light blocks come in Pac-Man-inspired styles, including colored ghosts, dots and, of course, the pie-shaped yellow guy we all know and love. The company offers a variety of snap together colored lighting fixtures which can be combined to form unique pixel-like structures in any space. While pricing for their solid colored lights is around $300 for a set of four blocks, that of the Pac-Man series has not been announced as yet.
6. Pac-Man Alarm Clock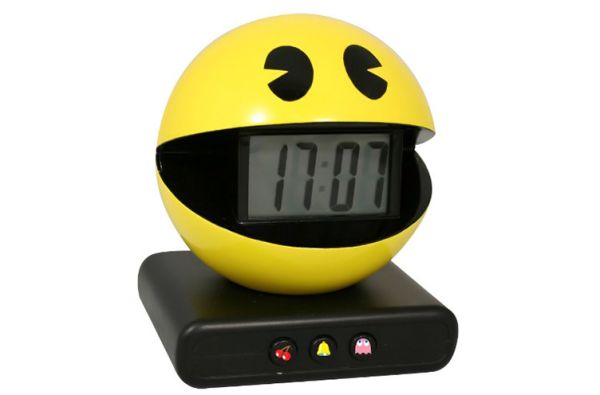 Remember the sweet sounds of the classic Pac-Man game? Well, now you can wake up to it every morning with the Pac-Man Alarm Clock. This novelty device offers all the basic features of an everyday alarm clock but with the look of Pac-Man. Who knows, you may even be waking up from a nap wrapped up in your Pac-Man Fleece Blanket or Pac-Man Snuggie. All we know for certain is that if you love the little man and have to get up everyday, what better way is there to do it than by using this cute yellow Pac-Man Alarm Clock?
7. Pac-Man vinyl stickers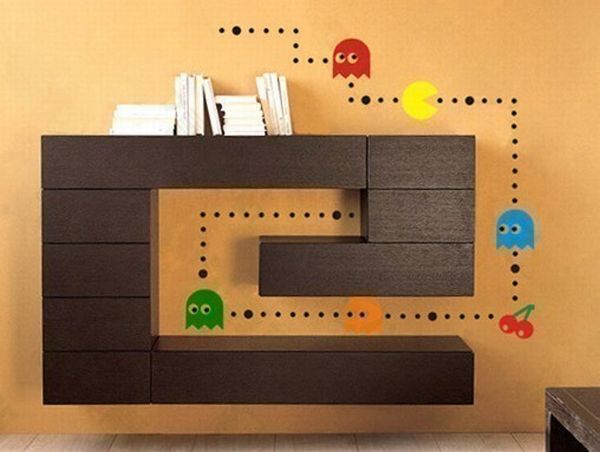 The Pac-Man wall art decal vinyl sticker home decor wallpaper is awesome. Made of high quality vinyl, waterproof, self-adhesive and removable, decals can be applied to any clean, smooth, flat surface (wall, windows, furniture, mirrors or fridge). An excellent decoration item for your home, office or show window, you can arrange the stickers as you like. The sizes are – Pac-Man (5.8″), Ghost (5.4″ x 6.2″) and cherry (5.4″). The only drawback is that the decal cannot be reused. If you want to peel it off from the wall, blow it gently with a hair drier so that the adhesive can dissolve a little, making it easy to remove.
8. Poufman living room set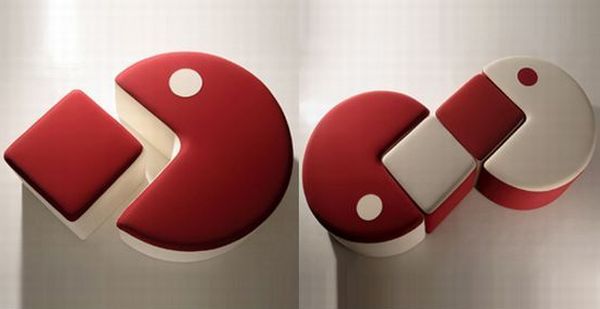 Using the famous image of Pac-Man, the Poufman living room set created by Italian company, Qayot, is a true tribute to pop culture and its influence on our generation. The set is crafted out of raw wood particles with shape retaining expanded polyurethane seats. With protective fabric and polyester fiber upholstery, the seats also come with tension elasticized fabric and interchangeable and removable linings offered in dark red, white, black and turtledove hues. It allows the user to customize the poufs to their liking. What's different? The highly unusual seating set can be arranged in many different combinations to create larger seats. The colorful and removable lining also allows the user to play with color and use their imagination in customizing the look of their poufs. The Poufman is available on demand through the Qayot website.
9. Pac man mosaic art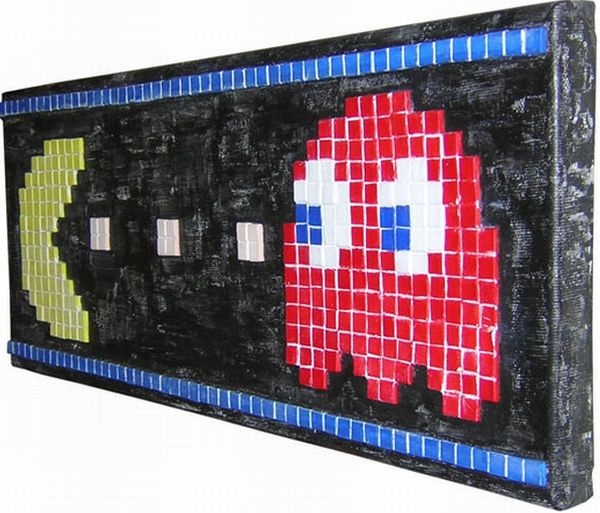 Are you one of those who needs to go to bed with some music, otherwise you can't fall asleep? We know that getting into bed with the headphones can be cumbersome and a little painful. But with the Penguin Music Pillow, you can listen to your favorite track in utter comfort. It comes with a connection to your favorite portable media player so you can fall asleep with your favorite tunes playing softly through the pillow without running the risk of hurting your ears. Perfect for those post-lunch catnaps. The Penguin Music Pillow retails for $14 a pop and comes in two other animal designs.
10. Pac-Man Cocktail Table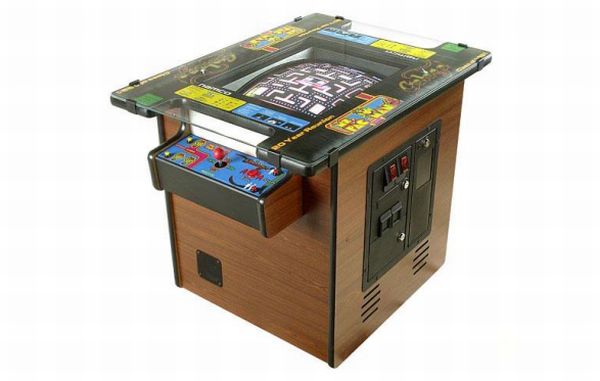 Here is a tripleheader cocktail table that lets you play Pac-Man, Ms. Pac-Man and Galaga in their original forms. Extreme Toys for Boys is offering this cocktail table unit which looks just like the original but with the latest technology at a sale price of $3,600. However, we're not sure why it's called the 20th Anniversary Edition because the three games came into the world much earlier than that.