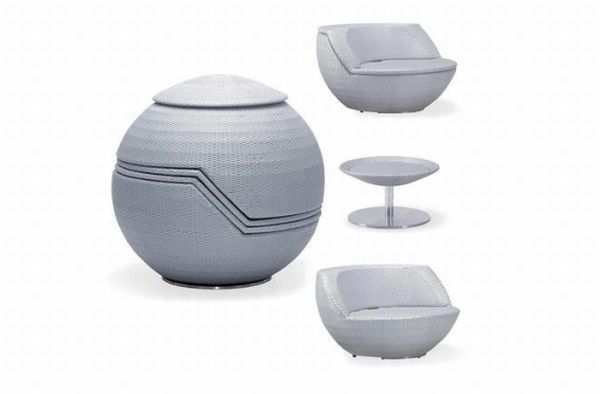 Everything in the world today is getting modular. Modularity has become a way of life so that the same amount of 'something' actually provides a greater punch! Modular furniture is getting more innovative and trendy. Designers are making models that will suit most decors at home and also provide the maximum utility. Here are 10 modular furniture designs that will spruce up any trendy apartment.
1. Versatile Multiplo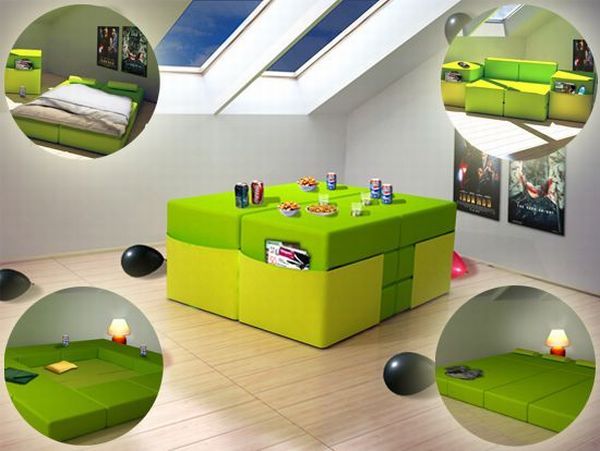 Heyteam has arrived with this versatile concept. The name is very suggestive of its functionality. A single piece can double up as a table and a bed. But hey! Wait a minute. It can actually more than quadruple as different things! It transforms into a sofa or a chair to sit. It can also become a settee or even a floor-seating cushion. It is very light, so shifting and transporting it will not be a problem. And its color is so vibrant that it will brighten up any space at home. Shape this furniture piece as you want it and place it in any corner!
2. Portakal convertible bed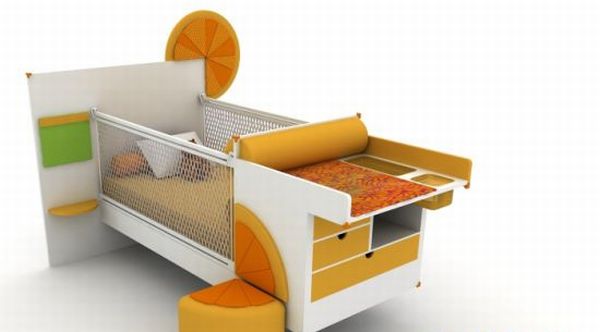 This is definitely going to be every child's dream. And it is the perfect place for every child to dream at night. The Portakal bed is convertible. It will literally open up a new world in the child's room. When opened up completely, the bed becomes an open bed, a study table, a wall hanging and a storage drawer – all at once. Sleep time now becomes exciting as the kids can construct their own bed for the night and snuggle into it. Its color is also very attractive and perfect for children.
3. Warhol Sofa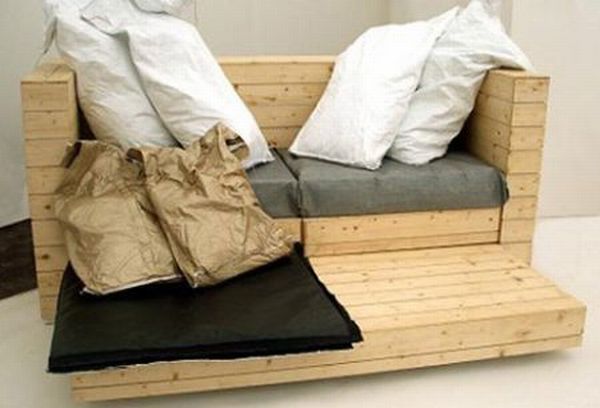 This is a transformer of a bed. It will ensure that you can live happily and comfortably even in a closet! This is twisted and turned like a puzzle and the transformations come up. From a bed it easily shifts into a work desk for two. It also becomes a comfortable sofa for two royal patrons. The sofa comes with a spacious foot-board too. The complete construction is in wood and it has a look of elegance and royalty.
4. Calypso chair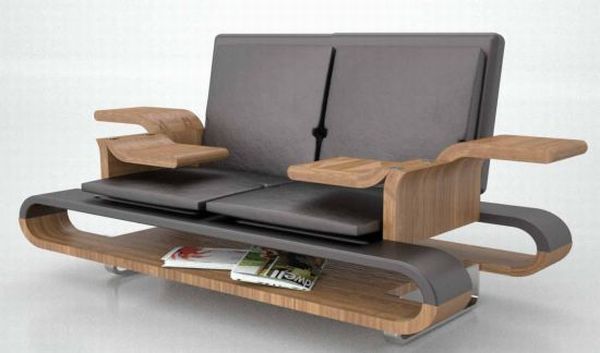 The Calypso chair is a targeted product for a specific segment of people. And it will be a wonderful product for you if you are a regular net surfer. The chair is designed to create a home-office or make you feel homely at office. Made by Brandon Allen, it gives great comfort to surf the net and work on the laptop. It has a rack for magazines and books under the sitting area. The sofa can be turned independently to face in opposite directions. It can also be rolled up and changed into a simple looking loop table which makes it easier to store and maintain.
5. Kitchenette dining set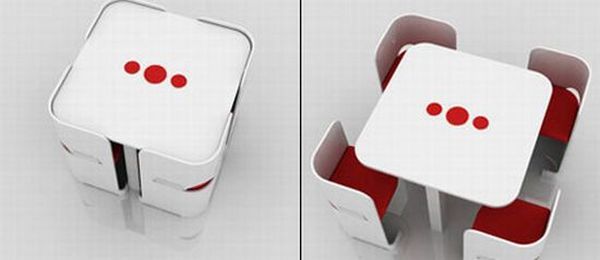 This dining set is designed like a playing dice with. The most wonderful feature of this piece is that it occupies only half the volume and space that it actually provides while dining. The chairs fit perfectly into the table and the whole set becomes a compact cube when not in use. The cushions are also removable and so cleaning the whole dining set becomes easy. The color combination is such that it adds to the decor of any home.
6. Golf stacking chair set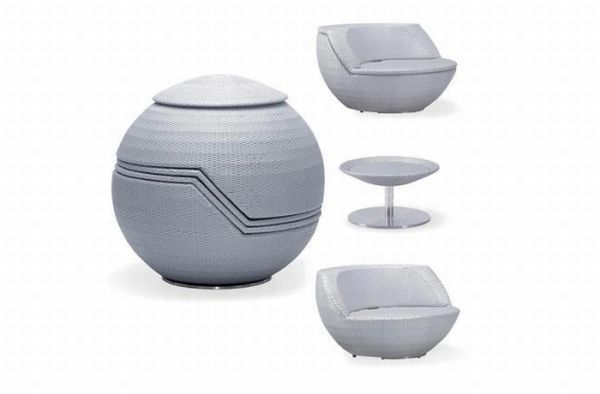 Creativity and innovation has made this elegant piece of furniture. It appears like a large golf ball and can easily be stowed away in the attic or closet. But, who would not want to display such a lovely piece of furniture? The 'ball' opens up into two comfortable sofas with a compact coffee table. It comes in variants of the sitting chairs too. With cushions, it provides the most comfortable seating and this could be the best choice for a lazy tea session in the evening.
7. Transforming cube chair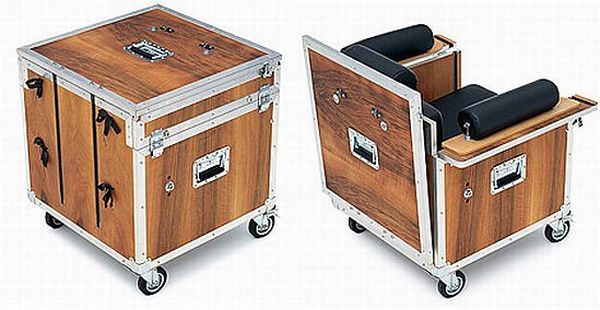 This box made of the highest quality wood actually opens up into a sofa. The seating is very comfortable with large cushions. The color combination of black over a wood finish is beautiful. If your home happens to be themed as a ship deck, this sofa will simply blend in. The sofa can be easily moved around via the wheels that are present below. The box can be made using the wood of your choice. Priced at $3,750, the sofa seems a bit expensive. But, the price for originality and creativity is often high.
8. Casulo room furniture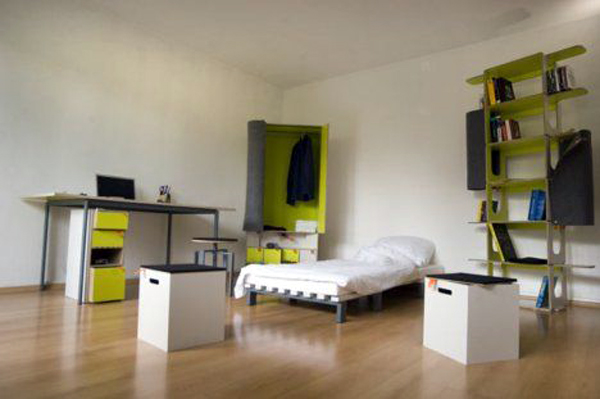 What you purchase is actually a standard Euro pallet which measures just 120cm by 80cm. When opening it, you will feel like opening a Pandora's box, only that, in this case, you will love doing it. Believe it or not, this pallet houses a bed with a mattress, a bookcase with six shelves, two stools, one special stool whose height is adjustable, an armoire and a writing desk! That is some material! It can easily furnish a small room all by itself.
9. Double space kitchenette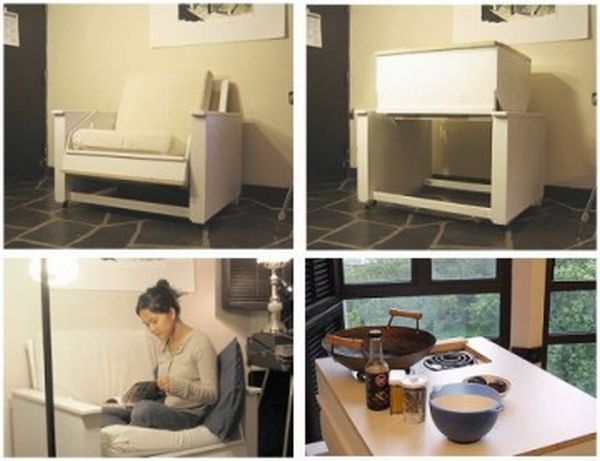 The kitchenette dining set is a delight for dining times. It can be easily folded and modified into a comfortable seating sofa. It also transforms into a large and spacious desk. The top has its own electric stove and heating area. But rest assured that it will not set things on fire for the stove comes on only in the kitchen orientation of the furniture piece. There is storage space below to hold items and raw ingredients of a meal. It also comes in a color that suits the decor of any room in any home. It will be a valuable asset to solve space problems in any modern or traditional home.
10. Sofa cum pooltable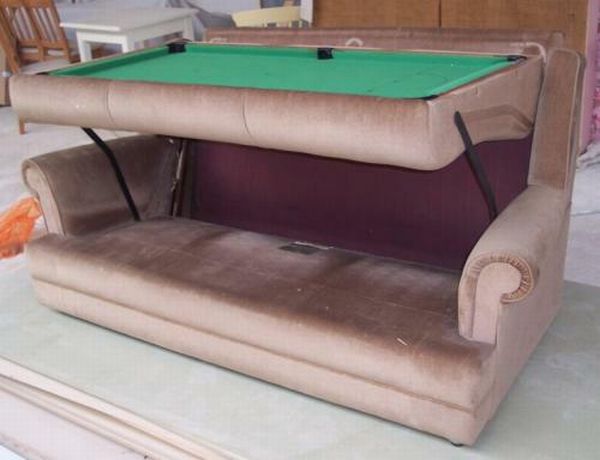 The back rest cushion of this sofa literally doubles 'up' to become a perfect height pool table. With a clean wooden border and dimensions that almost match the international standards, it is definitely your money's worth. And can you guess what it costs? A mere $95! The cushions are soft, velvety and comfortable. The pillows that have been fitted can be removed to ensure proper dusting and cleaning also.