Wall hooks are something that is undeniable in any kind of house. Of course, it does play an equal role while decorating your beautiful home, as it acts not only as a decor item but also helps to hang our clothes and accessories. Now, where everything is termed to be classy with designer's name attached; these emerging designers have always invented some or the other unique designs in form of hooks to keep up your home walls furnished with style and beauty. Most of the time we decorate our walls with beautiful paintings or designs, but now even these modern art hooks can act as the perfect decor item. So, to give you some taste of this beautiful decor, we have listed down 10 most creative wall hook designs.
1. Men wall hook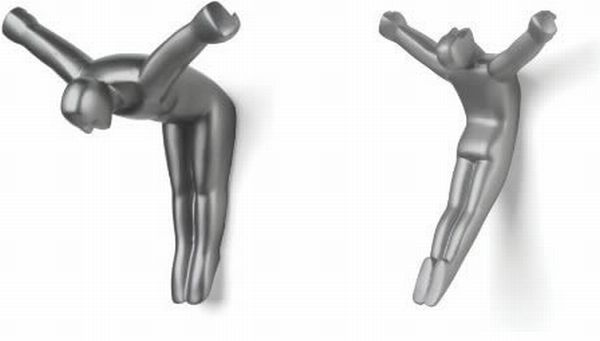 Men wall hooks will certainly provide uniqueness with its outstretched forms. Made up of high class cast resin, the stretched arms and legs will give a gymnastic comfort as a hanger for your coats, hats or even towels.
2. Hanging Hands

Give some kind gestures to your walls by adding this creative Hanging Hands hook made by Thelermont Hupton. It comes in a variety of artistic palms and in different colors that describe different gestures, or say emotions, helping your coats or hats to rest on it comfortably. These gestures will certainly speak your mind to your guests when placed correctly in different room walls. So keep your guests cheerful or at bay with these speaking hand art. Available for $116 each.
3. Puppy Butt Wall Hooks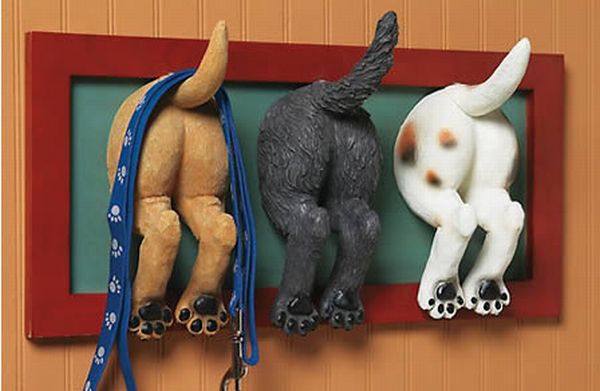 Puppy Butt Wall Hooks will surely be a 'pet'ty idea to decorate your walls, provided you are truly fond of pets. Get yourself one or gift it to your friend whom you know can accept anything that's related to his puppy. Funky yet creative, this booty will fill your room with smiles and giggles. Priced at $14.99 only.
4. Dart Coat Hooks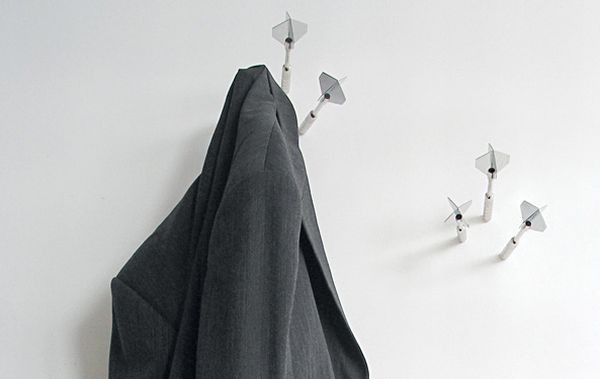 Dart your home walls with this superb creation- Dart Coat Hooks. Enveloped with full chromed steel that's highly recyclable and robust, it is attached with a screw-in wall fixing. This hook is available for £20 only.
5. Hook Anemone by Anders Ljungberg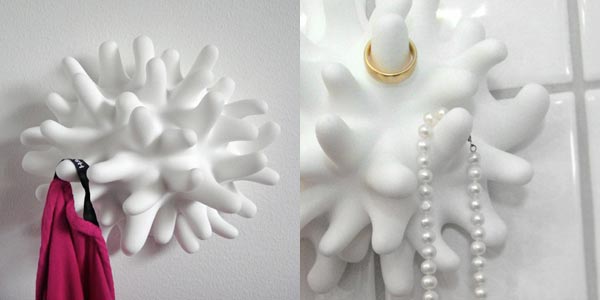 Taking inspiration from underwater organic life, designer Anders Ljungberg has created Hook Anemone, a multi hanger in the form of a wall hook. It can act as clothes hanger or even as jewel care taker, giving multiple uses for it.
6. Drop XL paint drop coat hangers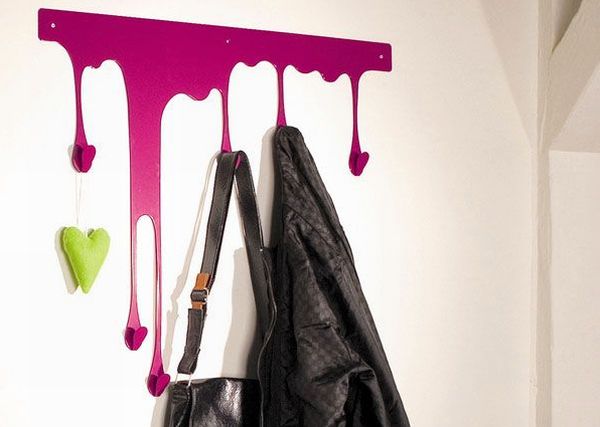 Drop coat hanger is certainly a unique art made up of 1.5mm steel and powder coated; this hanger will perfectly suit with children environment. It comes in different sizes, namely XS, L and XL with variety of colors. This hanger will drip down your wall artistically and bring out the artist in you.
7. 8-Bit pixelated pointy finger coat hangers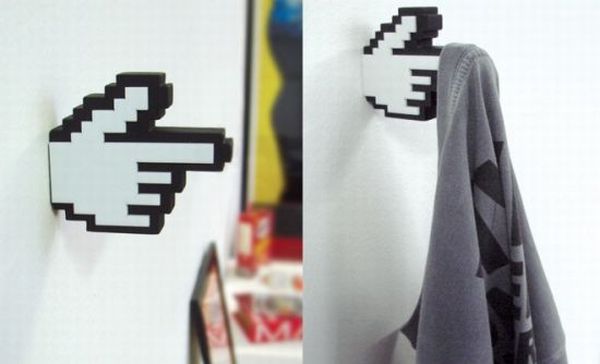 Get your geeky gloves on and set these pointed finger coat hangers on to your walls. Describe your love for machine world and let your personality shadow your home walls with your geeky nature. This 8-Bit pixelated pointy finger coat hanger is made of MDF and acrylic materials that come with permanently attached screw. It measures about 3 x 2.8 x 0.6-inches and priced at $20 each.
8. Ninja Star Coat Hooks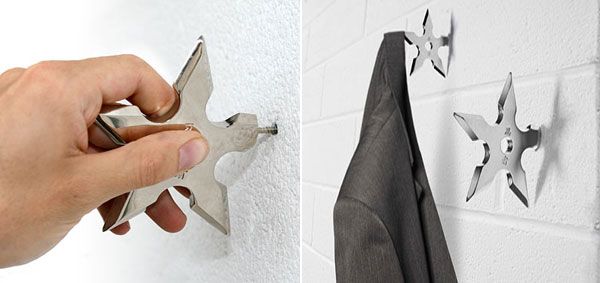 Ninja Star Coat Hanger will definitely let you attack on your own home walls. No, here it's not the defending part; instead, this star hanger will act as your weapon tool to hang out your coats, hats or belts. Just embed this Ninja tool in your beautiful wall which comes with screw fixer attached to it. It is made up of nickel plated zinc alloy that gives it a real sharp look and at the same time acts as a real strong weapon of Ninja. Measuring about 4″ x 4″ x 0.31″, you may not need an extra hardware for fixing this sculptural hanger. Available for $12.99 each.
9. Hookaboo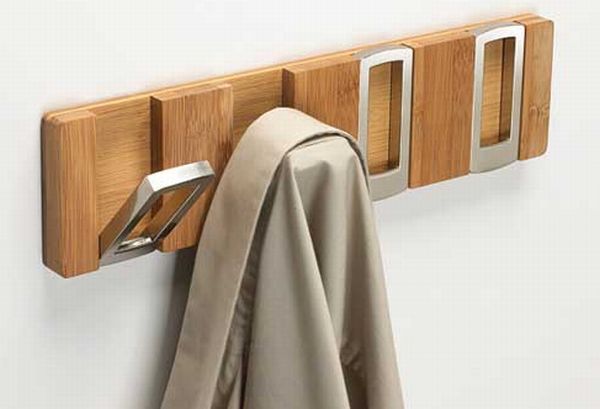 Hookaboo wall hook, designed by Swedish designer Matt Carr, comprises of 4 pieces of metal hanger. This can be folded up when not in use and can be fixed onto any of your room walls. This wall hanger is made up of bamboo and measures approx. 34cm x 8.5cm x 2cm.
10. OFF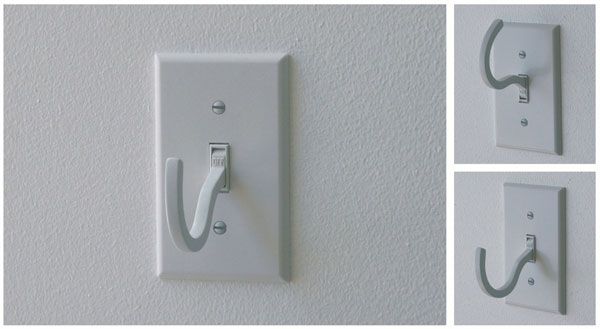 Last on the list, OFF, a light switch cum wall hook is the 2009 Graphics Gold Award winner for its creativity and functionality. It not only functions as a light switch but also as a coat hanger when in off position. This unique design reminds you to use less power and save energy. Priced at $12 only.