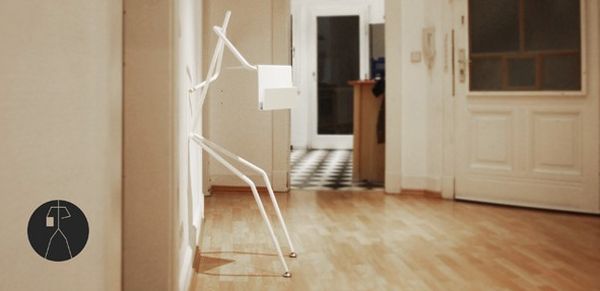 The Designer/Manufacturer
The product has been designed by an industrial designer Daniele Luciano Ferrazzano for his DLF Product design studio in Stuttgart, Germany.
Overview
Instead of hiring a butler, Ferrazzano has freed the idea of a stick man from 2-dimension to a more realistic 3D for an aesthetic and personalized service. The clamped structure works best for modern bachelor living and is designed to serve as a side table for modern and compact apartments. This portable and convenient piece of structural design comes with a stick man structure with an outstretched tray like projection to hold your keys, wallets, coins and other small nick-knacks with an added convenience of holding jackets, blazers, scarf, ties, newspapers etc. Made from powder coated round pipes, it blends well with any office or home environment. The attached tray comes in a choice of colors that can be chosen according to the surrounding areas or temperament of its master.
What's unique?
Without having to fret over its social etiquette and service capabilities, the side table from the 'butler' series facilitates feasible portability and easy accessibility. Its unique structural feature makes it a very modernistic member of your house while adding a functional touch. The stickman is sure to grab eyeballs and become conversation topic for days to come. For space constraint issues, it can be used as an artistic side compartment stuck to the walls or doors without robbing much breadth or burden. It can also act as a hall-accessory to hold your dinner jackets, umbrella, keys, coats etc. You can place it near your gym area to hold your towel and juice bottle or place it in the entrance door of your home to act as your personal manservant.
High Points
The side table without occupying much space, adds an extra spatial unit that too with lithe compliance. It yields well to the needs of the individual master and suits to various requirements without losing its individuality. Its distinctive design, anatomy and idea, makes it a visual delight and functional favorite among the users and guests alike.