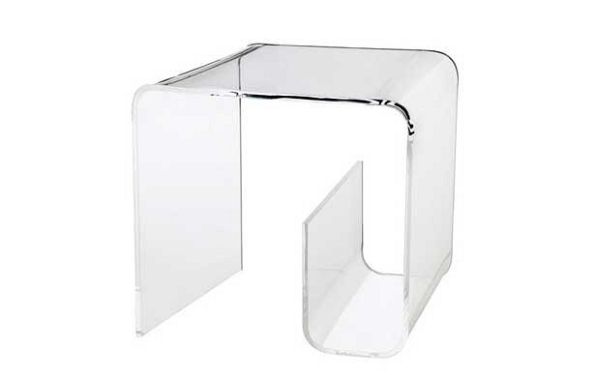 Bedside tables, also known as lamp tables for some, have various uses and purposes. Some use side tables as lamp table in their bedroom or some may use it for the purpose of joint table beside the sofas in their living room. Thus, these tables have their own importance when used in interior decoration. There were times when side tables had that boring and retro style with little of designer scope in it. Nowadays, it's all about the designers' creation where side tables are just not made up with retro wooden style (though it still looks elegant) but it has all new creativity that takes form of a standalone decor piece in your room. And if you are hunting for cool and stylish side tables for your home, then we have scoured the web to present five unique side table designs for your home.
Side table with magazine rack by Muji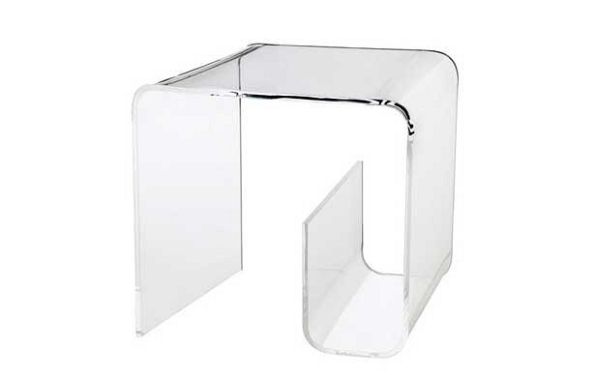 Get this stylish and glassy side table in your bedroom as it not only provides elegance to your room but also gives you that extra space for resting your magazines, news papers etc. This acrylic structural side table is a creation of Muji and is made of transparent and hard glass. It is available for £95.
Plug-in Side Table by Sung-Pil Hwang

Designer Sung-Pil Hwang has created a beautiful Plug-in Side Table. The unique thing about this beautiful designer table is that it can act as side table and also as a nightlight. It can be used as a lamp just by plugging it the socket as the plug is attached on the side of the table. Available in white color.
Metro U table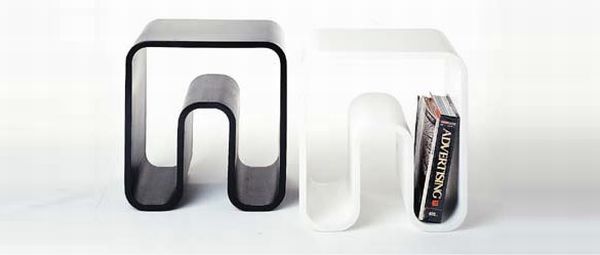 Metro U side table is the face of modern art wherein its U shape structure is as fresh and funky that can accentuate the beauty of any room or office. The table consists of book or magazine rack and takes minimum place to store. This tiny little table is made of solid Yompa wood and is available in pure white and dark walnut colors.
Zee Side Table by Enzo Anziani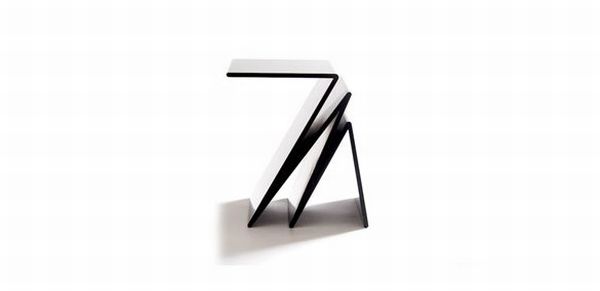 Zee side table is another great design from Chile based designer Enzo Anziani. This unique design takes inspiration from the designer's own signature and Fibonacci progression. The table is made of flat sheets of Corian material and comes in black, white and red color.
Triple level side table dark oak by Dwell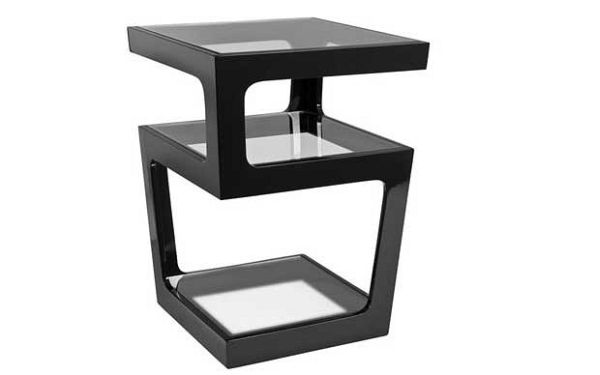 The triple level side table by Dwell is perfect fit for contemporary living. Its unique design and the dark oak color reflects the combination of modern plus traditional values. The table is designed with three compartments to keep your routine items at ease and acts as a great storage for magazines and paper stuffs. Made of transparent glass and dark oak veneer, the triple level glass shelving table will be a great choice for your room decor. Priced at £179.