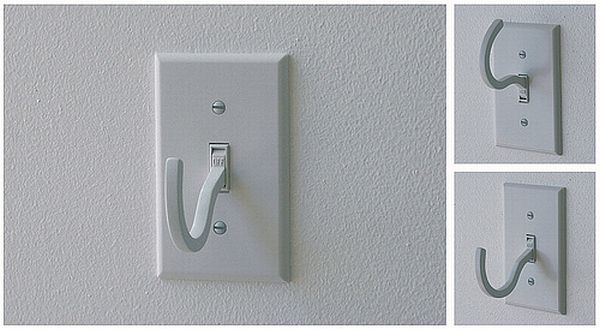 Wall hooks keep coats neat and tidy when you are not wearing them. It helps to keep office and work places clean and well managed. Below we are listing 10 creative wall hooks to keep your place neat and clean. Have a look:
1. 8-Bit hanger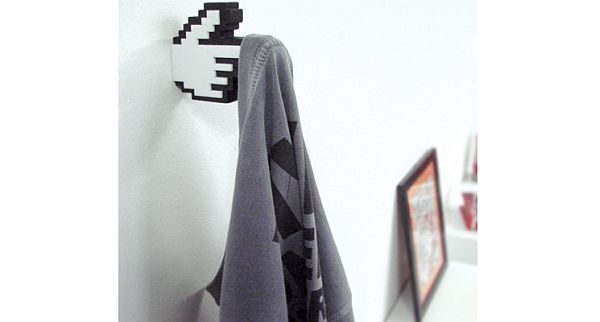 8-Bit hangers are the best option for your clothes and other apparels. You can mount it on the wall and hang your non 8-bit stuff. It is made of acrylic material. It comes in a dimensions of 3 inches X 2.8 inches X 0.6 inches. It is widely used for the 8-bit style shape and decoration. Screws are permanently attached with the 8-bit hangers. You can order more than one piece in the same shipping price.
2. Hang UP Arcade coat hooks
The hang up coat hook is the best way to show that you have different taste of style.These are hand made hooks which are very popular in United Kingdom. This type of hooks are made up of genuine arcade parts. You can choose your colors for the hooks and create your customized coat hook. Choose the combination of black, blue, red, yellow, pink and green to make mix and match combinations. The dimensions are 480mm x 110mm x 18mm.
3. Hook Box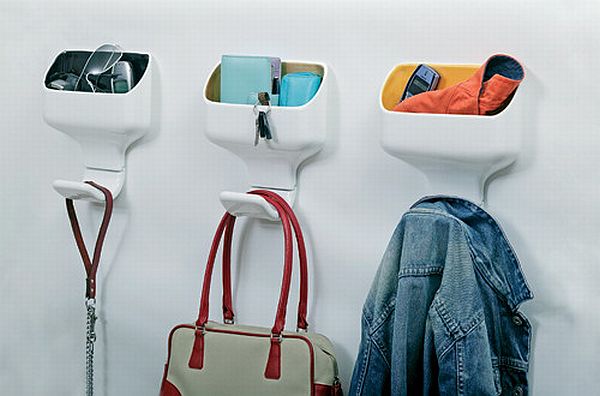 It is the multipurpose hook that can be hanged on the wall. It is made of the ceramic material. Generally it is categorized as the pocket hat stand. It can be used to hang you stuff like a handbag, jeans, jacket, etc. There is a space at the top of the hook to place s small things like cell phone, wallet, etc. It is a hanger cum ceramic container which can be hang on the kitchen or bedroom. It can be used to keep many things and extremely useful. The ceramic look adds an extra grace to its look.
4. Ghost Antler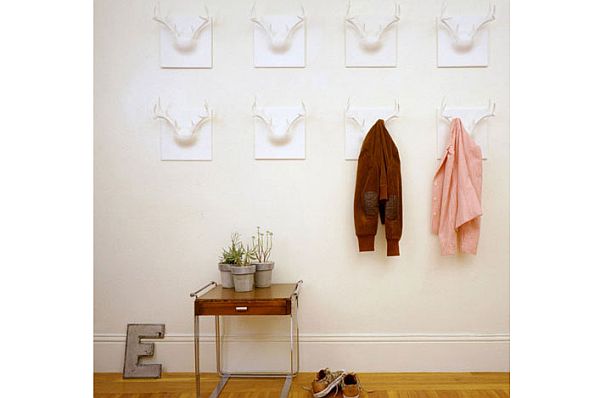 These are the deer antler coat hooks. You can directly mount the flush into the wall with bracket which comes along the hook. The dimensions of this hook are 11.5 inches x 12 inches x 8 inches. This hooks are available generally in white and in all custom colors. These are the handmade hooks in the US. You can hang your clothes, hand bags and similar stuff to these hooks. They look like a very stylish wall piece. It adds a great look to your drawing room or bedroom.
5. Regnah Hanger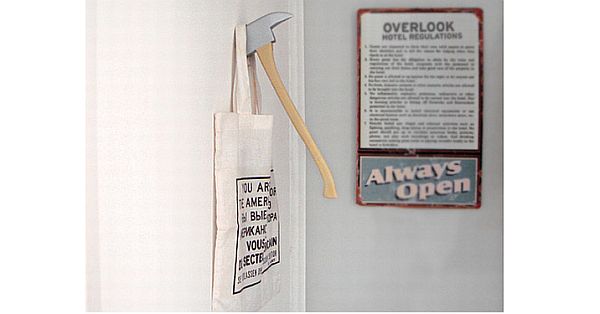 These hangers look like an axe. These are very attractive and different kind of hangers. This kind of hangers will satisfy your crazy desire. This wall hanger can hold keys, clothes, jackets and many more things. So, you can surprise your visitors by showing them this unique type of hanger. These hangers are made of MDF (medium density fiberboard) material. This material is much stronger and dense than the normal particle board. This gives the hanger more strength and power. The dimensions of this hanger are 3.5 inches x 9.5 inches x 0.6 inches. Screws are permanently attached with this hanger.
6. Ninja Star Coat Hook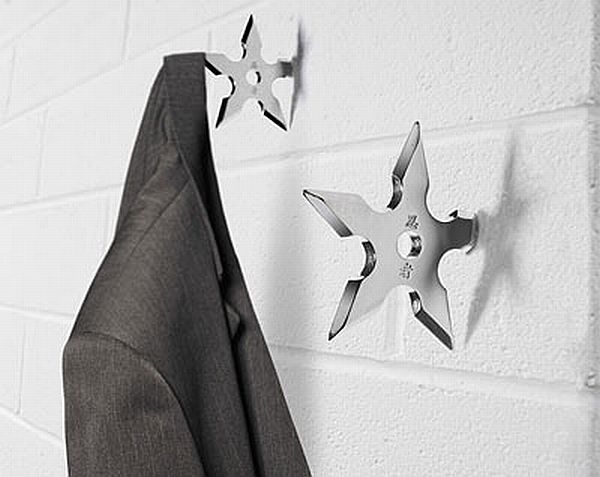 These are the coat hangers with great style and looks. You can fix it to the wall and they look really attractive like a wall piece. You can easily hang your coat, jacket and other clothes to it. These hangers look like the ninja star. This type of hangers doesn't require any other hardware. You just have to fix the screw into the wall. The screw is attached to the hanger. These hangers are made up of a nickel plated zinc alloy. It has a very strong power and durability. You can use these hooks in your bedroom, drawing room and also in our office. The dimensions of this hook are 4 inches x 4 inches x 0.31inches.
7. Seletti Wall coat rack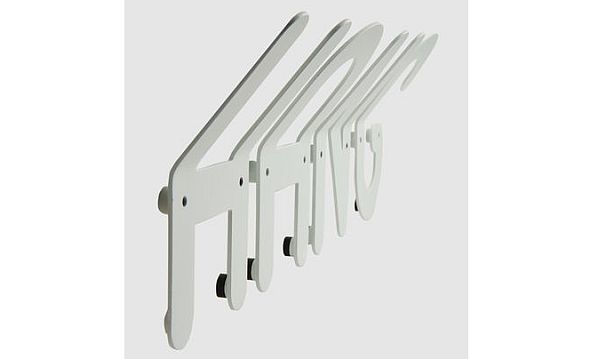 This is very useful rack and can be used to hang many things. It is made of a metal and comes in a new trend of 'Font' decoration. It is designed in such a way that it spells the word 'HANG', explaining perfectly its use. You can show your taste of creativity through this hook. It gives you the geeky image. Though it mainly comes in a white color, you can have it in custom colors.
8. Coat range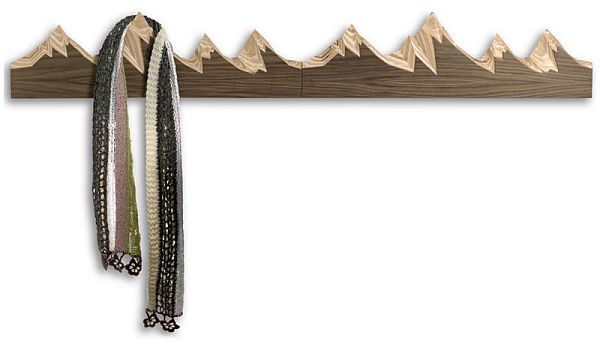 This looks like a wooden range of mountains on your wall. It gives the traditional old look to your bedroom. It is made of wooden sheets like cut sheets from the waste material. It actually helps you to hang your coats, jackets and ties. The finishing is very smooth so that your clothes will be affected by its sharp edges. The finishing of this product is done by the non toxic water based material. This finishing improves its durability. You can mount this piece very easily with the simple mounting instructions that are provided along with the product. You can hang your clothes seamlessly from end to end. This wooden material supports real heavy clothes. The smooth finish keeps your clothes very safe from cutting by the edges.The dimensions of this hook are 9 inches X 30 inches.
9. OFF – Light Switch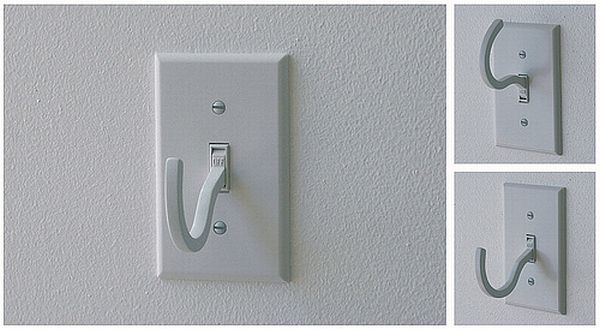 This hook is actually a light switch. You can hang the things, when it is in off position. This is a fully functional light switch. You can use this hook when the light is off; you cannot use both the functions at the same time. The basic idea behind designing this switch was to make people to use less energy by providing the power saving incentives.
10. Ribbon coat rack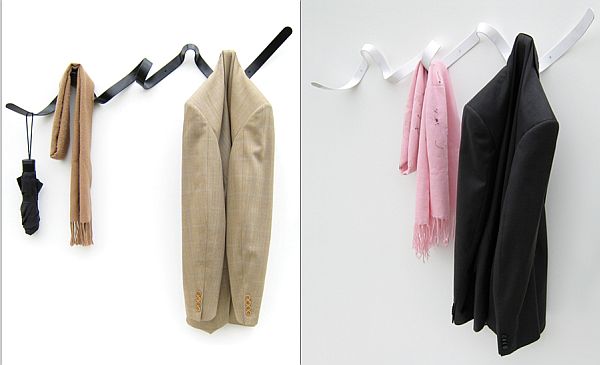 This hook looks like a ribbon hanging on a wall. This coat rack really looks interesting and stylish. You can hang your clothes to this hook. This hook can hold up to five coats at a time. This can be easily installed using four screws and wall plugs which come along the product. This is a hand made product mostly manufactured in India. This is made of powder coated mild steel. These ribbons are available in different attractive colors.