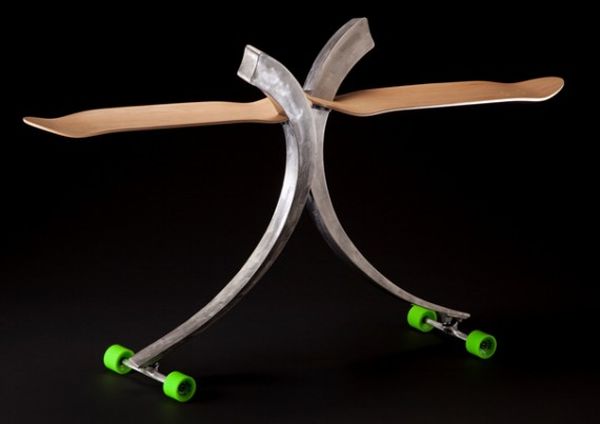 In this age of innovation you should keep your heart open enough to accept any kind of surprise. Thus, if you come across a home that has furniture made from skate boards or bear resemblance with the skate board design, do not be surprised. It is not something unusual these days. With the awareness towards the conservation of nature, every discarded thing is getting a makeover and is being used in a completely different yet functional purpose, which is aesthetically excellent too. The skateboard is also not exempted from the list as a consequence. Not only recycled skateboards, the immense popularity of skateboards among the teenagers and youngsters have also inspired designers to make furniture for homes with skateboard features.
Here is a list of ten such furniture for modern, hip homes that are inspired by skateboards.
1. The Jet Set Lounge Chair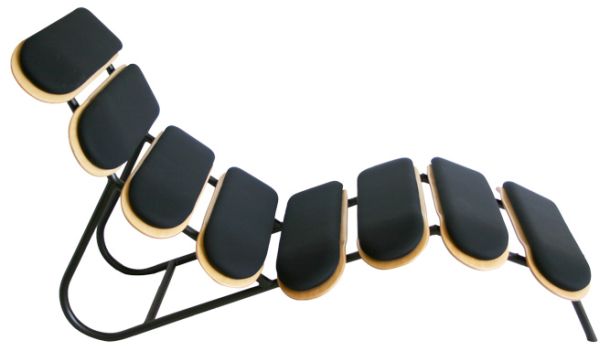 The most relaxing time you probably spend in your home is when you stretch yourself completely on the lounge chair and watch the television or listen to a soothing tune with your eyes closed. The Jet Set Lounge is an innovative approach to the conventional lounge, which is made from skateboard decks. As many as eight decks were required to make this lounge and each of the decks were fitted with soft, neoprene cushion for rendering the comfortable feel that a user looks forward to from a lounge. These eight cushioned decks were then set uniformly over a metal frame that bears the shape of a lounge chair. The dimension of this unique furniture is 33 inches x 29.5 inches x 60 inches.
2. The Tokyo Lounge Table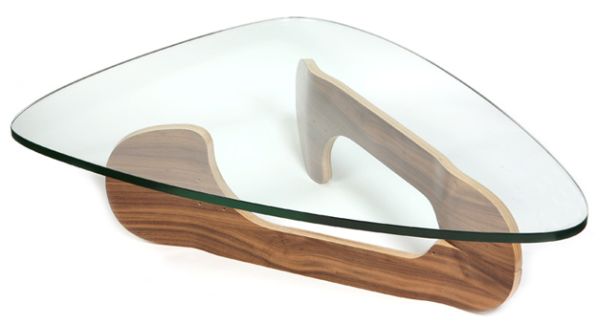 A perfect match with a skateboard lounge chair, this lounge table features sleek, futuristic design and intricate contour. The template of this lounge table is made from the furniture model of Jim Gray Pro Model. The creativity of the artist lies in the manner two skateboards have been cut and reshaped and set one over the other, pertaining to the characteristics of dimension while citing the balance of the table. An elongated, triangular shaped glass with rounded edges has been mounted on top of the twin skateboard legs as the table top. It has a dimension of 44 inches x 34 inches x 10 ½ inches, with a ¾ inch diameter for the glass top.
3. The Stax Chair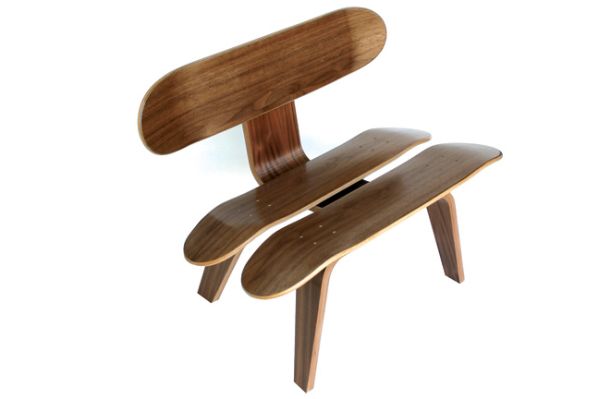 The rustic natural look of this stax chair is unparallelled. It is elegant in look yet modern in finish. A firm wooden chair, this furniture is made by using three skateboards. A wooden frame forms the basic structure on which the decks have been mounted. The back rest of the chair is made from one skateboard while the seat portion comprises of two skateboards, placed parallel to each other and in same manner as the back rest. The curve of the skateboard can been turned upside down so that the rear of the same forms the face side of the chair. Four wooden legs are provided with this chair and it has a dimension of 30 inches x 25 inches x 20 inches. It is available in two colors: maple and walnut.
4. Skateboard-inspired bench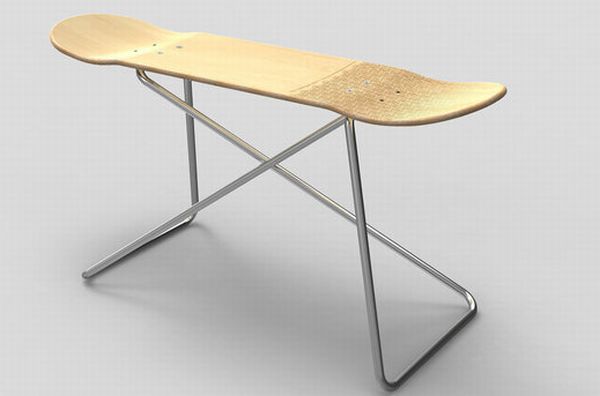 Although the deck used to make this skateboard table does not look like a conventional deck, but the inspiration is definitely a conventional skateboard. Gathering inspirations from the skateboard culture and the mid-century styles of modern furniture, this table is made by KEM studio in Kansas City for the art and design auction of the Kansas City Art Institute. Stainless steel frame and powder finished coat on the wooden skateboard table top characterizes this product.
5. The Astro Clock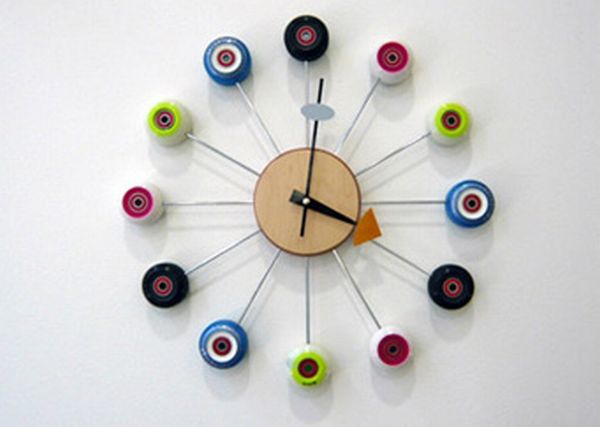 While the discussion so far has been regarding only the skateboard deck, this clock is made from the wheels of skateboard too. During the 70s a revolution was created in skateboards when the wheels were changed to polyurethane materials. This idea has been incorporated and twelve skateboard wheels and bearings have been used together with the deck to make this Astro clock. It has a diameter of 17 inches and thickness of 1.5 inches. The dial of the clock usually has conventional maple color. But branded deck dial is also available.
6. Skateboard Stairs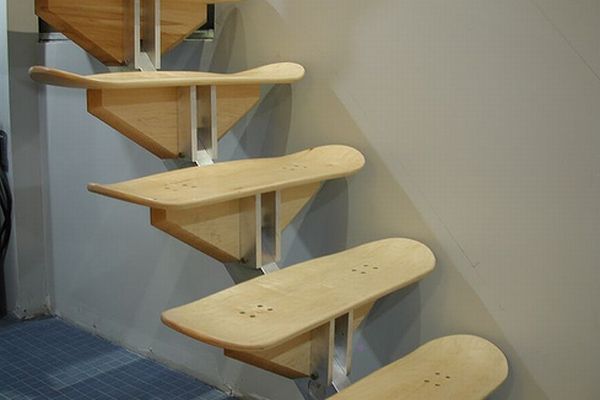 This skateboard stairs is inspired by the skateboard designs of course, but its conventional shape has been slightly altered to cater to the functional side of this final product. Each of the skateboards used for making this school staircase has concave face on one side only, the side which will hang free. The one that is attached to the aluminum beam of the staircase is uniform to provide the structure strength and prevent accidents while using the same.
7. Skateboard magazine rack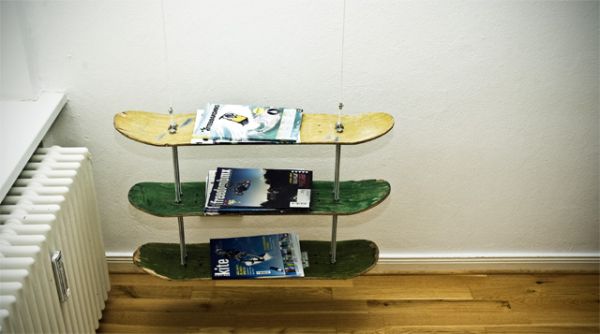 If you live in a small apartment and suffer from shortage of space, yet your magazines, newspapers and journals really need a rack to keep them arranged, then this skateboard magazine rack is a perfect one for you. This is a hanging magazine rack that will not jam your floor space and will hang from the ceiling by means of four thread rods. Three skateboard decks are used in this piece of furniture as three separate racks.
8. PigZig 2.0 Skateboard Table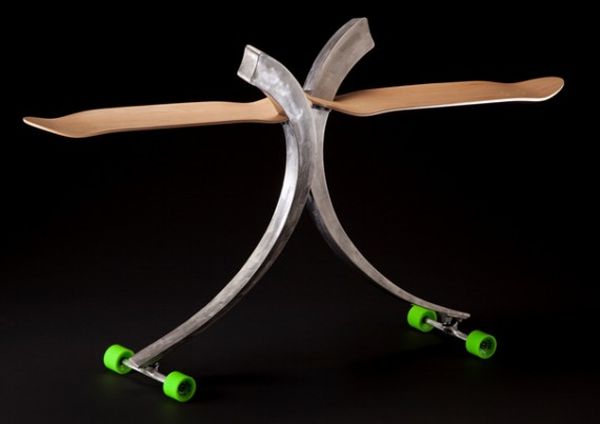 This skateboard furniture is a hallway table that is designed by Dsan McCabe. It is called PigZig and is an amalgamated product. It features such an unconventional shape that many of you will wonder if it is real furniture or a mere conception. Two metal frames of concave contour and wheels at the bottom form its legs and a skateboard deck is mounted on their top as the table top.
9. Skateboard inspired Mirror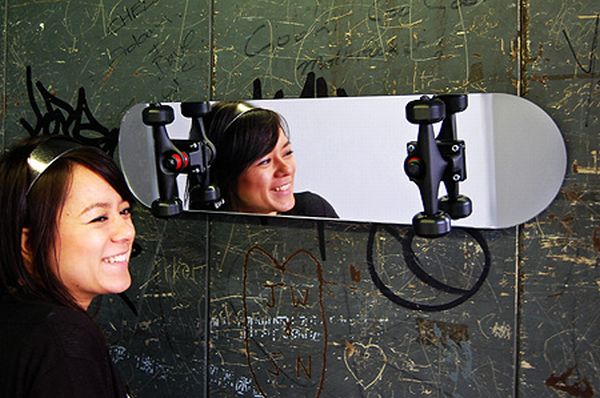 If you are a skateboard fan then you will surely love to own this mirror. A conventional skateboard dummy, along with its wheels have been used in making this unusual mirror. The rear side of the same has been given a mercury finish so that it functions as a mirror. It can be mounted on the wall and is priced at £110.00.
10. Skateboard Three Sixty Table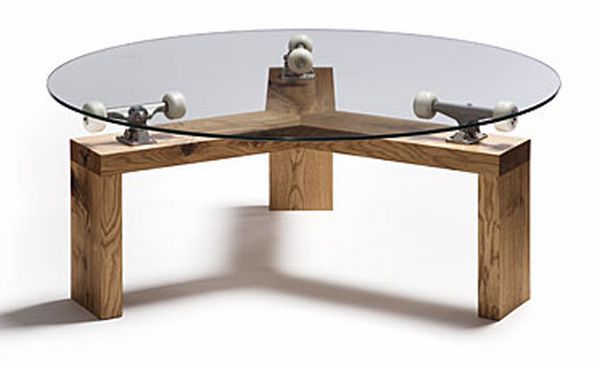 This walnut wood skateboard stool is really exclusive as it provides sitting arrangement for a single person and at the same time can work as a revolving rack too. This table has movable top which has a diameter of 1000 mm. It is aimed to make everything kept on it remain within the reach of the person sitting on it.