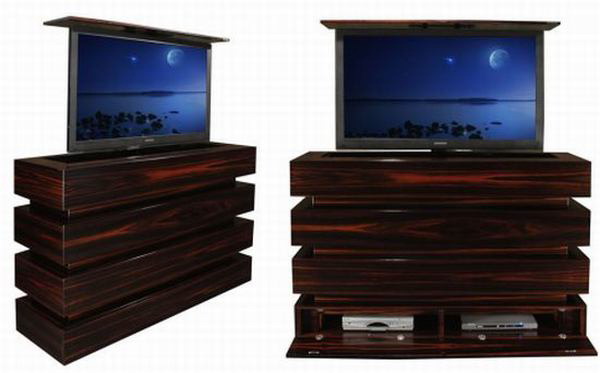 Spacious homes, in modern times are a rarity. It therefore becomes imperative to make optimum usage of the available floor area by finding innovative methods to display furniture. This article will give you innovative hidden televisions ideas and tips on how to hide your TV; this includes decor and furniture for hidden televisions. The following are different ways to save on TV space by hiding/blending it smartly with the decor. Bring it out when its time to watch your favorite serial or program and put it back when you are through.
The Cube Motorized TV

This innovatively sleek and elegant cabinet uses hidden hinges and a mechanized shelf that lifts your LCD TV into view. Push it back in place when you are done. The LCD TV remains hidden inside the cabinet and there is no way anyone can make out that there might be a TV hidden inside the cabinet.
Tecnopolis Sliding Door TV Wardrobe

This wardrobe is designed to virtually make your LCD invisible when not on. In the picture is Tecnopolis Sliding Door TV Wardrobe with Dama TV installed. If you go for this I bet you spend far more time than ever in your bedroom. And if you thought the Tecnopolis TV Wardrobe would eat into the storage space of your wardrobe, you will be pleasantly surprised by the revelation. With all the wiring beautifully hidden in the 100mm thick sliding panel and above the wardrobe itself, the TV gels seamlessly with wardrobe.
Folding Ceiling Lift hidden televisions ideas

As you can see in the picture the LCD is attached to a swing-arm operated by a gear driven cam-lever system. The TV swings down for viewing very quietly and can be adjusted to swing back an additional 18 degrees for a proper viewing angle in any installation. The swing-arm returns to the closed position, and activates a mechanically controlled safety locking bolt to secure the swing-arm in position. The folding ceiling lift, is made out of structural marine grade aluminum and stainless steel. They are fully Heli-arc welded, and have a powder- coated finish.
TV Behind Art hidden televisions ideas

This is simply magic. The TV remains recessed behind a painting and can be 'unearthed' at a touch of a button on remote control. No exposed tracks or wiring. Press another button on the remote and the painting moves into position concealing the LCD. The movements can be configured to up and down or left or right. There is another option is called a 'Diptych'. 2 separate pieces of art slide outwards to reveal the TV. The ultra precise silent movement of this electronic sliding lift with noise level of just 44 dBA, leaves nothing more to desire for.
Picturehouse Plasma TV Fireplace

The credit of this innovation goes to Picturehouse, a UK based company. A TV hidden over a fireplace is a concept which makes your fireplace look like any other fireplace when the TV is hidden. If you wish to watch the TV, a push of a button lifts it into view from inside the cabinet. Very mesmerizing indeed, be warned, the 'magic' doesn't come cheap. The company, which is yet to find a US manufacturer, has priced the fireplace cabinet over $4000.
Le Bloc Ebony Macassar (LEM) Television Lift

Le Bloc Ebony Macassar TV Lift Console is made entirely from exotic wood and comes with an option of a universal television mount and a universal remote control. The Console offers abundant space to accommodate a LCD television along with all its accessories. There is also an inbuilt infra red remote control signal repeater system besides two HDMI ports for connecting laptops, cable/satellite boxes and Blu-ray players to the television. The cabinet is priced at $4,750 with an option of a swivel 360-degree TV lift for $750.
I-Frame Fireplace Unit hidden televisions ideas

Unlike the traditional fireplaces fitted on the wall, this one is fitted in the TV cabinetry dramatically uplifting the decor while saving on space. Following the footsteps of Vok and Skloib who have designed multimedia fireplace and the multimedia TV rack with a fireplace respectively, the Dutch fireplace manufacturer Helex has come up with the "I-Vision". The facility consists of one of the spots from the Helex I-Frame series, and a specially developed Full HD TV that disappears completely in the fireplace breast. Covered with a fine glass panel, you can even chose to customize your TV set-up with DVD/Blu-ray, PlayStation or other gaming consoles.
Hidden Television Stand Lift

The Hidden Television Stand Lift fits perfectly under the bed. The lift extends when you wish to watch the TV and retracts when you are done. It even rotates if you choose to watch from a different area of the bedroom. Full extension and retraction takes approximately 30 seconds. Ensure that the bed is at least eight inches above ground and at least fifty inches of space is there in the front of the bed for the stand lift to operate smoothly.
Bronson Room Divider hidden televisions ideas

Measuring 96 inches wide, 84 inches high and 24 inches deep, the Bronson Room Divider, creates visual separation between sections of the room without sacrificing the coziness. The unit stores a flat-panel TV of up to 50 inches, which can be rotated 180 degrees at the touch of a finger to face the opposite direction. The divider has space to keep TV accessories. A built-in cable management system prevents the wires from getting entangled.
The Mediano Piano TV Cabinet

Now play the traditional Piano in a revolutionary style. The Mediano integrates entertainment features with LCD TV, which pops up from within the Piano at the press of a button. Besides allowing you to lower or raise LCD TV into view, Mediano offers a 4-door compartment below the piano keyboard for storing some players or multimedia equipments.
Disguising televisions in the room décor using some clever and decorative ways for people on a budget
Televisions have come a long way from being ugly bulky boxes to smart flat screens today. Despite such a huge transformation; sometimes, the black flat screens continue looking as ugly focal points in a room décor. This will not only spoil the look of your room; however, since it does not blend in with the decor; your room will loose its charm and beauty. This is why people crave for some ways to disguise their televisions. If you are also on a lookout for the same, here are some incredibly clever ways that disguise televisions effortlessly.
Make a TV gallery wall
You are supposed to incorporate your TV into a nice gallery wall. Gallery walls are stylish features that decorate a wall, and it can disguise a TV well too. You want to make you big flat screen black TV on the wall less obvious; simply make it a part of a gallery wall. Surround it with a number of stylish art pieces and prints. This way, the entire gallery wall will get attention and not just the television up on the wall.
Frame it- the most easiest hidden televisions ideas
This is one of the best and the cheapest ways to disguise a TV; as long as it is not very big. Just frame your TV if you feel that the flat black box on the wall looks pathetic. This will give the area a better design; and will also become a positive focal point in your house. You can buy the ornate frames; that are easily available in the market. If you want, you can also place an order for customized ones based on your needs. The frame must match with the existing home décor. You can bring into use some reclaimed wood and make a frame on your own as well.
Conceal it with an elegant painting
No matter how much you dislike the fact but a television up on wall do attract a great deal of attention. You need to conceal it in a way that is not weird, and what better it could be to hide it behind a classy art piece. If you hide it behind a large piece of art, it will serve two purposes. It will hide your TV, and the elegant piece of art will become a focal point and add style and beauty to your room décor. You can get a variety of them from the market; choose a slide back option or the one that swings upwards to reveal the hidden television.
Behind closed doors
If you have installed your television above the fireplace, many a times you must have felt that the fireplace needs more attention than the TV. You can actually make this happen if you conceal your television behind closed doors, and open it only when you desire watching it. It is up to you to design the doors, both its opening and closing pattern and its artistic taste.
Motorized TV covers
A very simple and efficient way to hide televisions hung on the walls is to use motorized TV covers. The covers AKA art walls will come down after you finish watching TV.
Collage with hinges
Put up a nice and big collage on the wall. Make its size that matches the size of your television. Add a few hinges to the collage, so that it transforms into a folding door like thing. Fold it whenever you want to watch television, and unfold it to conceal the big black television hanging on the wall of your room.
Conclusion on hidden televisions ideas
The black flat screen televisions of today look lovely but not when they are out of use. They look unsightly things on walls. You must think of ways to disguise them; so that they do not interfere with the beauty and style of the room.