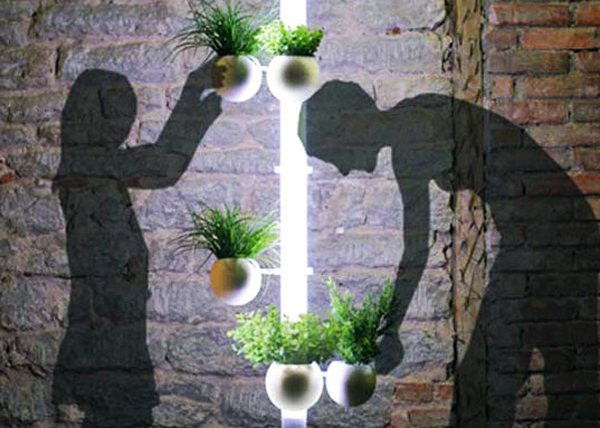 In the urban world, where living space is a premium, outdoor gardens are a luxury. But for those who would love to bring life into their homes, indoor gardens are the way to go. We have designers vying for that green place in your hearts and homes with models that let you grow herbs and plants within walls, on the floor, from the roof and in every other conceivable niche. Along with a whiff of fresh air, these planters bring home a sense of peace, purity and prosperity. When what we reap depends on what we sow, it is time to plant a green future for ourselves. Here are 10 indoor gardens for urban apartments:
1. Boskke ceramic planter
This unique planter solves one of the biggest worries of an indoor garden – reduced floor space. Molded from high quality stoneware ceramic, it hangs upside-down and has a water reservoir on top. It is also designed to eliminate water loss through evaporation.
2. Triple Herb Pot
A stylish looking, shiny white Sagsform stoneware pot is actually a three-pot combo which is fed through a common, corner watering hole. For just $40, you can grow your favorite herbs and also enhance the decor of your kitchen.
3. Aero Garden
Buy this garden and get a gardener free! When your counter-top gets decorated with an Aero garden, all you have to do is to sow the seeds and provide the necessary water and nutrients. Watch the pot deliver the water and nutrients to your little green ones with precision and also switch on and off the lights as per their need to photosynthesize.
4. Grow-ems
In the age of modular homes, the wall mountable, modular Grow-ems are a hydroponic delight. Each oval block has its own reservoir, water pump, top piece and planting section. No messy mud or soiling soil is necessary for this elegant planter.
5. Plant T
If you love your plants and your empty spaces too, here is a cute, little teapot that you will fall in love with. This compartmentalized pot has its own supply of ultra-violet light and an indicator that glows when in need of water. It is flexible and can be either hung on the wall or placed on a table or the floor.
6. Ecohabitre
This is a portable, vertical garden, designed as flat tiles that mount on the wall. The fact that it is made completely from recycled packing materials and plastics makes it greener. The soil has to be changed annually only and it can grow herbs like parsley, cherry tomatoes, strawberries, basil and mint.
7. Herb & Spice dish drying rack
Ran Shnaper has come up with this rack that has little shoots and stubs that can be used to dry washed dishes. The best 'part' is the one that holds soil and can be used to house herbs and spices. The water run-off from the drying dishes feeds the plants. This is definitely hitting two birds in a single stone.
8. MonPot
Acacias, cacti, buddleias, red-hot pokers and the like require minimal water for their growth. They don't need daily watering. For them, we have the Monpot which has a built-in rotating timer. Add water and just relax. The timer will alert you when your plants are thirsting.
9. Herb Plant Light Box
This plant box is a beautiful blend of the antique and the modern. With the motif 'H.E.R.B.S' stenciled on its side, this 'green' and light, lacquered wood box has a wonderful 'shelf life' where it fits in perfectly. It can also be placed on a counter and its roof height adjusted as the plants grow.
10. Domsai Modern Indoor Planters
Domsai rhymes with bonsai and these planters are tiny domes mounted on artistically carved figurines housing small plants in them. Sized like salt and pepper cellars, they are made of ceramic bases and mouth-blown glass mounts. For $140, you can grow many of your culinary delights on your table top.