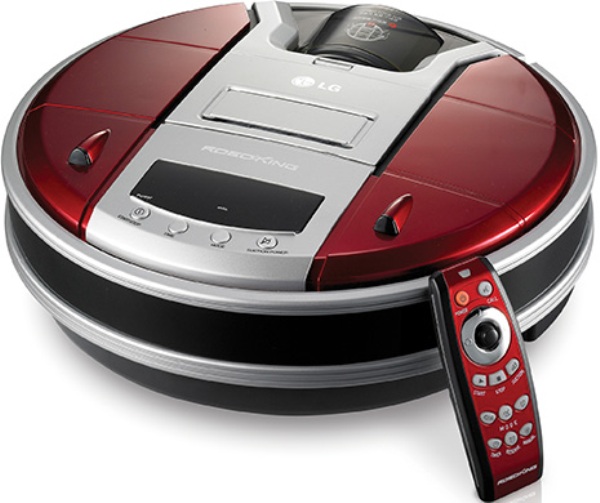 Vacuum cleaners evolved from carpet sweeper by means of physical vacuum cleaners. The initial cleaners were used in 1860. Vacuum cleaner is defined as an item that utilizes an air pump to form a vacuum partially so that it can suck up dirt and dust, generally from floors and other surfaces as well. The dust is collected by either a cyclone or a dust bag which is disposed afterwards. Vacuum cleaners come in various models and sizes at different prices as per the requirements. For industrial use huge vacuum cleaners are used and for domestic purposes simple small sized vacuum cleaner can work.
1. iRobot Roomba Discover 4210
Roomba discover is the most intelligent, advanced and reviewed brand of iRobot. It has in built dirt detection, which senses where wood, tiles and carpets are dirtiest and spends more time on cleaning those spots and sucking debris. It is featured with 3 programmable modes of cleaning (spot, clean and max). In order to prevent foul smell it has infrared stair detection and remote control. It is very easy to handle and convenient to operate.
2. NASCAR Robot vacuum Cleaner
This vacuum cleaner comes with five models. It is thirteen inch long and four inch tall, which offers a unique experience of cleaning. It does not have any cleaning modes, but it has a feature called Lap mode and because of this feature it is able to do laps around room so as to clean the area. It comes in three models; No. 24 Jeff Gordon car, No. 48 Jimmie Johnson car and No. 5 Dale Earnhardt. It leaves your room fully cleaned in just few minutes.
3. Infinuvo CleanMate QQ2
This vacuum cleaner has a unique quality associated with it that it not only cleans the surface but also disinfects it. It has a shortwave ultra violet, high intensity light fixed on this small marvel that helps in killing the germs and without any use of liquids. It is more effective in bathrooms and kitchen floors than carpets.
4. iVacuum Robot Autocleaner vacuum
This vacuum cleaner just cleans your entire home with a click. Auto clean automatically cleans hardwood, linoleum and carpet. It is supplied with 1x virtual wall, docking station and a remote control that schedules cleaning automatically. It has various features like; Timing mode, spot mode, max mode and clean mode that makes cleaning easy, safe and within stipulated time. You can select spot mode that can spot the area to be cleaned within three feet in diameter and clean the spot for about 4 minutes. By selecting cleaning mode it can simply clean the room for about thirty minutes. Its normal working time is sixty minutes and it keeps on running till complete power is consumed. Timing mode gives the option of setting a definite time by time setting key present on charging plate. This vacuum cleaner provides exceptional value of your money and makes cleaning an effortless exercise.
5. itouchless Automatic Remote Control Robotic vacuum
Measuring around 3.4 inches long and 13.5 in diameter this vacuum cleaner is very efficient in terms of saving your money and time as well. While cleaning if vacuum cleaner gets picked up or stuck it generally stops. It has a flat body that helps it in cleaning dirt, pet hair or dust under furniture. The vacuum cleaner is equipped at bottom with a smart sensor that prevents it from falling elevated surfaces or down steps. If you hear a sound or a shrilling noise, it indicates that vacuum cleaner is operating on low power. You need not to worry if in case it is left unattended as it has in built features.