You think of owning a smart, spacious and a stylish kitchen but get disheartened by the fact that your home is not big enough. Well, put an end to your worries as smart kitchen concepts have come to your rescue. With shrinking homes in urban areas, a spacious kitchen is extremely rare and unexpected. But, what if you can find the most trendy and stylish kitchen area right in your own home? Most hi-end kitchens are made for well-planned spacious homes.  Well, thankfully, new age designers have come up with some innovative ideas of kitchen unit designs. These designs are efficient, visually appealing, and even luxurious. They contain all necessary items used in a kitchen like gas burners, ovens, mini refrigerators, trash can, shelves and cabinets for stowing kitchen utilities.  Here are a few kitchen unit ideas that are so adorable that you would love to shelter them.
1.The Ritual evolution – Innovative and stylish kitchen unit
Conceptualized by Dario Grusselli for Whirlpool, this unique design is a very stylish option for those who thought a spacious kitchen was out of their reach. This design aims to fit into the cramming living spaces without losing the luxury element. It offers an induction cook-top and a combi oven. The dishwasher and the fridge drawer offer due convenience. The tap comes with a color sensor technology that indicates the water temperature with blue or red light.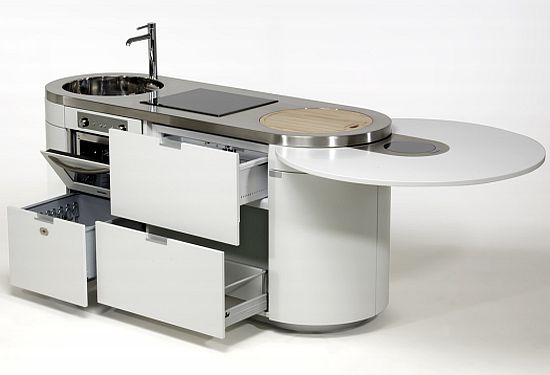 2. Wonder Island kitchen unit concept – Effective and appealing
No more space issues now as the all-in-one kitchen concept has come to resolve all your issues with space. Perfect for urban homes or apartments, this all-in-one unit concept allows cooking, storage and dish washing with minimal area coverage.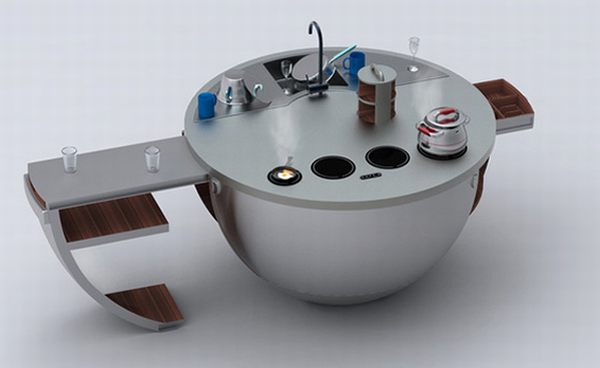 3. Hidden kitchen unit- Sleek and promising
Loaded with every prospect of a traditional kitchen, this one remains hidden behind the kitchen wall. You can conveniently change the tile colors matching your mood and personality. Own it for the efficacy and style it renders.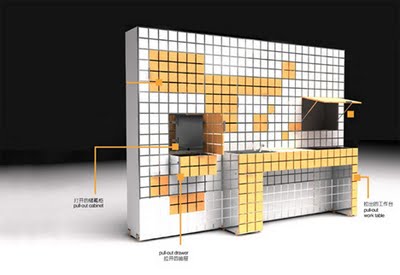 4. Z Kitchen island -The new age kitchen unit
Ever thought of owning a kitchen so smart and loaded? A Zaha Hadid design, this one comes with a built-in PC, sound actuators and LEDs. Its a total solution to all your personal needs. It's a promising futuristic design. This allows you to surf the internet, listen to music and make your life so enjoyable. So, own it today.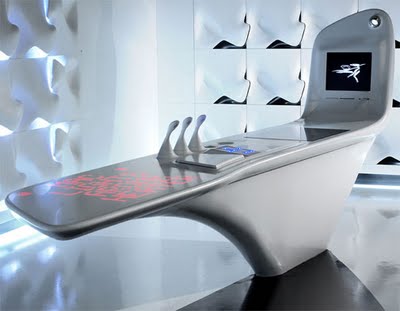 5. Kub Modular kitchen unit- An excellent and tempting creation
An Innova Designer's creation, if closed, this innovative design conceals all doors and drawers and attains a wedge shape, making it compact and easy to use. This design has gained a lot of popularity because of the very minimum space it occupies.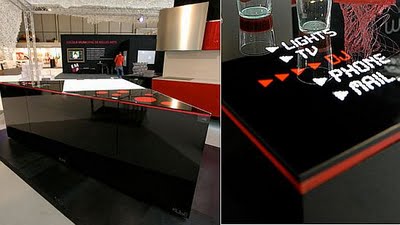 6. Smart kitchen unit- Smart on design, great on looks, easy on space
This one offers three main action areas, washing, cooking and mixing. This three-in-one design reduces space occupancy and certainly offers a style quotient. Largely appreciated because of its simple yet promising design. Moreover, the smart kitchen concept proves extremely effective in terms of accomplishing the idea of easy on space kitchens.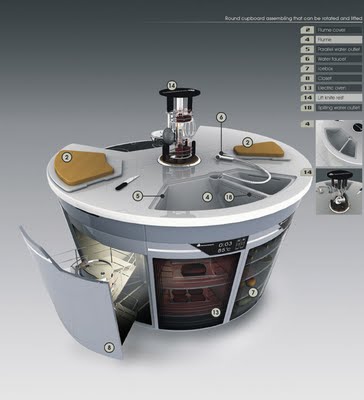 7. A La – Carte Modular kitchen unit- No tools, no troubles just smart kitchen
A concept by Stadtnomaden, this is a well conceived kitchen concept  which does not require any tools to assemble it. Certainly, a choice among its contemporaries, the La – Carte earns lot of appreciation due to the blend of effectiveness and innovation in it. Hence, this one is surely easy on pockets and space.

8. Modular kitchen unit by Wing Chi Chow – Move it to your demands
You can move this cuboid shaped kitchen anywhere in the house as it comes with wheels. The gas range, wash basin and cutting board can combine themselves into one single enclosure. It's effective as it's minimum space occupancy and definitely a stylish option to have.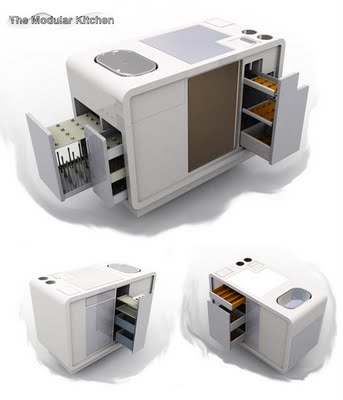 9. Lift – Modular Kitchen – Slide and ride
A concept by Cornu, this one is an ideal choice for apartments due to its different sliding modules which feature all necessary tools a traditional kitchen must have. It minimizes the space requisitions and is surely an option for those desiring a trendy kitchen that is easy on pocket, size and space.

10. Motorized Kitchen – the wow factor in your home
An Emanuel Gargano and Marco Fagioli design, this one comes with a unique innovation. It encompasses a motorized integrated cabinet that can be lifted up showing all the utensils and minimizing the space requisitions once you are done.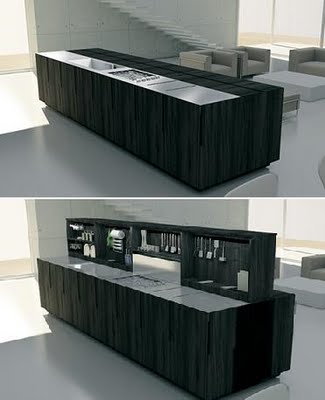 Here are a few more innovative ideas
Modular kitchen by Kristin Laass and Norman Ebelt
A German invention, this compact modular kitchen requires an area of only one square meter. You can close the kitchen to turn it into a dining table. It contains a cooktop, refrigerator, oven and storage space like shelves and cabinets.
Circle from Compact kitchen unit Concepts
The circular shape allows is perfect for rooms with limited space. This type of kitchen unit also allows one to hoard all kitchen necessities. It rotates at 180 degrees and takes up 1.8 meters of space. It even has a microwave, dishwasher and sink along with cooking equipment and storage area.
360 degrees kitchen
Built as a cooking and dining space, some of the unique features of this kitchen fixture are Ehe Towers rotating shelves and provision for cleaning. It has been fabricated by Ulrike Sandner, Farziska Winter and Katrin Sillmann.
Kitchen Studio
Apt for studios, you can squeeze this piece of furniture in just 246 cms of floor area. But that doesn't mean that you have to compromise on any kitchen utilities. This luxurious dream kitchen is equipped with all the essentials you need for a fully-functional kitchen.
Carre by Robert Schierjott and Ulrich Kohl
You can size up this customizable kitchen unit  to fit into homes of any size. Moreover, you also have the flexibility of  configuring this compact cube shape into six different ways. The foldable two module construction is a creation of Robert Schierjott and Ulrich Kohl. Taking up 1 square meter of space, it serves as a space for cooking and dining.
Kleine Kuche
Translated in English as small kitchen, this fitting is true to its name. The design is compact and ergonomic and it comes with appliances. You can use the The hidden silicon panels and shelves to stash used plates, bowls, and pots out of sight.
Stewart and Justin Case
A miniature mobile kitchen that can be transformed into a dining table for four persons has been crafted by Maria Lobisch and Andreas Nather. It slots in all the essentials needed like cooking unit, draining board, sink, and shelves. The mini kitchen units in this fitting are called Stewart and Justin Case.
Come together
You can fold this mini kitchen whenever you are not using it and squeeze it into even a small space. Despite its compact make, the device retains a luxurious appeal. It contains all handy kitchen items.
Grandma's Revenge
You will require just about 5 meters of floor space to fit in this marvel from Klaus Michael. This mini kitchen has a cooking range, cabinets, shelves, and also a dining table.
Lodovico Bernardi's Rubika
A designer piece, it is more like a small sized kitchenette. It has been conceptualized to go with most type of home interiors.
Conclusion
If you live in a small sized urban apartment, a studio meant for one or two, or any other compact dwelling then you must take a look at these marvelous compact kitchen designs. You can easily fit them into your home with any hassles or making any major renovations. Moreover, they are a great addition to your holiday homes, country cottages, farmhouses, beach side quarters, etc. You can also use them boats and yachts.
With the ever-shrinking shelters we own, it becomes indispensable to be economic when it comes to space occupancy. The traditional concrete kitchens had their own limitations in terms of size and space demand. But with the smart advent of these modular kitchen concepts, you can easily cut down space expenses and put up a kitchen that fits your imaginations. So, go and get yourself a modular kitchen and be kitchen smart. When you have an aesthetic, functional, and groovy kitchen; it multiplies the joy of cooking at home.