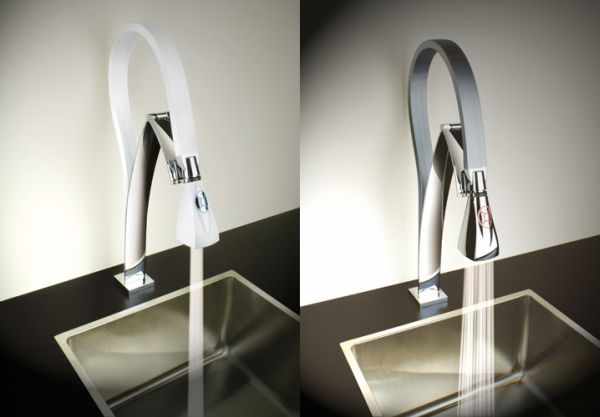 High-end technology is all ready to seep into the kitchen area as well. Get ready to make your kitchens all the more glamorous as designers are coming up with futuristic faucets that are user-friendly and will be perfect for a contemporary setup. Here is a list of ten hi-tech kitchen faucets that will be a perfect fit for contemporary homes. So, pick a design that will leave onlookers impressed with its incredible design.
Kohler Karbon Kitchen Faucets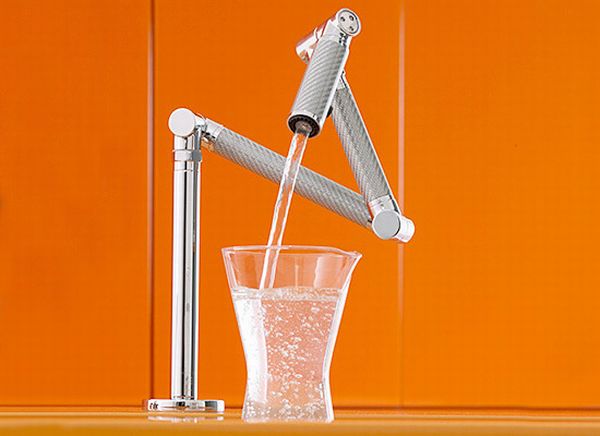 Make kitchen area all the more attractive by installing Koler Karbon Articulating Kitchen Faucet. The stylish faucet will endow a user with the flexibility to alter the direction of flow of water. It has been made using stainless steel and also makes good use of carbon fiber that lends added strength and makes it light in weight. The chrome-polished faucet has two spray modes and a surface. But, if you want the stylish faucet to ornament your kitchen sink then get ready to pay a heavy price for it.
Illuminated Kitchen Faucet Spot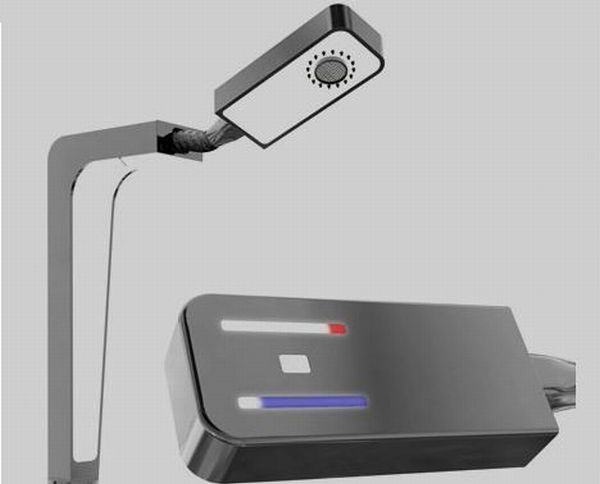 This faucet promises to brighten up your kitchens and add a mystical aura. Spot a kitchen faucet from Ndwelt that comes with the power to illuminate. The stylish piece has been designed in a sleek and attention grabbing manner and is perfect for a contemporary setup. It is fully functional and will impress people who love new innovations in technology. Spot is touch-sensitive and all the controls are fully intuitive. Simply, glide your finger over the top and regulate the temperature of flowing water and even use it to turn the faucet on and off. The faucet will become a major attraction and will force people to stick a little longer near a kitchen sink because of its unique design and sparkling traits.
Nomos Faucet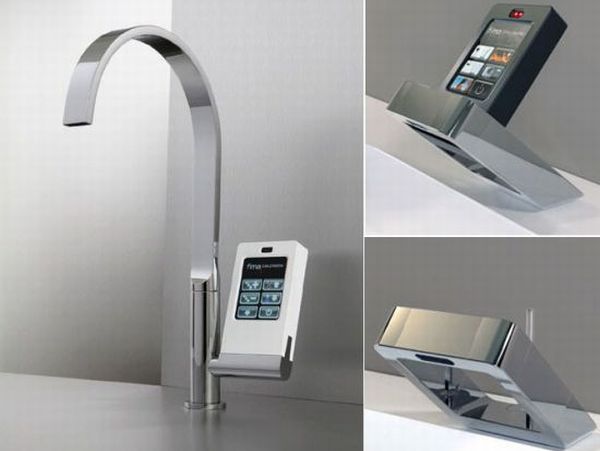 Swap your old and boring faucet with a high-tech option in the form of Nomos, which has been designed by a company from Italy, Fima Carlo Frattini. Nomos features a mixture that will let users to adjust water temperature, pressure and even the quantity of water. It is accompanied by a touchscreen that is responsible for displaying icons. These graphic presentations will let a user manage the flow of water and other functions as well. Nomos is a class apart and will give a touch of sumptuousness to kitchen areas.
Flexible Kitchen Faucet Hybrid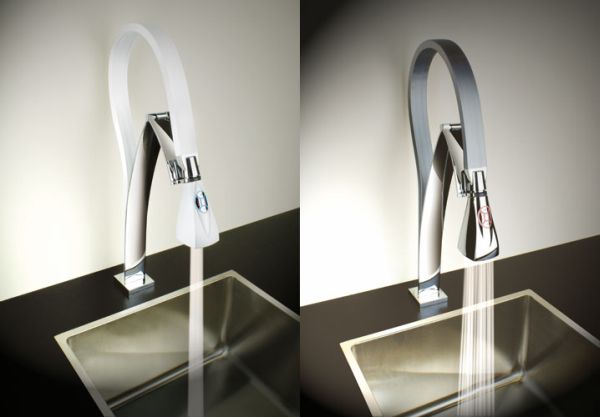 Hybrid Faucet by Paini is flexible in true sense. The futuristic designing is well complemented by the presence of a strong and supple supporting bar that has been flattened and is large in size. This will let the users choose the direction of spray as per their convenience. It has been wedged with a dial that illuminates because of the presence of LEDs. The color varies according to the temperature of water and is pretty intuitive. Hybrid is available in various colors and one can easily blend it with the color of the kitchen.
Tac Tac Kitchen Faucet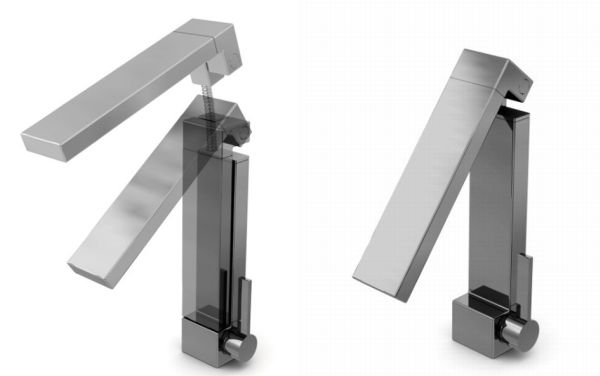 Tac Tac Kitchen Faucet is for those who like to keep things simple yet stylish. Tac Tac is a folding faucet that will manage to fetch plenty of attention with its sculptural stance. It is a creation by Ariano Design and features a mixture tap. The faucet can easily fold over to unfurl an elongated spout, which can be folded away against the base in a parallel position when not in use.
Drinking Water Dispenser / Kitchen Faucet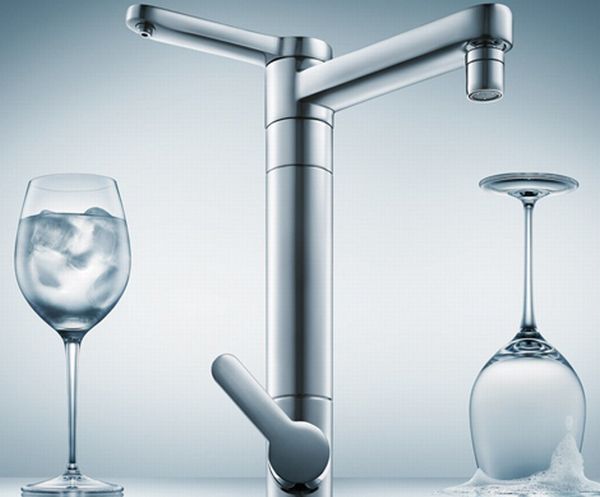 The eye-catching Twin Line Drinking Water Dispenser or Kitchen Faucet is a totally exquisite creation by Deca. It has two taps that solve various purposes. One tap will dispense filtered water for drinking and the another one will supply water for other purposes like cleaning and cooking. The amazingly styled faucet has been given a slim and sleek outline. It comes draped in minimalism and in the latest twin-tap design.
Folding Faucet Snake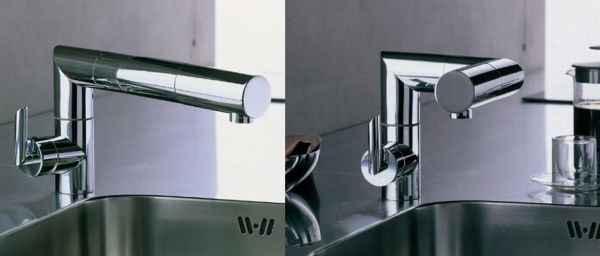 Folding Faucet Snake by Nobili vows to save precious space. It is a great option for small homes and its minimal design is worth gawking. The simple and highly functional faucet has a snake like design and can bend in a lot of ways. It is very adjustable and can transform its shape as per the needs of a user.
Quadro Hi Tech Kitchen Faucet
Quadro Hi-Tech Kitchen Faucet has been blessed with a futuristic silhouette. The contemporary pull-out faucet has been designed by Gessi and is a modern day innovation. The elegant designing is perfect for a high end kitchen. The convenient option with a pull out feature is available in two finishes; brushed nickel and chrome.
Dome shaped Faucet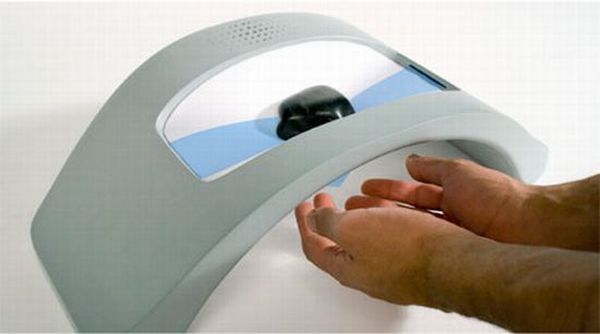 American designer, Nadeem Haidary can't help but leave people impressed with his sense of designing. He has crafted a dome-shaped faucet that has been dubbed as Flow. The designer has fetched heavy inspiration from the energy control in Zen gardens. Flow features a stone that can move towards either side to control the flow of water. Simply, place the stone back on the surface of this dome-shaped faucet to completely stop the water from flowing.
Techie Fluid Faucet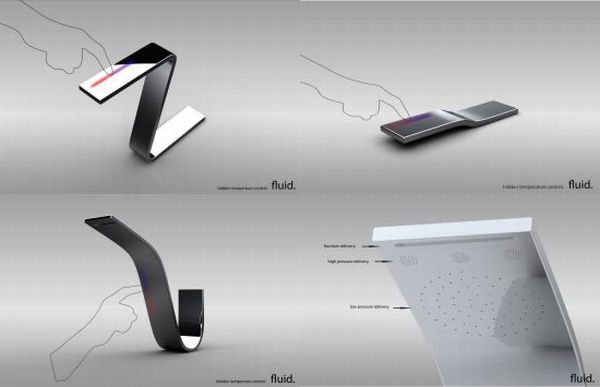 Techie Fluid Faucet comes caked with cool looks and will act like a delicate piece of art for modern kitchens. It has hidden temperature and pressure control, which will happily bow down to all your water based needs. The designing of this faucet is very attractive and will manage to fetch uncountable compliments.