Did you know that you can be a happier person if your home is elegantly simple? If you have a home which is full of pretty knick knacks and unwanted furniture and other objects, it actually hampers your productivity and makes you feel uneasy and disturbed. Here are a few tips to simplify your home for greater happiness, and organizing it so that you can find everything at your fingertips and it will look charming and be peaceful:
10 Tips to simplify your home for greater happiness
1.     Go over your home thoroughly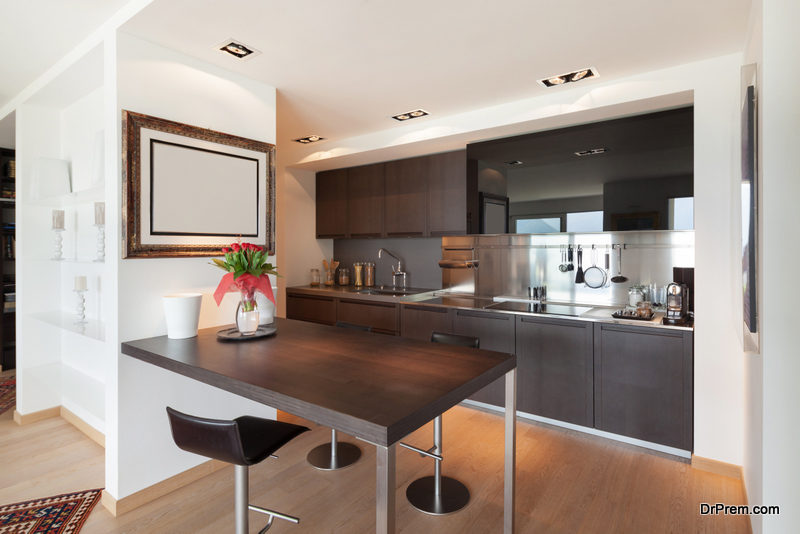 When you want to simplify your home for greater happiness, you have to organize your stuff so that you have a home which is free of mess. You should view all the rooms in your home, including your kitchen and bathroom, so that you can spot the décor items or furniture you no longer need, or which you can shift to another room.
Take your time and modify the décor of every room one room at a time. Doing this will help you co-ordinate the entire look of your home, and give it a cohesive look, following a minimalist interior design scheme. 
2.     Less is more with wood
Wood has a charm, elegance and depth which gives the feeling of being much more. It creates a balance in the home, with its warm tones balancing the neutral tones. Wood, whether the color is dark or light is the best to create warmth and coziness in your home. You can have wooden furniture, wood paneling, hardwood floors and wooden accessories which will help to emphasize the subtle properties of wood in your home.
3.     Get rid of the clutter
Instead of spending your money on new décor, it might be better to get rid of all the clutter. Sometimes, even this is enough to simplify your home for greater happiness. Experts say that looking at clutter blocks our energy, and not only visible clutter, but the clutter in the storage units and closets have to be organized. You can do this by regularly cleaning/organizing them, whether you donate them or sell them or as a last resort, throw them. But almost everything can be recycled/repurposed these days so think about that before dumping your stuff in the trash.
So for better productivity, you have to constantly organize your stuff which takes time and is a continuous process, but refrain from being sentimental and store things you no longer use. The result will be a peaceful experience, and you will not be overwhelmed by the clutter.
4.     Use monochromatic patterns
Implement minimalist patterns such as small patterns for your curtains and rugs and carpets, and geometric patterns or abstract motifs for throws, cushions etc. Your décor will have an understated look which will be desirable to simplify your home for greater happiness. Even if you have ornate furniture, the accessories can help to transform the interior décor into a minimalist interior design.
5.     Incorporate greenery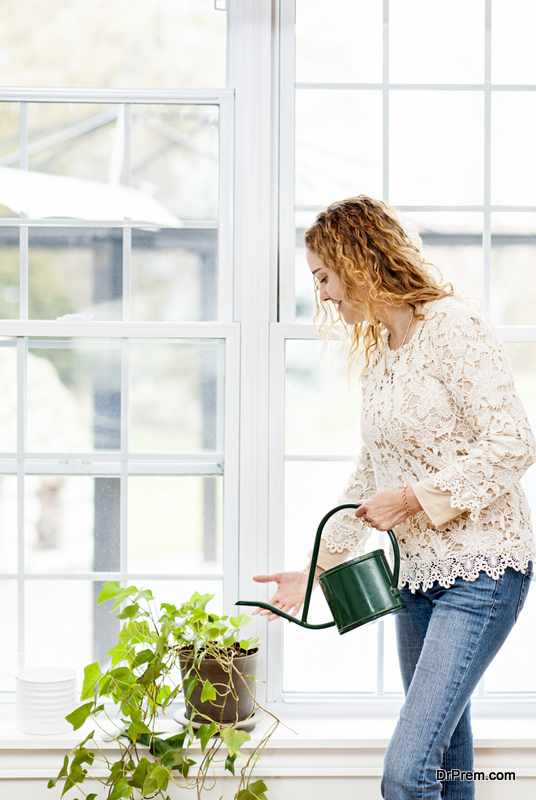 To diffuse the stark look of minimalism or a bare home, you can add plants which had beauty to your home. Not only that they purify the indoor air too. And the lovely plants create positive atmosphere which is one of the best ways to simplify your home for greater happiness. Besides they match well with the simple colors and enhance your home's space with their fresh, green color.
6.     Increase storage space
In order to give a neat and tidy look to your home, get rid of unnecessary side tables and stools. Instead, invest in tables which have hidden storage compartments, or a chest of drawers. This will help to keep out of view all the things which you do not want to dispose of, and you have no place to store.
These décor elements can be taken out and displayed from time to time, and you can keep changing your décor in this manner. Your expensive trinkets and other valuable objects will be stored safely and in an organized manner.
In your bedroom, keep the quilts and blankets stored away or tidy up and fold them when not in use. Making the bed in the morning is one of the ways to create happiness and better productivity, according to behavior experts. Invest in a storage ottoman you can keep at the bed's foot. Or else just keep some horizontals bins or baskets in trunk size under a bench at the foot of your bed, which could also be a more affordable option for you.
7.     Keep all kitchen appliances out of sight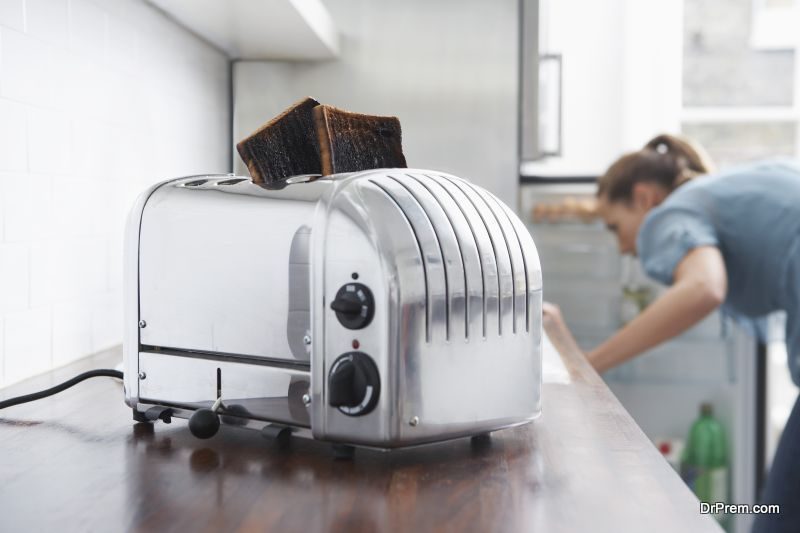 Store the kitchen appliances which might be cluttering up your kitchen counter inside cabinet or inside the pantry. Another idea is to keep them in a large tray or dish. Buy some stylish containers for the kitchen to organize the kitchen.
8.     Start using your heirlooms
Some of the things which we treasure and loath to use are heirlooms and other mementos which have sentimental value for us. They take up a large amount of space and block the storage for other things. Instead of storing them, start using them as décor objects and if you can, use them for the purpose they were made for. And if the objects are centuries old, better store them in a bank vault, and clear space in your home. Besides, they will be safer there!
9.     Transform your bathroom into a minimalist bathroom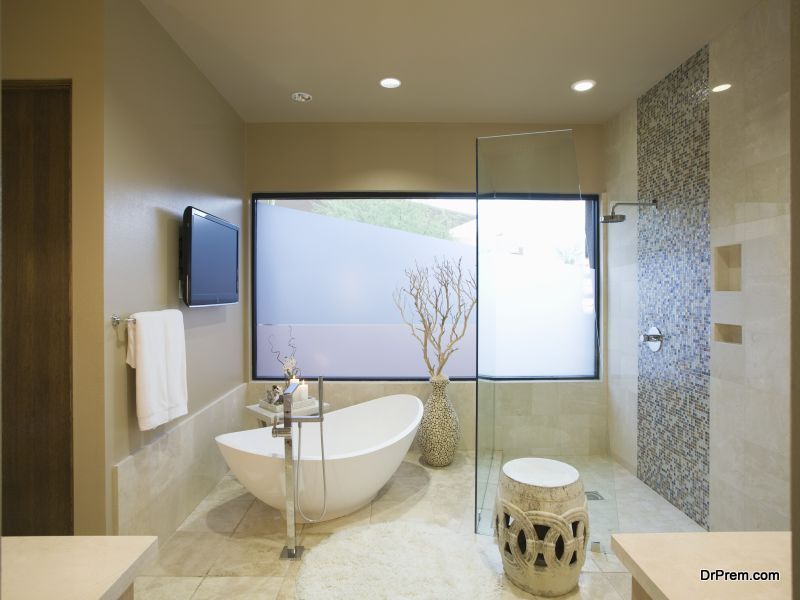 Redecorate your bathroom into a stylish spa type minimalist bathroom. This will let your relax and unwind. You can create the spa effect with the help of subtle lighting, a simple but elegant bathtub, and neutral colors.
Don't forget an essential oil diffuser and a small fresh flower arrangement. The bathroom is a space which is used often and making it beautiful and soothing is one of the ways to simplify your home for greater happiness.
10.  Opt for unique, personalized décor
Minimalist design is often viewed as being impersonal. But in fact, the opposite is true – you can fill your home with just the objects you love and cannot do without, rather than a lot of trinkets which hold no value for you. Go for a unique statement chair which stands out, hand-picked décor items which are exquisitely beautiful.
Last but not the least, go for an open floor design layout, at least to the extent which you can without having to make drastic changes. You can think about rearranging your sofas and other furniture items, till it gives a feeling of open space, and you feel happier instantly when you enter your home.