Back in the olden days when rooms were heavy on space and light on furniture, it was quite fashionable to have room dividers to separate the extra space into another smaller functional one. These days, having room divider in one's home is less common though it isn't unheard of. Whether you live in a home with an extra spacious bedroom or want to get more out of a large living room, room dividers could come in handy at making a space more functional. Here are some classy room divider styles that also add function to your rooms.
1. Fluowall room divider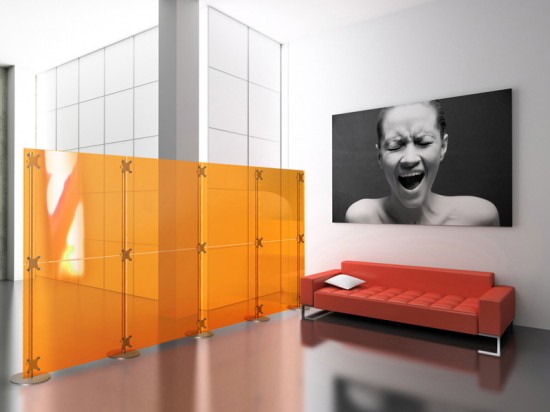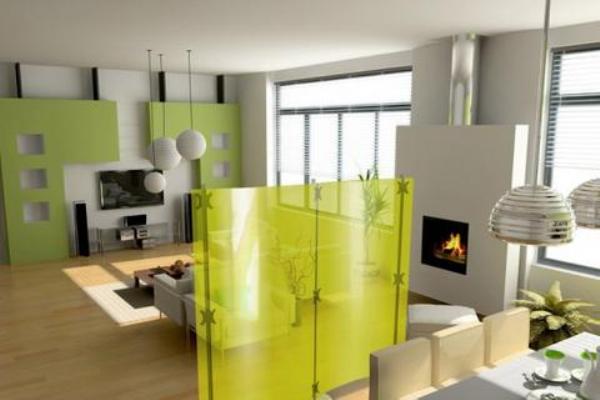 Fluowall room divider helps in partitioning a small apartment or an office space to make it look bigger and more attractive. It has a bright color which helps it to blend in any area. Its light weight makes it portable or keeps it aside, in case you need a complete room.
2. Polkadots room divider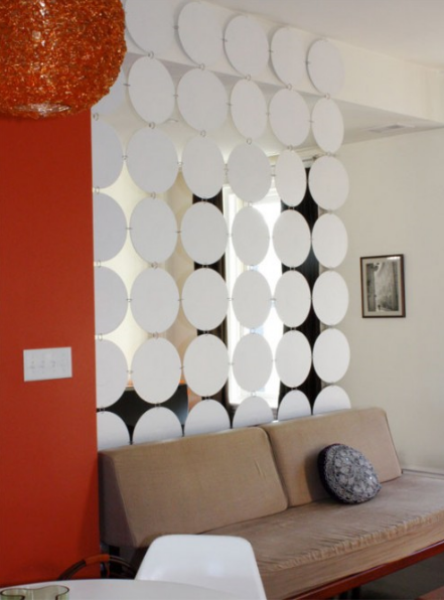 Polkadots room divider is, a number of dots connected to adjacent dots from all the four sides making them like a curtain. They can be hung from the ceiling or a wall to act as a room divider. White color of this divider will match with your room color scheme effortlessly.
3.Snowfall room divider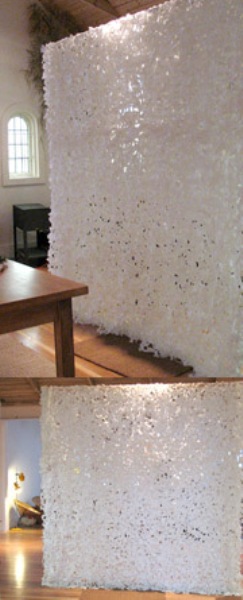 Snowfall room divider is a curtain-type divider which gives an impression of snow, falling in your room. A brilliant idea to give a taste of snow to the guests in the areas where there is no snowfall. Its elegant white color and wonderful design will definitely take your room design to a whole new level.
4. Mozaic room dividers

Simple wooden made mozaic room divider is sure to give your room an antique look. It will perfectly match with the wooden furniture in your house. Its flexible folding feature lets you to partition the room exactly according to your requirements.
5. Ivy room divider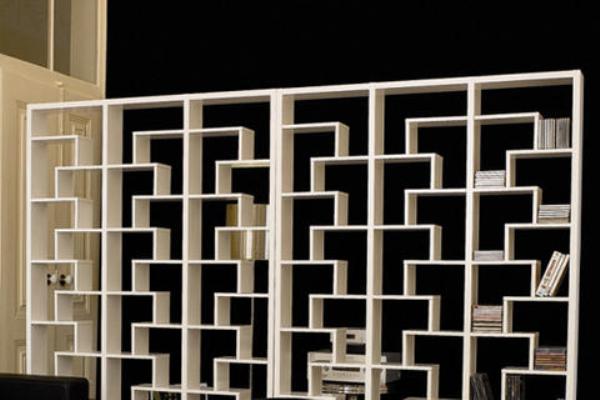 With an elegant and sophisticated design the ivy room divider is not only going to help you as a room divider but also as furniture having numerous shelves. You can use these shelves to keep your stuff like books, music albums all at one place.
6. Coin bank room divider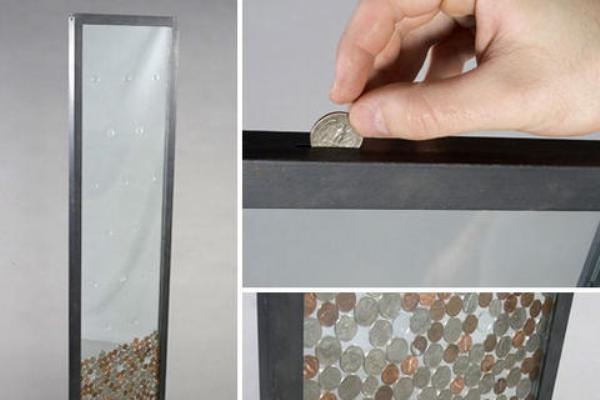 Show off your coins collection or just store some coins in this coin bank room divider. This divider is sure to get your guests attention. Giving an antique look when filled with coins; you can use this as a showcase as well as a divider to create a partition in the room.
7. Bamboo furniture room dividers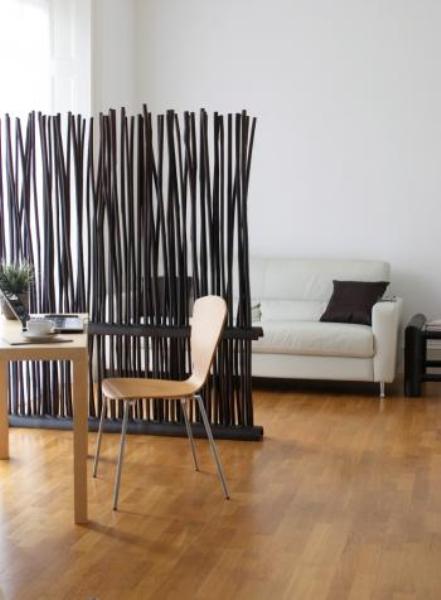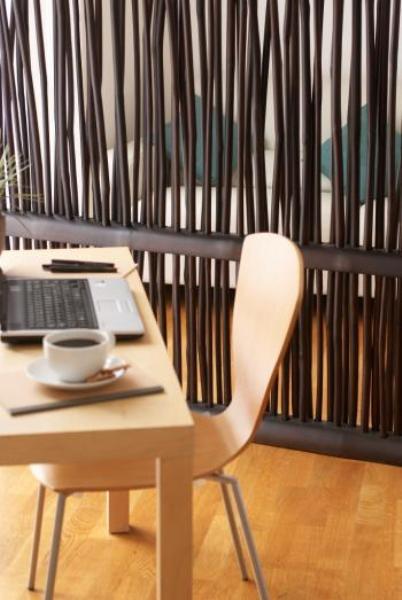 Simple yet elegant looks of the bamboo furniture room divider screen will perfectly match with your room's furniture. An ideal divider for those who want to separate working space from living space. The bamboo screen occupies very less space because of its less width and gives more space to the partitioned rooms. Not only this, you can still enjoy with your family or friends while not sacrificing your work as you can see through the screen.
8. Loftwall room divider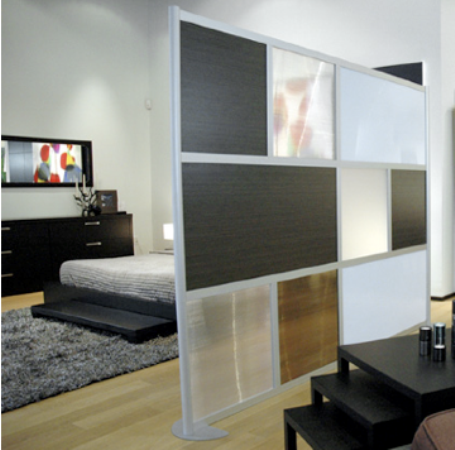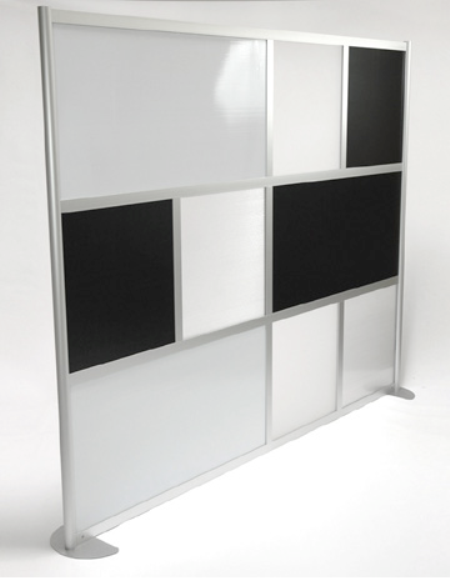 Artistic looks, custom made according to the requirements, slim enough to occupy less space and easy to assemble so that you don't have to scratch your head at the end, is all that constitutes the features of a loftwall room divider.
9. Illuminate room dividers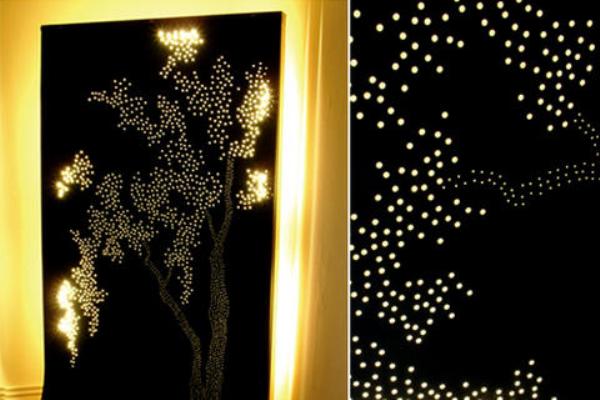 If you are having a house party, or just want to relax a bit in the evening, elegant room divider will be the best choice. It has a light between two screens which partition the room as well as give some light that will relax your senses.
10. Space saving room divider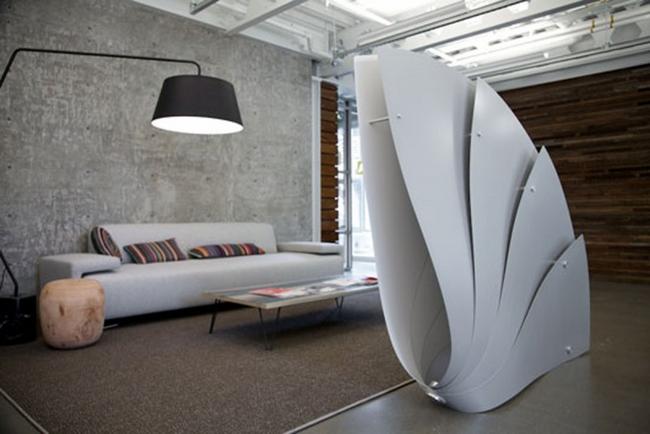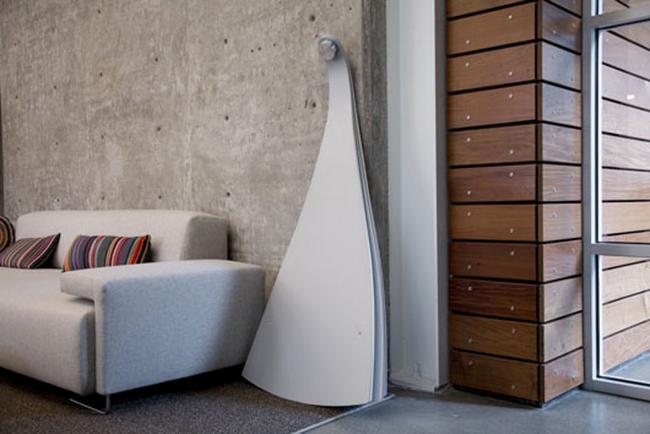 Elegant, artistic and catchy, the space saving room divider takes up very less space to partition your room. The light weight and flexible designs make it easier to move or get rid of it whenever you need a complete room. Even when it is not used, it can work as a show case which will add on to the beauty of the room.
11. Bookcase room divider
For all those who love to read books, the bookcase room divider will be the best choice. It can work as the room divider as well as can be used as a place to keep your books.
12. Parawall room divider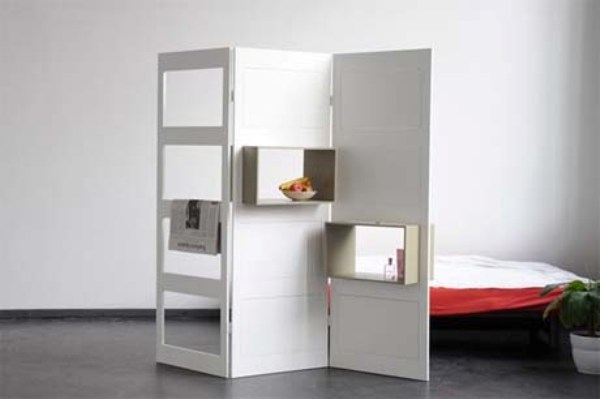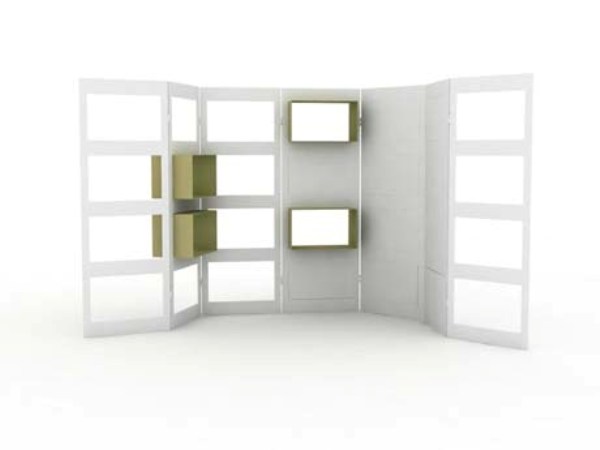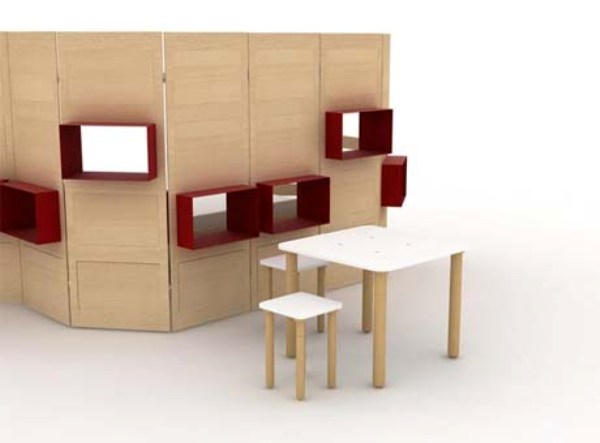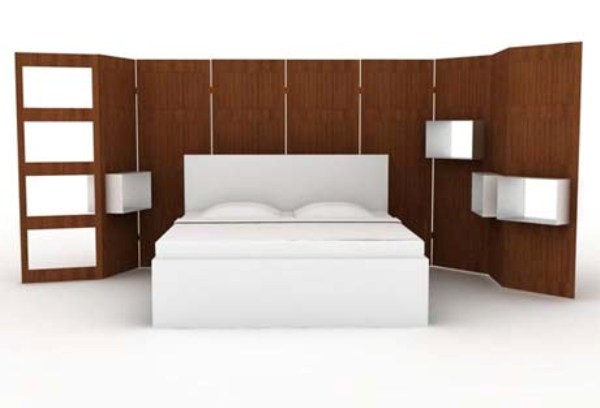 Parawall book divider is a type of divider that has multiple purposes.  You can use it as a divider as well as storage unit to keep things like decorative pieces. If you want, you can also use the shelves to keep important documents, food items/snacks and other such things.
Room divider by Dieter Amick
Dieter Amick has designed a room divider named Division that will leave onlookers impressed. It will help create a personal space in no time and also act as a decoration piece, thanks to its good looks. The design has fetched heavy inspiration from the cloud that forms when the plane passes through the sound barrier. The cloud that appears in a matter of seconds is nothing but water vapor and this has been creatively used while designing Division. It has been crafted using steel sheets and aluminum bars. The design consists of eight panels that look identical and have been laser cut. The room divider truly unfurls the softness and subtle appeal that a cloud comes tagged with. When not in use, simply fold the room divider and keep it away from your sight.
Data room divider
Giving an all new meaning to room dividers is Data room divider by Jessica Tarlecki. The room divider has been inspired by the dividing space and circuitry. What makes the useful product stand out is its flexibility to be used in different positions. The alignment can be set as per a user's needs and will fit according to the needs of different sized rooms. Data has enough space that can be used to display photos, paintings and wall hangings. This will add a special touch to the room divider and will help brighten up the room even further. Data room divider provides a variety of options and can be stored easily. All you have to do is fold each panel one upon the other and store it.
Bronson room dividers
Bronson room divider is a part of the IcOn Furniture Collection that will leave tech junkies impressed. Eventhough you can use this as a divider; you can also turn it around. The awe-inspiring room divider has been dipped in modernism and has storage space for CDs, DVDs and all the accessories. The room divider has a depth, height and width of 24, 84 and 96 inches, respectively. To make sure that the wires don't get jumbled when the divider is rotated, the Bronson room divider has an embedded cable management system. One can choose from a variety of wood finishes and match it with the interiors of the room.
Vider  Room Divider
Vider Room Divide from Winold has been designed by Jan Willem de Laive and Mark Jan Meerdink. The product by this Dutch Company has been crafted by hand using both soft and hard materials that lend both stability and flexibility. Vider is an all weather product and has a life span of almost 30 years. It can be positioned anywhere in the house and can also be used outdoors. The room divider has a width of almost 10 meters and if required the buyer can also get it customized as per their requirements. It will be a classy addition and will make sure you get the much needed privacy both indoors and outdoors.
Solar Wall room dividers
Solar Wall is an ingenious creation by designer Jenny Redd that makes good use of the rays of the sun. The glass has been printed with special kind of solar cells that are dye-sensitized and will harness energy from the sun. The best part being the Solar Wall not only captured direct sunlight but is capable enough to store even indirect ambient light. The room divider will provide electricity as well as privacy to your workplace. The energy, which is captured by the honeycomb pattern, is stored at its base that also features power outlets. Simply, plug the cords of your gadget and charge it the Eco-friendly way.
AAKKOSET room divider
AAKKOSET room divider will be perfect for the kid's room. A Lincoln Kayiwa creation and design; you can use this divider to store differnt things like magazines, books CDs, DVDs etc. AAKKOSET is a perfect example of conventional craftsmanship coupled with modern manufacturing techniques. The alphabet carvings on this room divider acts like storage units. Wherever you plan to place this colorful room divider; you can be sure that it will become the focal point of the area or room.
JOYN curtain
JOYN curtain will add glamour to any dull area and make it glow with its mystic appeal. It has been crafted by JOYN for Design Code and is an attention-grabbing way to divide an area. The design consists of modular pieces that are hexagonal-shaped and can be joined together. You can attach these pieces to each other to form the divider or curtain. Owing to the fact that it is a modular design, you can adjust the length the way you want. To give your room a new look, just hang this divider on the steel cable. It is so easy to install, looks beautiful and does not take too much of space. The porous screen will sprinkle a touch of elegance with its geometric pattern.
Røys room divider
Røys is a fine-looking room divider by Katharina Styren and Permafrost, which is multifunctional in nature. It will be a perfect pick for a contemporary setup and will also offer storage space to keep things like books, magazines, CDs, etc. Its modern appeal will fetch a lot of complements as it stands nicely in the room of your choice. The shelving units have been placed at an angle that will let your place books as it stands with flamboyance. The best part of Røys is its ability to work as a room divider that is sound absorbing, which will kill all frustrations that come along with loud music in case someone is not in a mood to enjoy it.
Sherry An's Separation
Sherry An's Separation is a room divider that will leave onlookers stunned with its gorgeousness. The modern room divider is multifunctional in nature and is modular in nature. It will give birth to a personal space and also has enough room to keep CDs and DVDs. This divider will let you divide an area so that you can use it as workspace or for leisure activities. It will endow the users with a flexibility to assemble their own divider. You can fit mirrors in the empty spaces; this will make the room divider glow even further.
Triptich room divider
Triptich room divider has got great inspiration from an ancient theme. It glows in the shade of gold when light falls on its surface. Designed by Dave Keune, Triptich; this handmade divider is a fine piece of art. The legs and outer hungers are of Nylon; while the rest has been made from transparent pmma.
Botany room dividers
The design of Botany room divider is quite striking and has been designed by Surya Graf. The design has fetched all the inspiration from the molecular structure of DNA and plant forms as well. The room divider has been made using marine grade plywood sheeting; that has been CNC machined. It measures a good 2000mm in height and 1600mm in length when fully stretched. Pick from a black varnish or clear finish and make your dwelling look beautiful.
LED room dividers
Add warmth to your rooms with the help of LED room divider by IKEA. LED lights have gained immense popularity; and  presently, people use them decorative purposes as well. The divider is accompanied by Orgel paper lamp shade. This will pep up the ambiance of the room. It will double as a stunning decoration piece, which will leave onlookers mesmerized. So, add a touch of elegance to your home decor with the LED room divider.
Artistic room divider
Sang Hoon Kim is the brainchild behind the Artistic room divider. It looks like a fine piece of art and comes attached with a mysterious appeal. The curvy creation has an attention-fetching appearance that will add an artistic touch to small homes or apartments. It will change the mood of the area by creating various impressions and shapes, depending on the light conditions.
Numa room divider
Numa room divider comes coated with functionality and is a modular structure. A Davide Anzalone creation; you can use the Numa room divider as a coat hanger as well. The leather strips in this room divider helps to join and keep all the single modules in place.  The holes and teeth in the design are pretty smooth; and you can also hang you bags and coats without any worries or fears.
Room dividers by Michelle Brand
Cascade is an Eco-friendly room divider that makes good use of empty bottles; that are normally thrown away without exploiting their usefulness. The bottoms of pet bottles when cut resemble the shape of a flower; that lends an aesthetic sense to the overall designing of the divider by Michelle Brand. When put together, these bottle bottoms look very beautiful; and will make the area exuberate daintiness as well.
Summery
Urban landscapes have given birth to apartments that are not as spacious as homes used to be a few years back. This has also cut down on personal space, which may lead to frustrations. Room dividers are the perfect options to help you sort out the privacy issue.  Over the years, there has been major changes in the design and look of room dividers. Today, there are some models that come with various other functional features; apart from being a decorative item themselves.