Wooden storage cabinets have a very traditional charm with a warm appeal; and is a great way to enhance the decor of your house with great functional values. There are plenty of wooden storage cabinets available in the market; however there are only a few pieces with fresh and innovative take on design and practical element of the storage. Here are some of the most striking and functional wooden storage cabinets for various purposes to cater to your storage needs.
Built-in cabinets fireplace with wood storage by Conmoto

Contemporary sleek look with the practical functionality defines the decorative and built-in cabinet fireplace with wood storage by Conmoto. The pair of two identical vertical cabinets in rich dark color with large glass fronts; is a great addition to the urban homes with limited space. The luminous stainless steel hardware accentuates the plush and clean modern look of the fireplace with storage. You can store the woods stylishly in the transparent cabinet to keep the room clutter-free and speckless; while enjoying the warmth of the fire through the adjoining cabinet.
Modular Wall Storage System by MDF Italia

Innovative and versatile with excellent futuristic design, modular wall storage by MDF Italia is an urban essential in modern homes. The highlight of the modular wall storage executed in wood, is that you can incorporate your vision to it and create very own storage as per your needs and imagination. Place the books, mementos and other novelties to create a random attraction on the walls of your living room. Easy to maintain and stylish storage by MDF Italia will compliment the contemporary set up of your home.
Shipwood Dark by Fashion For Home

Add a rustic and vintage charm to your house with the Shipwood Dark Bookcase by Fashion for Home. The reclaimed wood bookcase has a distinct character and history as the wood used is salvaged from old Chinese riverboats and has gorgeous knots and beautiful imperfections to narrate a story. Durable and stunning with clean design, the rich wooden storage is simply breathtaking and a complete attention-stealer with its majestic elegance.
Construction Cabinet by Paul Heijnen

Great attention to the detailing to create the aesthetical values, while keeping the functional elements inside the storage intact is what Construction cabinet by Paul Heijnen is all about. The limited edition cabinet with eight pieces is original, practical and pleasing to eyes. The wooden cabinets with wooden mechanical components, is one-of-its-kind storage which can be termed anything but ordinary.
Container Sideboard by Alain Gilles by Casamania

With a unique character and functionality, Container Sideboard storage system by Alain Gilles for Casamania is brilliantly designed storage solution with various storage options such as drawer units, fold-out cabinets, boxes in different sizes and filing trays. With the various shapes, finishes and sizes of the storage, the Container Sideboard has a wooden plinth underneath to form a base. The storage also creates its own identity with a carefully crafted uneven look. Ideal to enhance the aesthetics of urban homes, the Container Sideboard with different elements is versatile with a contemporary and modern take on home furnishing.
Albert Reichmuth Wine Store by OOS

Albert Reichmuth wine store by OOS is simply spectacular with an excellent display system, seating, shelving and storage. In the intricately carved cave- like environment; wooden cases bring in the architectural element in a grid pattern. The brilliant staging by OOS in a spatial layout creates a great storage and also serves as a platform to display a large number of wine bottles, books and also has seating areas and display cabinets. The case has been designed discreetly to create more space towards sitting room and kitchen at the back of the store, which is used for seminars and wine tastings. One of the most beautiful and versatile wooden storage by OSS is inspirational and beyond any comparisons.
Flexible Storage System From WilliamsSorel

Versatile to fit into any room, Flexible storage system by WilliamsSorel is easy and original. An excellent alternative for the regular shelving and storage requirements, Flexible storage can be custom made in various sizes and shapes. You can use the Flexible storage as a bookcase in the living room or you can keep your clothes in the bedroom or you can also hide away your shoes to create a clean appearance of your house. The wooden finish and construction of the storage brings in a comfy appeal to your house.
Wooden storage cabinets by Lisa Sandall

Cute, quirky with a dash of uniqueness, Chin up by the British designer Lisa Sandall is a fresh and contemporary take on the wooden storage units. The smart design of Chin-up makes you bend less while taking out or placing the books. The striking storage that is designed to lean against the wall is a great storage solution with a distinct style element to it. Chin-up is surely going to fetch you accolades and appreciation for your impeccable and discreet sense of furnishing.
DECOLAV 5700 Wood Vanity with Storage Cabinet

A perfect amalgamation of opulence and functionality, DECOLAV 5700 wood vanity with storage cabinets; is sure to add up to the aesthetics of the house. Rich in dark red mahogany finish; the wooden construction brings in the traditional charm and beauty to the urban homes. The cabinet and the cut out drawers fulfil your storage requirements efficiently. Ideal as the lavatory console; the DECOLAV 5700 wood vanity with storage cabinet will light up your home decor with its lavish and glam appeal.
Small Spool Wood storage cabinets from MetroEmbroidery

The small spool wood storage cabinet by Metro Embroidery Threads; is a great way to keep the embroidery thread neat and dry. The cabinet also prevents sun and heat to damage the threads. With an option to take the cabinet unfinished to match up the decor in your house; the cabinet has 25 spools in each drawer. With a cabinet design very well thought of; THE small spool wood storage cabinet by Metro Embroidery Threads, is nothing less than a boon for embroidery enthusiasts.
Slybox modular storage cabinets and solutions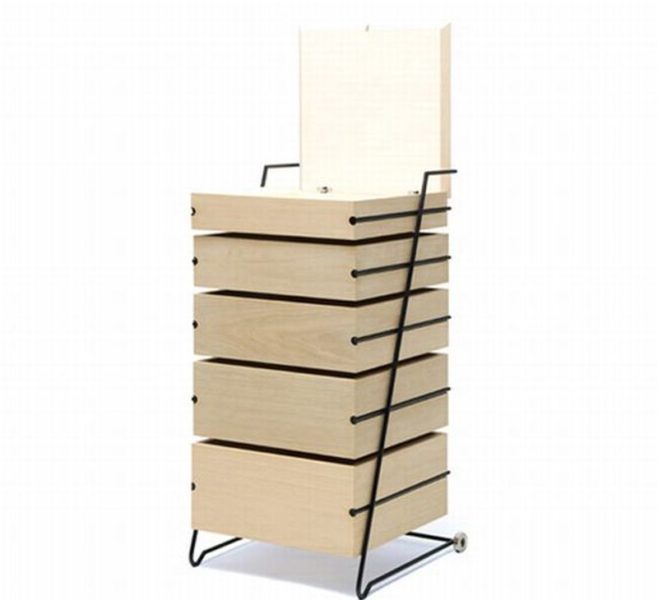 If you're on lookout for a smart storage solution for your trendy home; then you can check out the Slybox by Tokyo designer, Keiji Ashizawa. It's a set of wooden boxes with a metal frame. The users depending upon his needs and preferences can adjust the storage boxes. For easy assembly/dis-assembly, there are grooves in the sides that slot onto the frame of bent steel rods. Simple yet cool, this minimal storage solution for smart homes.
Vurv Design's Camille Wall Desk is sustainable and practical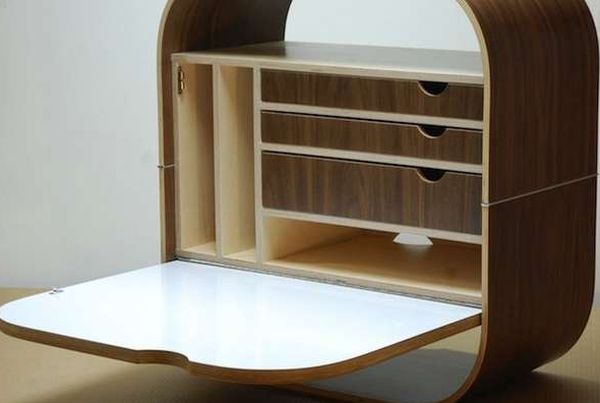 The Camille Wall Desk that is the brainchild of Canadian architect Glenn Ross; who also happens to be the founder
of Vurv Design. Ross claims that the wall desk is actually an interpretation of what she dubs 'kinetic furniture'. The concept behind the desk is very simple; as well-a it is created to store and hide all those little tid bits that we all have laying around
the house. You can easily store things that you need on regular basis; that cannot go inside closets or in larger draws for want of easy accessibility.
The desk is ideal for homes that are densely decorated; or homes that simply do not have enough space to house fixed storage units. The utility and design of the wall desk is a direct result of Ross' love of wall mounted pieces;  and have multiple purposes. The designer categorizes this piece under "interior architecture; and, its ability to reconfigure a space just by moving it around, very simply is a testament to that label as well.
The lightweight desk helps to have a lot of impact in a minimal space; and its wooden construction and veneer finish makes it easy to clean and maintain. Beautifully minimalistic, the repurposed desk was fashioned out of an earlier rendition of the desk; which, may not be too eco-friendly but it isn't on the wasteful spectrum of interior design either.