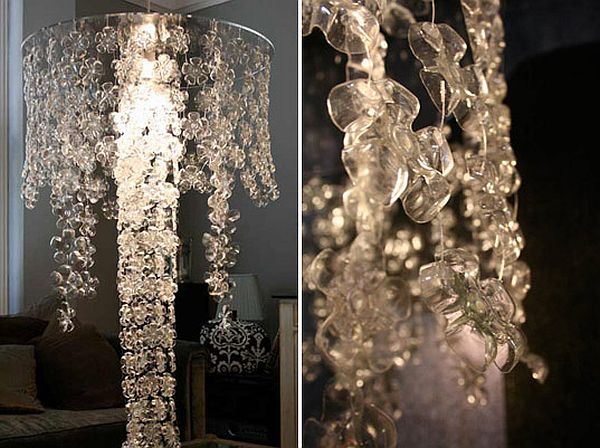 Plastic is one giant earth-killer! This is a fact that is terrifying, but no longer a shocking one, considering that there is a huge island, entirely made of plastic, swirling in the waters of the Pacific ocean! For our own sake, recycling, reusing and reducing plastic is a must. And here are some 'bright' ways of doing the same and converting plastic from bottles into things of beauty. We present 10 recycled bottle designs that double up as decorative lamps for your homes.
1. Sarah Turner's Recycled Plastic Bottle Lamp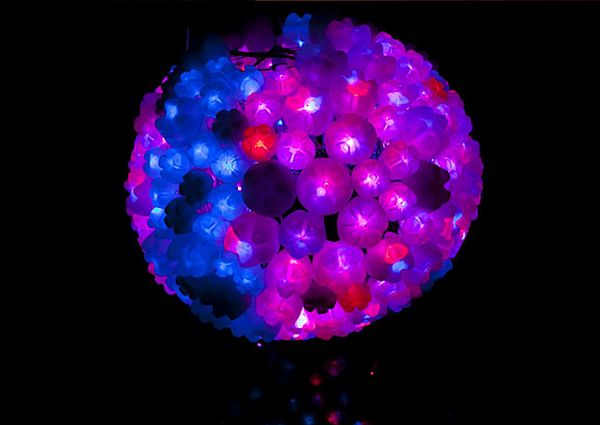 Shaped like a beautifully colorful constellation in a galaxy, this lamp, made entirely of plastic bottles, was the unrivaled winner of the 2010 Spring Greening Competition. In a dark room, it seems to blaze in all grandeur and magnificence. The multiple hues add to the beauty and charm. The entire orb is constructed by plastic bottles that are all clustered with their bases turned away radially from the center.
2. Reglow Lamp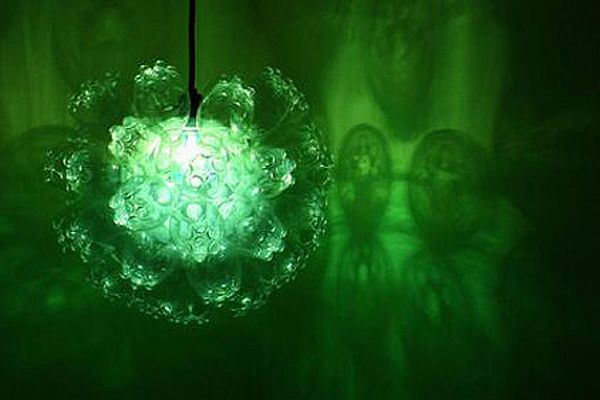 Combining 'green' lighting and a simple DIY project, designer Shelley Spicuzza has come up with an elegant and beautiful recycling idea. She has designed a sphere with holes and spaces into which you can fit in your own plastic bottles to create an orb of brilliant light! The color combinations are all left to you. You could use all the transparent bottles of one kind to lend a particular hue to part of your home. Or else, you could conjure up a duo-tone. Whatever be the choice, the Reglow Lamp provides a fun and 'brilliant' way towards a greener environment.
3. Plastic Bottle Chandelier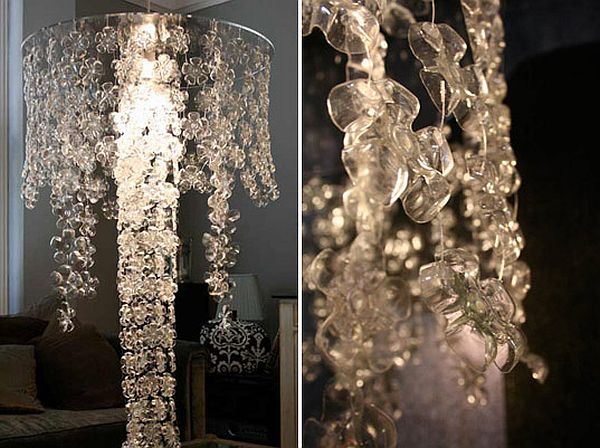 100 Percent Design had one stunning entry – a chandelier made completely of plastic bottles that dazzled as well as was a `thing of envy' for its crafted glass counterparts! Presented at the exhibition aptly named as "Lighten Up", the lamp has been constructed with the bases of discarded plastic bottles. Michelle Brand, the designer, is a regular winner at many such events and her designs have won new respect and awe towards the simple-looking plastic bottle. The bulbous stars in the chandelier are the bottle bases that have been carefully chiseled.
4. Friday Flowers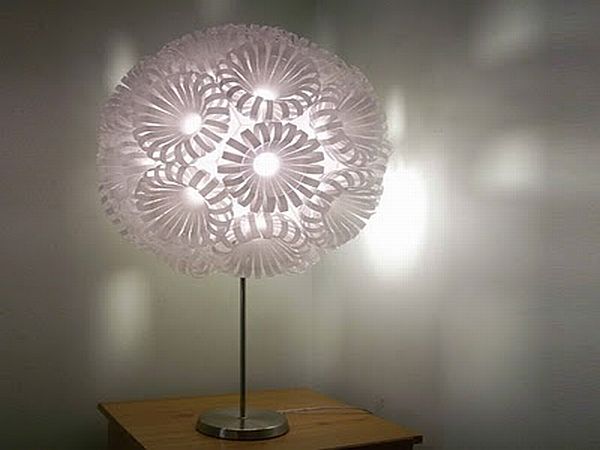 Sarah Turner is a wonderful 'light' gardener! She has made floral delights out of what would otherwise be discarded as scrap. Translucent plastic bottles become receptacles of bulbs lending a soft glow. Attached to the tops of metal rods, these bottles act as hollow pipes with gorgeous lampshades shaped as flowers. This 'light' flower vase is sure to bring beauty and a touch of 'green' to any home.
5. Milk Bottle Lamp Chandelier by Tejo Remy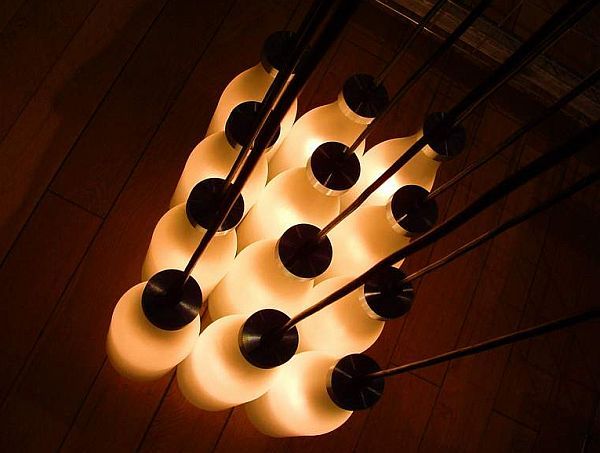 Using the concepts `strength in unity, and that of `flocking together birds of the same feather', Tojo Remy has innovated the milk bottle lamp. The San Francisco Museum of Modern Art and the MoMa New York City have given pride of position to this chandelier which uses a cluster of milk bottles for a fancy and cool lighting option at homes. Twelve old-fashioned milk bottles are hung on long cables after they have been sandblasted and fitted with a chrome top. You will have to see the chandelier to believe how a dozen simple milk bottles form an opulent lighting option.
6. Recycled Plastic PET Bottle Lights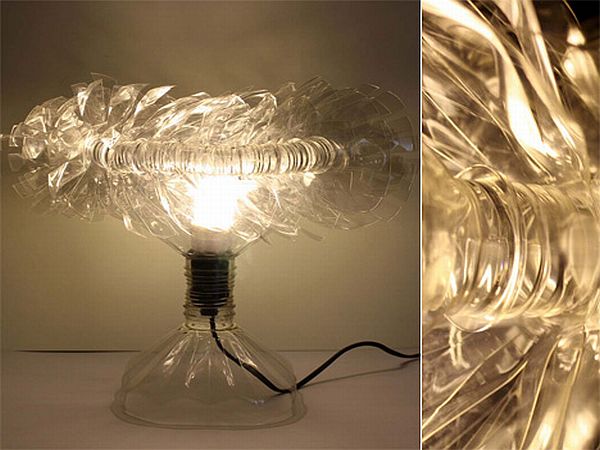 Recycled products just cannot get better than this! Designers Lisa Foo and Su Sim have been inspired by naturally occurring land forms in the creation of their lamps from polluting, man made materials – plastic. Find these lamps in a variety of landscape forms and in the shapes of sea-creatures, in whom Lisa takes active interest. These are some of the best eco-artworks on the stands.
7. Plastic Bottles light by Reta Howell and Vana Howell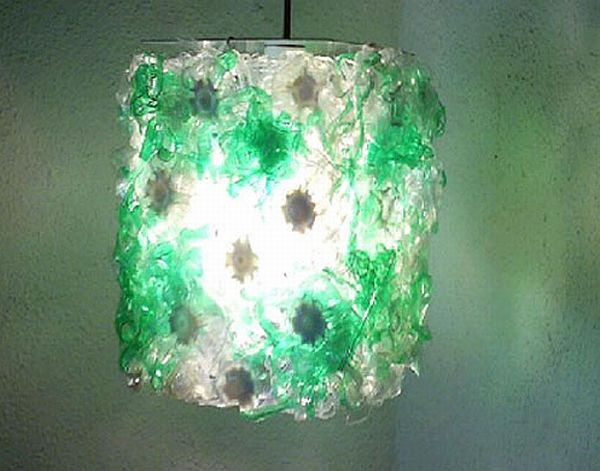 You can now look forward to a really 'bright' future, thanks to the efforts of 'green' siblings Reta Howell and Vana Howell. This lamp is green in ways more than one – for it is made of plastic that would otherwise find its destiny in the numerous landfills! Being handcrafted, each piece is unique and 'one of a kind', if we can call them so. The bottles are scavenged from parks, trash cans and public places and use a fusion process to harden them into a mold. The lamp is then shaped and made available. Offers which pay up to $ 100 for three boxes of empty bottles, is sure to act as good incentives for people to go green!
8. Recycled Plastic Lamps by Lisa Foo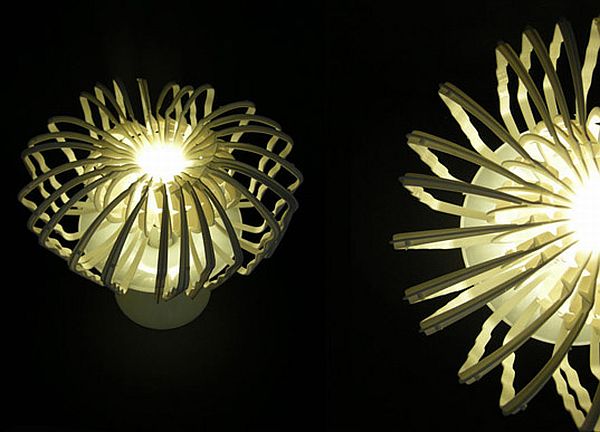 Lisa Foo is now a familiar name and she arrives with designs of her own too! As said before, she makes fluid oceanic forms that in fact, have their own light in the deep waters. These lamps look as stunning and marvelous as the creatures on which they have been modeled.
9. Glowing Nourishment Lamp by Joan Lau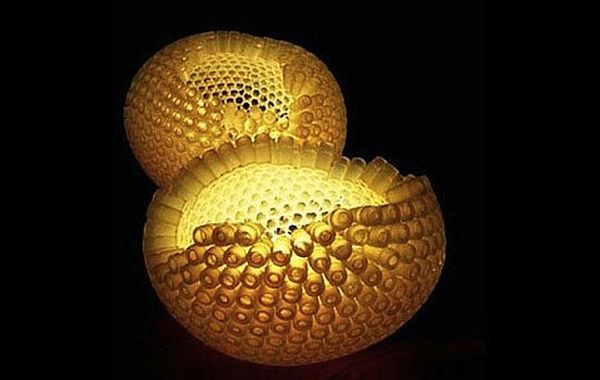 Yakult bottles have been reused in the most beautiful way possible by making them into lamps. They were perforated at the base and threaded together to achieve beautiful honeycomb structures which house bulbs. This design has been the leading vote gatherer in the Bright Ideas Design Contest, with more than a thousand votes! The honeycomb structure makes it appear luxurious and opulent too!
10. Loto Recycled Plastic Bottle Chandeliers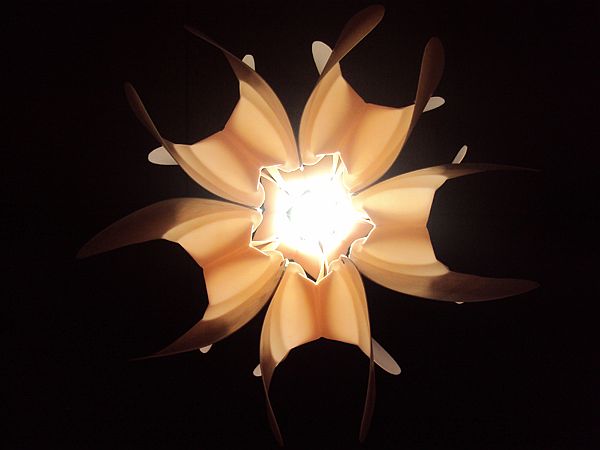 Lotus is a flower that grows in slush and blossoms into a thing of beauty. That seems to be the inspiration behind the plastic lotus lamp that has blossomed from the ugly landfills in the world! Eugenio Menjivar has designed these lamps with the dual purpose of doing something for the environment and also to educate people on the greener ways of life. The lamp has an appearance of ethereal beauty of some deep ocean, microscopic life form!