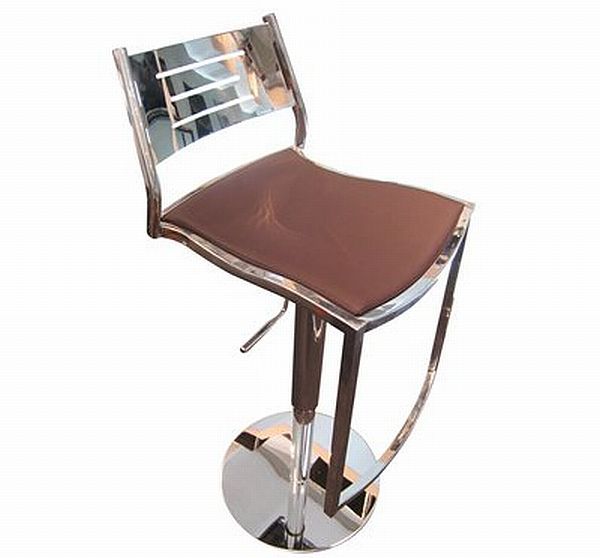 Bar stools are tall stools with a foot rest and is normally used for seating in a bar or a public house. However, due to its sleek nature, these stools are hot favorites and adorn home and other commercial places. At homes, they are placed at a home bar or a kitchen counter. Bar stools allows better view while eating, drinking and provides a good opportunity to socialize, creating a lighter and cheerful ambiance. There are various designs, colors and styles of bar stools available. They are made of different constructions. Often they are made of metal, wood or plastic materials. Bar stools come with or without arm rests and padding on the seat surface. Most of the bar stools do not have backs but also available with backs. Swivel bar stools are the popular choice for homes these days as they look stylish and add a touch of glamor to the interiors.
There are several factors to consider buying the right swivel bar stool that make your home look elegant and modern. Bar stools can also be customized to suit an individual's taste and style. Consider the height of the swivel bar stool depending on the place where you wish to place them. Decide on the number of stools that you need as per the size of the kitchen or the home bar. Another important factor to consider is the construction material used for the swivel bar stool. Stools made of stainless steel are often great value for money. Choose a swivel bar stool to suit your needs with/without backrests, with/without backs or with/without backs. It is also better to make a check on the brand of the swivel bar stool that you wish to buy. Buy the right type of swivel bar stools that enhances the interiors of your home and one that is perfect for the home bar and the kitchen. Following are some swivel bar stools which can compliment your existing interiors in an elegant and sophisticated manner.
1. N2-CS511 Black
Price: $ $121.99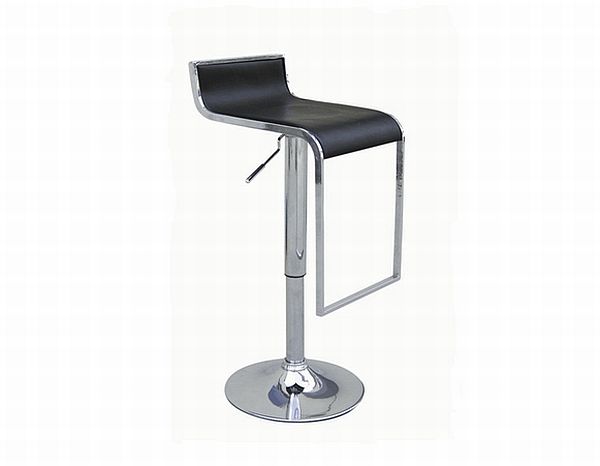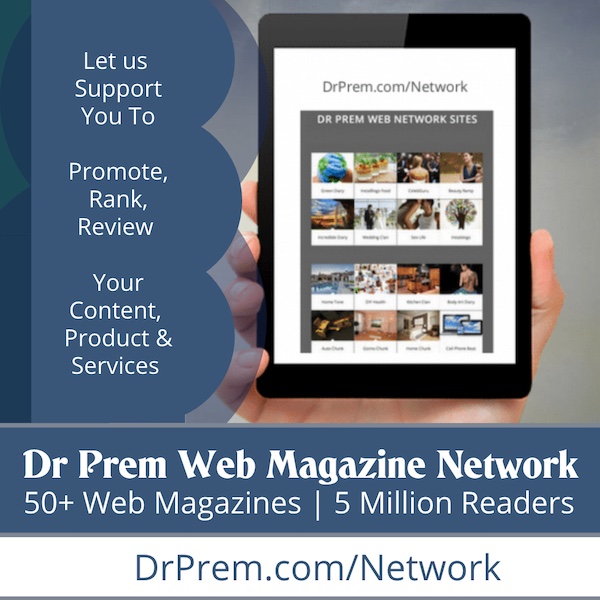 This modern looking Black swivel bar stool features quality construction and has a chrome finish metal frame base. This stool comes with a fiberglass seat and is adjustable from 30.5 to 38.5 inches. The color of the seat is exotic black. This stool swivels completely at 360 degrees and has a rounded footrest which adds comfort and support while seated. This contemporary design of this stool makes it a good choice for any home or commercial décor. The swivel bar stool is attractive as well as functional. This stool has a weight of 30.50 pounds and does not have armrests.
USP: The chrome finish base stool with fiber glass seat makes the stool look very attractive and sturdy.
Pros: Two pieces of bar stool is shipped in one carton.
2. Chintaly Bar Stools – 3630364ASBLK-P
Price: $116
Welcome to an excellent range of bar stools with Chintaly Bar Stools. From curvy to modern finish, Chintaly leads in innovation of bar stools. This stool, made of polyurethane leather gives it a sleek and elegant finish. The dimensions of this bar stool are 33.5 inches H x 18.1 inches W x 19.7 inches D. The seat has a black color finish. This seat is adjustable to any height to fit the stool perfectly to the counter-top. The stool is made of metal finish and has rounded foot rest. This bar stool is sure to accentuate your interiors with its elegant looks.
USP: The combination of polyurethane leather and metal with a touch of black color makes this piece look exotic and interesting.
Pros: Chintaly Bar Stools are available in Black, Red and White color.
3. Amisco Industries Valentino Metal Swivel Stool 40456
Price: $239.59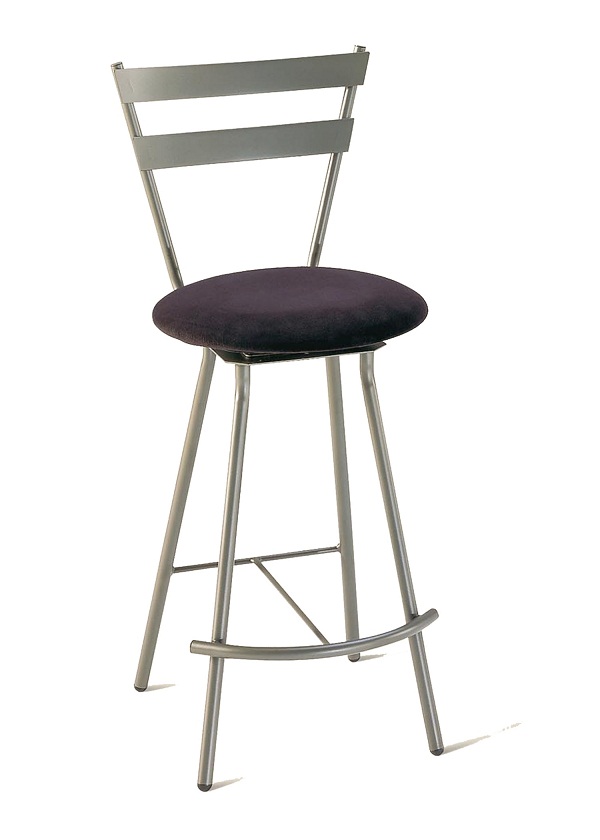 Make your home look fashionable with this new Valentino Metal Swivel Stool 40456. This tool can hold up to three hundred pounds. This swivel stool is available in thirteen different brilliant metal colors. It has a swivel seat and a foot rest for added comfort. The stool also features an optional memory swivel. The stool is available in bar or counter height. This stool can also be used in office as a tremendous space saver. You can choose from a range of sixty fabrics for the swivel seat cover. The unique feature of this stool is its swivel feature with memory return mechanism which makes it interesting.
USP: This stool is available in wide variety of fabric and finish options. For a counter height of 24 inches, the stool is available in 16 inches (W) x 18 ¾ inches (D) x 36 ½ inches (H). For a bar height of 30 inches, the stool is available in 16 inches (W) x 20 3/8 inches (D) x 43 inches (H).
Pros: Amisco Valentino Metal Swivel Stool comes with ten year warranty on all the welds.
4. York Saddle Dish Swivel Bar Stool
Price: $112.00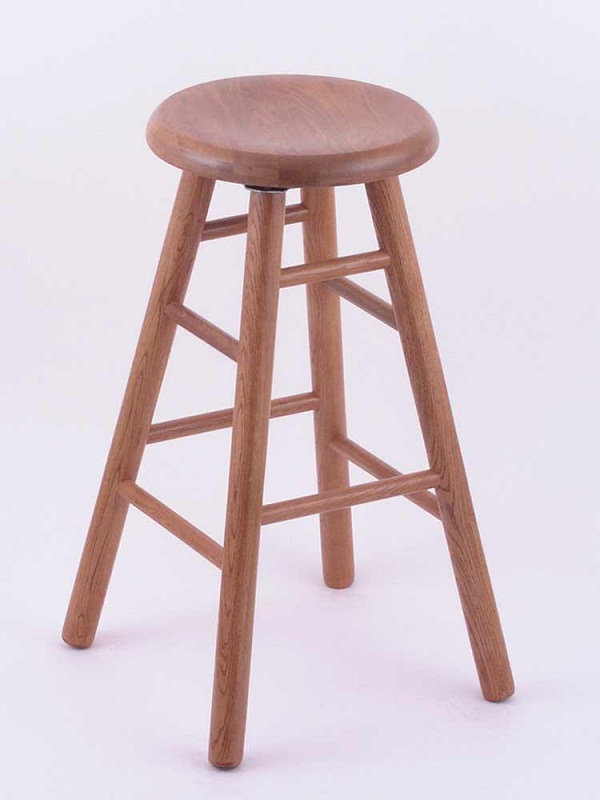 The York Series of Holland Bar Stools is a mix of classic vintage and classic retro bar stool. This gives a nostalgic bar look. The saddle dish is constructed out of solid hard wood and has a catalyzed lacquer finish. This gives a strong as well as a pretty look for the bar stool. The wooden legs are strong with an epoxy-resin that merges to the grain. The seat is dished out of 1 ½ inch hardwood that provides great comfort. The swivel has a lifetime warranty and is constructed out of 12 gauge steel. The dimensions are 16 L x 16 W x 30 H inches and weighs 24 pounds. The strong wood stool can hold up to 400 pounds.
USP: This Saddle dish made out of solid oak has a swivel with a lifetime warranty. It also has 5 year warranty on other materials and workmanship.
Pros: This York Saddle dish of 30 inches has smooth wooden legs with a medium oak finish.
5. Bella Contemporary Swivel Bar stool
Price: $470.00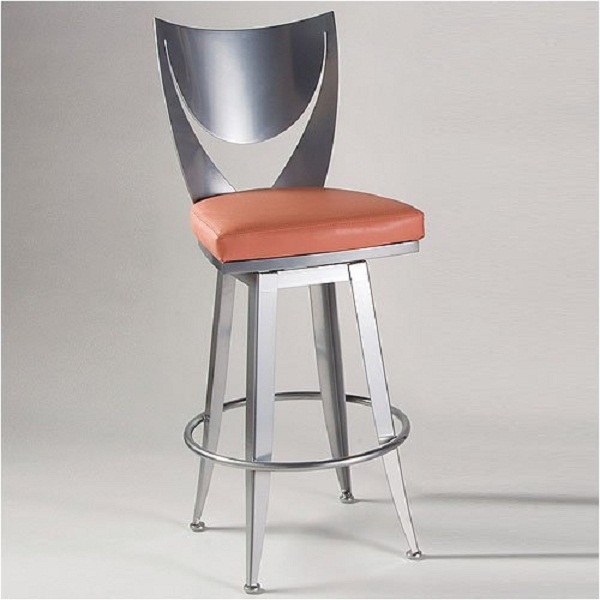 Add a splash of glamor and make your home look futuristic with Bella Contemporary Swivel Barstool. It has a cool nail shaped metal back gives a touch ultra modern appeal to the bar stool. It also comes with a trendy circular foot ring for support and a swivel seat. This contemporary swivel barstool is available in 30 or 26 inches heights. There are tons of various combination of fabric type and metal finish that you can choose to make your own customized bar stool. This bar stool manufactured by Johnston Casuals' this stool is sure to uplift your décor and will provide long lasting durability, quality and charming appeal. For a counter height of 26 inches, the overall stool measures 43 inches H x 20 inches W x 22 inches D. And for a barstool height of 30 inches, it has a measurement of 47 inches H x 20 inches W x 22 inches D.
USP: This stool has superior quality powder-coat metal construction.
Pros: The metal legs of this bar stool have commercial grade welding. Bella Contemporary Swivel Barstool has a 10 year warranty on metal frame.
6. Sorrento Leather Kitchen Bar Stool
Price: £149.99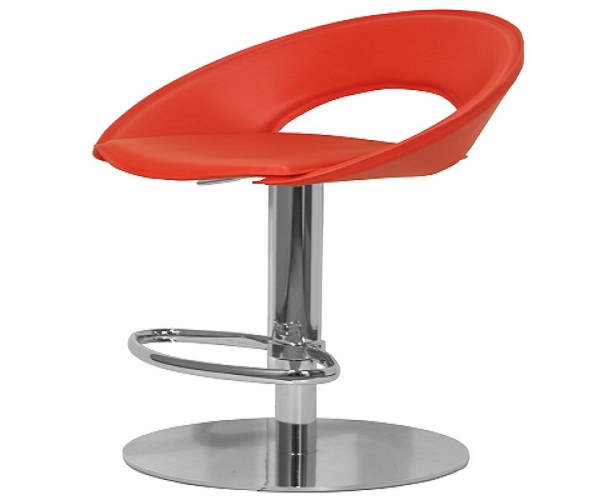 The Sorrento Leather Bar Stool is an excellent combination of leather and chrome finish. The bar stool has an elegant red seat made of rich upholstery in superior quality leather. The matte, smooth finish makes the seat luxurious and comfortable. It has a high quality stitching to match the color of the seat. The stool is finished with chrome on the gas lift column. It has a circular base and has a foot ring making this stool quite popular. The floor base of this stool is weighted to ensure maximum stability and durability. It has a seat top that swivels at 360 degrees.
USP: Sorrento Leather Bar Stool is made of regenerated leather. Regeneration of leather makes it softer, stronger and easier to clean.
Pros: This stool has a contemporary design makes it ideal for domestic as well as commercial use.
7. Hillsdale Milan 30″ Swivel Bar Stool
Price: $199.00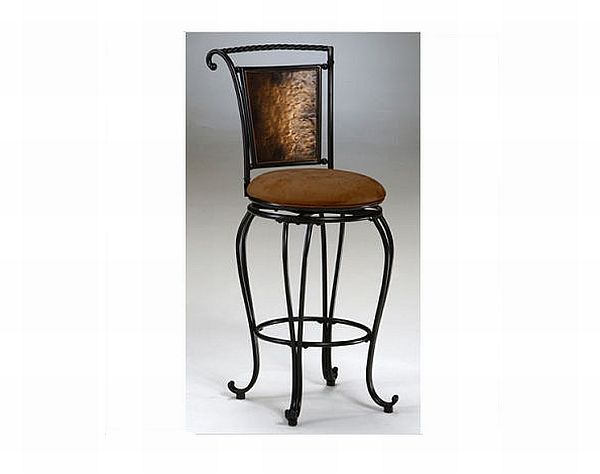 This Milan collection is a cool and trendy creation which is sure to impress your guests. It has an airy design and an elegant and fancily decorated style makes it perfect for a home or commercial setting. This 30 inch Swivel Bar Stool features beautiful curvy legs constructed out of tubular metal. The back of this seat is stunningly beautiful has a hammered copper finish. The swivel seat is enhanced with faux suede material and has a circular outline in black, making it highly distinct. The dimensions of this stool are 45.25 inches H x 20.5 inches W x 20.5 inches D. The seat height of the stool is 30 inches and weighs 32 pounds.
USP: Delicate legs and sleight inspired back of this Swivel Bar stool makes it look strikingly brilliant.
Pros: The copper back gives an earthy and unique look to the interiors.
8. Boraam Marbella 29″ Swivel Bar Stool
Price: $89.99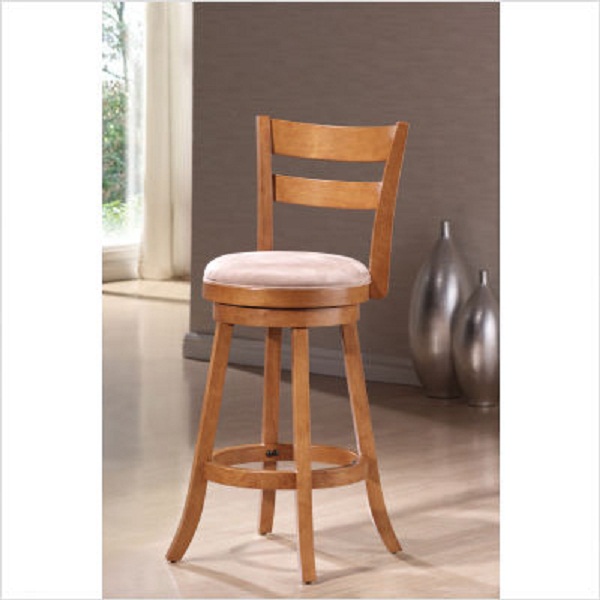 This cappuccino colored swivel bar stool is attractive with its fruit-wood finish. The finish makes it durable and long lasting. The Bar Stool has a solid wood construction with cappuccino finish which is suitable for everyday use. It has a durable 360 degree ball bearing swivel made of stainless steel. The legs of the stool are flared to provide better support and balance. The plush seat of the swivel bar stool is made of high quality and density foam that provides extra softness and comfort. The beige microfiber finish of the seat enhances the looks of the stool. This stool needs assembly. The Boraam Marbella Swivel Bar Stool has dimensions of 18 inches D x 17 inches W x 37.5 inches H. It weighs 25 pounds.
USP: The combination of micro fiber and wood makes the Boraam Marbella Swivel Bar Stool look rich and sophisticated.
Pros: Microfiber material of the seat makes it easier to maintain. The product comes with a warranty of 90 days.
9. Oak Swivel Counter Tuscan Bar Stool
Price: $199.00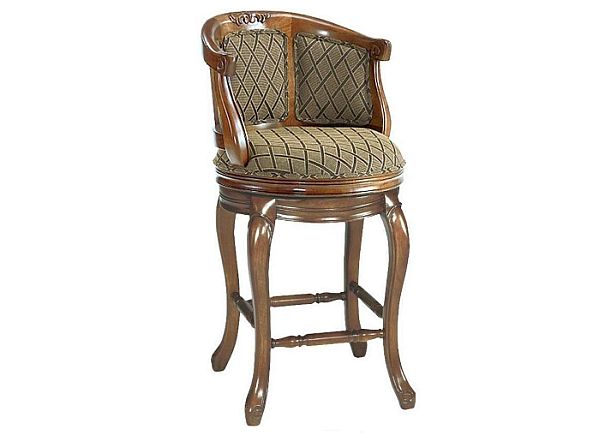 Refine your interiors with this graceful looking Tuscan Bar Stool. These stools are distinctive in its appearance with their fine craft constructed out of solid wood. The solid hardwood is finished for a rich shine which gives the stool a sturdy and graceful appeal. These bar stools are available in variety of styles and finishes. The seat and the back of the bar stool are richly upholstered which look lustrous and elegant. The Bar Stool has a square foot rest made of wood. The wooden armrests provide extra comfort to the Bar Stool. The dimensions of this stool are 36 inches H x 22 inches W x 20 inches D. This stool can be easily assembled.
USP: The saber shaped legs have a typical British Regency design. Regency bar stools are built to last long with its strong and quality materials.
Pros: It has multiple upholstery finish including leather option. These allow you to customized your bar stool that can fit your existing interior décor.
10. Arrowback Swivel Seat Bar stool
Price: $101.52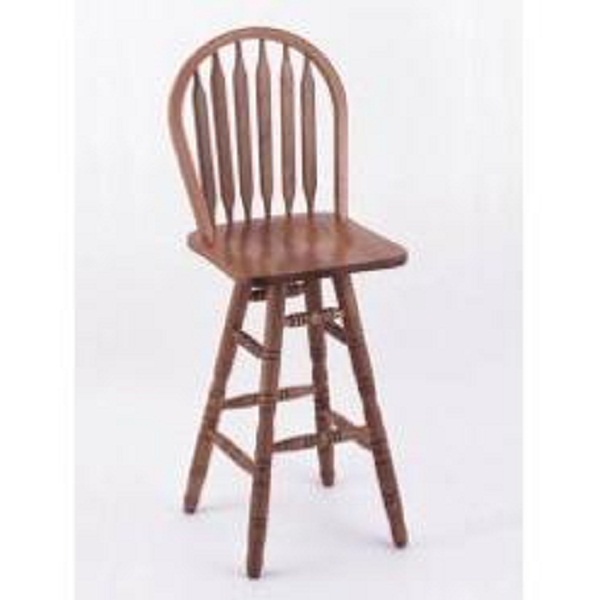 Arrowback Swivel Seat Bar Stools look rich with dark colored oak finish. The seat of the stool is 29.5 inches high. These stools are made of solid hardwood making it strong and durable. These stools have a unique and versatile appeal. This classic barstool is functional, comfortable and stylish. Arrowback Bar Stools come with a gently curved arrow back for extra support. The stool comes with angled legs and a comfortable swivel seat. This stool is available in variety of styles and finish. The stool can thus help to redefine the existing interiors of your home. Arrowback Swivel Seat Bar Stools have an overall dimension of 17.5 inches W x 20.75 inches D x 46.5 inches H. This stool requires assembly and can be easily put together.
USP: This bar stool is ideal for home use and makes it perfect piece to enhance the dining or entertaining area of the home.
Pros: This stool with medium oak finish has a classic country finish. It is sturdy, durable, and functional yet looks appealing.