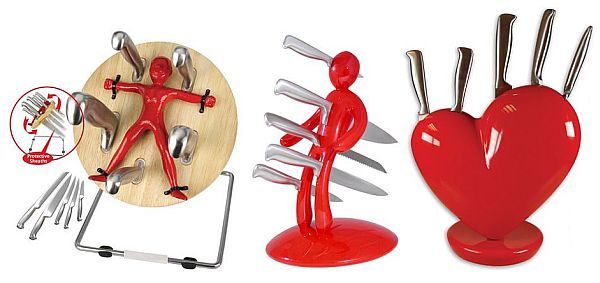 If you are bored of those regular box look to keep you knives and looking for something new, then you have come to a right place. Below are some beautiful elegant set of knives which can make your kitchen look more decorative. These products are completely safe and are made of durable quality.
1. Magnetic Standing Knife Rack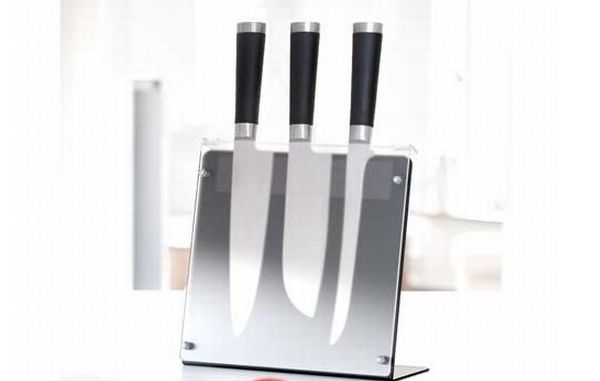 This is the best product that can help you keep your knives safe, accessible and clean. It also makes look great. This sleek and slim magnetic knife rack was designed by Linden Sweden. It is a handy and great way and new addition to kitchen counter. The plastic cover helps you to see which knife you want to take out along with securing children from touching the knives. It comes with a magnetic strip so that knives can stay in place. It comes with a removable plastic cover which helps you to clean the rack whenever you need it. By this you can maintain hygiene in the kitchen. You can fit all knives with blades that come less than 9″ and powdered with coated metal because of which there won't be any scratch on the top of the table. This safe and handy rack is the best addition that you can place at your kitchen
2. Throwzini Knife Holder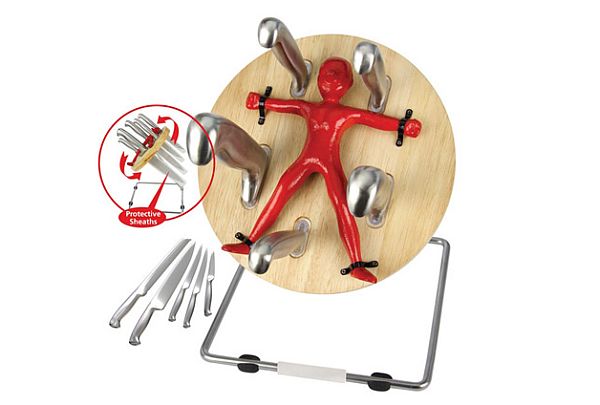 This stylish knife holder is extremely durable and long lasting. This functional product comes with set of five stainless steel knives which offers complete protection for children. It comes with a hand-crafted wooden knife block made of sturdy construction. You can also keep chef or bread knife, one paring knife and one utility knife which can be securely held in their individual protective sheaths due to magnets.
3. The Ex Knife Set
This artistic knife holder is one unique design which is popular these days. It is made of heavy duty ABS plastic. This innovative design comes is a great knife suspension system. It is completely protective where you can keep knives sleeves for every table. The knives are made of durable stainless steel. The slots are made of magnets that secure knives in the holder. This is a great cutting edge and must have product at your home. This cool design is more edgy rather than standard old block of wood
4. Heart knife block & knife set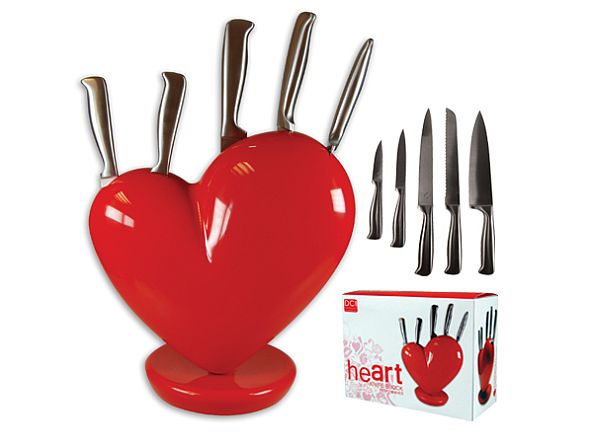 This Heart Knife Set is great design and unusual in terms of design and originality. It comes in rich red, and is made of plastic. There are five slots where you can place five quality knives, which you get along with the product. Other than this, it is can highlight your kitchens appearance, especially if you use one crummy knife to fillet, chop, dice and slice. The five knives are already included whose blades are made from Vanadium and Molybdenum stainless steel. The knives are durable, sharper with rust resistant. This new designed product is surely a great thing to place at home.
5. Tilt Knife Block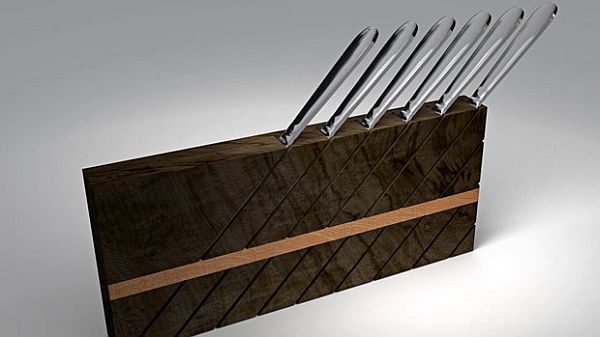 This seek cutlery designer product is a great thing you can keep at your place. The product was basically designed for the drawer and is attractive enough to keep things comfortable on counter. You can utilize them for paring knives, organize steak or make a complete knife collection. If you have large knives then you can slide them into the bottom rows and pair the rest above them. The tray holds six small knives and five large knives
6. In-Drawer Medium Wave Ash Wood Knife Tray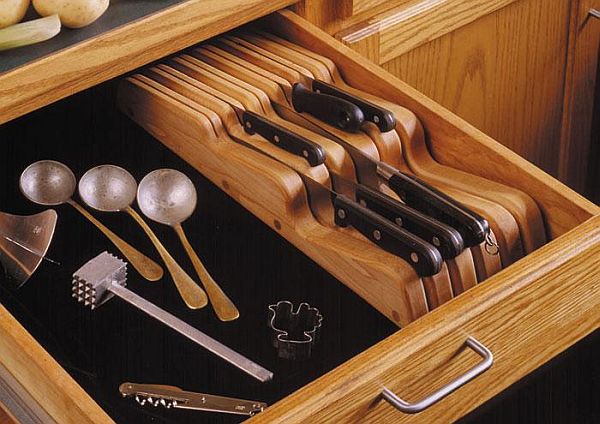 This product is one of those kitchen essentials which is actually a good thing to keep at home. These products is important for people who are tired of cutting their hands with metal blades and realized that knives reach is the safest thing to keep. It is completely sustainable and is made from single block of walnut with a Canadian Maple inlay, orange oil and bees wax which can highlight the grain of wood. The knives racks have a simplistic look which can match any kitchen drawer. This product is completely safe and prevents children from getting hurt.
7. Epicurean Magnetic Knife Holder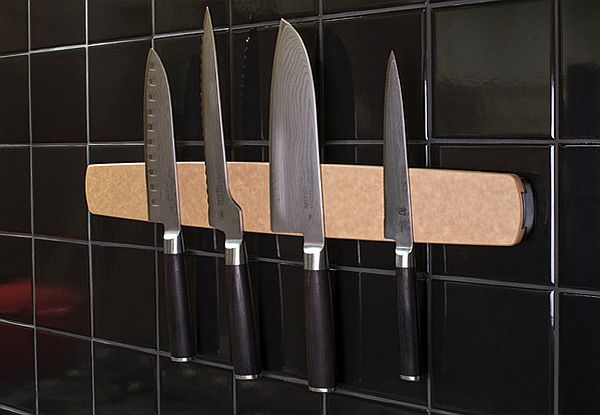 This magnetic holder is one great product and is known for knife friendly material. This is the best thing you can use to store your knives after preparing food. It comes with powerful earth magnets that successfully hold all the knives in preventive manner and the wood composite face plate protects blades from dulling. With such holder, you get knives easily available. It comes in natural and slate. The base gets fastened easily to the wall due to the hardware. It copes with an integral level that helps in installation process.