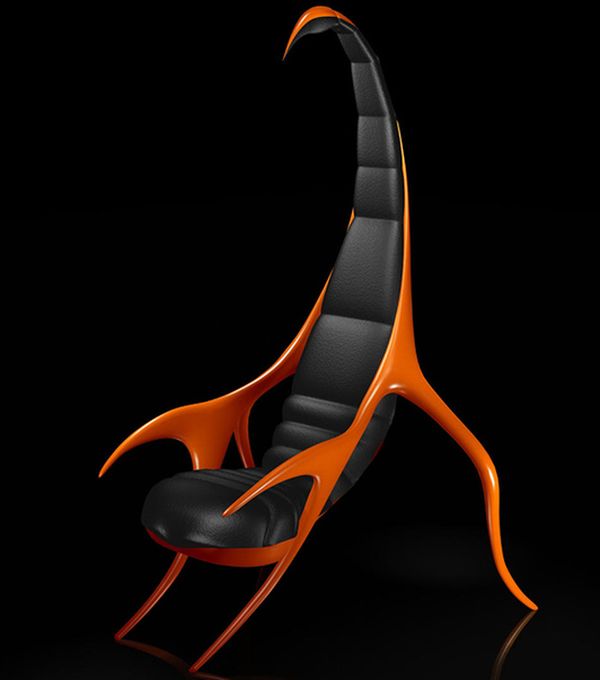 Furniture is the mass noun used for the large or small movable equipment or establishment such as tables, chairs, beds etc. Basically, furniture designs are of two types, first one is that which is used for sitting or sleeping like the chairs or sofas whereas the other ones are used for storing purposes, for instance nightstand which includes doors, drawers, lockers, and shelves to store smaller objects like clothes, books, tools, household objects etc. In this article, we have presented some astonishing animal inspired furniture designs for your room. The unique concept of these furniture pieces makes them tempting.
1. Exotic environment friendly natural wooden sheep bench: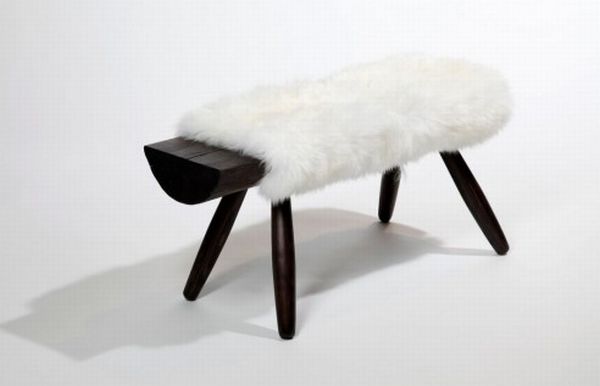 This bench has been made from high quality wood and is covered with a white sheep skin which is a blend of artificial and natural material. It is perfectly suited for small rooms as it does not require large space because of its compact design. This bench subtly designed like a sheep is fit for two or three small children ride sheep play. So if you are in search of something that is unique, compact, and portable then you must go for this sheep bench, also it will be an absolute delight for the children.
2. Animal chair amazing creative furniture design Octopus: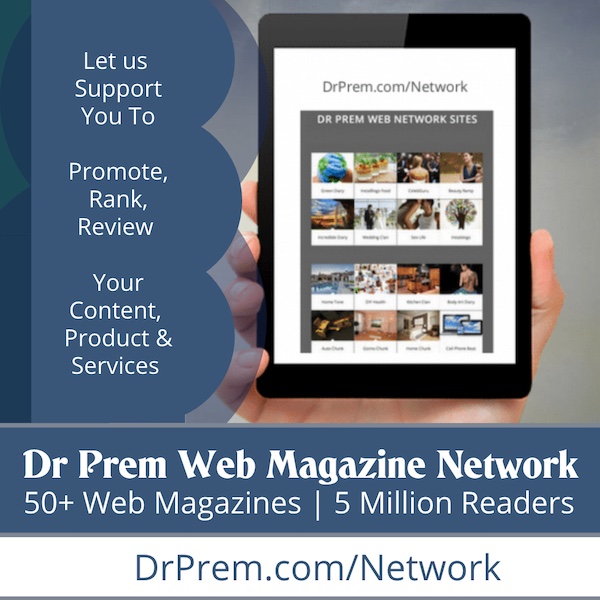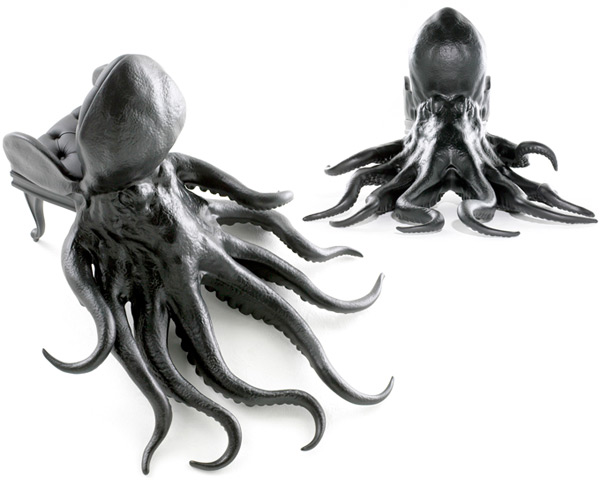 Calling it a chair would not do justice with its splendor and design, it must be called a throne. This throne consists of more than 15 pieces. It's a true piece of art as everything from assembling to sanding and painting has been done by hand. This octopus chair is the perfect blend of human innovation and nature's creativity. One can only just imagine how does it feels like on sitting on such a chair which resembles a throne.
3. Lamb Stool: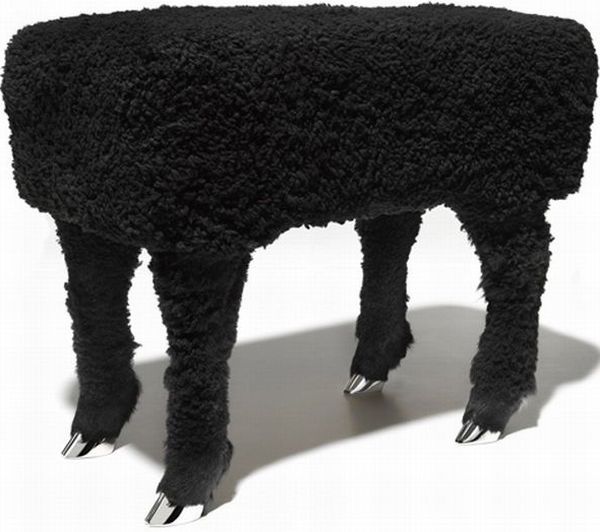 This lamb stool is designed by Atlason and is called the Princess, it is a perfect example of animal inspired furniture. This can be a real treat for those who admire sheer uniqueness in their house, but not for everyone. The reason behind it is that it is made of whole lamb which exposes all the remaining details of the former life of the animal. Although, it looks cool, but don't get surprised if some of your guests get freaked out when they get to know this!!!
4. Kitty Couch: Animal-Inspired Eco-Décor: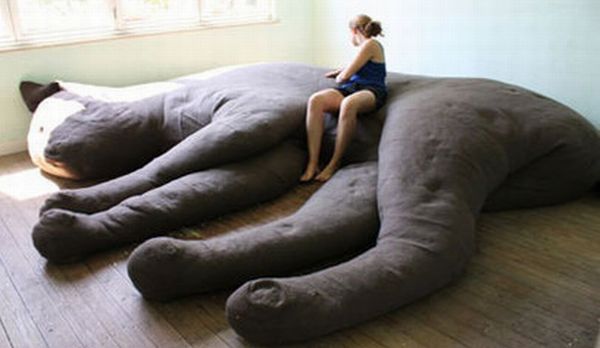 For those who just love their cats, here is something that they are surely going to enjoy. The coziness provided by this giant cat shaped couch to you and your guests is not something that can be expressed in words. Once you have relaxed on it, you simply can't resist the temptation of returning again in its arms. If your cat loves sitting in your lap then this couch provides you an opportunity to return the favor.
5. Martin the Mule by iBride: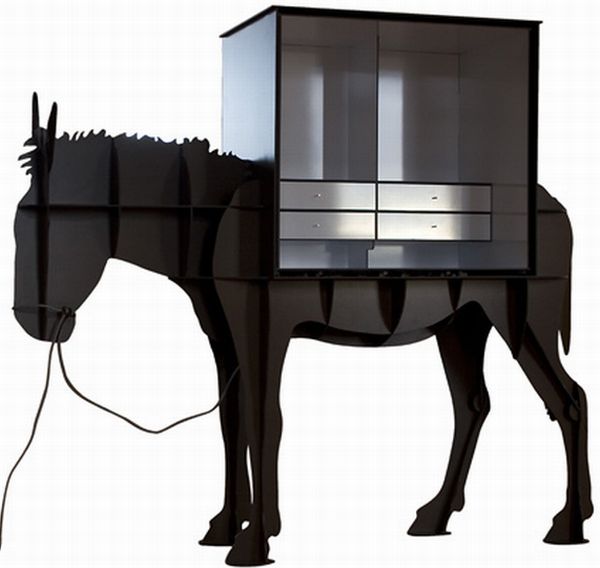 Martin, the mule by iBride is presented by the French designers. It is a writing desk in the shape of a life-sized mule. High pressure laminates are used for making this desk and it can easily accommodate a flat screen computer with internet connection and lighting facilities. These features make this table extraordinary.
6. Black White Butterfly Coffee Table by Gamolov Svilen: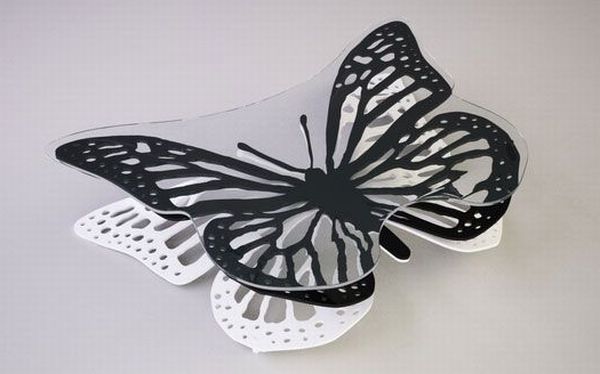 A butterfly is definitely one of the most beautiful creations of the nature and what if you get an opportunity to have a table in the shape of a butterfly, it would be amazing. The basic theme of this table is to describe the power and freedom of high art and at the same time it shows respect and love to nature and animals. The design is very elegant and simple with a perfect blend of only two colors which are black and white. The materials used for making this butterfly coffee table are high end glass and plywood.
7. Joe The Polar Bear From Ibride: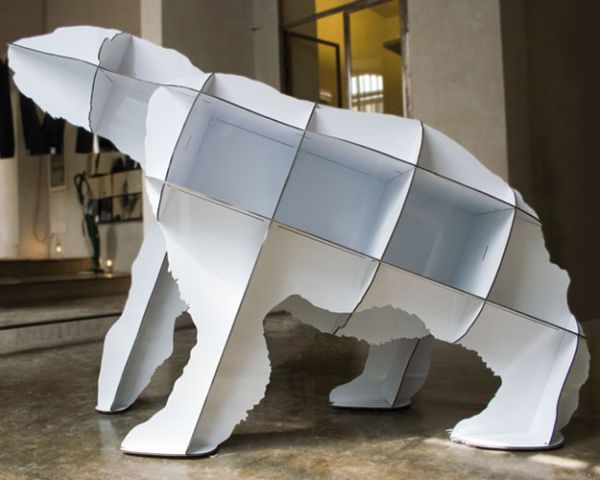 Are you crazy after the elegance and beauty of the white polar bears, then the French designers have given you an opportunity to appreciate the sheer splendor of the animals at your home. Here we are talking about the Joe the polar bear, which is a book shelf and it draws its inspiration from the white polar bears.
8. Unique Design Octopus Table: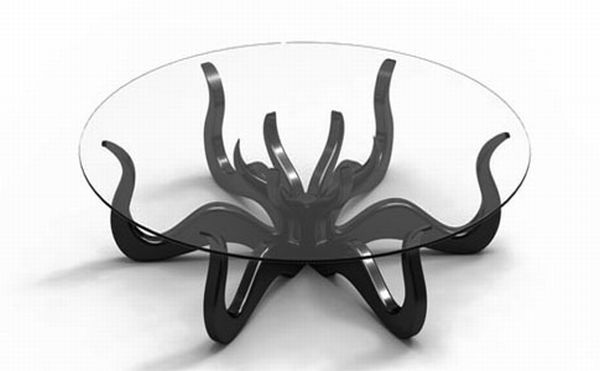 The design of this table has been inspired by an octopus. Octopus has no legs and spine and it always appears that it slides under the water and this table is also designed in such a manner that its beautiful table legs seem like dangling as if holding a glass above it. The other feature that draws everyone's attention is that the table legs can also be used on reverse supporting surface made ​​of glass.
9. Animal Leg Furniture: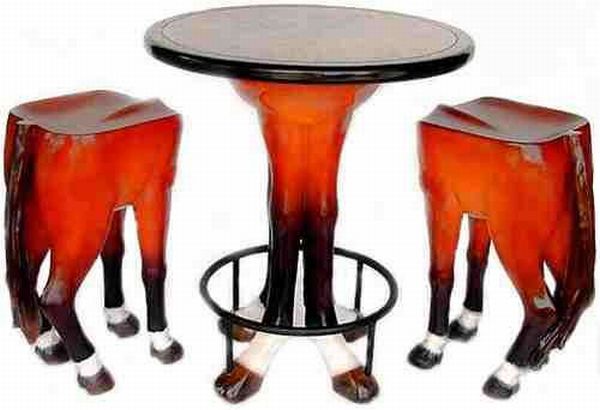 For many, these chairs and tables with horse legs can be hideous but not for everyone. Especially, for those men who love Playboy bunnies, its cheap plastic look can surely be very attractive. However, no one can explain why this set has got six legs when an actual horse has got only four. But this is surely not going to create any difference for them who admire this animal inspired furniture.
10. Unique Sofa Animal Furniture Design: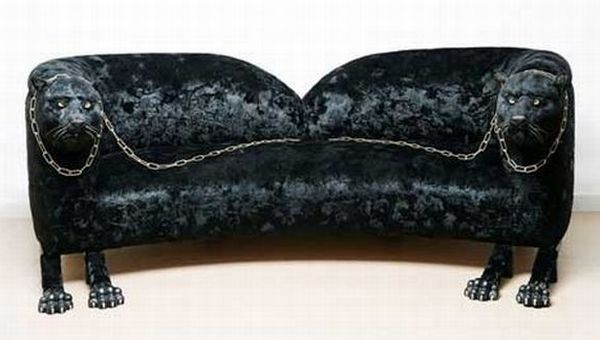 This sofa presented by the Rodolfo raocchetti furniture is definitely a tribute to the wildlife. The concept and theme of this sofa is so deep and intense that it gives you the impression of the dense wild atmosphere into your house. Also, the design is very much interesting for those who believe in uniqueness.